Plenny Pots Review | Hot Complete Meals that Are Ready in 5 Minutes
In this Plenny Pot review, we shall have a look to the hot and savoury complete meal that Jimmyjoy offers. While meal replacements are usually shakes, this chewable format offers a fresh alternative.
In fact, this kind of complete food has become very popular, partially thanks to the success of Huel Hot & Savory. Not only they offer a nice break to those who consume plenty of shakes, but also attracts new customers that might be alienated by meal replacement shakes.
Besides, a hot meal like what Plenny Pots offer is ideal for lunch or dinner; while shakes are best for breakfast (and lunch).
Anyhow, Plenny Pots offer you a plant based meal with all your nutritional needs, including, 20g of protein, and at least 20% of your daily vitamins and minerals. It can be prepared in 5 minutes and it comes in 3 flavours: Creamy Cajun Pasta, Tikka Massala Lentils, and Vegetable Korma Rice.
So are Plenny Pots tasty; and would I recommend them? Let's find out in this Plenny Pot review.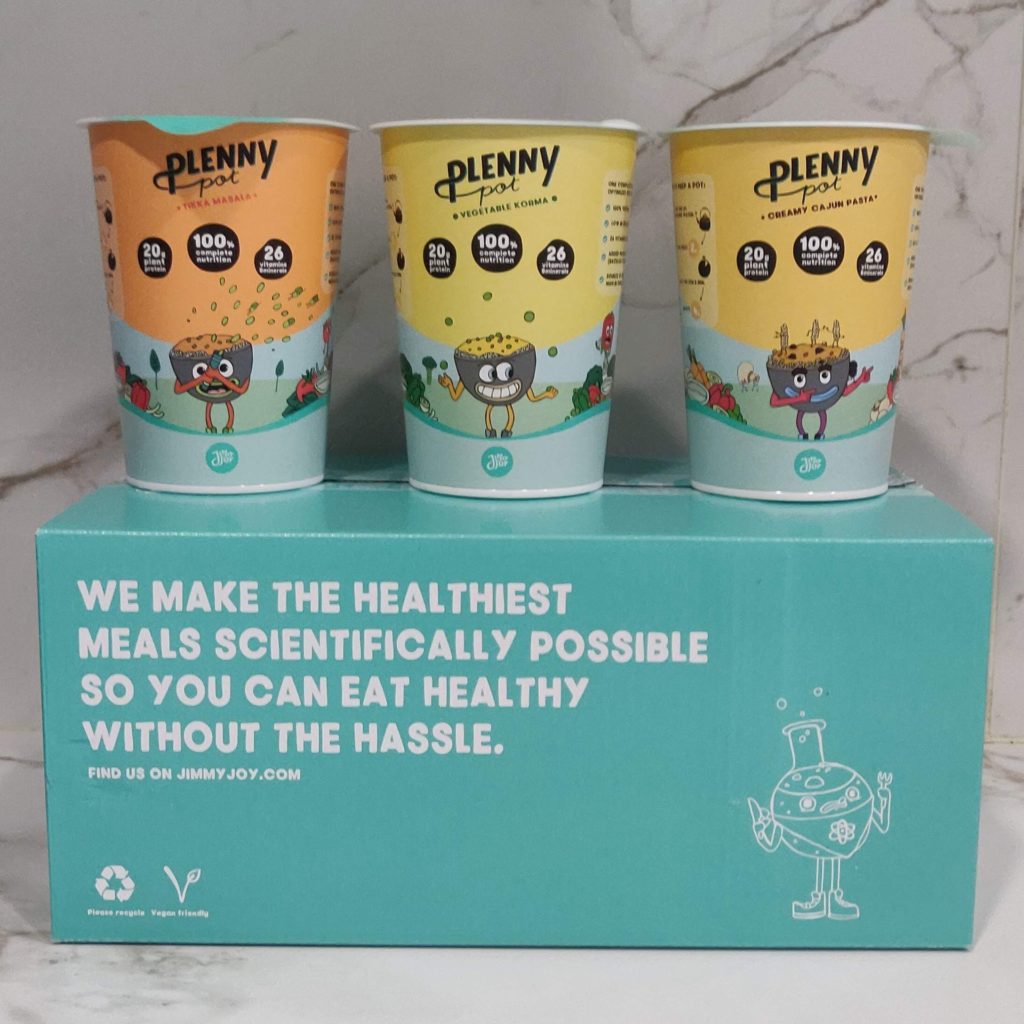 Plenny Pot Review at a Glance
Flavours: Creamy Cajun Pasta, Tikka Massala Lentils, and Vegetable Korma Rice.
Opinion
In 2021, hot and savory meal replacements exploded. This offer a break to those consuming shakes regularly, and also offer a better meal for lunch and/or dinner.
As such, Plenny Pots were very timely and I had high expectations. They sounded fun and the flavours just right in my alley. After this Plenny Pot review, I wouldn't say I'm disappointed, but I am back to reality.
Taste and texture wise, these are closer to ready to eat or add-boiling water meals. Which is both a good and a bad thing. They taste OK, but they are no homecooked meal (neither they try to be).
Instead, they are a fantastic healthy option for your work lunch or that dinner that you were simply too tired to cook for. I would definitely have a few in my pantry and use them when I needed them.
What I like
1. Great hot meal for when you need it. The best part about the Plenny Pots is that you can have them in the pantry, and enjoy a healthy meal in 5 minutes whenever you need the most.
2. They all taste pretty good, none of them is awful. Taste is good, not amazing; but none of them was unpalatable (which has happened with other hot options).
3. Very competitive price.
4. 400kcal is just enough for a light meal.
5. Super convenient. The single serving format will allow you to take it to work, holiday, or anywhere you might need it.
6. Healthy. No big complaints from the nutritional stand-point.
What I dislike
1. Do not expect a homemade meal.
2. All flavours are very spiced up, and feel similar. They don't taste the same, but there's no huge difference between them.
3. Not as filling as I would've hoped. I was kind of hungry after having 1 serving, I could've had 2 most of the time.
4. Only available in single-serving pots. I would love to see bigger bags that allow me to have bigger meals and maybe save some money.
Improvements
1. I look forward to seeing even more flavours.
2. Have a multi-serving bag.
Plenny Pot Taste Review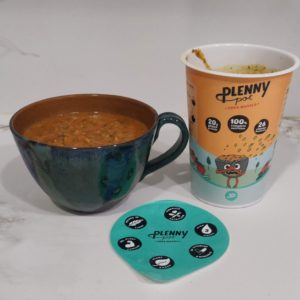 | | |
| --- | --- |
| Best Flavour | Tikka Massala Lentils |
| Worst Flavour | Vegetable Korma Rice |
| Taste | Most of them are quite accurate to their name. Tikka Massala is the most spiced up (not hot, but plenty of spices), Korma is more subtle, and Cajun Pasta is perhaps the easiest to like of all 3. |
| Texture | The rice and the pasta won't have the soft texture fresh equivalents have, but a more stiff one. The three are slightly soupy, with the sauce being prevalent. |
| Easy to Mix | N/A |
| Satiety | I found myself wanting more (particularly Korma), after each meal |
| Easy to Clean | The pot can be rinsed with water and thrown to the bin. |
| Afterthoughts | All three flavours are rich in spices, which might not be to everybody's liking. You can feel a little bit of chalkiness in some of the mixes, but I didn't find this to be overbearing. |
As a disclaimer, I should say that you shouldn't expect a master chef meal. If you have such unrealistic expectations, you will be disappointed.
That said, for a ready-to-eat meal or an instant meal, I found all three Plenny Pot options pretty delicious. There are some clear drawbacks on the texture and some of the flavours are pretty spiced-up, but across the board they are easy to like and enjoy.
Which Plenny Pot Tastes Best?
Definitely, this will be highly subjective. For instance, I strongly believe that Cajun Pasta is the easiest to like of the three, since it's not as rich in spices and you might be more familiar with the flavours. The other two have more acquired taste and could put some people off.
All in all I think they are all pretty close to each other with 7-8/10 scores.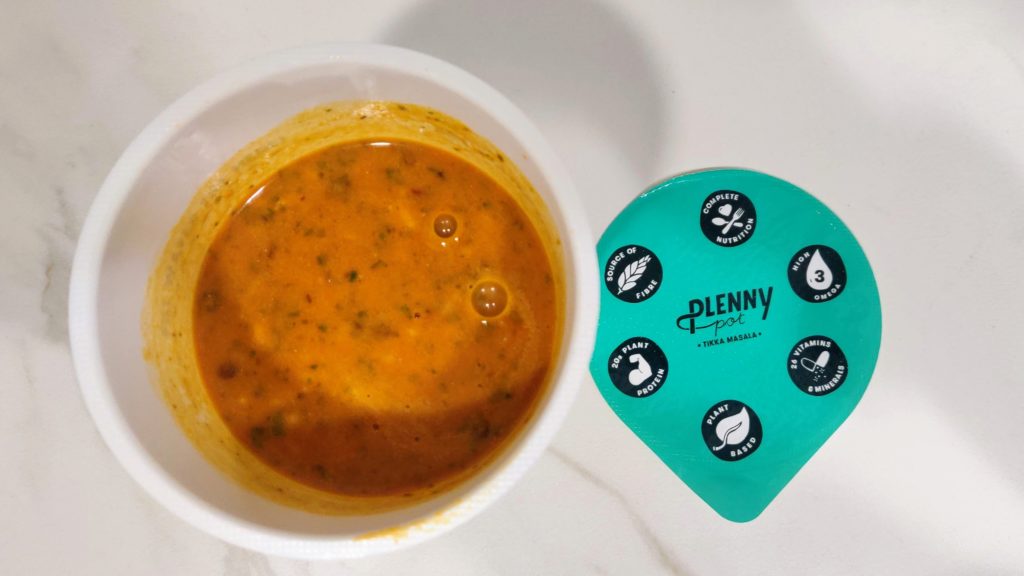 1.Tikka Masala Lentils: At first I didn't think this would be my favourite, since it's heavily spiced up, and it's not the red British Tikka Massala that I am used to. I also missed a more substantial filling (pasta, rice, chicken) as lentils were meshed into the sauce. However, the spices gave it a unique flavour and this was what I enjoyed the most.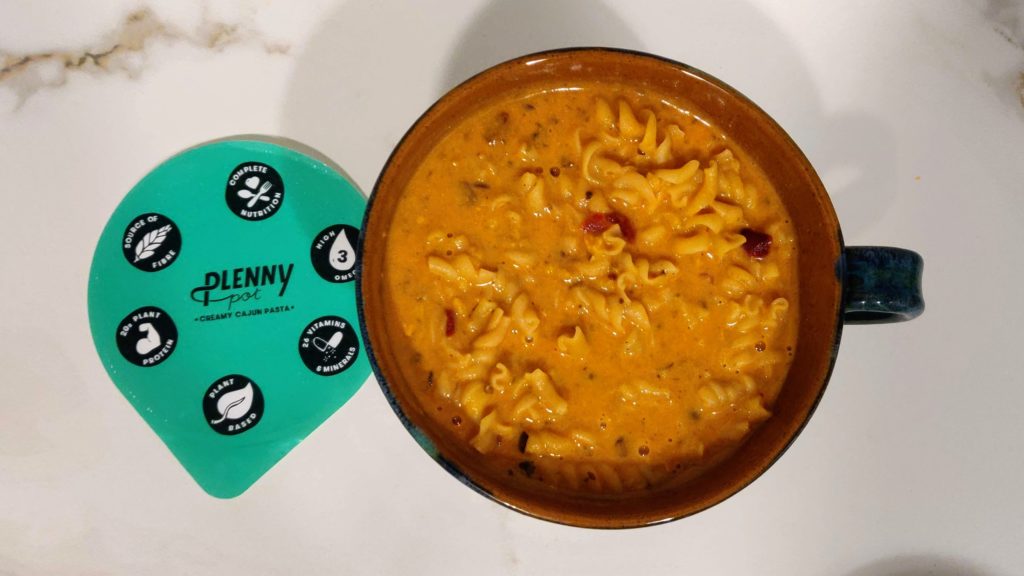 2.Cajun Pasta: I like the pasta as a filling (even if it's not as good as fresh pasta). Also, this flavour is quite easy to like and probably the one that I would recommend to most people.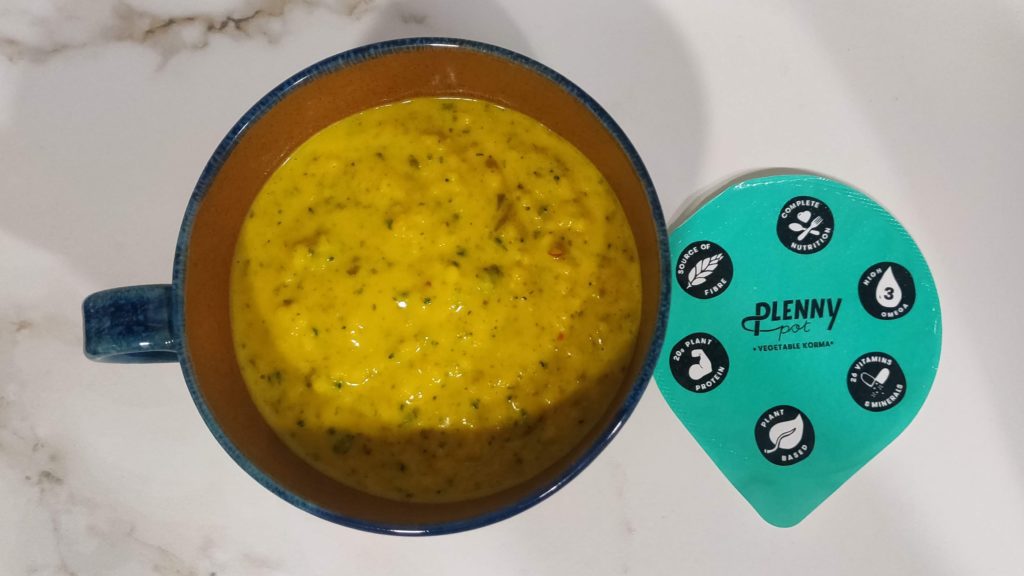 3.Vegetable Korma Rice: This is another instance in which I expected Korma to be something else (a sweeter more dense sauce). The rice works perfectly, though, and the mix is rather good.
How to Prep Your Plenny Pot
There's truly no secret on how to prepare your Plenny Pot. I found that the given guidelines were spot on, and the meals didn't need much more (salt, black pepper or other spices).
All you need to do is the following:
Heat up 200ml of water to boiling temperatures.
Pour the water into the pot (up to the line) and steer vigorously. Make sure you reach the bottom.
Leave the mix to cook for 5 minutes. Optionally, you can steer it once or twice.
Enjoy on the pot or your favourite mug.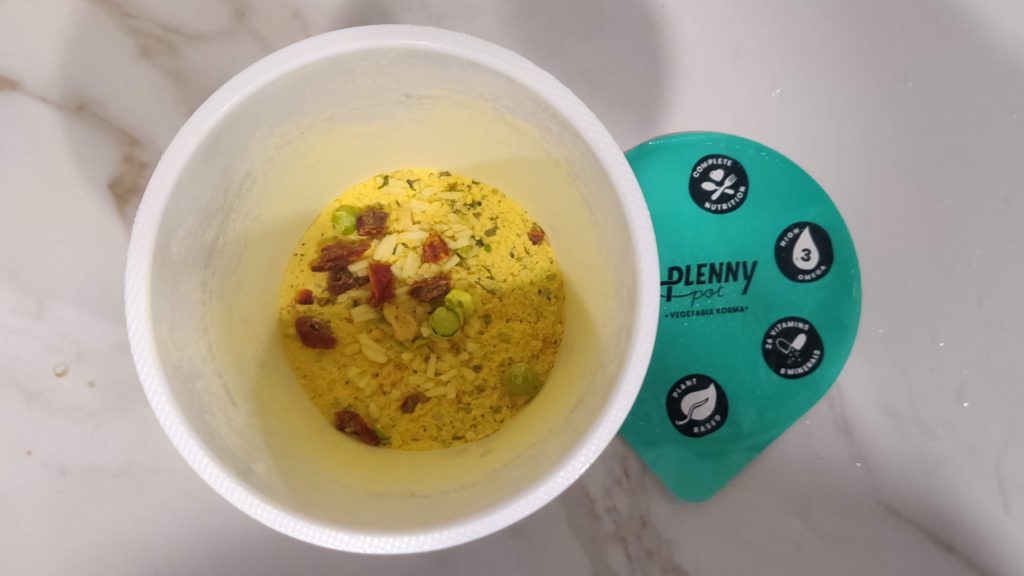 Plenny Pot Nutrition Breakdown
Like I said previously, all Plenny Pots are plant based meals and complete. This means that they deliver all the necessary nutrients without any dairy or animal based ingredients.
In order to achieve so, Jimmyjoy adds soy protein isolate, and a vitamin and mineral mix among other ingredients. You can look for exact ingredients below.
In short, they will offer you a healthy 400kcal meal with all the nutrients your body needs (as stated by the European Food and Safety Agency).
Nutritional Overview of Plenny Pot:
| per serving 100g | Cajun Pasta | % of RI |
| --- | --- | --- |
| Macros (C/P/F) | 50/20/30 | |
| Energy (kcal) | 400.0 | 20 |
| Total fat (g) | 13.0 | 19 |
| Saturated (g) | 2.1 | 11 |
| Carbs (g) | 45.0 | 17 |
| Sugars (g) | 11 | 12 |
| Protein (g) | 20.0 | 40 |
| Salt (g) | 1.1 | 18 |
| Fibre (g) | 12.0 | 60 |
% of RI based on a 2,000kcal diet. Exact values might vary.
Cajun Pasta: Wholemeal pasta (33%), plant based protein matrix (14%)(pea protein isolate, soy protein isolate), sunflower oil powder, tomato powder, dried vegetables, (9%) (red pepper, mushroom, carrot, onion), coconut milk powder, black beans (6%), cajun seasoning (4%), chicory root fibre, vitamin and mineral mix (2.2%), glucose syrup, flaxseed, natural flavour (celery) salt, garlic powder, onion powder, cracked black pepper, white wine vinegar powder, coriander, probiotic: Bacillus Coagulans.
Tikka Massala Lentils: white rice (23%), plant protein matrix, green lentils (13%), tomato powder, coconut milk powder, dried vegetables (7%)(red pepper, green pepper, onion, spinach), vitamin and mineral mix (2.2%), coconut oil powder, curry seasoning (includes mustard and celery), sunflower oil powder, chicory root fibre, cumin, potato starch, salt, coriander, coconut sugar, flaxseed, garlic powder, onion powder, lime powder, maltodextrin, paprika, ginger, natural colouring, probiotic: Bacillus Coagulans.
Vegetable Korma Rice: white rice (36%) plant protein matrix, dried vegetables (12%) (green pea, red pepper, broccoli, onion), coconut milk powder, sunflower oil powder, curry seasoning (5%) (includes mustard), potato starch, vitamin and mineral mix (2.2%), chicory root fibre, glucose syrup, flaxseed, salt, natural flavour, turmeric, garlic powder, onion powder, coriander, cracked black pepper, lime powder, probiotic: Bacillus Coagulans.
Carbohydrates
Generally speaking, Plenny Pots have higher carbohydrate content than your average shake. That said, it's still only about 50% of the energy only coming from carbohydrates, which is not that high.
Korma and Tikka use white rice, mostly; whereas Cajun Pasta contains wholemeal pasta. Besides, they contain vegetables (rich in fibre) and some sugar to counteract the acidity (standard practice when cooking).
Perhaps because of that, the sugar content of the meals is higher than what we are used to see (~11g/serving). In this regard, Korma rice is the best with just 5.2g.
Does this mean that these meals are unhealthy? Not really, since they are still below the maximum daily recommended dose.
Protein
All 3 mixes contain exactly 20g of plant based protein. Most of it (if not all) comes from the pea protein isolate and soy protein isolate added to the food.
I have no complaints on this regard, since both are good sources of vegetable protein, in particular soy protein isolate.
Fats
When it comes to fats, there's nothing that remarkable. Plenny Pots use a mixture of sunflower oil powder and coconut milk powder. The latter is a very common ingredient in curries and I am not surprised to see it at all. It does, however, increase the amount of saturated fats in the meals.
Besides, they include some flaxseed to provide you with omega-3 fatty acids. Although, I am not sure how much they include
Micronutrients
This is where Plenny Pots might be richer in nutrients than the standard shakes. Besides the vitamin and mineral mix providing you with all the essential micronutrients, the Pots include many vegetables that are rich in both. Examples of this include, spinach (rich in iron), green pepper, broccoli, onion…
Allergens
Plenny Pots contain soy, celery, mustard and wheat.
More about Plenny Pots
I have covered Jimmyjoy (manufacturer) in many of my other reviews. They are one of the first complete food companies founded in Europe, and they have always been a customers favourite.
Jimmyjoy tends to offer affordable, fun and flavorful meals; and in this case, Plenny Pots are no exceptions. Besides the Pots, you will be able to buy meal replacement shakes, bars and ready to drink products.
Pricing & Packaging
As aforementioned, pricing is usually one of Jimmyjoy's main strengths.
Regarding the Plenny Pots, they come in 6 meal packs and cost €3.5/400kcal. However, you can subscribe and save 15% (€3.15/meal). They do not offer a bulk discount.
In the UK, each meal costs £2.97 without subscription, and £2.52 with.
As for the US, this is $4.50 without subscribing and $3.83 per meal when you do.
So How Does This Compare to Other Hot Alternatives?
Note that I have not included the Mana Burger, which is available in some European countries and the UK.
| | | | |
| --- | --- | --- | --- |
| | Plenny Pot | Huel H&S | YFood |
| Per 400kcal (expensive) | €3.50 | €3.84 | €3.99 |
| Per 400kcal (cheapest) | €3.15 | €2.72 | €3.99 |
Price comparison for food like products in Europe. YFood's is only available in Germany
In the US, you can also get Vite Ramen, instant complete noodles.
| | | | |
| --- | --- | --- | --- |
| | Plenny Pot | Huel H&S | Vite Ramen |
| Per 400kcal (expensive) | $4.50 | $4.17 | $4.65 |
| Per 400kcal (cheapest) | $3.83 | $2.81 | $4.44 |
Price comparison between some of the best meal replacement bars available in the US.
It must be said, while competitive, Huel Hot & Savoury is the more affordable option in most cases. Even in the UK, which I've not showcased above.
Plenny Pot vs
In all honesty, there are very few products that compete with Plenny Pots. They are a hot alternative to the best meal replacement shakes, and this is a brand new segment.
That said, there are 4 products that are worth mentioning:
Huel Hot & Savory
Vite Ramen (US only)
Mana Burger (selected countries only)
YFood Pots (Germany only)
As you can see not all options are available worldwide (like the Plenny Pots are). In the case of Mana Burger, this is a plant-based complete burger and it's not quite the same as the Plenny Pots.
| | | | |
| --- | --- | --- | --- |
| | Huel H&S | Plenny Pot | Vite Ramen |
| price ($)/400kcal | 4.17 | 4.50 | 4.65 |
| kcal/serving | 400 | 400 | 500 |
| Macros (C/P/F) | 45/25/30 | 40/20/30 | 43/27/30 |
| Protein (g) | 24 | 20 | 20 |
| Sugar (g) | 10 | 1 | 5 |
| Fiber (g) | 14 | 6 | 3 |
| Fats (g) | 13 | 19 | 10 |
| Vegan | Y | Y | Y* |
| Organic | N | N | N |
| Based on | Soup | Pasta pot | Ramen |
| Synthetic Additives | Y | Y | Y |
| GMO | N | N | Y |
Prices shown are most expensive option. Many of these include way to lower it. Huel H&S now includes many different variations
Plenny Pots vs Huel Hot & Savoury
Perhaps one of the closest rivals to Plenny Pots is Huel's Hot and Savory. The British company offers up to 9 different flavours in the EU, US and UK. Remarkably, it's not just 9 different flavours, but also different textures and ultimately meals.
Allow me to explain. Some of the H&S are more like vegetable/legume soups (Tomato & Herb or Thai Green Curry). However, they now also have Chick'n & Mushroom Pasta and Mac & Cheeze; which are, as the name suggests, based on pasta. All of these are plant-based and soy free.
Thus with Huel, you will find more variety, both in the spiciness of your meals and the flavours. They are also competitively priced.
Plenny Pots, on the other hand, are a little more fun and convenient (due to the 1-serving format). The flavours are also easier to like. On average, they are tastier, while Huel has the higher highs.
Plenny Pots vs Vite Ramen
Vite ramen is a US based company that does instant ramen that is nutritionally complete. Aka, healthy instant ramen. They offer a variety of flavous (mostly non-vegan) and one vegan flavour. Their secret is on the home-made noodles and their nutrient boost.
In general, Vite Ramen offers you a more culinary experience, as well as, more options to tweak your meals.
Plenny Pot FAQ
Are Plenny Pots vegan?
Yes, all flavours are vegan.


Can I only eat Plenny Pots?
While in theory you could live off Plenny Pots alone, I would advise you against doing so.


Are Plenny Pots gluten-free?
Yes, but they might contain wheat, celery, mustard and/or soy.


Can I buy Plenny Pots in the US?
Yes, Plenny Pots are already available in the US.


Are Plenny Pots healthy?
100%. They are a nutritionally complete and balanced meal, without any excessive sugar, saturated fat or any unwanted ingredients.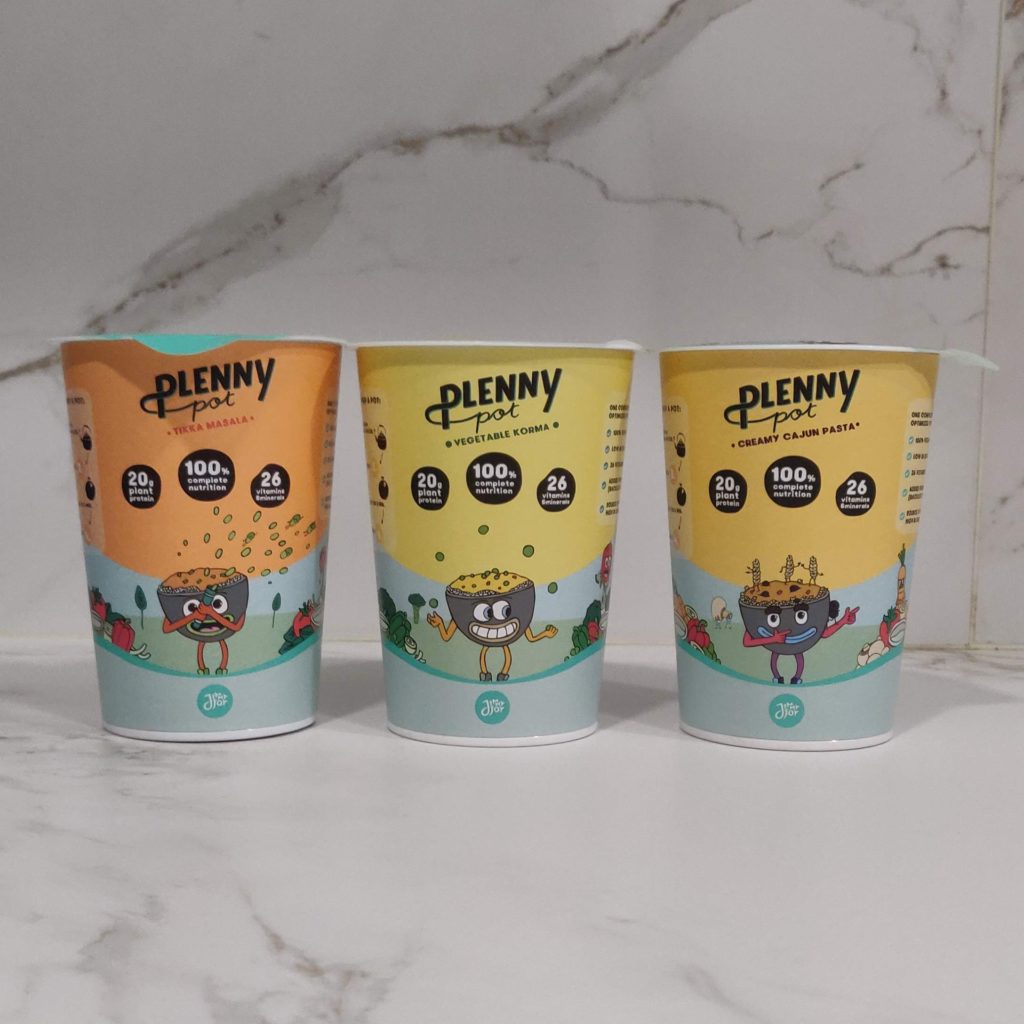 ---
Verdict – Plenny Pot Review
I was very excited before doing this Plenny Pot review. Hot and savoury complete foods were the hot trend in 2021, and they offer a unique alternative to shakes. So did Plenny Pots matched my excitement?
Yes, they were definitely a fun meal to have, quite easy to like and ultimately, complete and healthy. Ready in 5 minutes, they really do save you time, and they can be a great complement to your diet; in particular, if you tend to eat away from home.
However, there were few shortcomings that are worth noticing:
This will not be the same experience as having a homecooked meal. You can taste the "ready-to-eat" factor in them.
I think that the flavours are very spiced up (not hot); and I would've liked to see something milder or more different.
Compared to traditional instant noodles or canned spaghettis they are more expensive.
Nevertheless, I think it's more fair to compare them to other hot and savoury complete foods were Plenny Pots do well price-wise.
Ultimately, they are a fun and tasty hot meal option that I could recommend to anybody looking for something like this. Even if there are competitors that offer a more varied assortment, Plenny Pots are still a good option.