Queal Standard Review | The Gold Standard ?
The 'almost' perfect meal replacement for anyone and everyone
Queal Steady Standard at a glance
Queal Steady (Standard), recently renamed from Queal Standard is a meal replacement targeted to the overall population. For less than $2.5 (€2.33), you can enjoy a delicious 700kcal meal in up to 7 different flavours. All within minutes. Is Queal Steady what you need to balance your diet and get the quality nutrients that you need?
However, the question remains: is Queal Standard the meal replacement for you? Let's find out. We discussed some of the details of Queal's philosophy when designing their food replacements: high protein profiles and each serving providing you one third of your daily macro and micronutrients.
This is the Queal Steady Standard v5.0 iteration where there have been significant changes to the formula, most noticeably:
The main source of carbohydrates becomes an even split of isomaltulose and maltodextrin, which lowers the GI to 50.
The amount of protein per serving is lowered to 35g per serving from 49.2g (33% reduction) in favour of more fats (from 18.4g to 24.3g)
This changed the macronutrient split from 46C/29P/25F to 46C/20P/34F.
Palm oil has been removed as fat source (which we critiqued before).
Macronutrients per serving (g)
Protein(g)
Carbs(g)
Fiber(g)
Fats(g)
% of Energy from each macronutrient
Carbs 46%
Prot 20%
Fats 34%
% of Recommended Intake per serving
RI based on 2,000kcal
RI based on 2,500kcal
So after all the gibberish about nutrition, let's get down to the real question, does it taste good? The short answer is yes, Queal Steady Standard tastes amazing in all its variations.
"The sweet aroma of smooth peanut butter and chocolate made my tastebuds dance with excitement. It has a nice light fragance that reminds you of nice chocolate. I was gladly surprised to see a correlation in the taste, smooth, chocolaty, without being overly sweet with some hints of nuts. I did not find myself willing to finish it as quickly as possible, quite the opposite, I was sad when I drink it all. The crazy chocolate peanut has a very nice aftertaste as well." (Excuse me for the poor effort to embelish the tasting trial).
While I was in the clouds, enjoying the taste of my meal, I was brought down to Earth due to its texture. As some other customers have pointed out, it was clumpy. The standard powder version does not mix as well as we would like in the shaker. There were small lumps, while they did not affect the taste, they were a nuisance.
Another correlated problem is the consistency. It striked as powdery, specially at the back of the throat. Maybe, increasing the amount of water added might solve this problem. However, I personally enjoyed the thickness of the drink, since it made it feel more solid or food-like.
All in all, it was a very pleasant meal, easy to drink and with a nice aftertaste. I felt slightly hungry, straight after finishing, but that feeling went away in less than 5 minutes and I did not think about eating in the next 4 hours. Which is quite an accomplishment, since I'm used to eat every 3h! I would like to remark that I did not feel bloated or overly full, but rather re-energized and refocused.
What Queal Standard tastes best?
I have to say that all the Queal flavours are sweet. I found the Queal's chocolate options to be some of the best of the market, while the vanilla and the fruity ones were OK. Most shakes improved a lot with some milk (30milk/70water upwards) and I would strongly recommend it.
Chocolate Hazelnut Happiness (A+). Best out of the two chocolate flavours, because I personally enjoy the touch hazelnut gives to it.
Cool Chocolate (A+). With milk it tastes like a good chocolate milkshake, just slightly thinner and without the factory-blend smoothness (which I do not mind).
Awesome Apple Pie (A). For me it is the cinnamon touch, which is king in this flavour. It is fairly sweet and actually tastes like apple pie.
Morning Macchiato (B). Enjoyable coffee touch, which I would recommend consuming with at least 50/50 milk-water mix.
Super Strawberry (B). Do no expect to be a strong strawberry shake (For that I would recommend Next Level Meal Strawberry). However, the shake itself is really nice to drink.
Smooth Vanilla (C). Reportedly, many users like this. I personally enjoy stronger vanilla flavours (like Huel and Pulve). In my opinion, this is the closes you can get to a neutral flavored Queal Standard. While not unpleasant, I did not think much of it.
Funky Forest Fruit (C). CSimilarly to Vanilla, I found the flavour to be to plain and not distinguishable enough. I would have liked some more character (like added bitterness).
Banana Mania. This flavour is probably great if you like Banana. I just simply do not enjoy it.
A+  Stand-out/Favourite
A    Very Good
B   Good
C   Nothing special (not bad, just average)

Delivery, Unboxing and Packaging
I ordered Queal Standard Taster Bundle. It was shipped the same day -which is usually the case if ordered before 7pm GMT. The delivery costs were €3.03 (£2.6 or $3.27); but note that if the order was over €50, it would have been cheaper. Unfortunately, the customer needs to select each country individually when checking out for detailed shipping costs, so we cannot ensure shipping cost to be the same.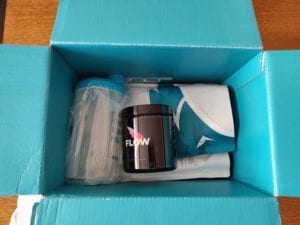 The box containing the taster bundle arrived within two days. The items were carefully laid out and wrapped with protective plastic. For first time buyers, Queal includes nice surprises, such as, a free shaker (sadly they do not give away the cool t-shirt that they used to). They also provide an informational booklet.
We need to praise the quality of the bags in which the meal replacement powder comes in. They are beautifully designed, with the logo and the flavour at the front; and nutritional information, plus instructions at the back, in both Dutch and English.
The bags have an easy open top and resealable velcro-like zip for multiple uses. The velcro provides easy sealing and I have not had any problems with spilling or odour scaping.
On this note, Queal standard is only delivered in packs of 3 meals (502g). This produces unnecessary waste, and there should be options to upgrade your bag or have your meals delivered in bigger pouches that contain several meals. I find out that not many people will make use of the "daily serving bags" and they end up being too big to carry around, but too small to be fully practical to store at home.
Who is Queal Steady Standard for?
Anybody who is looking for a healthy, balanced and quick meal. We personally think it suits sedentary and moderately active people more (people who consume 1800-2400kcal a day), and if we were fairly active we would look to buy a meal replacement richer in calories (see Queal Athletic) or increase the recommended serving. Alternatively, if you believe this to be too much for you check Queal Agile.

Does it taste good?
Yes, it tastes amazing. If you do not mind the small clumps or you have a blender in which to blend it, you will love it!
Will I get all the nutrients I need?
Definitely. Your diet will be high in protein and relatively low in carbohydrates, but you will not be getting much added sugar or saturated fats either (awesome!). However, you will have to look to consume a calcium rich product to fill for the minimal calcium and riboflavin deficiency of the product (a coffee with milk should do!).
I want to buy it. How much will it cost me?
2.33 euros or £2 per meal, plus shipping costs. You can buy it through the Queal website and you will have it in your house within 2-5 days.
I can't get enough of it!
Make sure you take full advantage of their 30-day subscription option and safe time and money.
Wait a moment, is it perfect?
No, it is not. The powder does not mix completely when mixing with 350ml of water, it has a slightly powdery feeling (nothing uncomfortable), and the name is far from original and catchy. Also, with the lowering of protein content, I would recommend to those who have a more active lifestyle to look at Queal Athletic instead. On the opposite side, if you do not move around too much, 2,100kcal might be too much and Agile might be a better fit for you.

Verdict
We love it, we strongly advise to try it; despite some minor improvements would enhance the product to be a golden standard of the industry. Great range of flavours and very tasty in most variants. I spent one week on Queal and it was a great week; I felt fully energized, satisfied with my meals and I had no problems at all. That is why I recommend it.