SkinnyFit Greens Review | Can It Help You Lose Weight?
In this world where we try to optimize every single aspect of our nutrition, greens supplements have become very popular. They provide us with micronutrients and phytonutrients that are otherwise missing in our diets, due to the lack of vegetables on them. In this SkinnyFit greens review, I will have a look to this greens superfood blend that aims to complete your nutrition and help you with your weight loss goals.
Unlike most green powders, SkinnyFit targets those who are looking to lose weight, even adding ingredients like glucomannan which is usually seen in fat burners and weight loss shakes. At least they do have active ingredients that help you with weight loss, and not only claim that they do.
Taking that into consideration, it is still primordial to look at the superfood blends to analyze if you will get the full health benefits of a top greens powder. Unfortunately, this is another occasion where the ingredients are hidden by a proprietary blend which makes assessing the effectiveness of Skinny Fit Greens harder.
With that in mind, I would always recommend opting for transparent formulas in which you know exactly what you are getting, and that there are no fillers in the mix.
All in all, let's discover SkinnyFit Greens in this review, and see if this is actually a good greens powder for weight loss or not.
Key Takeaways
Ingredients hidden behind proprietary blends
Chlorella and spirulina at the right doses
Contains weight loss ingredients, but in dosages that are too low to do anything
Way too expensive for what it offers
Only one flavor to choose from
Boost your health with greens at the right doses with the best superfood powders.
---
Skinny Fit Greens Review at a Glance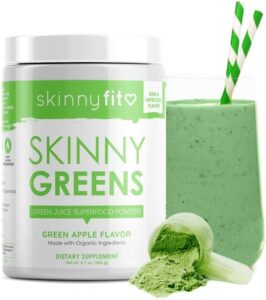 Flavors: Green Apple.
Pros
High doses of chlorella and spirulina
Some ingredients that can help you with weight loss
Good greens blend
Cons
Expensive
Ineffective for weight loss
Underdosed ingredients
Not good for mental clarity and energy
---
Skinny Greens Ingredients Analyzed
As usual, the first red flag is up as soon as I read the ingredients in SkinnyFit greens. The exact quantities are hidden behind a proprietary blend, which usually means that ingredients are in low quantities.
That aside, SkinnyFit greens are vegan, natural, gluten-free, and soy-free, however, they are not organic like some of the competitors such as Jocko Greens or Bloom.
Here is the ingredient list:
Wholesome Superfood Blend 3,400mg
Healthy Gut Probiotic Blend, 2,530mg
Mood-boosting Adaptogen Blend, 670mg
Slimming Greens Blend, 320mg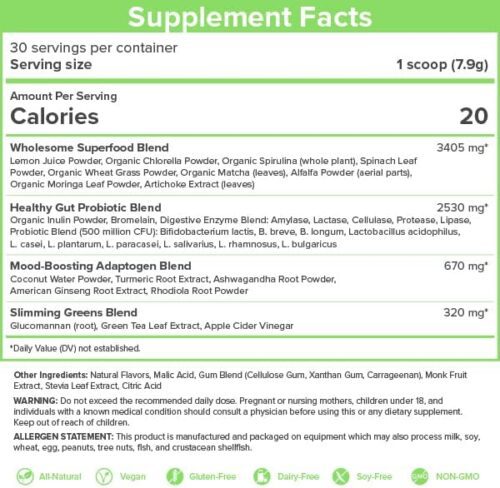 Wholesome Superfood Blend (3,405 mg):
Contains: Lemon Juice Powder, Organic Chlorella Powder, Organic Spirulina (whole plant), Spinach Leaf Powder, Organic Wheat Grass Powder, Organic Matcha (leaves), Alfalfa Powder (aerial parts), Organic Moringa Leaf Powder, Artichoke Extract (leaves).
It's a shame we cannot see the exact ingredient quantities, because this greens blends looks very promising.
For instance, chlorella and spirulina are two of the most important greens in any superfood blend, and there should be at least 1g of each – which is possible to be the case. Among the many health benefits, these algae can help you detox your body, fight inflammation, boost your immune system and reduce the chance of chronic diseases.
The inclusion of certain powders like lemon juice or organic wheat grass is a little weaker. Some animal studies have shown that lemon polyphenols can have a positive effect on aging, slowing down the process and improving conditions with age.
Gut-Renewing Probiotic Blend & Digestive Enzyme Blend (2530 mg):
Contains: Acacia Fiber (sap), Bromelain, Amylase, Lactase, Cellulase, Protease, Lipase. Probiotic Blend (500 million CFU): Bifidobacterium lactis, B. breve, B. longum, Lactobacillus acidophilus, L. casei, L. plantarum, L. paracasei, L. salivarius, L. rhamnosus, L. bulgaricus.
This is one of the most comprehensive probiotic blends in any greens powder, far superior to popular products like AG-1 Drink. Still, this is less than what you would get from a dedicated probiotic blend.
That said, the digestive enzyme blend can help your gut digest the meals better, and the probiotic blend will improve your gut microbiome. Taking care of your gut microbiome is especially important while on a diet, as studies have shown that weight loss can change the diversity and composition of your healthy gut bacteria.
Mood-Boosting Adaptogen Blend (670 mg):
Contains: Coconut Water Powder, Turmeric Root Extract, Ashwagandha Root Powder, American Ginseng Root Extract, Rhodiola Root Powder.
Most green powders are obsessed with adding adaptogens like ashwagandha or Rhodiola – e.g. Bloom, Vibrance Greens, Kiala-, but in most cases they are massively underdosed.
Ashwagandha has many health benefits including stress relief, reduction of inflammation and increased focus. However, doses higher than 700mg are recommended for ashwagandha to be effective.
Similarly, the active extract in turmeric is curcumin, which fights inflammation, reduces joint pain, and boosts your immune system. In order to get enough curcumin, you would need a couple of grams of turmeric.
This highlights the importance of having transparent labels.
Waist-Slimming Blend (320 mg):
Contains: Glucomannan (root), Green Tea Leaf Extract, Apple Cider Vinegar.
This should be the grace-saving blend. Indeed, they do have glucomannan which studies have proven to be an effective appetite suppressant that helps you with weight loss. 
However, a higher dose up to 3g was used in these studies, so 300mg are not going to do enough. The links between green tea extract and apple cider vinegar with weight loss are weaker, but once again they are largely underdosed in SkinnyFit greens.
You are far better off buying a fat burner like Hourglass Fit that contains more active ingredients that promote weight loss, or a meal replacement shake that will help you control your calories.
SkinnyFit Greens Health Benefits
In the section above, I have demonstrated that most health benefits and weight loss benefits claimed by SkinnyFit won't be as impactful as they state.
However, let's have a look at the health benefits SkinnyFit Greens is meant to provide you:
Better digestion
Enhanced energy levels
Helps with mental clarity
Reduces bloating
Supports healthy weight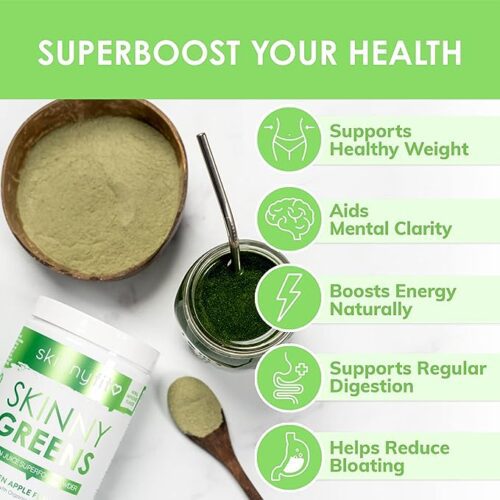 Skinny Fit Greens and Digestion and Bloating
Despite the fact that the amount of probiotics and digestive enzymes in SkinnyFit greens is too low to maximize the health benefits to your gut microbiome, if your diet is severely lacking you might see a positive change.
The current understanding is that 10 to 20 billion CFU doses are enough to maintain immune and digestive health. Therefore, the 500 million CFU in SkinnyFit greens will barely move the needle.
Does NOT Help with Mental Clarity
As discussed beforehand, greens tend to overblown the positive effects of the adaptogens that they introduce, ignoring the fact that the doses are ridiculously low most of the time.
Studies have shown that ashwagandha can help you manage stress and anxiety, but the most common dose is 600mg divided into two doses. Similarly, Rhodiola rosea can have a positive impact on mental clarity, but at doses that are larger than 200mg.
Thus, I would not buy Skinny Fit greens if you are looking for brain health, but instead, I would buy a top brain supplement like Hunter Focus.
Supports Healthy Weight and Aids with Weight Loss
Perhaps, this is the biggest selling point of SkinnyFit greens, therefore, the one aspect it should be the most efficient.
Sadly, this is another case of having the right ingredients in the wrong doses. Taking Skinny Fit greens won't help you with weight loss, because there's not enough glucomannan to suppress your appetite. You would need 10x the dose for this ingredient to be efficient. You are better off buying an appetite suppressant weight loss supplement, and saving the money on buying SkinnyFit Greens.
Does SkinnyFit Greens Work?
No. Unfortunately, SkinnyFit won't be efficient at aiding you with your weight loss journey. It will, however, provide with a good boost to your greens intake, thanks to the chlorella and spirulina in the mix. These algae have antioxidant properties that reduce free radical damage and anti-inflammatory effects that decrease the risk of chronic diseases.
That said, a more comprehensive and transparent greens blend like Supergreen Tonik will do better at all these aspects, as it has more of the right ingredients.
Alternatives to SkinnyFit Greens
Therefore, what are some alternatives to SkinnyFit greens that you can buy?
That will depend on your goal.
The best greens powder to enjoy long term health benefits: SuperGreenTonik
An affordable greens powder that will do a better job than SkinnyFit: EnsoGreens
A weight loss supplement that will help you suppress your appetite, burn more calories, and improve your mood: Hourglass Fit.
As you can see, there are multiple products that do what SkinnyFit does better.
Side Effects of Skinny Greens
Greens powders are usually safe for consumption. For the majority of the population SkinnyFit Greens will be OK to take.
That said, ashwagandha and rhodiola can have some adverse effects like nausea and diarrhea, but these often occur at much higher doses.
In case you feel any adverse effects, stop taking the supplement and contact your doctor.
Taste Skinny Fit Greens
As usual, taste is a very subjective factor that can make or break a product. SkinnyFit greens comes in only one flavor, which makes it even riskier. If you are looking for more flavors, try Vibrant Greens instead.
In this case, Skinny Fit Greens has apple flavoring, but with strong greens undertones. It is sweetened with stevia, which causes a lot of controversy among customers, and it's one of the weakest points of Skinny Fit greens.
You could mix it with your daily smoothie or a meal replacement shake, but you might end up ruining the drink as some of the greens can overpower the whole flavor.
Customer Skinny Fit Greens Reviews
SkinnyFit greens is sold on Amazon and on their own website, therefore there are many reviews to look at.
Looking at their own website, SkinnyFit Greens has almost 2,000 customer reviews and a perfect 5 star score. Of course, this needs to be taken with a grain of salt, as customer reviews can be easily manipulated and cherry-picked.
"I have noticed glowing skin, less inflammation and pain in joints (knee), less bloat and more energy. I am looking forward to seeing further and additional results."

Amanda S, 5 star
Amazon SkinnyFit Greens Reviews
On the other hand, SkinnyFit greens reviews on Amazon are not so positive with a rating of 4.1 stars in 3.3k customer reviews.
Many users believe that this product is not a good value for money, which I agree with, and the flavor is also a big point of contention. In fact, the tub is half empty which makes an even worse impression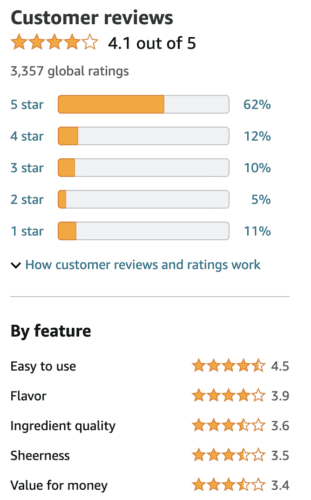 The product taste great and doesn't make me feel sick. It's not too sweet, really like green apple. Only reason i took of one star is cause the container is half full. I understand the spoon is taking up space but c'mon they aren't giving the money's worth to the customers. Will i purchase this product again? Only if they fill the container. Its too pricey to not be full.

4-star
It's not worth the money. My stomach hurts. It was half full when I got it.. I don't recommend it and I will not buy it again! I want my money back!!It was half empty.. I don't like how it makes my tummy feels when I drink it!! It makes me sick 🤢 I can't move my tummy feels like it's going to explode… I want my money back! This product is not worth it.

Megan, 1 star
Skinny Fit Reviews Reddit
The reviews from Reddit about SkinnyFit greens are fairly similar to those on Amazon. The Redditors believe that the product is too expensive for what it offers.
Furthermore, some users complained about the proprietary blend, and a few were disappointed by the lack of results in the weight loss department.
Expert SkinnyFit Reviews
See what other experts had to say:
Pricing & Shipping
You will be able to buy these greens on Amazon and on their website.
1 tub (30 servings) will cost you $90, or $3/day.
If you subscribe, the tub will cost you $70, or $2.33.
They offer a 90-day money back guarantee, which is fairly good.
Is SkinnyFit Skinny Greens Worth It?
After analyzing the key features, ingredients, benefits, and customer feedback, the question remains: is SkinnyFit Skinny Greens worth the investment?
Just look at the price! $3 for an average greens powder? I'm sorry but this is clearly not worth it. You have much better budget alternatives like Enso Greens, and if you can even buy the best greens – Supergreen Tonik- for the same price.
Even the popular Athletic Greens – one of the most comprehensive blends with 75+ ingredients- is priced at this level, and it's arguably a better product.
---
Verdict – SkinnyFit Greens, a Product that Promises too Much and Delivers too Little
At the end of this SkinnyFit greens review, one thing is clear for me. More often than not, it's better to try to do less, but do it better.
In this case, SkinnyFit Greens tries to be a blend between a weight loss supplement, a greens powder, oh and a nootropic! Yet, the portion sizes are minimal. Therefore, how are you going to fit the ingredients in the right doses?
The answer is by using proprietary blends and hiding the fact that there are not enough of them. Despite the marketing act and the promises, once you look at the label you can guess that most ingredients are largely underdosed.
And this is a shame, since the core greens like spirulina and chlorella are fine.
That's why I would recommend either buying a proper appetite suppressant for weight loss, or a greens powder with a transparent formula and effective doses.
SkinnyFit Greens
From $3/serving
Pros
Good dose of chlorella and spirulina
Ingredients that could help you with weight loss
OK greens blend
Cons
Very expensive
Not good for weight loss
Proprietary blend
Underdosed ingredients
Not effective to support gut health and mental health