Jocko Greens Review | A Promising Green with 1 Flaw
When it comes to the best greens powders, we really appreciate transparency and not having a proprietary blend that hide the exact quantities for each ingredient. Therefore, when I started with this Jocko Greens review, I was greatly surprised.
For the first time in a while, I was testing a product from a company that values transparency, unlike most popular competitors – AG1, Bloom, Kiala -and uses high quality organic greens.
In fact, the creator behind Jocko Greens is Jocko Willink, a retired U.S. Navy SEAL officer turned author and podcaster. Known for his no-nonsense approach to training and mindset, Jocko partnered with Origin USA to develop Jocko Greens. Origin USA is a Maine-based company that produces lifestyle clothing, mixed martial arts gear, and a range of supplements under the Jocko Fuel brand.
Therefore, I approached this Jocko Greens review with excitement, only to discover that their transparency has backfired. The formula has OK ingredients, but key greens like chlorella are underdosed.
Thus, despite the fact that it can be a good budget option for some people, I would recommend looking at greens that have at least 1g of chlorella and 1g of spirulina.
Key Takeaways
Transparent formula with 20 organic ingredients
Good set of greens, but many key ingredients are underdosed
OK for gut support, but not so great for immune system support
Taste is OK
For a transparent formula that has the right dosages, check our top green powder.
---
Jocko Greens Review at a Glance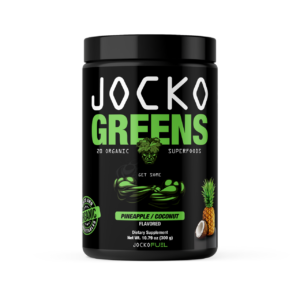 Flavors: Peach, Coconut & Pineapple.
Pros
Transparent label
Fully organic
Good to help your digestive system
Taste is OK
Cons
Underdosed ingredients
Could be cheaper
Not the best for immune system support, or boosting your energy levels
---
Jocko Greens Ingredients Analyzed
First and foremost, I must applaud the fact that Jocko Greens does not hide the ingredient quantities behind a proprietary blend. This transparency is a reflection of the "Jocko Fuel Standards", emphasizing responsibly sourced ingredients and production in the US.
Too many competitors like AG1 Drink or Bloom Greens opt for this tactic in order to disguise the fact that most of their greens are in low ineffective quantities. It's a scammy tactic that we need to get out of the industry.
Regarding the formula, Jocko Greens boasts a blend of 23 superfoods and adaptogens, with all organic ingredients and made in a cGMP facility. Here are the ingredients in Jocko Greens:
Organic Vegetable blend, 5.4g

Spirulina, 1.170mg
Wheat Grass, 900mg
Kale, 900mg
Spinach, 900mg
Beets, 300mg
Sweet Potato, 270mg
Broccoli Sprout, 180mg
Chlorella, 180mg
Oat Grass, 180mg
Cabbage, 180mg
Carrots, 180mg

Organic Fruit blend, 3.4g

Banana Powder, 1080mg
Pineapple, 1080mg
Apple Powder, 450mg
Grape, 360mg
Goji, 180mg
Pomegranate, 180mg
Acai Powder, 90mg
Wild Blueberry, 90mg
Cranberry Fruit Extract, 90mg

Adaptogen blend, 150mg

Rhodiola extract, 50mg
Ashwagandha extract, 50mg
Milk Thistle extract, 50mg

Probiotic blend, 9 Billion CFU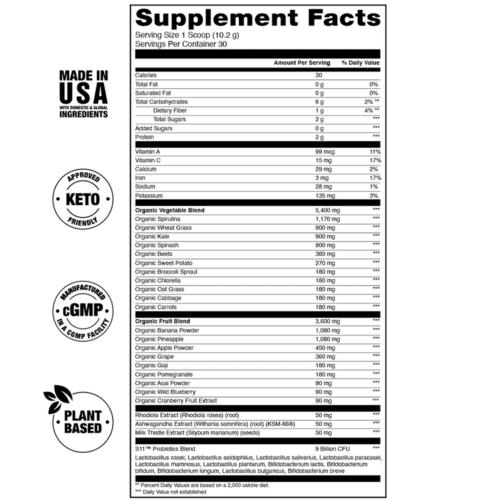 Organic Vegetable Blend
This is the core of any greens blend. As explained in the chlorella vs spirulina piece, there should be at least 1g of each to maximize their health benefits (antioxidant, anti-inflammatory effects, help you fight chronic diseases, helps you detox).
Unfortunately, there are only 180mg of chlorella in this blend, which is arguably the most important of them both as it's richer in omega-3s, iron, vitamin A, zinc etc.
On top of that, this blend includes wheatgrass, kale, spinach, beets, sweet potato, broccoli sprout, oat grass, cabbage, and carrots.
If we take another ingredient, like Beets powder, you'll find out that they are largely underdosed. Beets are rich in antioxidants and folate and have been linked to health benefits like reducing inflammation, blood pressure, and cholesterol. However, the recommended intake is over a gram (not 360mg).
Organic Fruit Blend
This section includes banana powder, pineapple, apple powder, grape, goji, pomegranate, açaí powder, wild blueberry, and cranberry fruit extract. These fruits provide a range of antioxidants that help combat oxidative stress.
It's common knowledge that bananas are rich in potassium, which plays a crucial role in maintaining proper muscle and nerve function. They also contain dietary fiber, vitamins (particularly vitamin C and B6), and antioxidants. However, in order to replicate the benefits of having a banana, you would require 200mg of powder per kg of bodyweight, which means that the banana powder in Jocko Greens is not going to do much.
Similarly, pineapple is often added for its antioxidative properties and the fact that it's rich in bromelain, a digestive enzyme that can improve your gut health. This said, pineapple powder has not been found to be as effective as having fresh pineapple or bromelain supplements.
Adaptogens
The adaptogens in the formula include Ashwagandha Root Extract, Rhodiola Rosea Extract, and Milk Thistle Extract. Adaptogens are known for their ability to help the body adapt to stress, improve mental clarity, and enhance cognitive abilities.
Most of the brain supplements include a mix of the 3, but in much larger doses, as 50mg of each will not be effective at all.
For instance, Rhodiola rosea has been linked with improvements in athletic performance, mental clarity, reduction of anxiety and stress, and even helping you combat fatigue. Most stress relief benefits come in doses above 250mg according to animal studies.
In a similar fashion, Ashwagandha is a very popular adaptogen to combat stress and anxiety, but can also positively improve your sleep, boost your testosterone levels, and help with weight loss. According to evidence, the optimal dose is 600mg often divided into two portions, far from what Jocko Greens offers.
Probiotics Blend
Lactobacillus casei, Lactobacillus acidophilus, Lactobacillus salvarius, Lactobacillus paracasei, Lactobacillus rhamnous, Lactobacillus pantarum, Fifidobacterium lactis, Bifidobacterium bifidum, Bifidobacterium longum, Lactobacilus bulgaricus, Bifidobacterium breve.
The S11 Probiotics Blend comprises 9 billion CFU of beneficial bacteria, which support gut health.
In this aspect, Jocko Greens offer more than most greens do. As stated in the Atheltic Greens AG1 vs Jocko comparison, the probiotic blend in Jocko is far superior – and this is the case when you compare it to most greens.
Health Benefits of Jocko Greens
In the above section, I've discussed the fact that Jocko Greens might not be as beneficial as they advertised, due to the fact that most of the ingredients are largely underdosed.
In fact, I wish they had fewer ingredients, but in higher quantities, as they contain some of the most important vegetables in their superfood blend.
That said, what are the health benefits that Jocko green powder claims to provide you with:
Supports digestion and gut health
Supports your immune system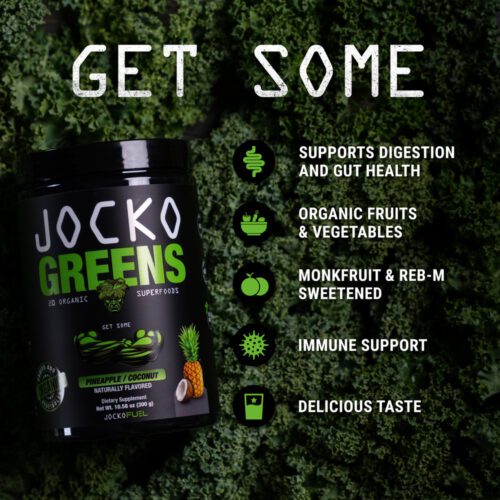 Once again, I'm surprised by Jocko Greens, as most greens powders (Vibrance, Primal Greens, AG1) make bolder claims like improved energy & mood, helps you with joint pain etc.
Supports Digestion
The truth is that Jocko greens could have a positive impact on your digestive system due to their high probiotic content.
Our gut microbiome is an extension of our brain, and it can deeply affect our health and mental status. Therefore, keeping your gut microbiota happy is extremely important.
That said, Jocko Greens does not have the digestive enzymes found in other greens like AG1 or Huel Greens, which could have been a good addition.
Immune System Support
If you are someone who does not consume many vegetables, then taking Jocko greens will have a noticeable positive impact. Fruits and vegetables are rich in micronutrients and phytonutrients like polyphenols, lignans, antioxidants that directly interact with your immune system on a daily basis.
Antioxidants, for instance, reduce the free radicals in your body which can harm your DNA and cells, causing long-term damage and a higher risk of cancer.
With that in mind, Jocko could do with more effective greens. As abovementioned, there should be more chlorella, beets and kale to properly boost your immune system.
Does Jocko Greens Work?
As discussed above, not as well as it should.
The efficacy of Jocko Greens largely depends on the sufficiency of the ingredient dosages. While the formula does contain a variety of beneficial superfoods and adaptogens, most of them appear to be underdosed. This might mean that the product may not deliver the full range of health benefits that these ingredients are known for.
Jocko Greens Alternatives
That's why I would recommend opting for a transparent formula like SuperGreens Tonik that actually has effective doses of all the ingredients. For slightly more money, you get a ton more in terms of actual health benefits.
In a similar price range, you have Enso Superfood Greens with actual high doses of spirulina and chlorella.
Potential Side Effects of Jocko Greens
While greens powders generally have minimal side effects, there's a possibility of experiencing mild bloating or stomach discomfort, especially for those not accustomed to consuming such products.
Ashwagandha and Rhodiola can cause negative reactions in a few individuals, but in these low dosages, this is highly unlikely.
Does Jocko Greens Taste Good?
Jocko Greens comes in a "pineapple coconut" flavor, sweetened with monk fruit. While individual tastes may vary, some find the tropical flavor palatable, whereas others describe it as "chalky" or "overwhelming".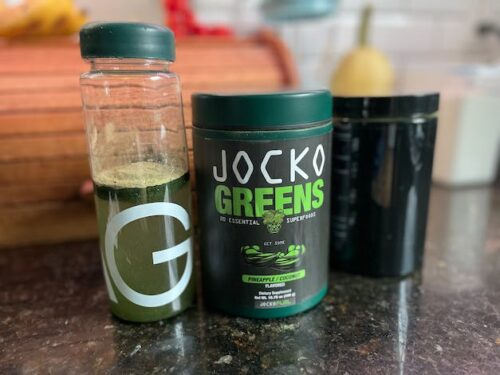 Customer Jocko Greens Reviews
Looking at the customer Jocko reviews on their site, I must say that they are overwhelmingly positive with 5-stars in over 300 reviews.
Taste great and easy way to fill the gap of missing nutrients from my everyday diet. As a father of two young boys with a wife who also works, it's hard being consistent with healthy meals. This gives me a little peace of mind on days when my meal choices may not be the best.

Cameron Brown, 5-star
However, this is clearly not the most trustworthy source.
Amazon Jocko Greens Reviews
Jocko is also available on Amazon. When we look at the Jocko Greens reviews on Amazon, we still see that the majority of user reviews of Jocko Greens are positive with 4.5 stars in 1.5k reviews.
This could be due to the fact that most people don't get enough greens in their diet, therefore any small addition can make a huge difference.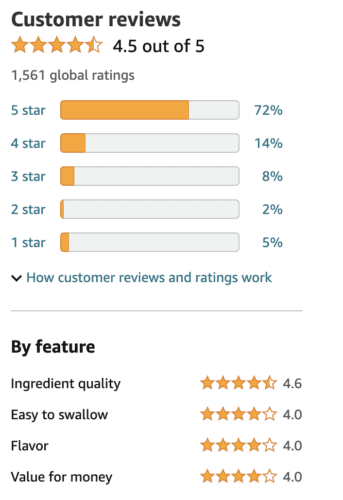 On Amaozon the positive reviews praise its taste and apparent health benefits. However, some customers have reported disliking the taste, and others have questioned its effectiveness.
I tried the energy drinks, really liked them and switched from the other brands I'd been drinking for years. Bought these greens, ingredients and taste are great, using them now. Great taste, solid ingredients and a great company to support. Happy with both, I purchased preworkout last week and now using that too.

Meghan, 5-star
Flavor is significantly better than AG1 in my opinion. Very fruity smell, which makes sense but initially made me nervous, however I was able to drink it no problem. I wouldn't say it tastes good, but I wasn't holding my nose with every sip.

The powder seemed to dissolve well also. No granules left on the bottom of my mixer and no grainy feeling in my mouth while drinking which is another issue I had with AG1.

No thoughts on results yet, but based on initial thoughts I'll keep using it to see if I notice any benefits.

Infrequent reviewer, 4-stars
Maybe I got a bad batch..?
If you like the flavor of vomit, this is for you! Over bearing flavor followed up by vomit after you swallow. I had one scoop before work (literally held my nose and choked it down) figuring I'd feel amazing later. Wrong, felt like an absolute zombie all day. I'll go back to spending twice the money on my preferred, sweet grass flavored morning man greens.

Roger A, 1 star
Price & Shipping
Jocko Greens is available on their own site and on Amazon.
On their site, a one-off tub of Jocko Greens costs $52.99 or $1.77/serving. A monthly subscription offers a 10% discount, bringing the price down to $47.95 per tub or $1.59/serving.
This is on the upper end of greens, close to premium brands like AG-1 Drink and SuperGreen Tonik, but above more affordable ones like Amazing Grass or Kiala.
Money-Back Guarantee / Returns Policy
The official Jocko Fuel website states that customers can return new, unused, and unwashed items for a refund. However, the specifics of the return policy, such as the return window and refund amount, are unclear.
Is Jocko Greens Worth The Price?
This price point is quite competitive compared to other greens supplements on the market. However, the effectiveness of the product, given the potential underdosing of some ingredients, should be taken into account when considering its value for money.
In truth, I think that Jocko Greens is not worth the price. Mostly because, you can get a more affordable greens that actually have effective ingredients in Enso Superfood Greens or because you can pay a few cents more to actually get the best green powder in my opinion, SuperGreen Tonik.
---
Verdict – Jocko Greens Review, A Promising Product that Falls Short
For the first time in a long time, I was happy to do this Jocko Greens review, as it was breaking the mold of the industry. For too long brands have been getting away with making greens with proprietary blends and hiding the exact quantities of ingredients, deceiving customers into buying subpar products.
Even the most popular brands like AG-1 have used this scammy tactic.
Therefore, I do think it's a good alternative to Athletic Greens AG-1, as it is also more affordable and better tasting.
However, when I take everything into consideration, I can't avoid being disappointed by the quantities of key ingredients like chlorella. Jocko Greens adds too many different vegetables and thus, it has most of them in ineffective dosages.
It would be a great product if it had fewer ingredients but in higher doses. That's why, I can't but avoid recommending SuperGreen Tonik instead, which has the same transparent formula, but with ingredients in effective doses.
Jocko Greens
From $1.77/serving