Vybey Review | The Best Australian Shakes Available Now in the UK
Welcome! In this Vybey review, we will look into the latest trending Australian meal replacement brand that is also now available in the UK.
So what makes this brand different and why should you drink Vybey meal shakes? This is what we are going to find out on this Vybey shakes review, but first, let's have a quick rundown of what they offer.
In short, Vybey describes itself as a premium meal replacement brand which is high in protein, comes with all essential nutrients (26 vitamins and minerals), and adds extra nootropics to fuel your brain as well as your body.
This is a very interesting mix, but I also love their branding motto of sharing with people in need. As such, they donate one meal per every order they receive. A truly commendable attitude that makes me vibe with the brand.
But more of this later on. Let's dive into this Vybey nutritional meal review, and see if these are truly as premium and as delicious as they claim.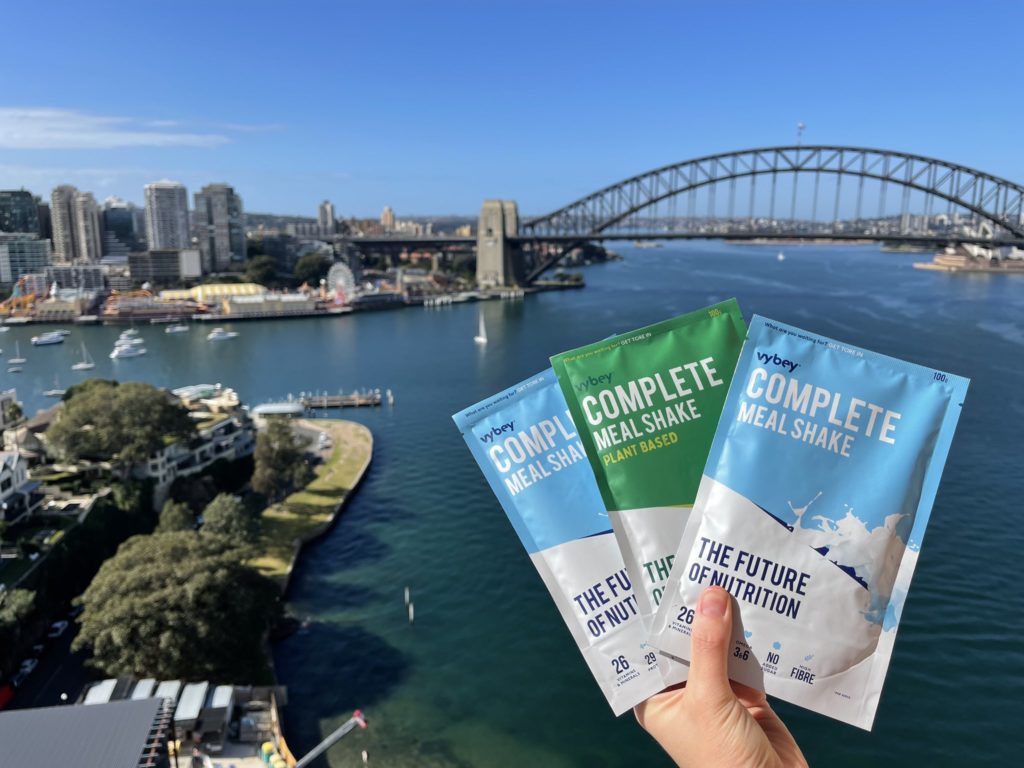 ---
Vybey Meal Review at a Glance
Flavours: Smooth Vanilla (Whey based), Chocolate Caramel*, Strawberry*, and Banana*. *= Vegan.
---
Opinion
I had high expectations for Vybey's meal replacements. At first glance, I was very impressed by the company's values, the nutritional output of the shakes and their pricing.
Even more, I always enjoy having both whey and plant-based versions; even though, it's getting less popular every day. Plus, they had a small twist in their shakes, adding some nootropics to the mix.
All the above points passed the Vybey mark with high marks, however, it was not all excellent. When it come to taste, I thought both shakes were just OK. They didn't have any weird taste or I didn't dislike them, but they wouldn't be my first choice.
What I like
1. Affordable. Having an affordable meal replacement with in the current market is not easy, and with the bulk discounts you can get Vybey at a very reasonable price.
2. Well balanced nutrition. Vybey shakes provide you with exactly what your body needs.
3. 29g of protein in both versions per meal.
4. Great texture. Shakes were smooth and mixed perfectly.
5. 50% of ingredients are sourced in Australia.
6. Great option for Australians. There aren't many good meal replacements in Australia. Vybey is one of the few.
7. No sucralose, no artificial sweeteners, no artificial colorings.
What I dislike
1. Taste is weak. I found both flavours bland, not very sweet and s;ightly worse than the competition.
2. Not much omega-3. 0.4g of ALA per 400kcal is not enough.
3. High in saturated fats. Even if the saturated fat is well within the recommended limits, and contains MCTs that can act as fast fuel, I think that it could be slightly lower.
Improvements
1. More flavours for the whey-based formula.
2. Make the taste stronger.
Nutritional Breakdown
Most brands offer either a vegan meal replacement or a whey-based one, but very few offer both as Vybey does. In fact, Vybey is more focused on providing you with natural ingredients sourced locally (Australia). According to them, over 50% of the ingredients are obtained that way.
Besides being local, they also boast of being natural. Vybey meal shakes have no artificial sweeteners, colourants or flavours.
As far as the nutritional overview goes, as you can see below, Vybey shakes are high in protein and provide you with all essential nutrients. Plus, they add pre-/pro-biotics and nootropics to even round-up the product even further.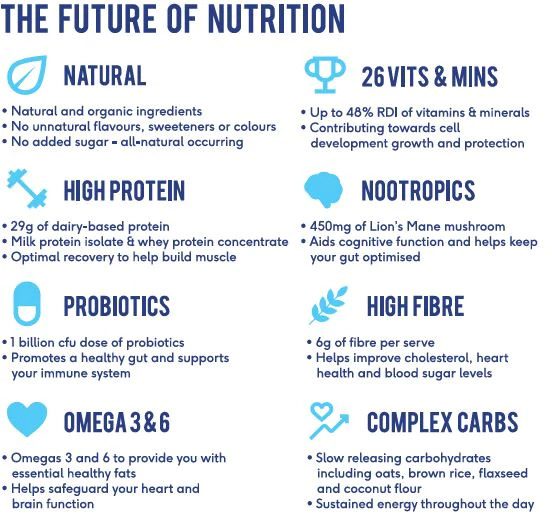 Vybey Nutrition Overview
| | |
| --- | --- |
| Kcal/meal | 397 |
| Macros (C/P/F) | 48/29/23 |
| Vegan | Yes* |
| Keto | No |
| Features | High Protein, High Fiber |
| Non-GMO | Yes |
| Organic | Partially |
| Includes Probiotics | Yes |
| Artificial Sweeteners | No |
| Synthetic Additives | Yes |
| Contains All Micronutrients | Yes |
| Controversial Ingredients | |
The plant-based and the whey-based versions are largely the same, but nutritional values might vary a little.
Plant-based: Oat Flour, Pea Protein, Brown Rice Protein (Organic), Coconut Oil Powder, Cocoa Powder (Organic) (6%), Flaxseed Flour (Organic), Coconut Flour (Organic), Corn Starch, Natural Flavours, Xanthan Gum, Vitamin & Mineral Premix*, Lions Mane Mushroom (Organic), Sunflower Lecithin, Salt, Natural Sweeteners (Stevia Leaf Extract and Monk Fruit Extract), Bacillus Coagulans
*Vitamins (Vitamin C, Vitamin E, Vitamin B3 (Niacin), Vitamin D, Vitamin B2 (Riboflavin), Vitamin B5 (Pantothenic acid), Vitamin B6 (Pyridoxine), Vitamin B1 (Thiamine), Vitamin A, Folic Acid, Biotin, Vitamin B12 (Cyanocobalamin)).
*Minerals (Phosphorus, Potassium, Calcium, Magnesium, Zinc, Manganese, Copper, Molybdenum, Iodine, Chromium, Selenium, Iron).
Whey-based: Oat Flour, Protein Blend (Whey Protein Concentrate and Milk Protein Isolate), Coconut fat powder, Flaxseed Flour (Organic), Coconut flour (Organic), Corn Starch, Brown Rice Flour (Organic), Vitamin & Mineral Premix*, Natural Flavours, Xanthan Gum, Lion's Mane Mushroom (Organic) (Hericum Erinaceus), Salt, Natural Sweeteners (Stevia Leaf Extract and Monk Fruit Extract), Bacillus Coagulans
*Vitamins (Vitamin C, Vitamin E, Vitamin B3 (Niacin), Vitamin D, Vitamin B2 (Riboflavin), Vitamin B5 (Pantothenic acid), Vitamin B6 (Pyridoxine), Vitamin B1 (Thiamine), Vitamin A, Folic Acid, Biotin, Vitamin B12 (Cyanocobalamin)).
*Minerals (Phosphorus, Potassium, Calcium, Magnesium, Zinc, Manganese, Copper, Molybdenum, Iodine, Chromium, Selenium, Iron).
Carbohydrates
Based on 397kcal serving:
Total Carbs: 44.7g, 17% of RI.
Net Carbs: 38.5g, (Total Carbs – Dietary Fiber – Non-digestible Carbs).
Sugars: 3.6g, 4% of RI.
Fiber: 6.5g, 33% of DV.
The first thing to notice about Vybey shake is the high carbohydrate content when compared to the competition. Many top brands are opting for lower carbohydrate content (~40% of the energy from carbs), whereas Vybey provides 48% of the energy from carbohydrates.
This is by no means negative or bad, and in fact aligns with most dietary guidelines (EFSA, AUS government, and UK, among others) that 45-65% of your daily calories should come from carbs.
Besides, it is worth noting that both versions are very low in sugars and contain no added sugars.
Protein
Per 397kcal serving:
Total Protein: 29g, 57% of RI.
Source: whey protein concentrate and milk isolate (whey-based version); pea protein and brown rice protein (plant-based).
As you can see, the protein sources will vary depending on which version you buy. The amount of protein will remain the same for both though, 29g per full serving.
This is a lot of protein for a 400kcal shake and it's perfect for those living a sportive lifestyle, are looking to lose weight, or want to boost their protein intake.
The plant-based formula contains pea and brown rice protein, which is the most common vegan protein mix. This is because both combined perfectly together to provide you with a full amino acid profile.
Similarly, whey protein complements extremely well with milk protein. The first is a fast-releasing protein (meaning that it will be absorbed faster), whereas the latter is a slow-release protein.
All in all, you can't go wrong with either variation.
Fats
Per 397kcal serving:
Total Fats: 10.3g, 14% of RI.
Saturated Fats: 5.9g, 30% of DV.
Omega-3s, 0.4g.
Omega-6s: 0.1g.
Fats in Vybey come from coconut fat powder, flaxseed flour (organic), and coconut flour (organic).
Looking at the numbers, Vybey nutritional shakes have a well-rounded fatty acid profile, including all essential fatty acids, like omega-3s.
However, there are a couple of things that I would like to see them improve. For once, I think that the saturated fat content is a little too high. This is because they rely heavily on coconut powder which is rich on MCTs and other saturated fats. Inclusion of MCTs (medium-chain triglycerides) can be positive, but it's often overused.
On another note, I also think that the omega-3 content is a little low. The shakes contain 0.4g of ALA which is then converted into EPA and DHA (omega-3 fatty acids that the body uses), but at a very low conversion rate. This is, the body uses ALA very poorly and Vybey will not provide you with enough omega-3.
While both these points are rather minor, I think that Vybey could improve to provide you with a truly complete shake.
Micronutrients & Other Nutrients
As for the micronutrients, Vybey shakes contain at least 25% of the recommended daily intake of all 26 essential vitamins and minerals. In fact, most of them are found at 30% or more. This is great.
What is also amazing is the inclusion of pre-/pro-biotics, which help you with digestion and gut health. In this case, Vybey contains Bacillus Coagulans (1 billion CFU).
Nootropics
There's another thing that sets Vybey apart though, and that's the inclusion of nootropics. Nootropics? What the hell is that?
These are active ingredients (like caffeine or ashwagandha) that can enhance your mental performance and clarity or help you relieve stress. If you want to find out more, I recommend you to check out my favourite nootropic mix that I use daily.
Each shake has 450mg of Lion's Mane mushroom which might stimulate neuronal growth, and reduce stress levels and anxiety.
Allergens
The whey version contains dairy, lupin and gluten. The plant-based only has lupin and gluten.
Taste Test
For this Vybey taste review, I only had the sampler pack which includes one whey-based pouch (Vanilla) and one plant-based pouch (Chocolate Caramel).
In theory, this was perfect to get a grasp on how Vybey shakes taste (as these are the most popular flavours in the market). However, I wish I had more flavours to have a better idea.
As for the flavours I tried, I was a little disappointed. Neither of them tasted particularly bad, but they were rather average. Nothing to dislike, but nothing to love either. I felt that while the texture was on point, the flavours were weak.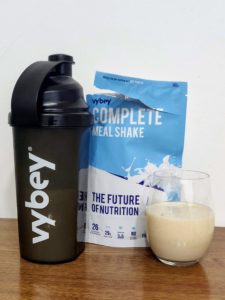 | | |
| --- | --- |
| Best flavour | Smooth Vanilla (Whey) |
| Taste | I only tried them with water and both flavours felt weak. The plant-based version had a weird taste to it. Both were drinkable, but I wouldn't go out of my way to get them. |
| Texture | Great. Both shakes mixed perfectly and were quite smooth. |
| Satiety | There's no difference between versions here either. They will keep you full for about 3h. |
| Easy to Clean | Yes. |
| Afterthoughts | I was hoping for more punchy flavours. The Chocolate Caramel hardly tasted like caramel and felt just like another shake. |
Vybey Shakes Taste Review
I've already said mostly what I wanted to say above. These shakes are average when it comes to taste, and if this is the most important factor for you, they will fall flat.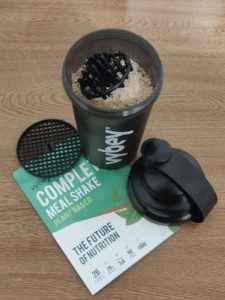 It's worth noting that they might improve if you add milk, but I would have liked stronger base flavors. I think that's the main reason why I enjoyed Vanilla better. It was closer to what I expected.
On the other hand, if you are OK with mild flavours and like shakes that are not overly sweet, you might enjoy Vybey's offering.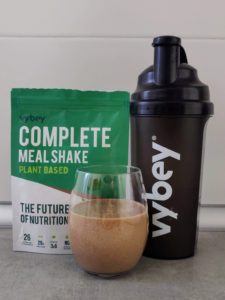 More about Vybey

Vybey was founded in 2020, when Gordon and Rory came together to overcome one common obstacle: the ability to eat something healthy anywhere and at any point. Gordon was struggling to balance his work with his studies and competing at athletics (busy man!). He started by making his own nutritional blend that later shared with friends.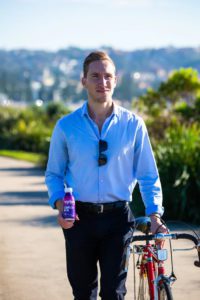 At a point, he realised that he could take it to the next level and share it with everybody else. And such, Vybey was born.
To provide convenient and affordable healthy food
whilst giving back to less fortunate communities.

Facilitating Vybey supporters to eat smarter and live
healthier lives.

Company's mission.
Giving Away
However, it was not all about making a product to sell, but it's also about giving back to the community. For each online order, Vybey donates one meal to Mary's Meal.
This is a global charity that fights against malnourishment in children and provide with meals to hungry children in 18 different countries across Africa, Asia, Latin America, Eastern Europe and the Caribbean.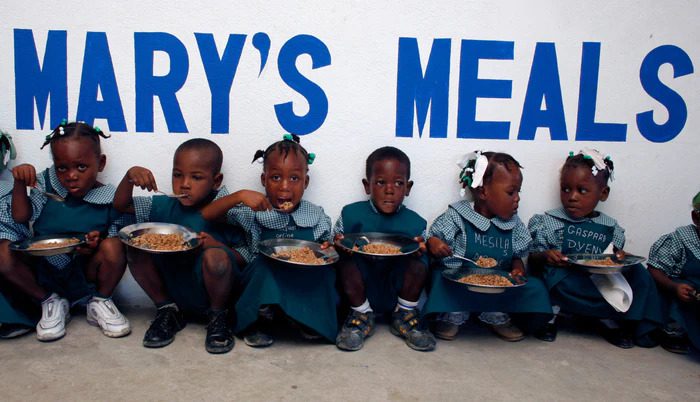 Fighting the Food Pandemic
Similarly to how many people don't have enough food, in many wealthy countries we eat too much and badly. As they showcase in their site, the stats don't lie:
A recent National Health Survey by the Australian Bureau of Statistics revealed that:
• 67% of adults in Australia are overweight or obese.
• 24.9% of children aged between 5 and 17 years old are overweight or obese. 
The New Zealand Health Survey found that: 
• 66.8% of the population over the age of 15 years old are overweight or obese.
• The percentage of those under 15 years old being overweight or obese is 31.9%.
Vybey aims to change our relationship with food by offering healthier alternatives to grab at an affordable price.
Pricing & Shipping
As I've mentioned a few times on this Vybey review, these meal replacement shakes are only available in the UK and Australia, for now.
Pricing
This is an area where I believe Vybey stands out. They offer very competitive pricing with good bulk and subscription discounts (both in AUS and in the UK).
For instance, you can have a meal for as cheap as £1.68 (400kcal) in the UK, which is very competitive. Plus, both the vegan and whey-version cost the same (which is not usually the case).
But let's have a look at how much Vybey shakes cost (each meal is 400kcal):
400g (4 x 100g) – 4 meals – from $5.00 per meal
800g (8 x 100g) – 8 meals – from $4.69 per meal
1 Pack – 1.5kg – 15 meals – from $6.00 per meal | £2.34
2 Packs – 3kg – 30 meals – from $5.00 per meal | £1.84
3 Packs – 4.5kg – 45 meals – from $4.92 per meal | £1.82
4 Packs – 6kg – 60 meals – from $4.84 per meal | £1.74
5 Packs – 7.5kg – 75 meals – from $4.80 per meal | £1.72
6 Packs – 9kg – 90 meals – from $4.78 per meal | £1.68
Note: On their website, Vybey uses 200kcal meals to show the price. Thus, it will be half of what is shown above.
Packaging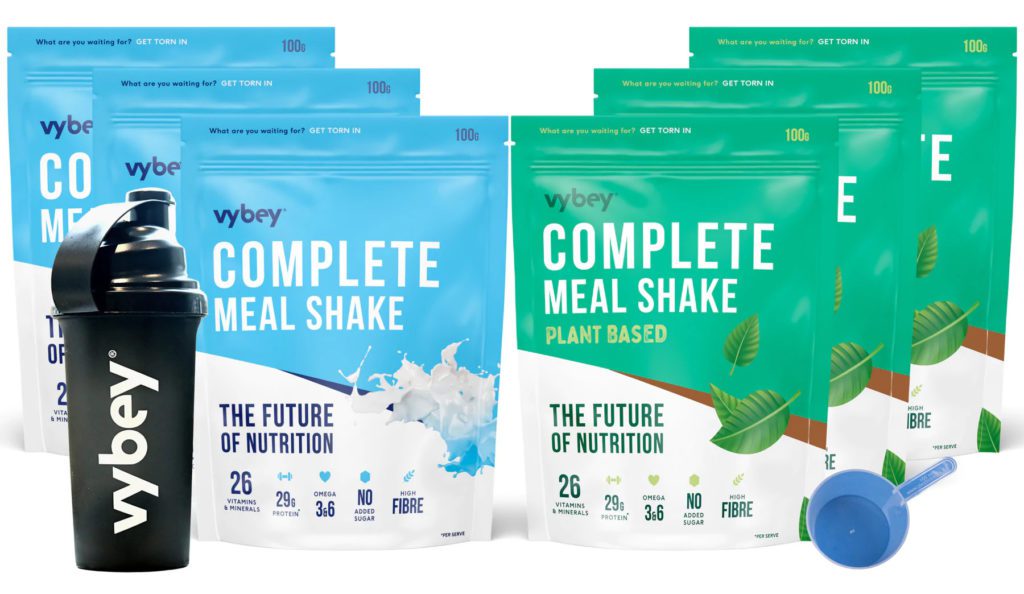 As showcased above, there are two types of bags: single-serving bags (mostly used for samples) and 1.5kg bags. The latter contains 15 400kcal meals or 30 200kcal meals.
In my experience, 1.5kg bags are perfectly sized. For heavy users, bigger bags can come in handy but can cause issues when storing them.
Shipping
In Australia, Vybey offers free shipping on orders above $159.
On the other hand, in the UK orders above £60 will qualify for free shipping. Delivery should also be relatively fast.
Vybey vs.
For this comparison, it's worth noting that the competition is not the same in Australia vs in the UK. In the Southern hemisphere, the competition is very lackluster, and I can say that Vybey will be one of the best options you have. They offer a great balance of price and nutrition that rivals cannot compare to.
That said, if you are looking for a keto alternative or an organic product, I would recommend you look at Proganics.
As for the UK, things are the complete opposite. There's a big meal replacement offering, and to be among the best meal replacement shakes in the UK is not an easy task. I strongly recommend you look at my top picks.
In this case, I will compare Vybey shakes to some of the most popular UK choices.
Head to Head
| | | | |
| --- | --- | --- | --- |
| Category | Vybey | Huel Black | C360 |
| serving price | £1.68 | £1.55 | £1.53 |
| servings per | 15 | 17 | 10 |
| kcal/serving | 400 | 400 | 400 |
| Packaging | Bag | Bag | Bag |
| Flavors | 1 | 9 | 6 |
| Protein (g) | 29 | 40 | 29 |
| Sugar (g) | 3 | 4 | 1 |
| Fiber (g) | 7 | 7 | 9 |
| Fats (g) | 10 | 17 | 10 |
| Carbs (g) | 48 | 24 | 46 |
| Vegan | Y | Y | Y |
| Organic | N | N | N |
| Micronutrients | 27 | 27 | 27 |
| Artificial Sweeteners | N | N | Y |
| Synthetic Additives | Y | Y | Y |
| GMO | N | N | N |
| Protein Source | Pea/Rice | Pea/Rice | Pea/Soy/Rice |
| Availability | AUS & UK | Worldwide | EU, UK, US |
Vybey Shakes vs Huel Black
Huel Black is one of the most popular meal replacement shakes in the UK. It boasts with 40g of protein per serving, and it's a low carb formula without gluten or artificial sweeteners.
It also comes in 9 different flavours, which is a ton! I personally love their Salted Caramel and Strawberry Cream, although Chocolate is just awful.
In my opinion, this is Vybey's toughest competitor, since it has a similar nutrition profile, more flavours, and the brand offers extra products Vybey doesn't. The Australian brand will be better for those looking for a shake with extra carbs or those who want whey as the protein source, since Huel only offers plant-based shakes.
Complete 360 vs Vybey
On the other hand, we have Complete 360 Meal, which offers both Vegan and Whey-based shakes. It has been one of my favourite products since I discover it, because I think it offers great value and nutrition.
Interestingly, it also adds nootropics (ashwagandha) like Vybey. However, it contains artificial sweeteners and flavorings, so it's slightly less natural. Personally, I think that Complete 360 is slightly tastier, but those who dislike strong flavours might prefer Vybey.
Other Alternatives
As mentioned beforehand, if you live in the UK you will find plenty of alternatives, from bars to ready to drink meals. Vybey offers a very competitive pricing (even in the UK), but falls a little short in flavours and taste.
Vybey FAQ
Is Vybey good for weight loss?
Yes. Even though it's not designed for weight loss, Vybey shakes can be used to achieve your ideal weight. Add or substract calories (scoops) to your meals to control how much you eat.


Why add Lion's Mane Mushroom?
This mushroom has neuroprotective, antioxidant, and anti-inflammatory properties that Vybey considers very benefitial. By adding it, they try to go beyond full nutrition and provide you with a truly healthy meal.


Is Vybey gluten free or organic?
Currently Vybey shakes are neither. However, they are looking to create a gluten-free recipe. Furthermore, many of the ingredients used in Vybey shakes are organic.


Does Vybey ship to the US?
No, but it might do in the near future.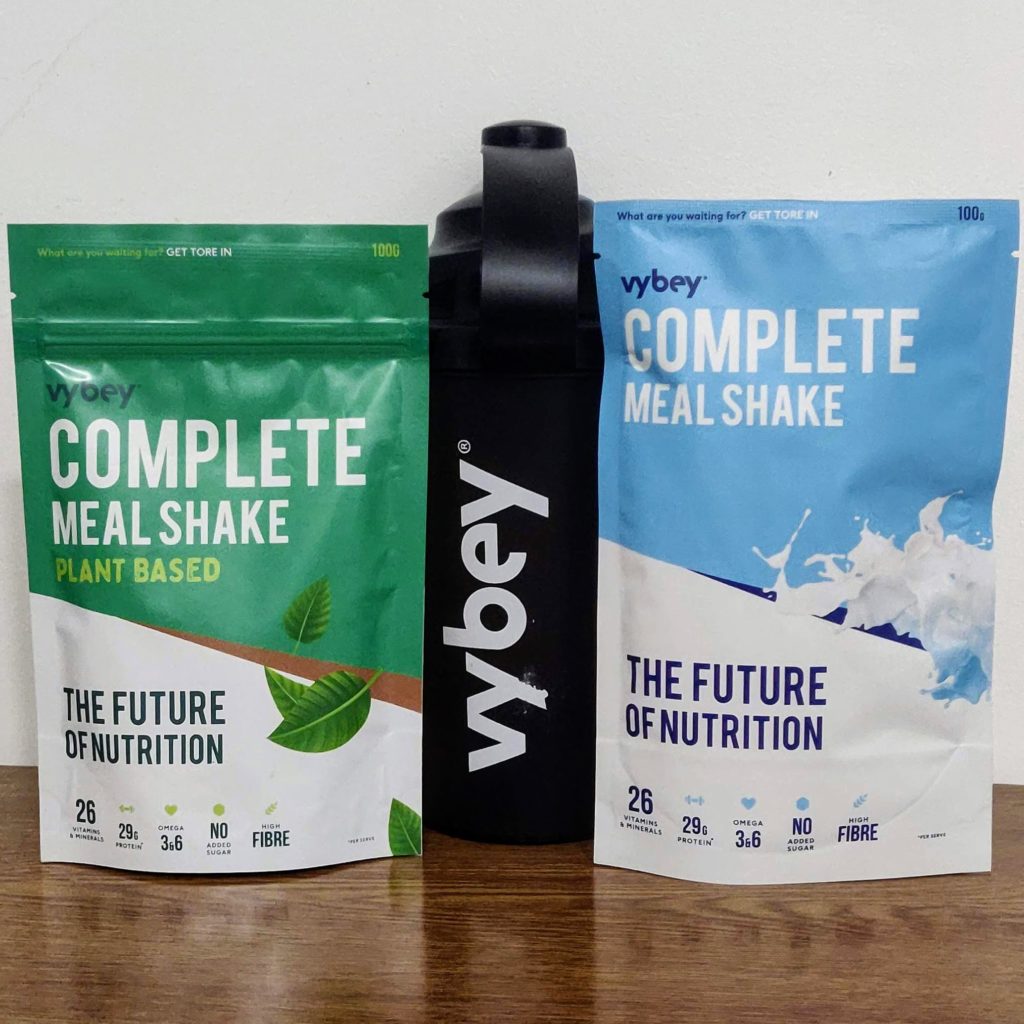 ---
Verdict – Vybey Review
This Vybey Complete Meal Shake review has been an interesting one. It is not often that I get to try Australian made complete foods, and I can say that it did not disappoint.
I'm positively surprised by how competitive their pricing is considering the quality of the ingredients that they use. Furthermore, I also like what they offer nutritionally, a balanced healthy meal in both vegan and whey-versions.
So, Vybey does extremely well in two key aspects for complete foods: price and nutrition. However, it falls a little short when it comes to taste. Even if the texture of the shakes is excellent, the flavour is a bit flat. I wish it was more pronounced (for both versions).
If you live in Australia, I think that Vybey will offer you an amazing meal replacement and a deal that is hard to refuse. However, in the UK, the competition is a little tougher and the differences are in the small details. It will still be affordable and healthy, but if you find taste important there might be better opportunities out there.
Vybey Meal Replacement
From £1.84 or $AUD4.78
Pros
Affordable
Great shake if you live in AUS
29g of protein, no soy, no artificial ingredients
Made in Australia and with over 50% local ingredients
Whey based and plant-based options
Cons
Low in omega-3s
Flavours lack taste
High in saturated fats
Whey version only available in 1 flavour