Drink MANA USA | All You Need to Know
As covered in the weekly news, the Czech company Drink Mana is expanding to the US starting this December 2019. Mana will be the 5th company from Europe that is going to test their luck in the other side of the Atlantic. While the outcome for the previous intrepid adventurers has been mixed, Mana has a lot going on for them. They have had more time to prepare and learn from the mistakes that others have done. As such, they are likely to be a fierce competition to other meal replacement brands like Soylent, Ample, Huel, Jimmyjoy etc.
Without further ado, here is all you need to know about Mana; the new Soylent alternative in the US.
---
Meet Jakub
What's your favourite dish?
I've no favourite dish, but I love my wife's cooking and family dinners.
Who has been your inspiration in life?
I take inspiration from my parents. And Walt Disney for his intelligence, energy, and integrity.
If you could travel to space; would you rather go to Mars or to the Moon? What Mana product would you take there?
I would go to the moon, and if I could, I would like to take all Mana products. If I had to pick one… it would be Mana Powder Origin.
If you hadn't found Mana, what company would you have started?
If I wasn't running Mana, I would be running an energy company. Perhaps, it would be another food company, since food is also connected with energy. Or it might be company that develops sustainable energy alternatives to fossil fuels.
---
Mana is a successful meal replacement company founded by Jakub Krejcik in 2014. Since its inception, it has been focused on creating complete food based on scientific evidence. Using nutrition guidelines from European authorities, they created the first European powder-based meal, closely resembling Soylent.
Since, Mana has succeeded dominating the Central European market with over 10 million meals sold. It is also present in over 1,000 supermarkets and available in all Europe through the online shops.
Mission
One of the most distinguishing features of Mana is their focus on science and environment. Regarding the first, they regularly publish chemical analyses of their products and ingredients (available in their site). For the second, their packaging is one of the least wasteful of the entire industry and they regularly look into improving the process.
[…] invested millions of dollars into developing new, environmentally friendly technologies. These include innovations of their production line last year, which reduced plastic packaging by 50% and paper packaging by 20%, as well as development of a patented, high-speed cold mixer, which saves energy by mixing at low temperatures and eliminates the need for their oil mixture to be served in a separate bottle. The company's waste is also recycled, and their products require no refrigeration.

Press Release, by Mana
Discover Mana
If you want to learn a little bit more about Mana, who they are and what their background story is, I would recommend you reading this.
You can always discover more about them in their official US site: drinkmana.com.
Otherwise, they recently opened a forum in which you can ask the questions you might have about the product. On top of that, Mana is very active on Instagram if you want to follow them there.
In the future we plan to localize the entire production process in
order to reduce as much as possible the carbon emissions caused by transportation, and cut down on packing material,"

Jakub Krejcik, CEO of Mana
What Will Mana Offer in the US
Mana offers 2 different types of plant based meal replacements: RTD and Powder. The powder is the more affordable option and one that will be better suited for daily used. Mana RTD, on the other had, is a very compact (330ml or 11oz) ready to drink meal replacement. In my opinion, due to the price, it is better to consume on the go.
However, for the next couple of months, only Mana Origin Powder will be available to purchase. While, this is unfortunate, it is my favourite product from all the line-up.
Pricing, Availability and Shipping
Sales for every other product that its not Origin Powder are expected to start in the first half of 2020.
Mana Powder is going to be available for $79 for the 35 meal box. Each box packs 7 pouches with 5 meals of 400kcal (1 bag = 1 day). Note, that the Origin flavour will be $10 cheaper per box.
Mana Powder Origin -> $1.97/400kcal.
Mana Powder Flavoured -> $2.26/400kcal.
Regarding the RTDs, there is a similar deal happening:
Mana RTD Origin -> $45 per 12 bottle box -> $3.75/400kcal.
Mana RTD Flavoured -> $49 per 12 bottle box -> $4.08/400kcal.
As far as for shipping goes, it will initially be free for all orders. It seems that this is a temporary deal, though; which I hope not.
Flavours and Taste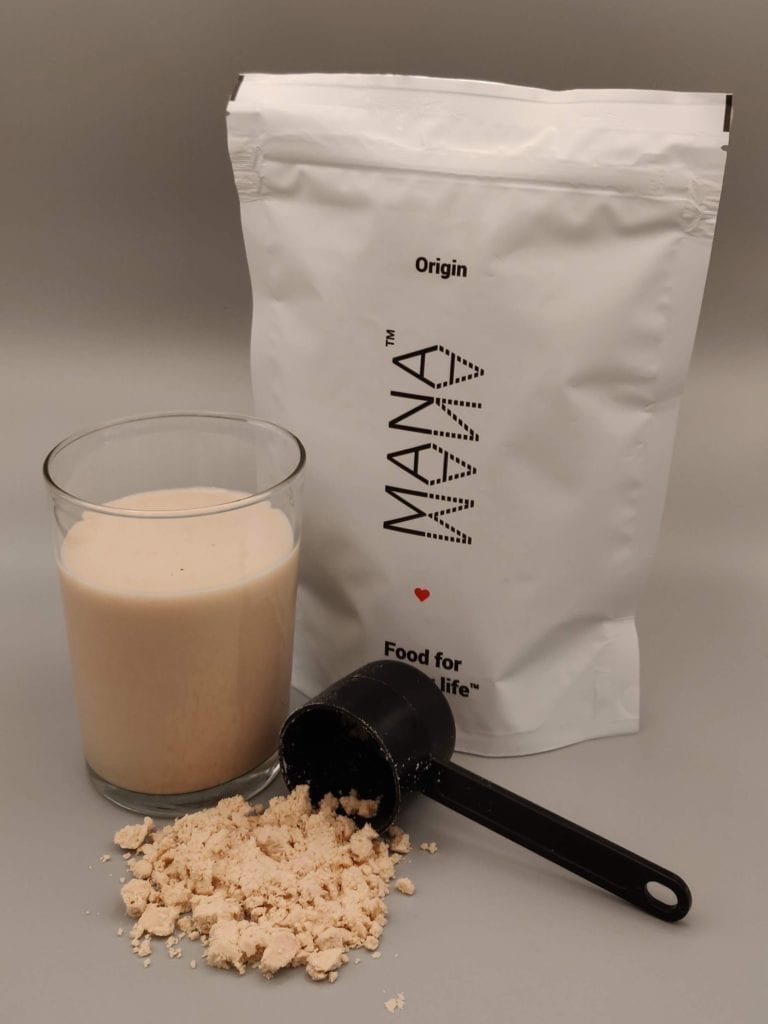 Both are available in the same 4 flavours: Origin, Dream (Cacao), Love (Berries), and Sunlight (Tropical). I have rated them in depth in my Mana review; but in short I think that Mana Origin is the best in both RTD and Powder.
The RTD is very silky and buttery, and has a tasty aftertaste (particularly on flavoured ones). The powder is also quite fatty, and can create some lumps in your shakes. I would recommend shaking thoroughly before you consume it. Despite this, I find it easy to like and pleasant to drink. Plus, it does a great job keeping you full for 3h or more. You will never feel bloated, but very satisfied, instead.
Mana US, A Few Thoughts
Besides all the PR and facts about Mana's offering in the US, I wanted to share some of my thoughts with you, the readers.
Question-1. Is Worth Trying Mana?
Honestly, I think the answer to this is yes. It is easy to like, tasty and does a good job keeping you full without bloating you.
However, I'm someone who tends to try everything there is and believes that you should try every product in the market. Just in case you like it.
If I were to be a little more selective, I would say that Mana will probably appeal more to Soylent users than to Huel users. The reason for this is two-fold. On one hand, the macronutrient distribution is more similar to Soylent's. On the other hand, the texture and the taste are also more like Soylent's (while being different).
Sadly, the price is a little higher, so if you were to drink Mana in the US, you will be paying extra for now.
Question-2. Soylent Vs Mana
I cover this in detail here, down to the pricing, nutritional differences etc. Taste-wise, I must say I personally prefer Mana's Origin (both RTD and Powder) to Soylent Original. It has less soy taste and more of a buttery touch that I enjoy.
Nutritionally, Mana has less sugars (less isomaltulose), more omega-3 and more fiber; but in general terms are fairly similar. However, Soylent offers 20% of your daily vitamins and minerals; while Mana falls short according to US guidelines (formula is based on EU recommendations).
The biggest difference is the price, currently. Soylent is $0.20 cheaper per 400kcal meal. Eventually, Mana will have a better offering for Powder (more flavours) and RTDs that offer a different taste; which will make it more interesting.
For now, Mana Powder Origin is a good Soylent Powder alternative (might remind you of old Soylent); but you will have to wait for the RTDs if you are a Soylent Drink consumer.
Question-3. Huel Vs Mana
Once again, I have covered this in more detail in my full Mana review. If you are a Huel user, I think Mana will appeal you less. Particularly, because it offers a vastly different macronutrient distribution and ingredient list.
The main appeal for Mana would be a smoother shake and an improved texture when you compare it to Huel. When the RTDs come, you will also have more flavour options with a different taste to Huel's RTDs. They will also be more compact, thus easier to carry around.
One Change That I Would Like to See
One "small" issue that I have with this Mana launch, besides the price-tag, is the fact that they have not reformulated their powder. "Why do that?" you might wonder.
The answer is simple: the nutritional requirements in the US and Europe are slightly different. In the US, certain vitamins like Vitamin A are required in bigger amounts and other nutrients also have a different recommendations.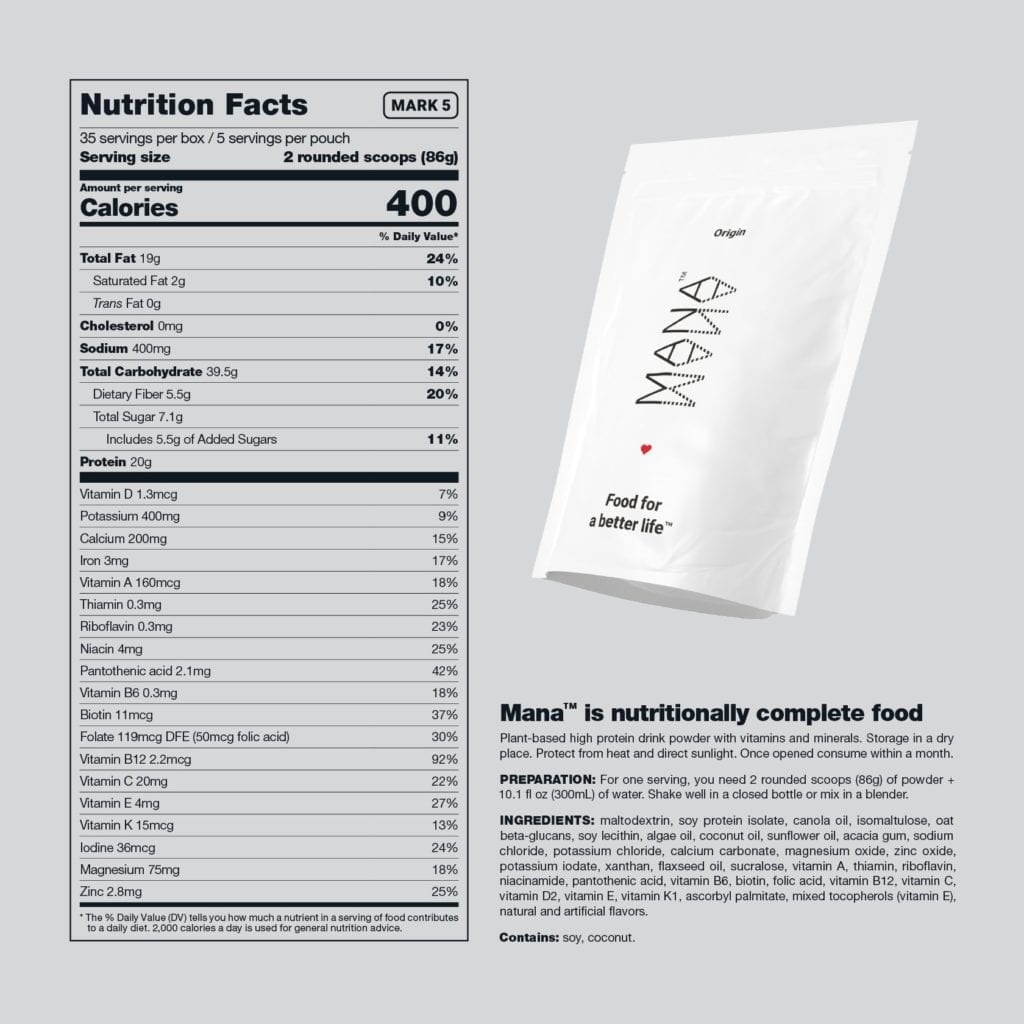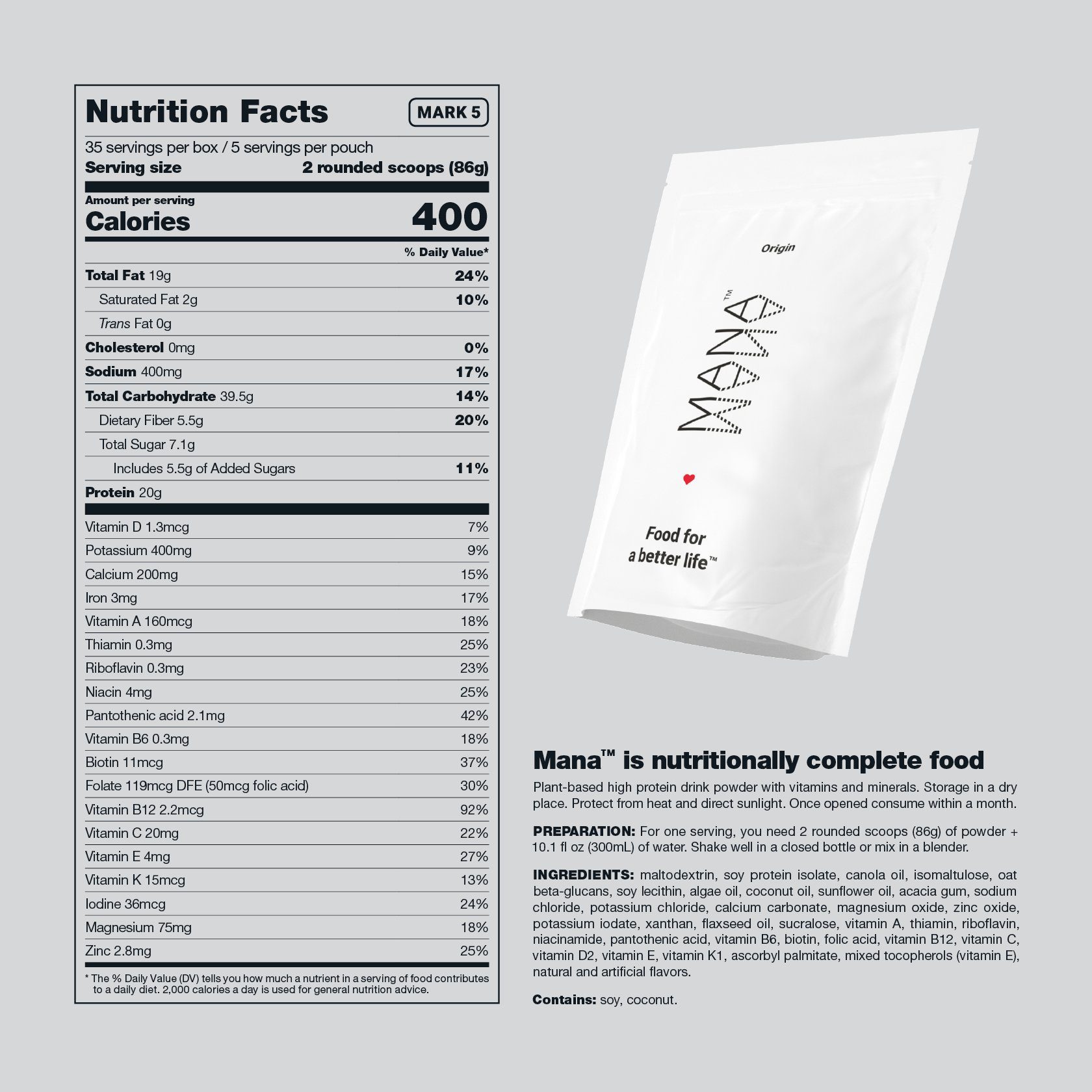 While I understand that the formula for Mana Powder and RTD is based in scientific evidence and European Food and Safety Agency recommendations; I think this might create some small concerns to users.
Pros
Science based nutrition
It's like Soylent of old
Mana Origin is easy to like
Neutral flavour easy to mix
Professional company committed to the US
Cons
Currently only Origin Powder is available
Pricier than competition
DV not adjusted to the US
Currently manufactured in EU and shipped after
Conclusion
I think that it's a promising start, and I hope that they commit more than other brands have done in the past (Saturo). I think they can be a good Soylent alternative and competitor; with more powder-based options in particular.
The fact that they haven't move the manufacturing process will hurt them, as shown in the pricing, but brands like Jimmyjoy have made it work before. They will have to make their offering clear and make an effort to win over the US customers.
All in all, it's another choice for US meal replacement enthusiast and that should be welcome. I would recommend you trying out Mana, particularly if you are a Soylent customer.