Plenny Shake Review (2019) | The Most Affordable Meal?
Jimmyjoy's main shake is a great bang for the buck available in both US and EU
Jimmyjoy has become a popular brand among the meal replacement enthusiast. Why? Mainly because they offer some of the cheapest meals in the industry. Does it mean they are bad? Not according to 100,000 plus customers and the positive reviews posted in their website. But let's dig deeper and find the secrets Jimmyjoy is hiding in this Plenny Shake review. There is plenny to talk about.
Flavour: Vanilla, Banana, Chocolate, Strawberry, Mango, Latte and Neutral.
Ingredients: Oatmeal (Gluten),  Soy Flour, Maltodextrin, Sunflower Oil, Soy Protein Isolate, Inulin, Ground Golden Flaxseed, Vitamin- and Mineral-mix (Potassium Chloride, Magnesium Salts of Orthophosphoric Acid, Calcium Carbonate, Potassium Salts of Orthophosphoric Acid, Maltodextrin, Vitamin C, Vitamin B12, Zinc Gluconate, Ferric Pyrophosphate, DL-Alpha-Tocopheryl Acetate, Vitamin K2, Chromium(III) Chloride, Vitamin B3, Potassium Iodide, Manganese Gluconate, Sodium Selenite, Vitamin A, Vitamin B5, Vitamin D3, Sodium Molybdate, D-Biotin, Vitamin B9, Cupric Sulphate, Vitamin B6, Vitamin B2, Vitamin B1). Sweetener: Sucralose.
Plenny Shake is the foundation for all Jimmyjoy powders. Each serving is based on a 100g serving that provides about 1/5 of your daily nutrients. Their nutritional reference is the EU's daily intake guidelines and the research from World Health Organisation and European Food and Safety Authority. For more info check our resources page.
Macronutrients per serving (g)
Protein(g)
Carbs(g)
Fiber(g)
Fats(g)
% of Energy from each macronutrient
Carbs 55%
Prot 15%
Fats 30%
% of Recommended Intake per serving
RI based on 2,000kcal
RI based on 2,500kcal
Energy
The new Plenny Shake formula changed a lot in in the macronutrient content which has affected the energy split. The old Plenny Shake used to offer 50C/25P/25F; whereas the new one offers 55C/15P/30F. There has been a clear shift from protein to both more carbohydrates and fats.
While Jimmyjoy claims this has been done to follow the guidelines of WHO ("our loving husband and father of our children"); the amount of energy provided by fats is now in the borderline of what WHO recommends (20-30% of energy).
The energy provided by protein is also among the lowest in the market, lower than Huel, Queal, Pulve, Satislent, Runtime, Feed., Saturo, YFood…
Carbs
Per 400kcal serving:
Total Carbs: 52g, 20% of RI.
Sugars: 5.6g, 6% of RI.
Fiber: 7.2g, 21% of RI.
Jimmyjoy has recently stated that the main source of carbs in Plenny Shake is maltodextrin. Maltodextrin has a bad name in the industry, mainly because is solely breakdowns to glucose. Among other things, this might cause a high glycemic index and an unecessary spike in your blood sugar. We are 50/50 on this choice. We belive oats are a finer source of complex carbohydrates, even when it might affect the texture (I honestly do not mind the oaty texture). The amount of fats and other macros, however, should be enough to lower the overall glycemic index of Plenny Shake.
Plenny Shake is noticeably low in sugars. It has sweeteners to add sweetness to the shake, but only 6.8g of added sugars. Great in this society where hidden sugars are everywhere.
It also comes with 7g of fiber which is about 40% of the recommended intake. You should have no problem reaching you fiber goals, and in fact, Plenny Shake could help you with your gastrointestinal flow.
Fats
The amount of fats have not only increased but also the ingredients have chaged.
Total fats: 13g per serving (19% of RI).
Saturated Fats: 2.1g per serving (10% of RI).
Omega-3 (ALA): 1.1g per serving.
Omega-6 (Linoleic): 3.7g per serving.
Jimmyjoy has added sunflower oil (pretty popular in Europe nowadays), which is naturally high in omega-6 fatty acids and low in omega-3 (1/70 -3 to -6 ratio). The reason for the popularity rise is that is widely available in Europe, it is cheap and contains benefitial compounds like Vitamin E.
However, in order to get a balanced omega-3 to -6 ratio (somewhere closer to 1/3), sunflower oil often needs to be paired with flaxseed. It is rich in alpha-linoleic acid (omega-3) which is linked to many health benefits, including cardiovascular risk prevention (Fleming JA).
In fact, fats and a healthy balance of them, is what Jimmyjoy has put a lot of emphasis on with the new formula. They have tried to comply with WHO's recommendation and provide 11% of the energy from polyunsaturated fatty acids (6-11% is advised) and 14% from monounsaturared fatty acids (15-20%). They fit quite closely and also provide a composition that is MUFA>PUFA>>SFA, which is related to healthy living.
Protein
Sight. Now the whale of the new update and reason for anger in the community. The protein content and source.
Plenny Shake Protein Content
Previously, I used to really like Plenny Shake for both protein content and source. It was a bargain that you could get such a good combo for the price, especially if you tend to hit the gym or do exercise. However, Jimmyjoy decided to lower the protein contend from 25g per shake to 15g per shake, for a total daily of 75g instead of 125g. This is a BIG difference.
While it is true that this complies with ESFA, WHO, USDA, NHS and many other organisation recommendations of AT LEAST 0.83g per kg of body weight (66.4g for a 80kg adult); there are a few issues:
However, for the average Joe that does not do much exercise this should be enough. A question for another day is if we should encourage to the average Joe to be more active. For the more active people, I recommend looking at Plenny Shake Active.
Plenny Shake Protein Source
Plenny shake used to be a vegetarian shake. Now it is vegan, all sources are plant based including the protein. That means that they do not use whey protein anymore, something that I find saddening.
Why? Because whey protein offers top quality, highly digestible, efficient and well rounded amino acid profile. Seriously, it seems engineered by humans. According to Jimmyjoy, all ingredients contribute to the protein content. I expect oats and soy flour to be the biggest part of this contribution
So let's compare Huel's essential amino acid (can only be adquire through diet) profile vs Plenny Shakes EAA profile:
| | | | |
| --- | --- | --- | --- |
| | Huel | PS | WP |
| Histidine | 650 | 307 | 2200 |
| Isoleucine | 1367 | 531 | 5800 |
| Leucine | 2500 | 937 | 10239 |
| Lysine | 1794 | 772 | 9600 |
| Methionine (plus cysteine) | 975 | 346 | 3989 |
| Phenylalanine (plus tyrosine) | 2901 | 1009 | 5100 |
| Threonine | 1079 | 498 | 7200 |
| Tryptophan | 307 | 163 | 2100 |
| Valine | 884 | 563 | 5800 |
Amino acid quantities are displayed in mg/100g of product. Whey protein is whey protein concentrated.
Plenny Shake's values are consistently between 35 to 45% of what Huel offers, so the balance is pretty similar, while the total quantities are different.
So, is this enough protein? For my taste it is not. I would like to see at least a non-vegan variation. However, I understand that vegan shakes are marketed as environmentally friendly options (a discussion for another time).
---
EXTRA: what if all the protein were from whey protein protein concentrate:
| | | |
| --- | --- | --- |
| | PS now | PS+WP |
| Histidine | 307 | 330 |
| Isoleucine | 531 | 870 |
| Leucine | 937 | 1536 |
| Lysine | 772 | 1440 |
| Methionine (plus cysteine) | 346 | 598 |
| Phenylalanine (plus tyrosine) | 1009 | 765 |
| Threonine | 498 | 1080 |
| Tryptophan | 163 | 315 |
| Valine | 563 | 870 |
Micronutrients
You will get around 20% of most vitamins and minerals. Only Thiamin (40%), Vitamin D (29%), Potassium (28%), Iron (30%), Phosphorus (42%), Manganese (60%) and Molybdenum (76%) are considerably above. Some of you might have to watch out for B12 (if you do not consume much meat or fish) and calcium.
Allergens
 Soy and Gluten. The new formula is vegan does not contain any diary no more.
Nutrition in Short
 400kcal per serving, 55% from carbs, 15% from protein and 30% from fats.
 All macronutrients fall within the acceptable macronutrient range set by the EFSA. Plenny Shake is low in protein.
The protein content  (15g per serving) will prove too little for those who are more active.
Fats come from flaxseed oil and sunflower oil. It has a balance omega-3/6 ratio and a good PUFA, MUFA, SFA profile.
Overall great nutritional balance for most sedentary people, but not recommended for more active people.
I always feel that this is the weakest part of my review, but I will try to give my honest opinion.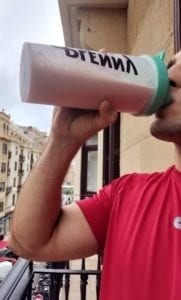 Overall: 7.5 (26.5/35)
Taste: 3.5/5.
Most of the shakes started with an oat flavour and then finished with the according flavour. I found the chocolate one the most pleasant, and the strawberry one the most artificial one. The balance of water/milk powder is not easy to achieve, since I feel that the flavour really easily waters down. If you do not add enough water it can be a bit sandy.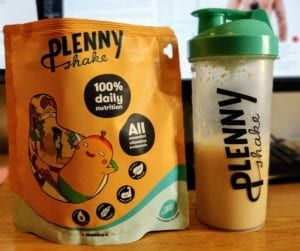 Flavour Fidelity: 4/5.
I must say, that after the start, you can actually notice the difference between the flavours. For instance, the banana flavour had a clear banana finish, similar to banana flavoured yogurts.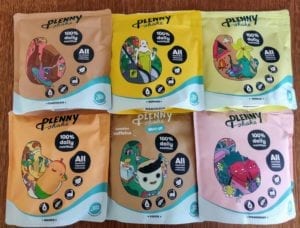 Aftertaste: 4/5.
If you make it with the appropriate amount of water, the shake is so thin, that it washes itself down, neutralizing any aftertaste.
Texture: 4/5.
Hard to find the balance, and it can get a bit sandy. Which then remains in your mouth. Nevertheless, there is never a lump or any sort of solid remaining, as it mixes very well.
Consistency: 3/5.
It is extremely thin. Almost like drinking water. In my case, I favour thicker shakes that provide me with a feeling that is almost chewing-like.
Easiness to drink: 4.5/5.
It is honestly like drinking water. More exactly a glass of water (300ml). In fact, perhaps it is too easy, since I tend to finish it really early.
Hunger Quenching: 3.5/5.
It is because the portions are smaller, but there had been times, especially after my second shake, where I have felt hungry after only 2h. Perhaps, I should have increased the amount of the serving, but I would like it to be slightly more filling.
What Plenny Shake tastes the best?
The chocolate flavour was my favourite followed by vanilla (and WakeUp coffee). I think then I enjoyed the mango, and honestly, did not like the strawberry or the banana flavours. The strawberry one was too artificial and the banana tasted like banana (which might be a good thing).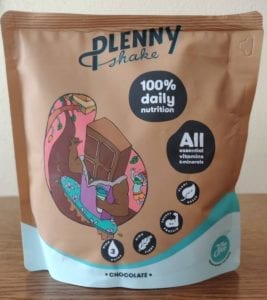 2
2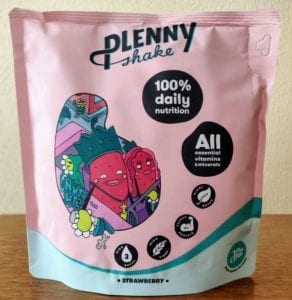 6
5
Plenny Shake Big Bag Review
There is a new Plenny Shake in town: Plenny Shake Big Bag, which comes in bigger bags (10,000kcal = 25 servings). This PS will have a 37C/27P/36F energy split.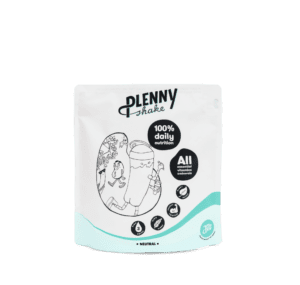 Plenny Shake Big Bag is available in three flavours: Vanilla, Banana and Chai latte (shipping 5th of March).
Most noticeably, this is a Plenny Shake created by the community and the requests done by the users in the forum. These include:
No maltodextrin.
Higher protein content.
Bigger bags for reduced waste. 2.3kg (~25meals)
Plenny Shake Big Bag Nutrition
The main differences are the macronutrient distribution, with noticeably less energy coming from carbohydrates (37% vs 55%) and more from protein (27% vs 15%).
For the second, Jimmyjoy has added soy protein isolate to the mix (not whey as in the old formula).
As for the carbs, the removal of maltodextrin for oats is a very welcome one. Oats are a less refined, more starchy source; which have a lower GI than maltodextrin. Thus a lesser effect in blood sugar.
The lowering of carbohydrate content, was not necessary in my opinion, but is there for popular demand.
Pricing
In a recent announcement, the CEO of Jimmyjoy stated that the price of Plenny Shake would increase as from March 1st; simply because it was no longer sustainable.
Joey, CEO of Jimmyjoy

Sorry to inform that our current price is not sustainable going into 2019. We will have to outsource more of our production due to growth in demand and invest in our production facility. Also the new formula is more expensive for us to produce, the Dutch government raised taxes with 3%, some suppliers and all distributing partners raised prices too. The price will be 7,- EUR per bag which is EUR 1,40 per meal for first time purchases.
On a positive note, the old subscribers will be able to lock their price for now. Thus, if you were thinking on subscribing, now is the time.
Limited editions – Currently Chai Latte.
Jimmyjoy sporadically produces Plenny Shake limited editions. The last one, Plenny Shake Amsterdam is already out of stock, sadly. It had a soft caramel cookie taste. There has previously been a coconut, apple cinnamon and raspberry, among others.
Pretty excited to see what is next.
Plenny Shake New Packaging
One of the things Jimmyjoy changed after their new formula update was the pouches in which they deliver Plenny Shake. Each bag still provides 5 meals (enough to cover a day), but it is now wider. The reason for that is to have more space for the scoop and help you not spilling powder everywhere. I must say, they are indeed a lot better in that regard. Small change, "big" improvement.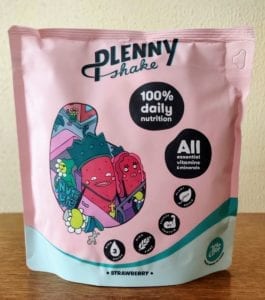 Nevertheless, there is something that is not as good. The zip. The zip is hard to close and not as sturdy as what other companies offer. In fact, I was always afraid that I did not close it properly and that it would spill.
Another "problem" regarding the bags is that they take a fair bit of space. I find out that I rarely consume all meals in one day as Plenny Shakes, thus the 5 serving bag is not as useful. Plus, because I mainly consume my Jimmyjoy shakes at home, I end up missing a bigger bag (like Plenny Shake Active) or a tub.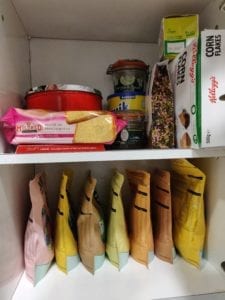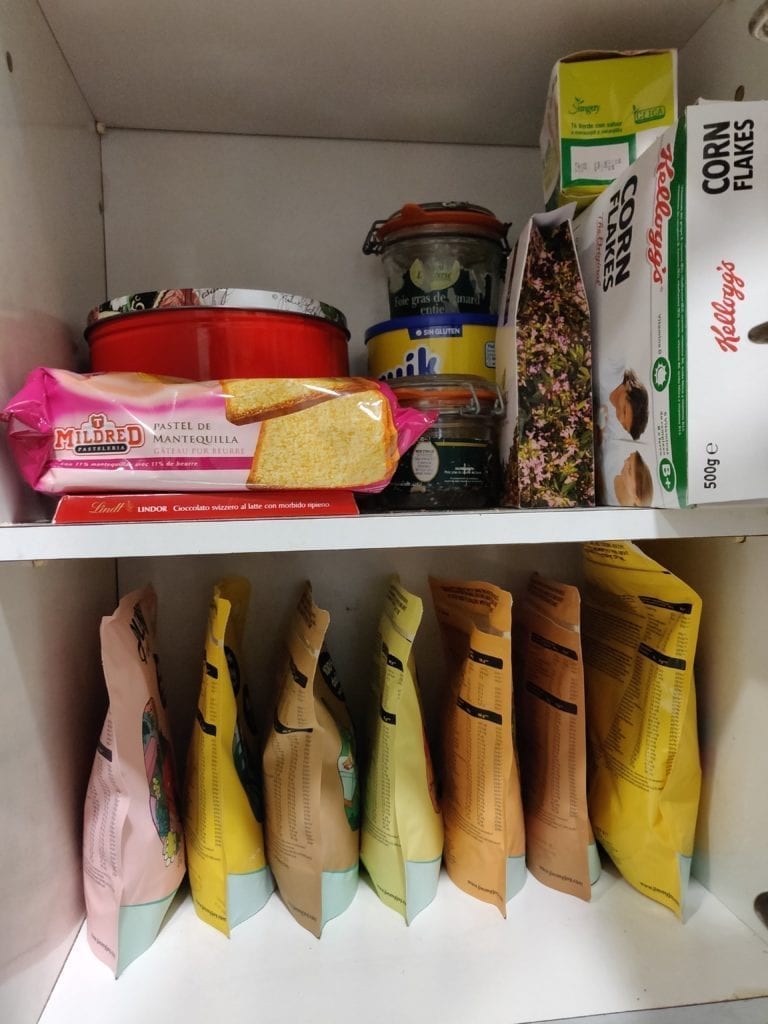 1- Is Plenny Shake gluten free?
Plenny shake oats come from a factory that handles gluten products, therefore, no. For gluten free alternatives, check Huel.
2- Why is the serving size 400Kcal?
It usually works for most people as a moderate meal. It will help you not feeling bloated, while avoiding hunger for 2-3h. If you like to consume bigger meals less frequently all you need to do is add more powder and water to the shaker.
3- What is the best flavour?
I tend to dislike the fruity flavours, so I will always choose chocolate. The vanilla version is quite plain and mild. You can always customize it by adding coffee for instance. The strawberry one was a bit of a disappointment, it was not to the level of Next Level Meal Strawberry (or Satislent, even). I thought the mango was the best out of the fruity options, followed by strawberry and then banana (but you might like it if you are a fan of the fruit).
4- Will I feel hungry with Plenny Shake?
Plenny Shake is a fairly thin and small shake. I felt good 2-3h after consuming, but that was my limit. Afterwards, I had to drink another one. It is designed that way, though, since the portions are smaller.
5- Does Plenny Shake work to lose weight or gain weight?
Mmm. Short answer is no. Real longer answer, yes but is not ideal. Plenny Shake is designed for a 2000kcal diet, thus if you cut some calories (let's say a meal) you will also cut some of the micronutrients and will not reach the daily goal. Look for weight loss alternatives. If you want to put weight on, we would say go for it. You will just have to consume one more meal a day (at least).
6- Plenny Shake vs other Jimmyjoy products.
Plenny Shake Active. It is a bigger serving and contains extra supplements to increase your performance (creatine, beta-alanine, glucosamine sulphate and acyl l-carnitine).
Plenny Wake Up. Bigger serving with 80mg of caffeine. Can you handle it?
Twennybar. A good snack but some skewed macros (higher saturated fats), so I would recommend having at max 2 a day.
7- Is the new Plenny Shake worst than the old Plenny Shake?
There has been some outrage in the community about the new formula and especifically protein content lowering. I, personally, like the old formula better, because I need more protein and I believe whey protein to be one of the better sources out there (I am not a big fan of the veganization of all the complete foods).
However, there have been some improvements in the fat sources and fatty acid balance (omega-3/6 and the MUFA, PUFA levels) and the flavours have improved, ever so slightly. On top of that, the lowering of protein will not affect negatively to the more sedentary consumer (which perhaps is the majority).
I belief to be one step backwards, one forward; although, I understand the disappointment of some. I truly belief there should be a non-vegan option.
Plenny Shakes competitors as a budget meal replacement are Satislent, Kuick and Queal Standard. Other competitors include, Huel, Soylent, Next Level Meal, Feed. and Pulve. I will cover some of them here. For a more comprehensive list you should check the ultimate meal replacement list.
Plenny Shake old vs New – Winner: Old formula
| | | |
| --- | --- | --- |
| | Old | New |
| Price (400kcal) | $ | $ |
| Flavours | 5 | 5 |
| Energy (serving) | 400 | 400 |
| C/P/F | 50/25/25 | 55/15/30 |
| Protein (serving) | 26 | 15 |
| Carbs (serving) | 48 | 53 |
| Sugars (serving) | 6 | 5.6 |
| Fat (serving) | 10 | 14 |
| Sats(serving) | 1.5 | 2 |
| Fiber(serving) | 6 | 7.2 |
| Allergens | Dairy, Soy, Gluten | Soy, Gluten |
| Profile | Vegetarian | Vegan |
The new Plenny Shake has a better fatty acid profile but a worse protein source and quantities than the old profile. The taste is ok, very thin and very small shake. Jimmyjoy says that flavours are now stronger, but for me the oat background is the most noticeable thing. They are, though, very distinguishable among each other.
I prefer the old version, because protein is important for me. However, if all you want is a balanced meal the new Plenny Shake will do just fine.
Plenny Shake vs Soylent Powder (US only) – Winner: Draw
| | | |
| --- | --- | --- |
| | PS | Soylent |
| Price (400kcal) | $ | $ |
| Flavours | 5 | 2 |
| Energy (serving) | 400 | 400 |
| C/P/F | 55/15/30 | 38/19/43 |
| Protein (serving) | 15 | 20 |
| Carbs (serving) | 53 | 37 |
| Sugars (serving) | 5.6 | 3 |
| Fat (serving) | 14 | 20 |
| Sats(serving) | 2 | 1.5 |
| Fiber(serving) | 7.2 | 5 |
| Allergens | Soy, Gluten | Soy, Gluten |
| Profile | Vegan | Vegan |
In the US they still provide with the old formula (comparison done with the new formula), but this will change soon, when the re-stock happens.
Both products are similarly priced, although Soylent powder is slightly cheaper. However, it only comes in two flavours compared to Plenny Shake. The first is also heavier in fats and does not contain the same balance the second does. However, Soylent does offer 5g more of protein, even if the amino acid profile might be incomplete (due to them using soy protein isolate only).
Taste wise, I prefer the Plenny Shake although this is a very subjective point. I like the chocolate flavour more than the Soylent cocoa flavour; and the vanilla is superior to Soylent Original in my opinion. It is also good to have more options.
Plenny Shake vs Queal Standard – Winner: Queal Standard
| | | |
| --- | --- | --- |
| | PS | Q Standard |
| Price (400kcal) | $ | $$ |
| Flavours | 5 | 10* |
| Energy (serving) | 400 | 700 |
| C/P/F | 55/15/30 | 46/29/25 |
| Protein (serving) | 15 | 35.2 |
| Carbs (serving) | 53 | 80.4 |
| Sugars (serving) | 5.6 | 25.3 |
| Fat (serving) | 14 | 24.3 |
| Sats(serving) | 2 | 3 |
| Fiber(serving) | 7.2 | 11.7 |
| Allergens | Soy, Gluten | Soy, Gluten, Dairy |
| Profile | Vegan | Vegetarian |
I love Jimmyjoy as a company, but Queal has a soft spot in my heart (first love).
Queal offers more flavours, and I find their shakes tastier and more accurate to the actual flavour. It is 11 cents more expensive per 400kcal, but I find this difference to be quite insignificant.
On top of that, I am a big fan of the extra protein Queal Standard brings and the lower fat content when compared to Plenny Shake. It is true that the sugar contents are lower in Plenny Shake, but none of them surpass the upper limit (90g). For me, Queal is the winner, but if you are in a tiny budget, Plenny Shake is the way to go.
Plenny Shake vs Satislent Economy Pack
| | | |
| --- | --- | --- |
| | PS | Satislent |
| Price (400kcal) | $ | $$ |
| Flavours | 5 | 5 |
| Energy (serving) | 400 | 670 |
| C/P/F | 55/15/30 | 56/16/28 |
| Protein (serving) | 15 | 25 |
| Carbs (serving) | 53 | 90 |
| Sugars (serving) | 5.6 | 1.8 |
| Fat (serving) | 14 | 20 |
| Sats(serving) | 2 | 2.9 |
| Fiber(serving) | 7.2 | 9.6 |
| Allergens | Soy, Gluten | Soy, Gluten |
| Profile | Vegan | Vegan |
Both brands offer superb bugdet options as discussed extensively here. They both offer 5 flavours (although different 5); and while I enjoyed Satislent's thick shakes more (as well as the flavour options), I think Plenny Shake has the more accurate flavours.
Nutritionally both are very similar. Satislent is increadibly low in sugars, but also lower than Plenny Shake in fiber. Both are vegan shakes with pretty similar ingredients, but Satislent uses olive oil instead of sunflower oil (which can be tasted in the shakes). Nutritionally, I favour Satislent, I feel both could do better, as well as flavour wise.
It all depends if you like thin shakes (Plenny Shake) or thick shakes and if you want smaller or bigger portions (even though both can be customized). I have tried both for a week and both have been great options:
Who is Plenny Shake for?
Honestly, everybody. However, it is specially great if you are in a budget and you do not do much activity. Plenny Shake is easy to get used to, easy to make, easy to integrate in your diet and comes in many different flavours. Definitely a beginner friendly shake.
Does it taste good?
Yes, it does. You do not belive us? Go and read the over 12k reviews praising them for their taste. If we are to be critical the taste is a little oaty and mild; there are better tasting shakes out there. However, the shakes were not bad at all, specially Chocolate and Vanilla. Nevertheless, we recommend trying all 5 before choosing to your favourites, you might get surprised (like I was with the mango).
Will I get all the nutrients I need?
As discussed in the nutrition section, Plenny Shake is balanced for a 2,000kcal diet. If you are not sure how much you need check the tools recommended in the resources page. However, if you are a more active person with higher protein needs than the average Joe/Mary I would recommend you to look at Plenny Shake Active, or the Big Bag version.
I want to buy it. How much will it cost me?
Nothing. Well, almost nothing.
A little more after March due to the price increse. It will be around €1.4/400kcal without subscription, or somewhere around $1.5/400kcal in the US.
With the 15% off from the subscription you could get it for €1.19/400kcal.
Wait a moment, is it perfect?
Perfect for beginners and people looking at their budget. Well, it would be perfect for beginners if they had a taster bundle to allow you to try the different flavours. Also, not quite perfect, since it falls short in certain vitamins and we think they could use better fat sources, such us, coconut or olive oil.
Verdict
You still here? You will not find anything better for the price. Other brands may offer more flavours (Queal Agile, Runtime), or better taste or bigger shakes (Satislent) or more protein per 400kcal (Huel); however, nothing will be as good value for money as a Plenny Shake. Superb shake for the average Joe or Mary that simply does not need as much protein or as many calories. I would personally choose other shakes if I had more budget, but very few will give you the added customer service and experience Jimmyjoy will.
---
Other JimmyJoy products