Beyond Greens Review | Affordable Greens with Flaws
Unlike many other green superfood reviews, my first impressions for this Beyond Greens review were positive. This is due to the fact that they have a transparent formula showing the exact quantities of each greens.
Even thought, I believe this should be industry standard, as it lets the user know what exactly is he putting in his body, most popular brands use proprietary blends than hide them. Often, this means that you will be getting less of the good stuff and more fillers.
Beyond Greens is the greens powder from Live Conscious, and it's meant to help you detox, provide you clean energy and boost your immune system. In short, like the best green powders, it contributes to your vitamin, mineral, and phytonutrient intake by providing you with a blend of vegetables, fruits and mushrooms.
In this Beyond Greens review, I will thoroughly analysed the ingredients, cost, and benefits of these greens powder, and see if it's worth your money.
Key Takeaways
Transparent label
Good doses of chlorella, milk thistle, and rhodiola
Too many mushrooms in quantities that do nothing
Cheap
Awful taste
An OK product to start, but lackluster in most areas
Have a look instead at the best superfood powders.
---
Beyond Greens Review at a Glance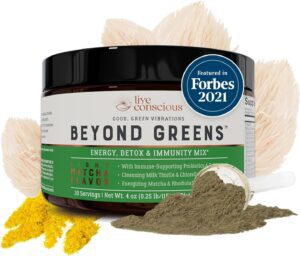 Flavors: Original.
Pros
Transparent doses
Some ingredients at right doses
Positive user reviews
Affordable
Cons
Not good for cognitive enhancement
Largely underdosed ingredients
Missing superfoods like spinach, kale or spirulina
Not great for long term use
Doesn't taste great
---
Beyond Greens Ingredients Analyzed
For the first time in a while, I'm able to say props for showing the exact quantities of each ingredient. Just like with our #1 greens, SuperGreen Tonik, Beyond provides with a transparent label.
Unfortunately, what the transparent label shows is that key ingredients are underdosed, while some not so important ones -matcha and mushrooms- are in higher doses. This does not mean that it will be completely ineffective, but you will not have as many benefits as you could have.
Here is the ingredient list:
Rhodiola Root – 50mg
Match leaf – 200mg
Organic Reishi Mushroom Fruit Body – 25mg
Organic Cordyceps militaris Fruit Body – 25mg
Organic Turkey Tail Mushroom Fruit Body – 25mg
Organic Lion's Mane Mushroom Fruit Body – 25mg
Chlorella Broken Cell Wall Algae – 500mg
Echinacea purpurea Aerial parts – 900mg
Milk Thistle Seed – 200mg
LactoSpore (Bacillus coagulans) 300M CFU
FOS – 190mg
XOS – 20mg
Tahl Gum – 190mg
Ceylon Cinnamon Bark – 314mg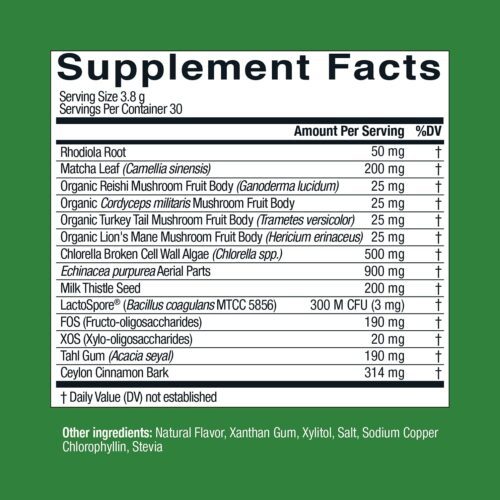 Rhodiola Root (50mg)
Rhodiola is a herb commonly used in nootropics that has many benefits associated with brain health and memory. However, the effective dosage of rhodiola is 200mg.
Matcha Powder (200mg)
Matcha is not commonly seen in green powders, but it's rich in antioxidants including catechin which have been linked with weight loss. Other benefits of matcha include improved cardiovascular health and potential help fighting cancer.
Mushroom Complex (Reishi, Turkey Tail, Cordyceps militaris, Lion's Mane)
Usually mushroom complexes like these are seen in brain supplements and nootropic coffees due to their capacity to stimulate your brain and neuroprotective properties.
For instance, Reishi mushroom can help you increase energy, reduce fatigue and help you against depression. Some studies have also linked Reishi with reduce cholesterol levels, anticancer properties, and ability to increase your white blood cells and boost the immune response.
Sadly, the doses for these mushrooms are often in the grams. The recommended dose for Reishi is 1.4g-5.4g, for Turkey Tail 2.4g, for Cordyceps 3-6g etc.
Chlorella (500mg)
Science has shown that chlorella powder is one of the best greens that you can consume. This algae is rich in vitamin D, antioxidants, essential amino acids and more.
It's dosed appropriately, although doses higher than 1g have been shown to be more effective.
Echinacea (900mg)
Another odd inclusion, not often found in green powders. Among the potential benefits, echinacea can help you prevent the common cold and might stimulate your immune system.
This plant is also loaded with antioxidants that can help you fight free radicals, reduce inflammation and help you combat anxiety.
Milk Thistle (200mg)
Beyond Greens includes 200mg of milk thistle which might protect your liver, brain function, and even lower blood sugar levels for people with diabetes.
Other Ingredients
As far as the rest of the ingredients in Beyond Greens goes, fructo-oligosaccharides (FOS) and xylo-oligosaccharides (XOS) are prebiotics that can act as food for your gut bacteria enhancing your gut health.
Futhermore, Beyond Greens adds 3M CFU of probiotics (Bacillus coagullans) to even enhance your gut bacteria futher. However, when compared to proper pro- and pre-biotic blends these are largely underdosed.
Regarding Cinnamon Bark, there are some promising studies in relation to anti-inflammatory and cardioprotective properties, but further research is required.
Beyond Greens Health Benefits
Let's discuss some of the potential health benefits from taking Beyond Greens.
According to the manufacturer consuming Beyond Greens regularly can help you to:
Improve cognitive function
Support immune response
Better gut health
Detox your body
Increase energy levels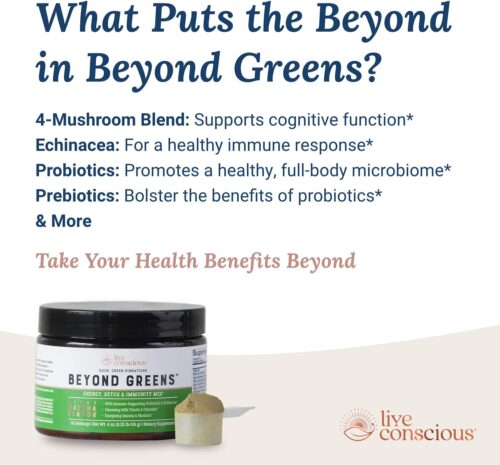 Beyond Greens and Cognitive Function
Too many greens make bold claims about improving your brain function by just adding a few mushrooms and adaptogens, such as Jocko Greens.
Unfortunately, almost every green with such claims does not dose the ingredients correctly. In Beyond Greens case, the mushroom complex is very underdosed, and there should be a few more grams of each. Taking a mushroom coffee like Four Sigmatic or Optimal Coffee will definitely a better way.
You might have some small neuroprotective benefits from Rhodiola, and the increased amount of nutrients, but far fewer than if you were to take a proper brain supplement to improve cognitive function.
Not Enough to Help with Gut Health
Similarly, the probiotics and prebiotics in Beyond Greens will be beneficial for anyone who does not consume a large amount of diary or fiber. These will promote healthy gut bacteria and might even improve your mood and energy levels.
However, if you are concerned about your gut health, I would strongly suggests incorporating more fibers, vegetables, and fruits into your diet or taking especialized probiotic supplements instead.
Supports Immune System
There's no denying that Beyond Greens is a blend rich in antioxidants, polyphenols, and anti-inflammatory agents that can boost your immune system response.
In particular, Beyond Greens has a good dose of chlorella, milk thistle, and echinacea. However, it's missing other key greens like spirulina that have synergistic action with chlorella and are much better than other ingredients in this list.
Does Beyond Greens Work?
Ultimately, Beyond Greens might work for someone with a diet incredibly low in nutrients, and vegetables, as even the most small doses of vitamins, minerals and phytonutrients will be a big boost.
However, for most people, the doses found in Beyond Greens are not going to be effective enough and you will do better looking for alternatives.
In a similar price range you have Enso greens with higher quantities of key greens or if you want a more comprehensive and still transparent label, SuperGreen Tonik will do it for you.
Side Effects of Beyond Greens
Most green powders are safe for consumption for the majority of people.
Rhodiola and milk thistle could cause some nausea for people who are not used to them, but this tends to happen in higher doses.
Taste Beyond Greens
They have opted for a strong Matcha flavor to mask all the greens, but unfortunately it doesn't do it for us. When compared to greens like Bloom, SuperGreen Tonik or AG-1 this is a much worst tasting blend.
I would recommend consuming with some fruit or some other smoothie to mask the flavor.
Customer Beyond Greens Reviews
As far as the customer reviews for Beyond Greens is concerned, they are mostly positive.
If we look in their own website, it has a 4.7 stars in over 300 user reviews. Even on their site people complain about the taste.
I love the ingredients, but I was having a problem with the taste. I wanted to share that if you mix the powder with 4-6 oz Coconut water, it tastes great!

Juli- 5 Star
Amazon Beyond Greens Reviews
Reviews on Amazon are not as positive as on their website with 4.3 stars in almost 4k user reviews.
Looking at the Beyond Greens Amazon reviews, the taste and mixability score the lowest, and it's the biggest flaw according to users. That said, it scores higher than other products in this category, like Skinny Fit Greens.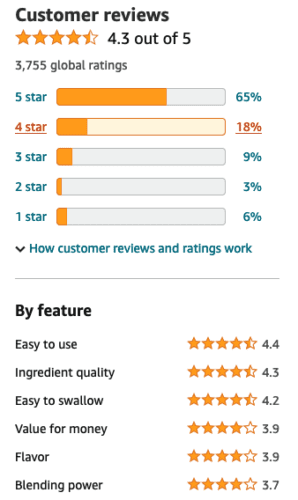 So I've been taking these for about two weeks now. They are probably the best greens I've tried yet. They actually have a pleasant smell when you open the container. They don't smell like a musty basement as some greens do. I mix them with a small amount of sugar-free Minute Maid Lemonade and have no trouble whatsoever taking them. I've tried a few other brands and I struggled with all of them. With Beyond Greens I don't have to struggle.

Violet, 5-star
After using this product once it really upset my stomach and caused cramping. When I tried to do an Amazon return it cannot be returned to them you have to return it to whoever it came from. Good luck finding out who that is. I googled the company Live Conscious to see how to get in touch with them. I called the number provided and was told I had to contact Amazon. So where in fact did this product come from and who do you contact. Guess I'm out $39.00. Poor way to conduct business.

1 star
Some users complaint about the refunds, so make sure you buy it from a trusted source in Amazon, or buy a product with a money-back guarantee.
Pricing & Shipping
As discussed, Beyond Greens is available in their own website and on Amazon. When you buy it from the Live Conscious website you will get the best deals with up to 38% discount in subscriptions.
1 Tub (30 servings) one time –> $37, or $1.23/serving
1 Tub with subscription (20% off) –> $32, or $1.07/serving
2 Tubs with subscription (28% off) –> $29, or $0.97/serving
4 tubs with subscription (38% off) –> $25, or $0.83/serving
Is Beyond Greens Worth It?
If I were to look at the price only, there would be little objection. It's one of the cheapest greens powders you can buy together with Amazing Grass.
That said, you get what you paid for. Ultimately, you will be getting a half dosed green powder that lacks key superfoods like spinach, kale or spirulina, and instead has "worthless" mushrooms that won't do as much for your health.
Instead, you could look at paying a little bit extra for Enso Greeens.
---
Verdict – Beyond Greens, a Promising Start but Lacking
To summarize this Beyond Greens review, I will say that I applaud their bet for transparency. This should be industry standard, and not something I need to mention a thousand times.
Nevertheless, having a transparent label is not enough, and as it can be observed, Beyond Greens lacks many key ingredients and is too low in others.
While for the price it could be a good starting point for those who have not consumed green powders before or have a very crappy diet; for most people it will be worth spending a little bit more to get more health benefits out of your green powder.
In a similar price range, Enso Greens would be my top recommendation. However, if you are willing to pay extra to make sure you get all the health benefits a great green powder can give you, Supergreen Tonik is the only way to go.
Beyond Greens
From $1.23/serving