We've looked at a bit of everything this year. Meal replacement shakes, protein bars, nootropics, green powders, cereal, and even ramen. So who's up for some cookies? I surely am! In this Lenny & Larry's Complete Cookies review, we will have a look at one of the most fun healthy snacks in the market.
L&L offers a line of various confections that include cookies and bars that are vegan and non-GMO and offer high protein, high fiber and no artificial sweeteners.
Good desserts aren't always healthy, and healthy desserts aren't always good, but let's see if these cookies can bridge that gap.
At the end of the day, we all crave some sweetness and cookie goodness in our lives!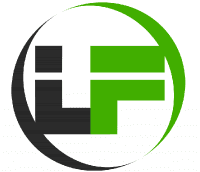 Still in the oven? Here are LatestFuels quick takeaways:
Lenny & Larry's offers cookies and bars
Their products are vegan, non-GMO, dairy free and soy free
All cookies & bars have high protein and fiber
Free from artificial flavors and sweeteners
The complete cookie has over 10 flavors
Complete Cookie At a Glance
Flavours: Chocolate Chip, Peanut Butter, Double Chocolate, Chocolate Mint, White Chocolate Macadamia Nut, Salted Caramel, Chocolate Donut Oatmeal Raisin, Peanut Butter Chocolate Chip, Birthday Cake, Snickerdoodle, Lemon Poppyseed.
---
Opinion
Just like Clif & Aloha Bars, the Lenny & Lerry Complete Cookies are competing in a tough market.
There are so many products to choose from, it's hard to know what to grab. Furthermore, the healthy ones aren't good, and the good ones aren't healthy. But I can admit that I may have judged too soon.
I've seen these around for a while but told myself they can't be good. Maybe they'll prove me wrong.
Golden Brown
1. Ton of flavors. Nearly impossible not to find one to enjoy. Seasonal flavors too.
2. Mostly allergen free. So glad that they are accessible to most.
3. Very filling. Half a cookie takes the edge off. A whole can fill you up for a bit.
4. Not crazy sweet tasting. Despite the 20g of sugar, it wasn't off-putting
Definitely Burnt
1. Texture was iffy. Some cookies were spongey
2. Gas! Count on it. Plan for it.
3. Taste didn't match the flavor on some. If companies want a certain flavor, its imperative they use ingredients of that flavor!
4. No subscription options. I was surprised by this. You'll have to subscribe through Amazon
5. Sued for overstating protein. They settled and admitted no wrongdoing, but not a great look.
Nutritional Breakdown
With the many flavors offered, each with slightly different ingredients, I've chosen to base all measurements and analysis on the most popular, and most allergen-free flavor of Chocolate Chip.
All Complete Cookie flavors are vegan and contain no artificial sweeteners.
L&L Complete Cookie Nutrition Overview
| | |
| --- | --- |
| Kcal/meal | 420 – 460 |
| Macros (C/P/F) | 58/16/26 |
| Vegan | Yes |
| Keto | No |
| Features | Soy Free, Dairy Free, Kosher, No Corn Syrup |
| Non-GMO | Yes |
| Organic | No |
| Includes Probiotics | No |
| Artificial Sweeteners | No |
| Synthetic Additives | No |
| Contains All Micronutrients | No |
| Controversial Ingredients | Wheat, *Macadamia Nuts, *Peanuts |
*Only in White Chocolate Macadamia Cookie & Peanut Butter Cookies
Carbohydrates
Based on 210kcal serving: – 1/2 cookie
Total Carbs: 30g, 11% of DV.
Net Carbs: 25g, (Total Carbs – Dietary Fiber – Non-digestible Carbs)
Sugars: 12g.
Fiber: 5g, 19% of DV.
Each cookie will be based of enriched wheat flour, making up the carb base.
Quite a bit of sugar here, but hey…it's a cookie. This will vary by flavor, especially ones with sprinkles, chocolate, chips, or cinnamon sugar.
Thankfully, there are no artificial sweeteners, as well as no sugar alcohols. This might be a welcome addition in a world where artificial sweeteners and in every product, and common sugar alcohols like erythritol have been linked with long term health issues.
Protein
Based on 210kcal serving: – 1/2 cookie
Total Protein: 8g, 16% of DV
Source: Vital wheat gluten, pea protein, rice protein
Vital wheat gluten (seitan) is a protein rich vegan substitute. A 3oz serving can contain over 15g of protein. Rice protein and pea protein round out the protein profile. The combination of these ensures that you get a complete amino acid profile.
It's important to note that despite being richer in protein than your average cookie, these are not as protein-rich as protein bars or meal replacement bars.
Fats
Based on 210kcal serving: – 1/2 cookie
Total Fats: 6g, 8% of DV.
Saturated Fats: 3g, 15% of DV.
Palm oil make up the fat content. Unfortunately, a highly processed oil that is low in omega-3 & omega-6 fatty acids, shown to be important in a balanced diet.
Thus, you will be getting the lower quality fats, and none of the healthy ones.
Micronutrients
Not a thing here, outside of 10% of iron.
Allergens
As long as you're ok with gluten, you'll largely be fine when it comes to allergens.
Taste Test
There are several flavors to choose from, and I have nine of them. Crazy thing is…that's not even all of them when you count the seasonal offerings. They offer Pumpkin Spice and Apple for fall, and Peppermint Bark and Gingerbread for the holidays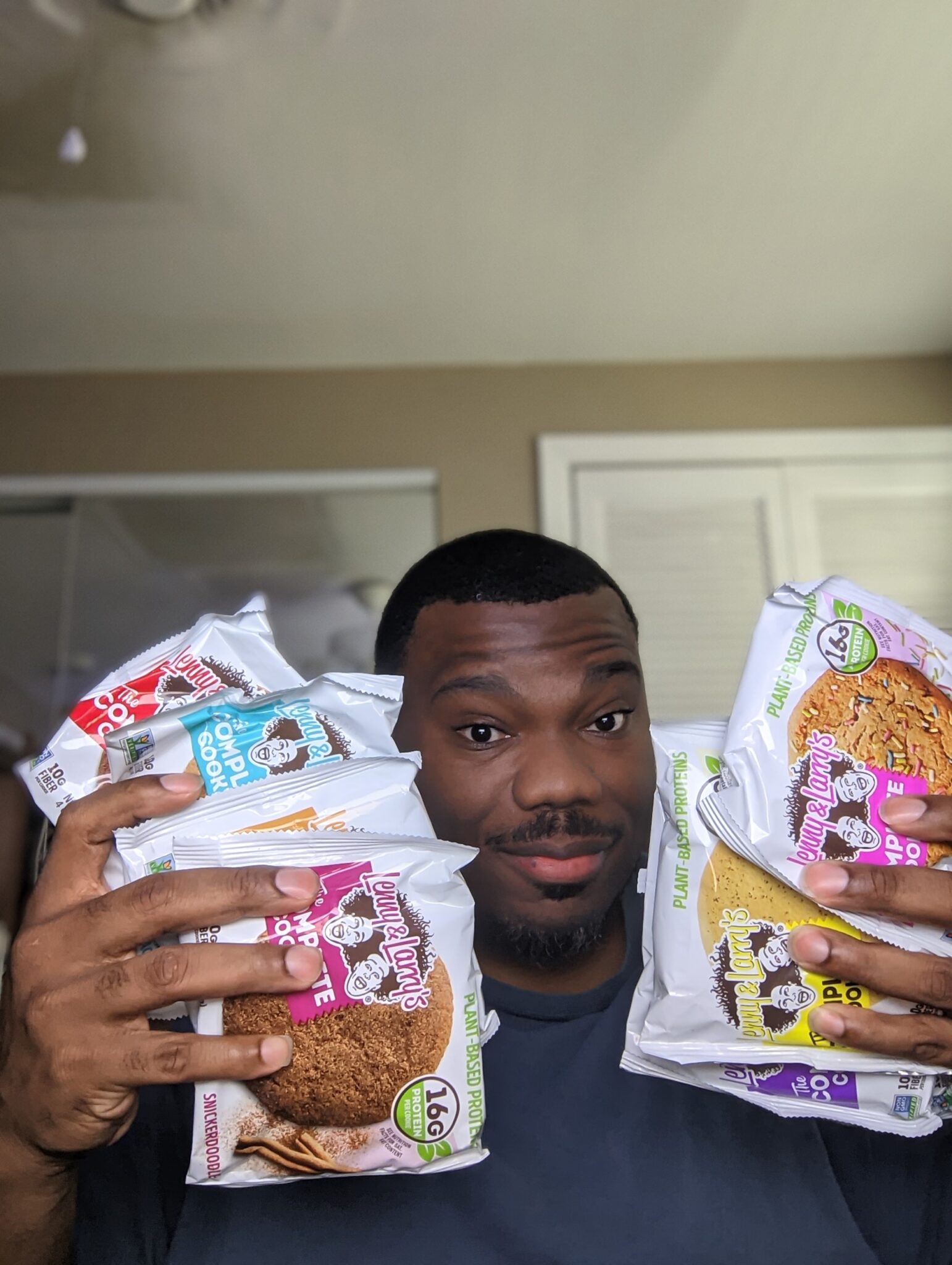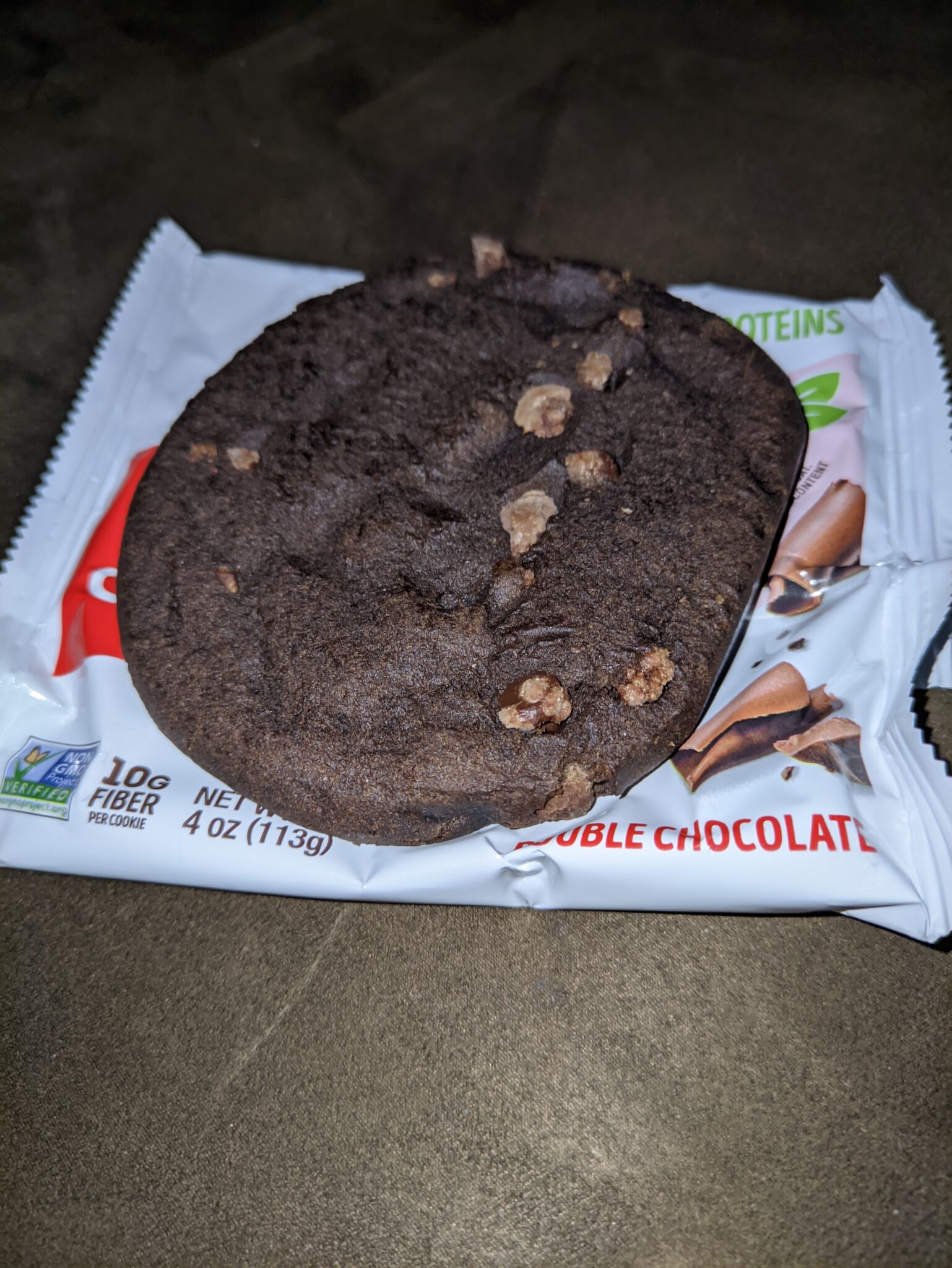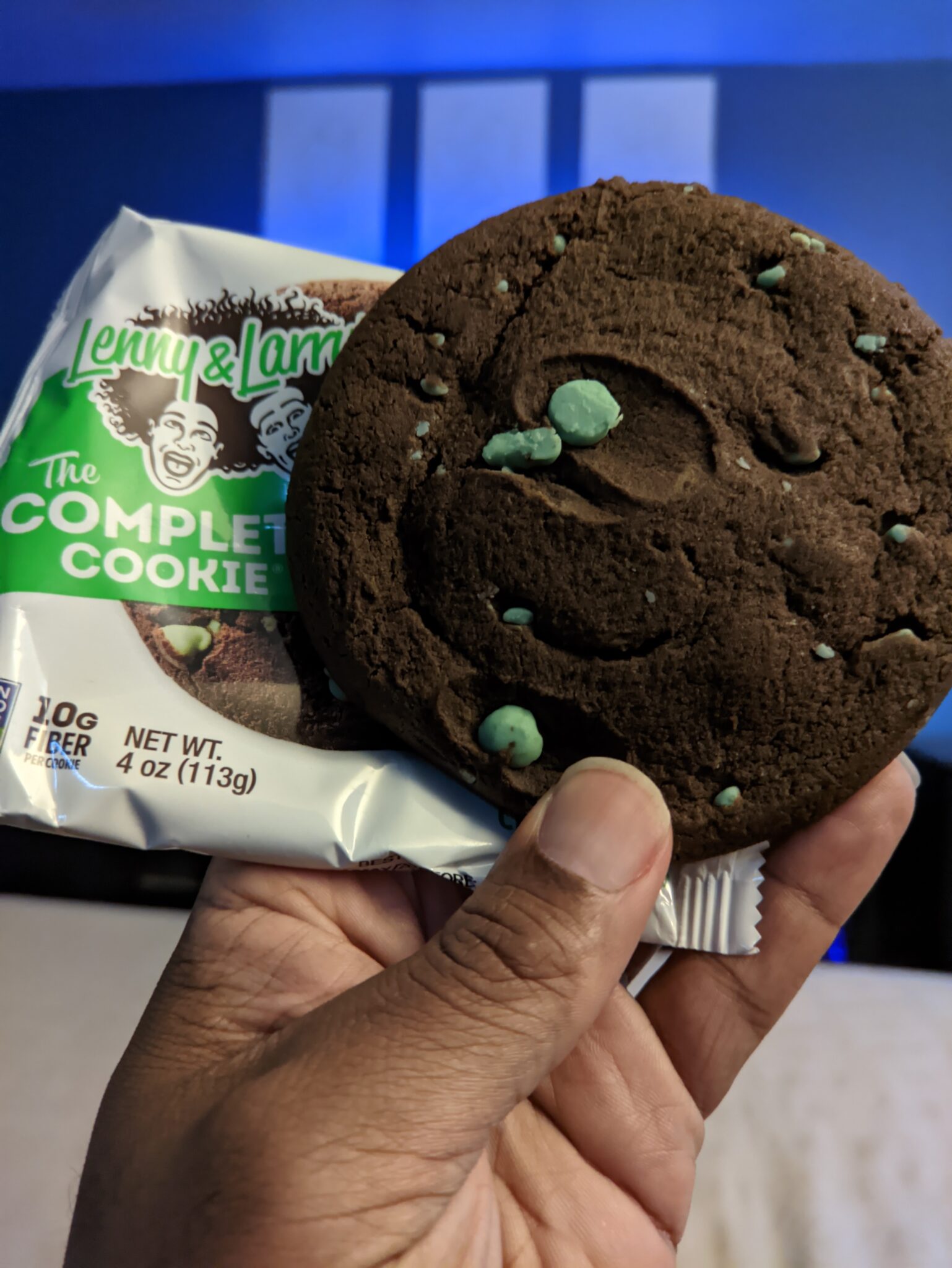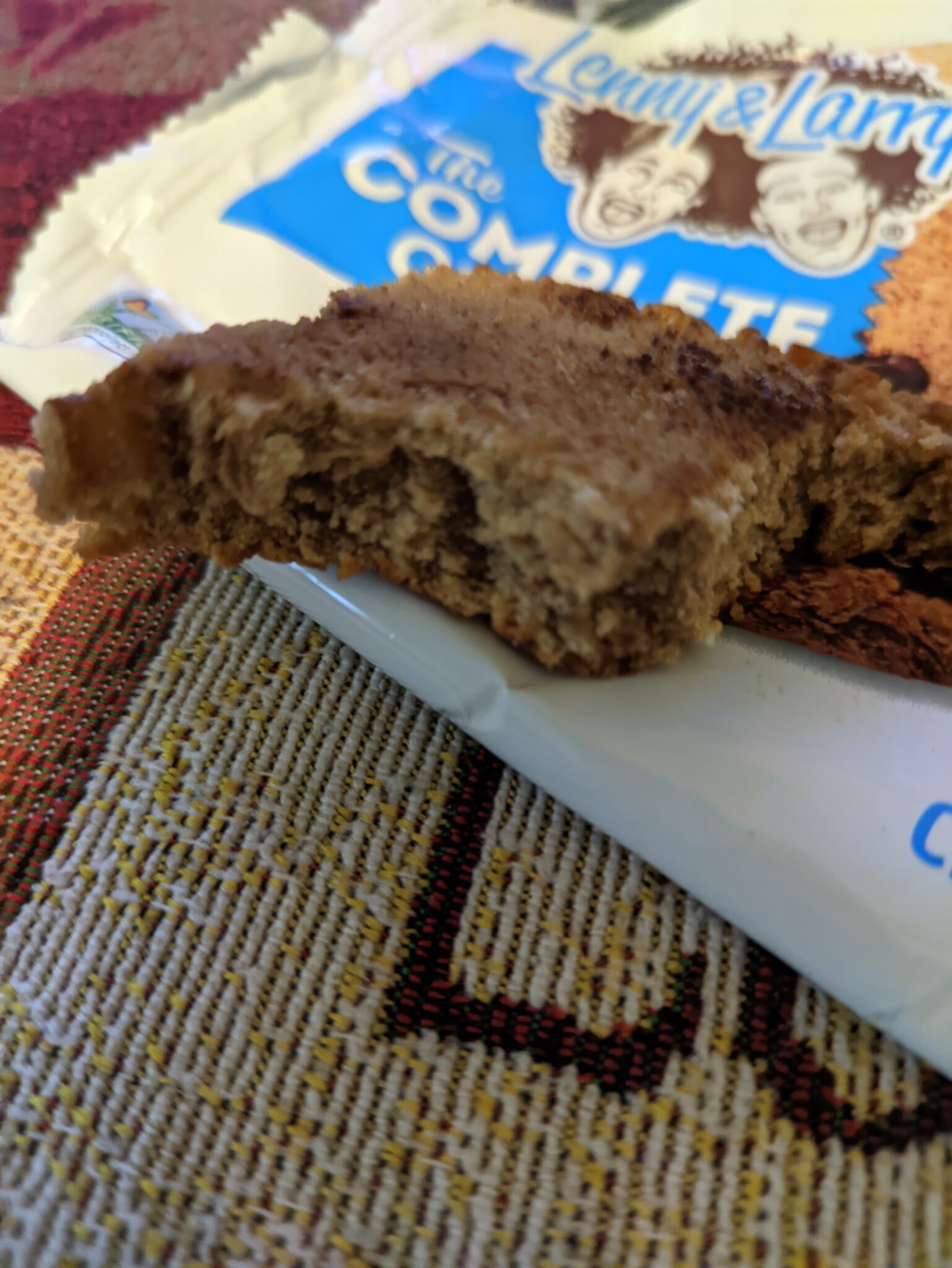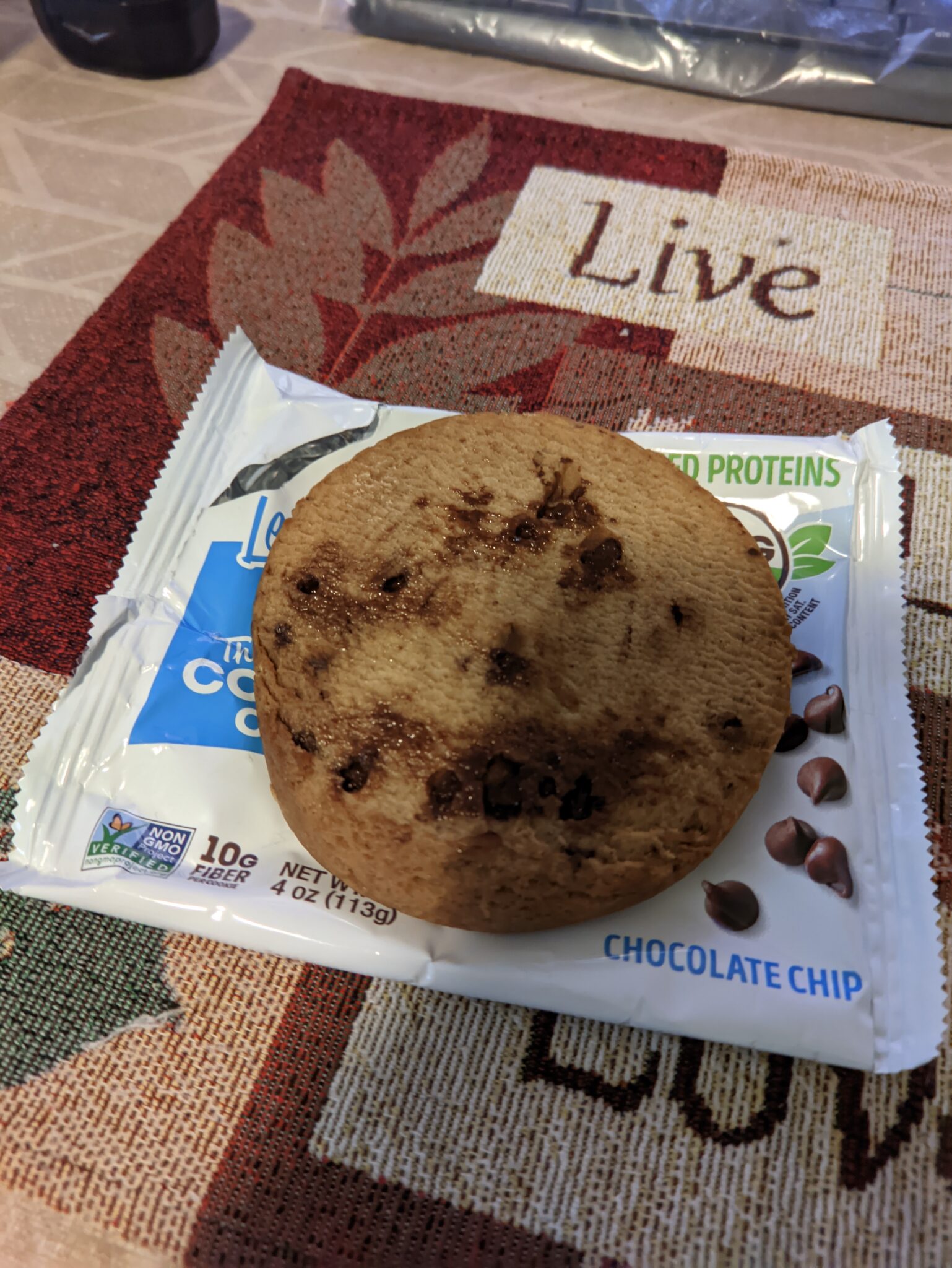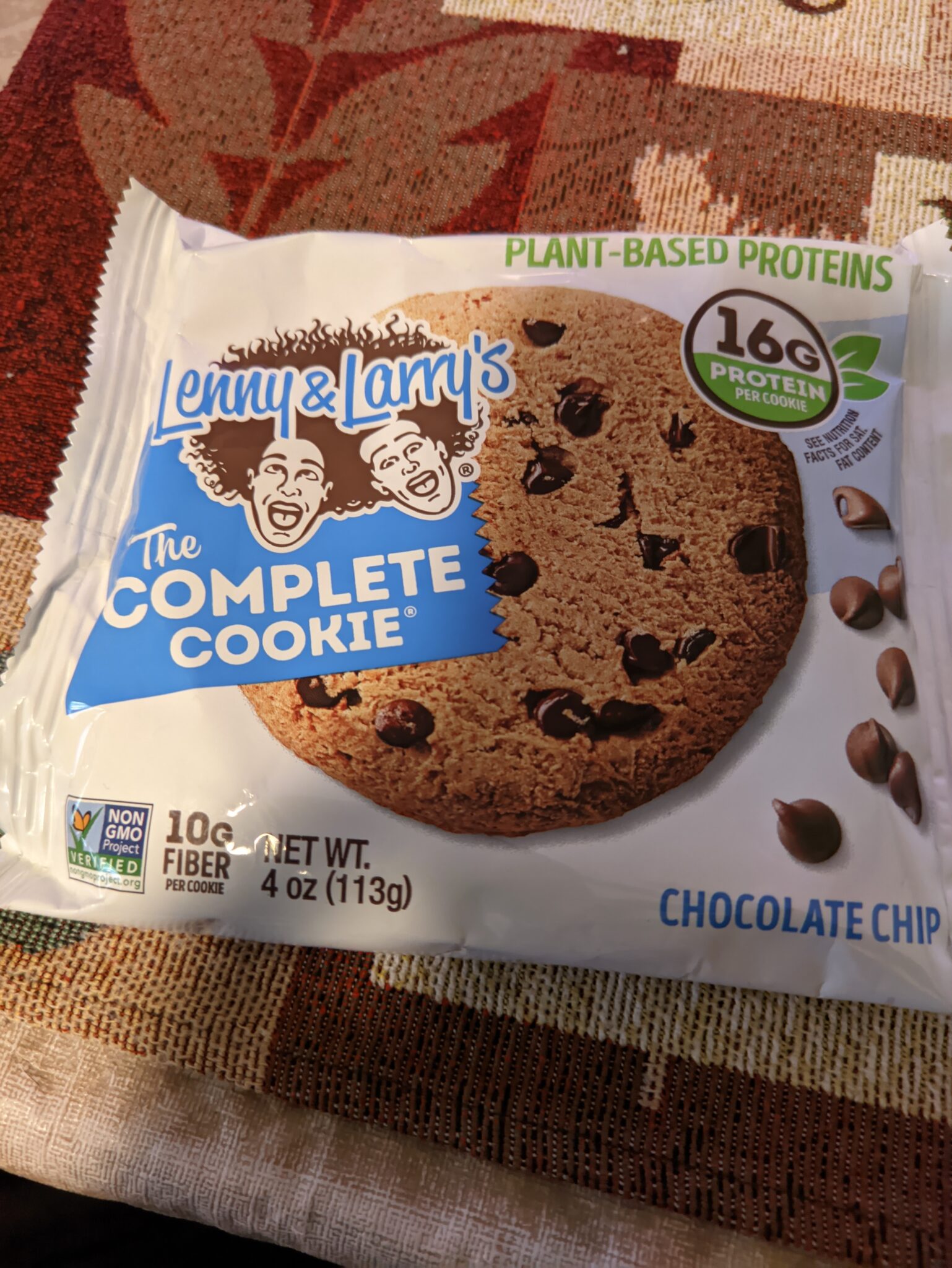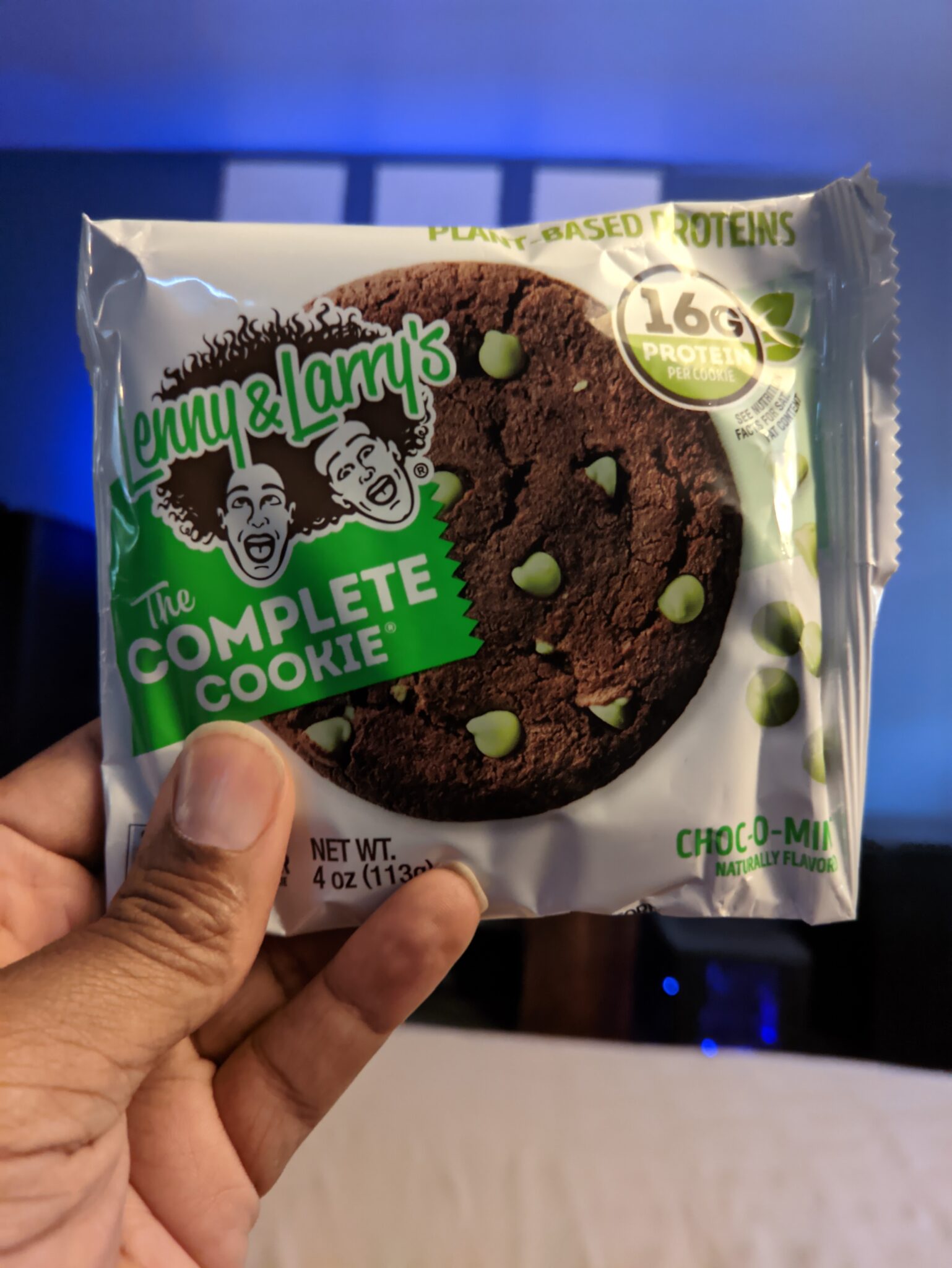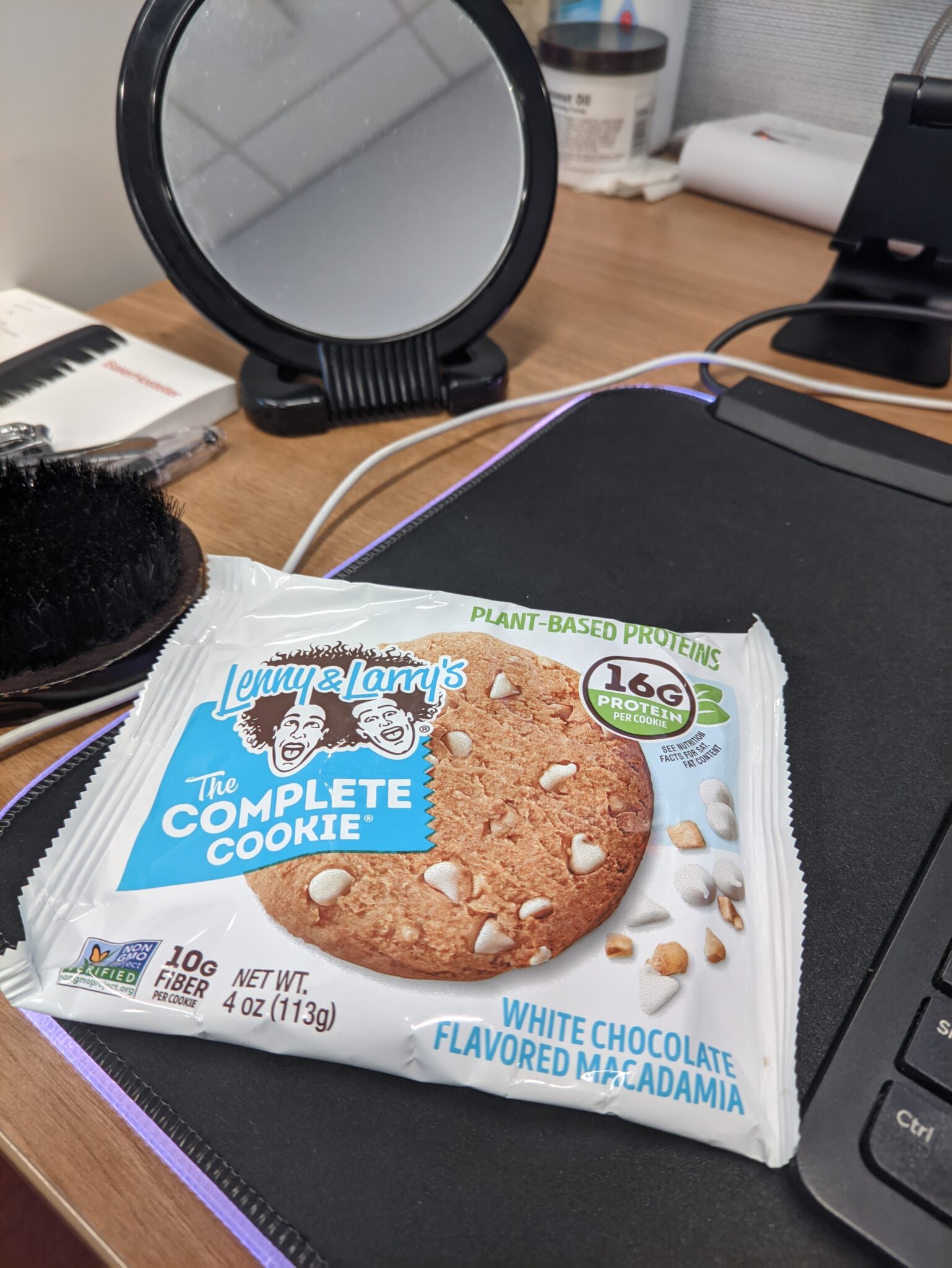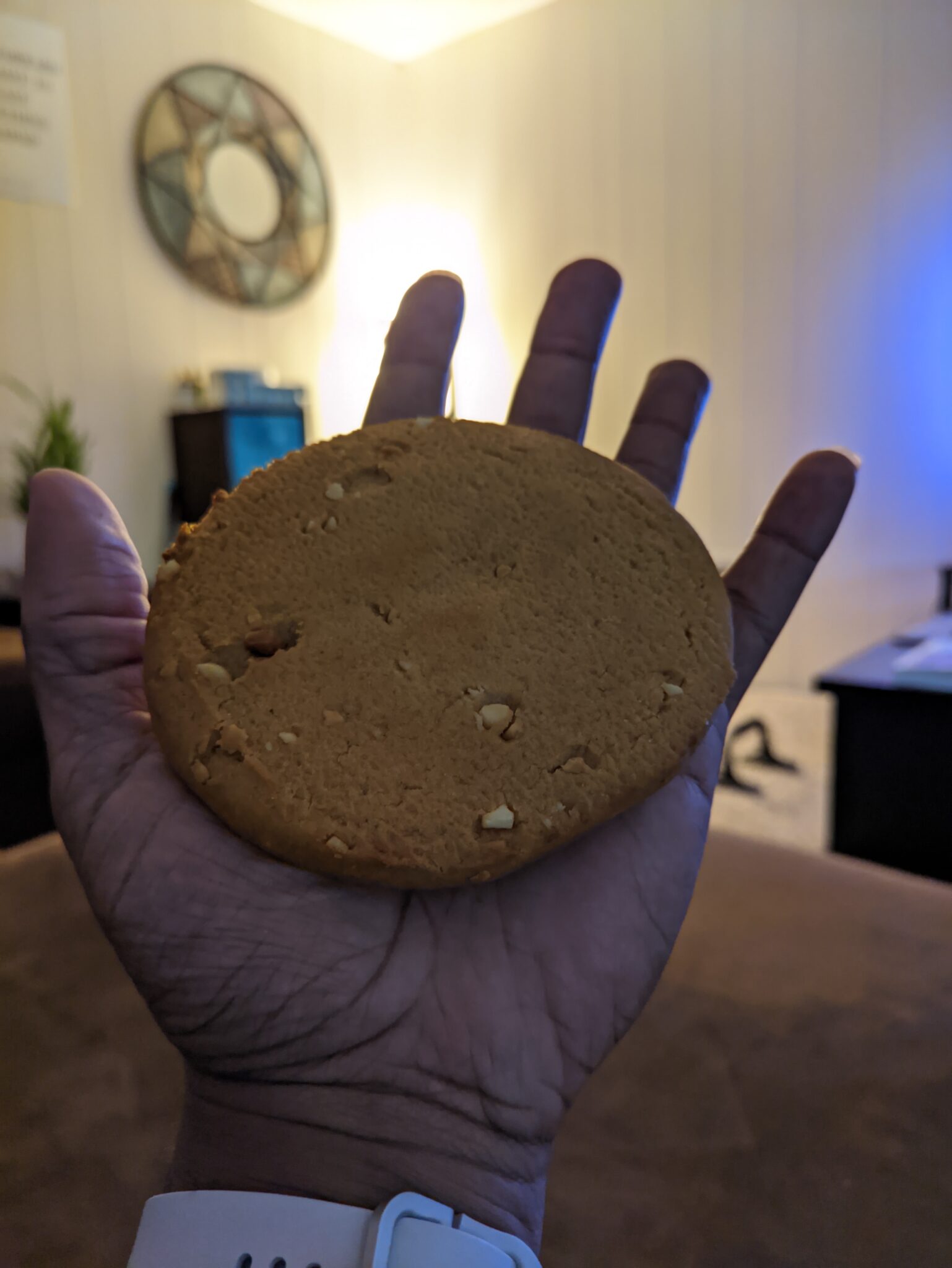 Complete Cookie
Since there are so many, I figured it'd be easier to chart them all instead of writing paragraphs about each. I graded each on a scale of 1 through 5, from OMG I need to hide them from myself they're so good….all the way to being so bad, the squirrels wouldn't even eat them.
Even added the unhealthy contemporary on store shelves to give you an idea of what you can realistically expect taste wise.
Flavor
Rating Scale
Thoughts
In Store
Comparison
Chocolate Chip
2.5
Only ok. Flavor could have been better. Not fond of the texture.
Chips Ahoy Chewy Chocolate Chip
Double Chocolate
3
Better than chocolate chip. Not bad flavor wise, and texture seemed better
Subway Double Chocolate
Chocolate
Mint
4
The mint chips are really good. Gave it a little something extra
Mint Chip Ice Cream
Snickerdoodle
5
Really good. My fave so far. A bit too much sugar on it makes it a bit messy though.
Pillsbury Soft Baked Cookies, Cinnamon Toast Crunch
Peanut Butter
1
Disappointing. Feels like the PB flavor relies on the peanuts alone. Bland otherwise.
Grandma's Peanut Butter
White Chocolate Macadamia
3
Was told it was pretty good. Not too sweet, nice flavor and appreciated that it doesn't contain artificial sweeteners. Thanks Chris!!!
Subway White Chocolate Macadamia
Oatmeal Raisin
4
Very similar to my fave oatmeal cookies.
Archway Oatmeal
Lemon Poppyseed
2.5
Not a fan of lemon stuff, but not bad. Had accurate flavor. Tastes lemon esscenced instead
of containing lemon juice or peel
Archway Lemon Iced Cookies
Birthday Cake
3
Sweet than the others. Basically a sugar cookie. Sprinkles were baked in.
Any sugar cookie with sprinkles
Most of these fell somewhere in the middle, with Snickerdoodle being the winner and Peanut Butter tasting like a coffee filter.
Of note, these were very filling, but that 10g of fiber will be felt for sure.
Crunchy Cookies
There are only a few flavors of these, and I have chocolate chip.
First thing I appreciate is that they have a realistic serving size of six cookies. One of my major worldly hatreds are serving sizes that not even a skinny person would follow.
But back the cookies….these actually slap! If you've ever had and enjoy Famous Amos cookies, these are basically those with protein and fiber. If included on the chart above….these would be a 5 all day!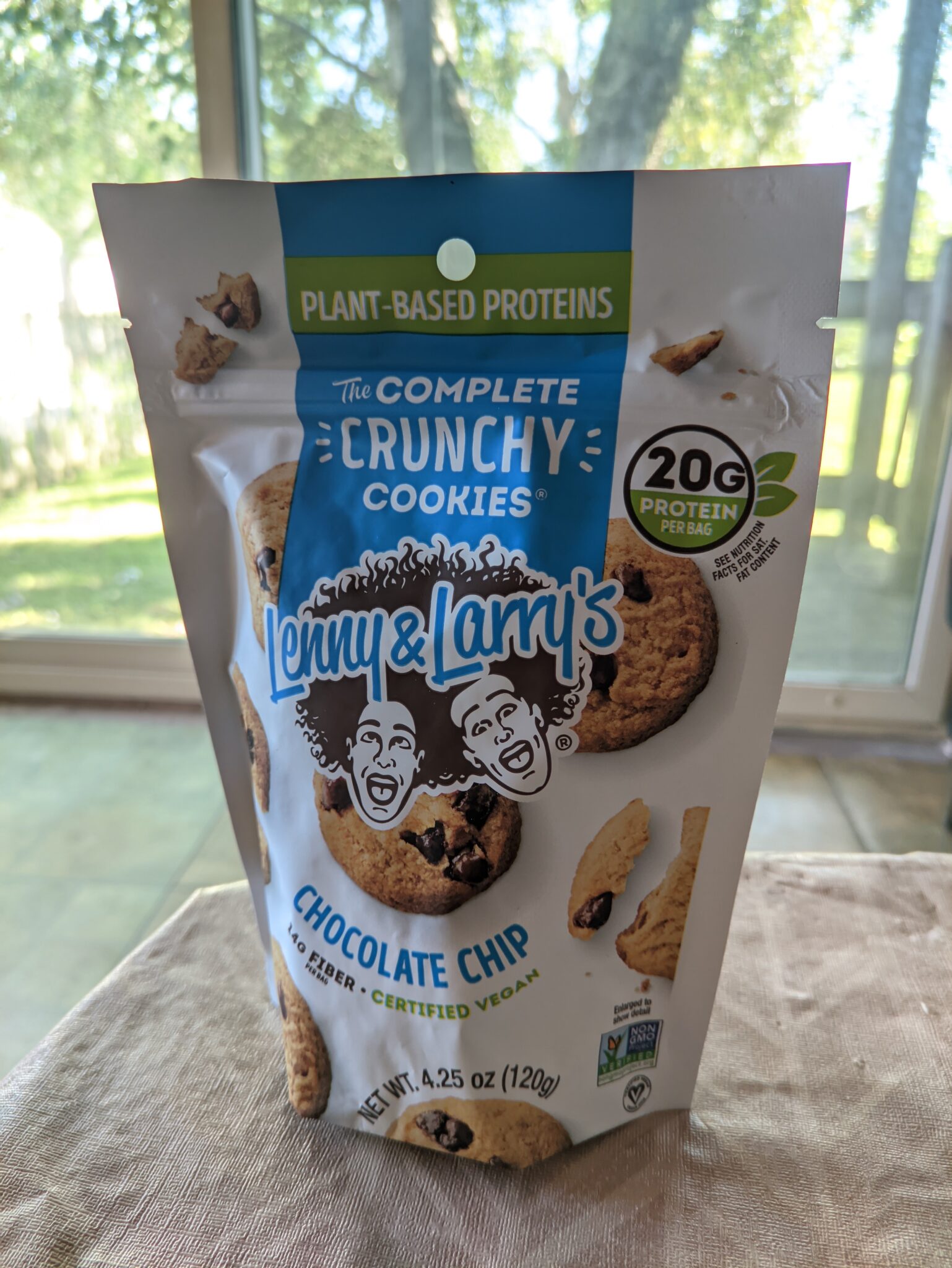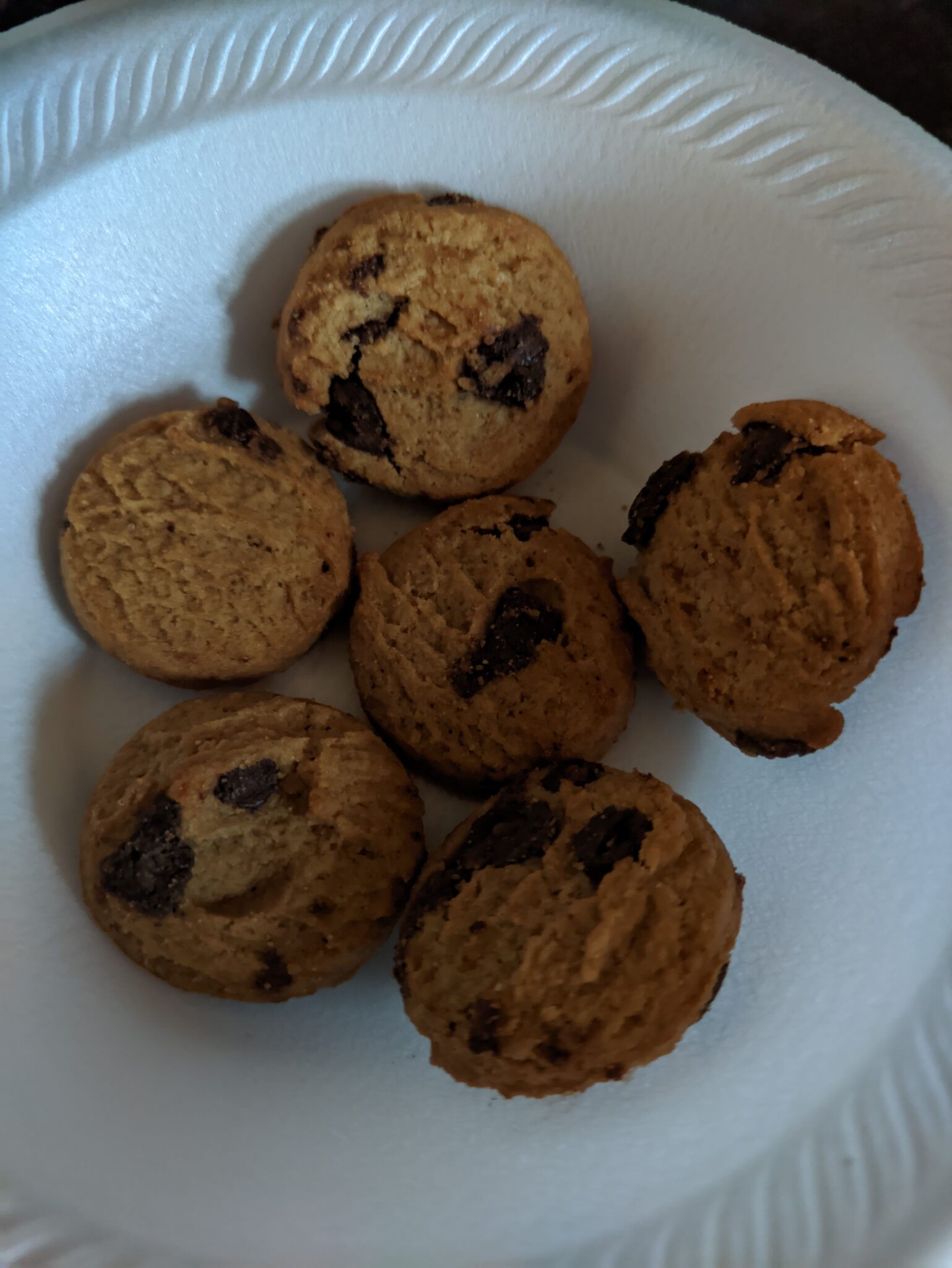 Who Are Lenny & Larry?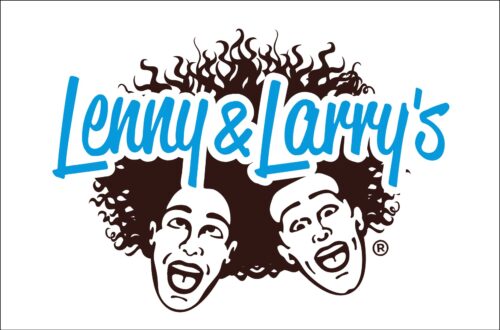 Lenny & Larry's was founded by buddies Benny and Barry. Over 25 years ago, two weightlifters named Benny & Barry decided protein should not only taste delicious but be enjoyable to eat and the first protein muffin was born! But Benny & Barry didn't stop at muffins! Their passion for protein packed snacks with high-quality ingredients and heavenly taste continued.
Pricing
Lenny & Larry's products can be ordered from their webpage, from Amazon, or from many local grocers and retailers.
| | | |
| --- | --- | --- |
| Product | Total Price | Serving Price |
| 12pk Complete Cookies – 4oz | $22.95 | $1.91 |
| 12pk Complete Cookies – 2oz | $15.99 | $1.33 |
| 12pk Crunchy Cookies | $16.99 | $1.42 |
Priced in USD
Shipping
Shipping is $6.95 for orders under $55, and any orders above $55 ship free via UPS Ground. Other UPS services include 2nd Day Air & 3 Day Select.
International shipping is unavailable.
Customer Lenny & Larry's Complete Cookie Reviews
Like other products as of late, Lenny & Larry's has thousands of reviews on Amazon alone which should paint a picture of how much they're liked, or otherwise.
Those who left positive reviews often mentioned how filling they were, good they tasted and the variety of flavors available.
Amazon Lenny & Larry's Reviews
Those with less than stellar experiences cited quality control issues, such as receiving expired product (likely a distributor/retailer issue) and many finding they have open and or stale cookies. A fair amount of texture discontent was also posted, but it certainly won't be for everyone.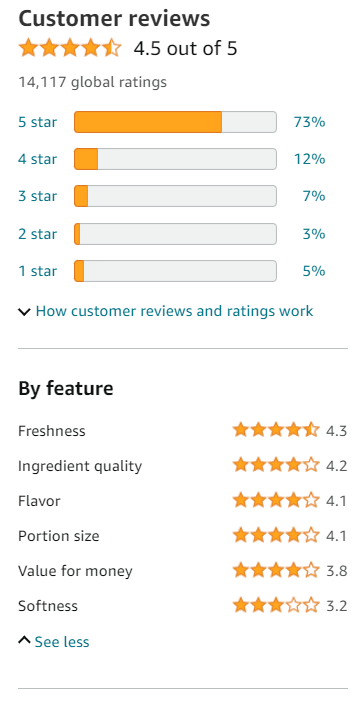 An honest and accurate middle of the road review.
Good flavor but gave me gas!!!

The cookies themselves tasted great…5 stars for that. HOWEVER, I think because of the Inulin fiber it gives me terrible gas every time I would eat one. Maybe it's just me but the repercussions of eating one was so bad I won't be ordering more

M. Berry – Amazon
L&L vs. Perfect Bar vs. LYFE
Normally, we'd line up somewhat similar products to where each shines or falls, but in this case, its more of a contrast. Each product occupies different segments of the market.
Head to Head
Category
L&L Complete Cookie
Perfect Bar
LyfeFuel
serving price
$1.91
(USD)
$3
(USD)
$4
(USD)
kcal/serving
210
330
210
servings per
2 (per cookie)
8
10
Flavors
13
11
2
Protein (g)
8
12-17
12
Sugar (g)
9
15-19
6
Fiber (g)
5
4
14
Fats (g)
9
22
13
Carbs (g)
27
27
23
Vegan
Y
N
Y
Certified
Organic
N
Y
N
Micronutrient
3
13
21
Artificial Sweeteners
N
N
N
Synthetic Additives
N
N
N
GMO?
N
N
N
Protein Source
Pea, Rice, Vital Wheat
Gluten
Nut Butter, Milk
Egg, Rice
Nuts
Availability
US
US & CAN
US
Other Products
Bars
PB Cups
Recovery & Essentials Shake
L&L vs Perfect Bar
These two are both "healthier" snacks that take very different approaches to how they choose to deliver their goodness to world. While some of the macros are comparable, the biggest distinctions will be L&L is plant based, while Perfect Bar is organic, yet contains milk & eggs.
L&L vs LyfeFuel
Comparing these two is like apples to oranges.
LYFEfuel's Essential Bars are far better when it comes to nutrition in every category. Lyfefuel's bars are the quintessential meal replacement bar, packed with more nutrients, more fiber and less carbs, which make them better for daily use.
To the defense of L&L, that's not what they are going for specifically.
Lenny & Larry's FAQ
Who actually owns Lenny & Larry's?
Lenny & Larry's is privately held and the founder, Barry Turner, is a part owner of the brand.


Are Complete Cookies gluten free?
No. Each contains wheat gluten.


What is the shelf life of the cookies?
The shelf life is 12 months


How do you handle returns?
Due to the nature of our products, we are unable to accept product returns. If you would like to submit a claim due to defective or damaged product, please do so within 30 days of your purchase for a refund. We handle all claims on a case-by-case basis. Customer satisfaction is extremely important to us and we will work with you to make it right. We only offer refunds on products purchased directly at lennylarry.com.

Any products purchased from a retailer, third party Ecommerce site, or distributor must be returned or exchanged where purchased.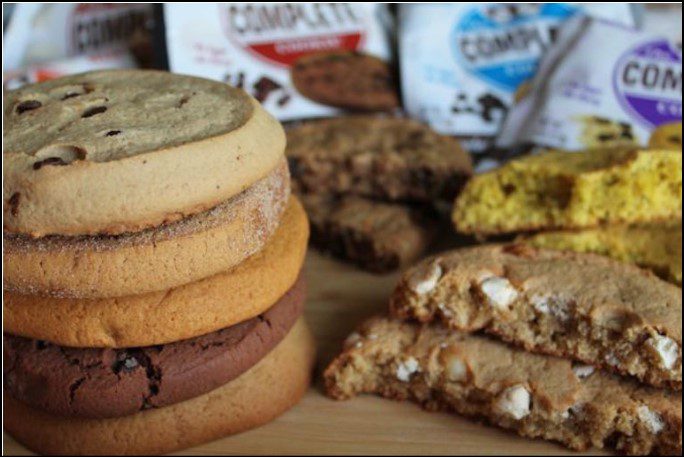 ---
Verdict – Healthy? Wellllll…….
Permission to speak freely? You weren't necessarily looking for something healthy when you found these.
Overall, the flavors were average with some being pretty damn good, and a couple being better suited as kitty litter. I did like the that they were big cookies which I think helps those of us with overeating tendencies, like me. Just by having one, I felt like that was enough. Plus, the 10g of fiber is good deterrent. Overdo it and plan to get well acquainted with the restroom.
I really enjoyed the Crunchy Cookies, those things were damn near delectable. I can surely see myself getting those again too.
Healthy? That's a stretch, and I hope that's not what they're going for. Plus we all have to question how much of the good stuff we're actually getting considering they were sued for misrepresentation of just that, and ultimately settled.
Ultimately, Lenny & Larry's complete cookies will be a fun snack with some protein, but they are far from being complete or healthy. Not only they lack essential nutrients, but also are high in sugars and have palm oil, instead of healthier alternatives.
Our recommendation is to check LyfeFuel Meal bars, instead.
Bottom Line – Lenny & Larry's cookies are better than what you'd find at a bakery or in the junk aisle, but these are best as a cheat day treat.