Sated Review 2020| Top Quality Shakes that Make Keto Easy
Formerly Ketolent, the evolved Ketogenic shake people have been waiting for
Sated, formerly Ketolent, is our favourite keto meal replacement shake. A product that makes keto just a little bit easier and more balanced. Sated shakes will offer you 20% of your daily nutrition and only 1.5g of net carbs from $2.4. This is the ideal solution to keep your keto diet going while you are on the move, away from home or just too tired to cook. Let me explain you why Sated is the best keto shake in this review.
Flavours: Vanilla, Chocolate, Peaches & Cream* and Strawberry* (Natural Sweetener Only).
Ingredients: Milk Protein Isolate, Natural Flavours, Sunflower Lecithin, Potassium Citrate, Psyllium Husk, Acacia Fiber, Salt, Soluble Corn Fiber, Monosodium Phosphate, Magnesium Citrate, Cellulose, Sucralose, Xanthan Gum, Guar Gum and Vitamin Mix ( Choline L-Bitartrate, Ascorbic Acid, Beta Carotene, Niacinamide, DL-Alpha-Tocopheryl Acetate, Microcrystalline, Cellulose, Silicon Dioxide, Menaquinone, Zinc Oxide, Reduced Iron, Folic Acid, Potassium Iodide, Copper Gluconate, Vitamin A, Palmitate, Cholecalciferol, Manganese Sulfatre, Pyridoxine Hydrochloride, Phytonadione, Calcium, D-Panthenate, Sodium Selenite, Thiamine Mononitrate, Sodium Molybdate, Riboflavin, Chromium, Chloride, Biotin, Cyanocobalamin). Varies slightly with sweeteners and flavours.
Oil (comes with it): Olive, Flax, Coconut and MCT oil.
What I like
Awesome Keto products with an affordable price tag.
Easy way to get into keto diet.
Oil comes with the powder.
Great custom oil blend (with omega-3s)
Naturally Sweetened version
100% satisfaction Guarantee.
Multiple payment methods accepted.
Free shipping to anywhere in the US.
There is one reason why Sated is my favourite Keto shake: it brings everything you need at a great price. Other brands will not give you the oil that you need or will lack omega-3s or micronutrients. Not in Sated's case. Makes keeping the keto diet on the go easy.
On top of that, their custom oil blend is very well balanced and brings plenty of omega-3 fatty acids, that can be hard to incorporate into your diet.
Plus, if you are not satisfied they do give your money back. Pretty unlikely it will happen though, with all the praises about taste and nutrition.
What I dislike
Ridiculous shipping costs to anywhere but the US.
$105 for the starter kit.
Smallest option is 30 meals.
Shipping is a big issue if you live outside the US. In fact, you will do better looking for other keto shakes, if that is the case, because Sated will become expensive real fast.
Perhaps, the problem will be that you live outside the US. Bummer. They truly need to improve their international shipping fees, often more costly than the products themselves. We live in an interconnected world. While, I did say it made planning the diet for beginners easy, it has a huge barrier of entry: the starter kit and the option to buy the product are over $80. With that price range for a single order, people need to be very sure about their purchase. It is a lot of commitment.
What I would like to see
A vegan option.
A cheaper starter kit and a taster option.
Improved shipping rates.
Variant with higher protein values.
So, what does the future hold for Sated? Well, hopefully their ready-to-drink version is as good as their powder version. Then, they can make it more accessible for beginners by offering a smaller meal pack option or a true starter pack with less meals.
Once all this is completed, Sated will be able to start their world domination in the keto meal replacement industry. Well, not quite. They will seriously have to improve their shipping offers to anywhere outside the US. I see a bright future for sated, but certainly they have some legwork to do. Do you not agree?(let me know if so in the comment section below).
Macronutrients per serving (g)
Protein(g)
Carbs(g)
Fiber(g)
Fats(g)
% of Energy from each macronutrient
% of Recommended Intake per serving
RI based on 2,000kcal
RI based on 2,500kcal
Nutritional Foundation
Sated is a company focused on ketogenic meal replacements. If you are wondering what keto is, you should read this small intro to keto. In short, it is a diet based in high fat foods and almost no carbs.
Thus, Sated's main nutritional features are the high fat profile and extremely low carbohydrate content, with less than 0.3g carbs per 100cal (take into account that this varies depending the flavour).
Energy
The standard meal is only comprised by 400 calories, which will be more than enough to satiate most. However, this also means that the average adult consuming 2,000 calories a day will require 5 servings a day (if going full on shakes).
If you are one of those people that like to eat bigger meal and less frequently – let's face it, not everyone has time or the will to eat 5 times a day! – you can alter the caloric input by changing the amount of oil and powder you add to your meal.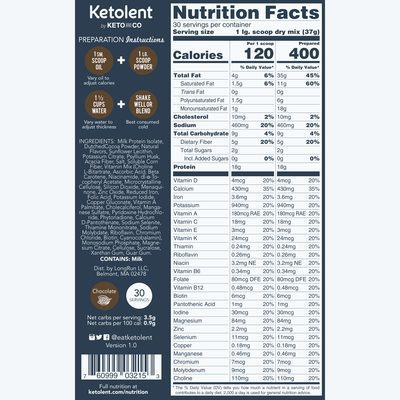 Carbohydrates
Per serving (400kcal):
Vanilla: 1.3 grams net carbs
Chocolate: 1.6 grams net carbs
Strawberry: 2.3 grams net carbs
Peaches and Cream: 1.5 grams net carbs
As a truly keto product, this contains very minimal amounts of carbohydrates, 9g per serving, most of which come from fiber. In fact, each serving has 5.6g of fiber from a blend consisting of: Acacia, Psyllium, Soluble Corn Fiber, Cellulose, Guar, and Xanthan.
Fats
As explained on the previously, fats are the (bread) and butter of Sated products. 75% of the calories in each serving come from the shake oil, comprised by olive, flax, coconut and MCT oils.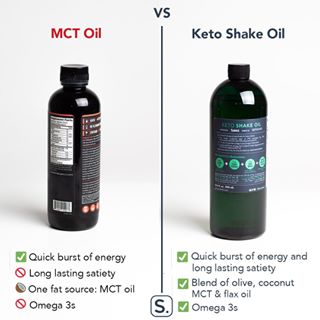 Sated claims that the product is catered to the body's preferred ratio of 27% saturated, 55% monosaturated and 17% polyunsaturated. While I do not think this is accurate; Sated does contain a good ratio of omega-3 and omega-6 fatty acids. This has been proven important to reduce CVD risk.
Besides, rather than the amounts of fat in the product, I believe that the origin and quality of them is important. Sated uses flax oil, rich in omega-3 essential fatty acids; olive oil, traditional component of the Mediterranean diet and moderate consumption has been linked to positive health effects; and coconut oil, richer than other oils in medium chain triglycerides (MCT), which are easier to digest and used as energy source. In fact, Sated provides a blend of pure MCT oil with coconut oil MCTs, the later which are slower to digest, so the body can have a more linear energy production.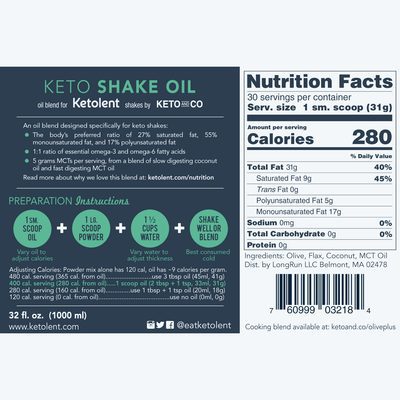 Proteins
Each serving of Sated provides with 18g of protein for a total of 90g a day.
Protein is always a point of discussion for Keto veterans, since some argue that too much protein, could get you out of ketosis. Nevertheless, this amount is nowhere near enough to get you to that point, and furthermore, it will help you supporting your muscle-mass.
Interestingly, the protein comes from milk, which makes this product not suitable for vegans. However, it comes with a good mix of fast absorbing whey protein (20%) and slower absorption casein (80%). A good choice for those who are not vegan.
Micronutrients
All Sated meals come with 20% of all vitamins and minerals, except calcium (35%). Calcium levels are probably higher due to the use of milk protein isolate. Having more than 100% of the recommended daily intake of calcium will not prove harmful.
Sweeteners
Another point of discussion among keto practitioners is whether artificial sweeteners disrupt the ketogenic process. Particularly, Xylitol (13 GI) and Maltiltol (35) are reg flagged. On the other hand, Erythritol is deemed as safe by most, because it has no effect in blood sugar levels.
| | |
| --- | --- |
| Sweetener | Glycemic Index |
| Sucrose | 65 |
| Erythritol | 0 |
| Xylitol | 13 |
| Mannitol | 0 |
| Sorbitol | 9 |
| Isomalt | 2 |
| Maltiltol | 35 |
As such, Sated has two variants, one with sucralose and one with natural sweeteners (erythritol, monk fruit and stevia custom mix). Which one you choose will be ultimately up to you (both are equally priced).
Allergens
Unfortunately for vegans, this product uses milk as source of protein, therefore is not suitable for dairy-free diets. Hopefully, Sated will look to release a vegan alternative in the future.
Sated currently offers two products, Sated with Sucralose and Sated with Natural Sweeteners -a blend of erythritol, monk fruit and Stevia, that the makers are particularly proud of. These products come in powder form and provide you with everything you need for 30 meals, including the mixing oil. These are priced at $90 for one off purchases and $72 if you opt for the subscription method.
If you go for the starter kit ($105), you will also get a shaker and a scoop set. A rather expensive shaker and scoops. We would recommend getting the standard product.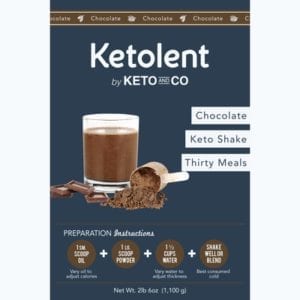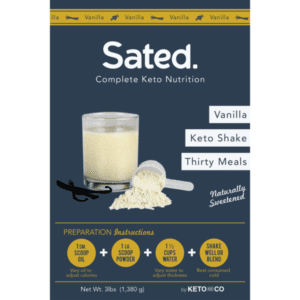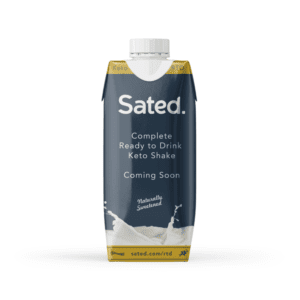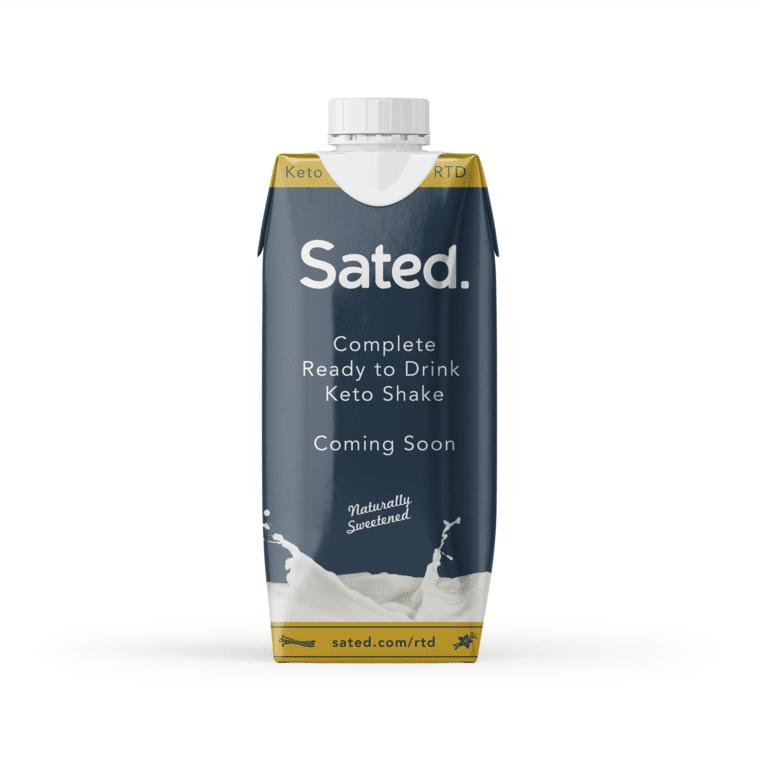 Sated Drink is currently on Indiegogo for another round of fundraising. The expected shipping date in Indigogo is 11/11, but I would be cautious and wait until is out to buy it. I say so because the product was meant to be released on Q1 2019, but it has seen multiple delays and a second funding round.
Natural Sweetener Vs Sucralose: Which is the Real Deal?
It all comes to the the insulin response of each individual to sucralose. This is, in some people sucralose might affect blood sugar levels, causing a disruption in the ketosis process and disabling the whole keto diet approach.
In fact, most hardcore ketoers recommend laying off the artificial sweeteners, such as, sucralose or aspartame, in order to avoid unwanted surprises. That is the real reason why Sated offers the Natural Sweetener Keto Shake; with a custom blend of Erythritol, Monk fruit and Stevia.
Stevia is sweeter than sugar but has no carbs; plus includes oxidative stress reducing agents (antioxidant).
Erythritol is a sugar alcohol, commonly found in fruits and vegetables. It has 0 calories and it is 40% less sweet than sucrose. It is often used as sweetener as it does not cause any inflammation of your gut.
Monk fruit comes from antioxidants in fruits and does not have any bitter aftertaste or known negative effects on health.
Thus, if you are really serious about your keto diet and have no method to see your insulin response after consuming the product, we would err on the side of caution and recommend the Natural Sweetener version.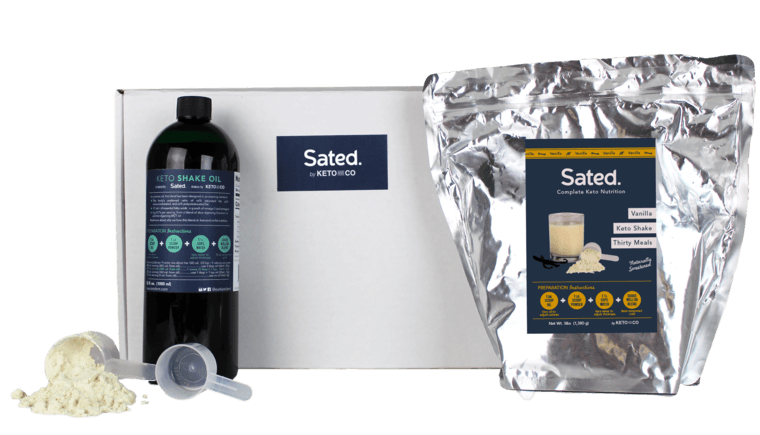 About the Company
The company has recently rebranded from Ketolent to Sated to match with their aspirations. This rebranding has come with innovations in products (more flavours), new releases (upcoming ready-to-drink version) and improvements in their old recipes (darker chocolate, less carbs).
However, many things remained unchanged:
Their excellent US subscription program with 20% off, automatic renewal and easy to cancel.
Usage of high quality primary ingredients.
Consumer-first focus and community interactions.
100% satisfaction guarantee and free return (including postage) if not satisfied.
Shipping
Shipping is free to anywhere in the United States, including Hawaii and Alaska.
However, shipping anywhere else but the US is not very cheap at all. For Canadian neighbours it is a fee of $46. If you are buying from the other side of the Atlantic be ready to pay over $60 (if you are lucky enough to live in a place where they deliver).
How to Prepare Sated Keto Shakes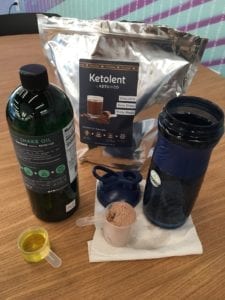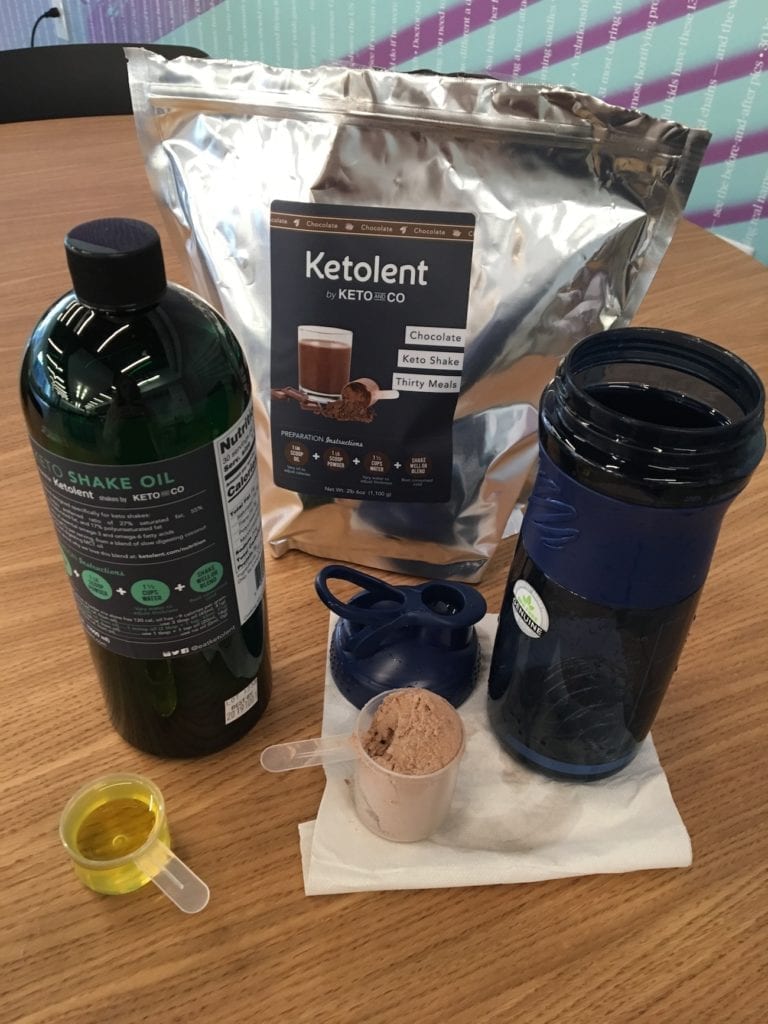 The powder versions of Sated come with two components, the powder and the oil. You put one scoop of powder with 2 tablespoons of oil in your shaker to enjoy your normal 400 cal Sated. If you need more energy, you put 3 tablespoons (480 cal); however, if you are not feeling hungry just put one tablespoon of oil (280cal).
Is Sated vegan?
No, none of the Sated shakes are vegan.


What is the shelf-life of Sated shakes?
They should last up to 12 months if stored in a cool, dry place. It is better if you avoid sunlight.

Once ready, I would recommend drinking the shakes within one day, but they can last up to 2 days.


Are ketogenic diets safe?
Yes, but they require more careful monitoring and have more restrictions than standard diets. It is not a diet I would recommend to an amateur. Please inform yourself before committing.


Do I need to buy exogenous ketones?
No, if you have enough food you should not need exogenous ketones.


---
Sated Review Verdict
Sated offers high quality keto meal replacements, at a very affordable price. In fact, it is considerably cheaper than other premium products like Ample K, and I think it is a very good deal.
Nutritionally, they offer a well rounded Keto shake with option to choose between natural sweetener or sucralose. On top of that, they are one of the only brands that offers you oil together with the powder; making it extremely easy to prepare and super convenient.
Therefore, I believe that Sated is a great tool for long time ketoers and beginners alike.
Recommended.