Ketogenic diets might prove hard to follow, since they require time and dedication to cook and consume the appropriate meals. Carbohydrates are everywhere. Most snacks, most common mains, breakfast, lunch, dinner… Sated already offered a very successful powder product. But sometimes, you just need it then. In an instant. That is what Sated Ready-to-Drink comes to solve. And apparently it is very needed, since it surpassed its original goal in kickstarter 8-fold in the first 24h. The best opening for any food product. So, should we jump into the hype-train? Is it really that good? Let's find out in this Sated Ready-to-Drink Review.
Note: Shipping of Sated RTD will start on the 18th of November.
Sated Ready-to-Drink Review at a Glance
From:
Ships to:

World

Price/meal:

$5/400kcal

Subscription:

20% ?

Nutrition Profile:

Keto

Allergens:

Milk
Flavours: Chocolate and Vanilla.
Ingredients: Milk protein isolate, olive oil, erythritol, sunflower lecithin, flax oil, coconut oil, MCT oil, non-GMO soluble corn fiber, acacia fiber, salt, cellulose, vitamin & electrolyte mix, gellan, stevia, monk fruit, natural flavours.
Nutrition in Short
Macronutrients per Serving (g)
Protein(g)
Carbs(g)
Fiber(g)
Fats(g)
% of Energy from Each Macronutrient
% of Recommended Intake per serving
RI based on 2,000kcal
RI based on 2,500kcal
The nutritional aspect is almost identical to Naturally Sweetened Sated. Sated Ready-to-Drink comes with 1.3g of net carbs, 35g of fats and 18g of protein packed in 400kcal.
A true keto shake, relying on olive, coconut, flax and MCT oil for most of the energy. It also provides with 20% of each vitamin and mineral, as well as 5.3g of fiber.
As I stated in the Naturally Sweetened review, I think Sated provides great ketogenic shakes. It is interesting that they have chosen their custom natural blend over sucralose as sweetener. Sucralose might spike blood sugar levels in some individuals, thus I think this is the right approach if they are aiming for a true keto product.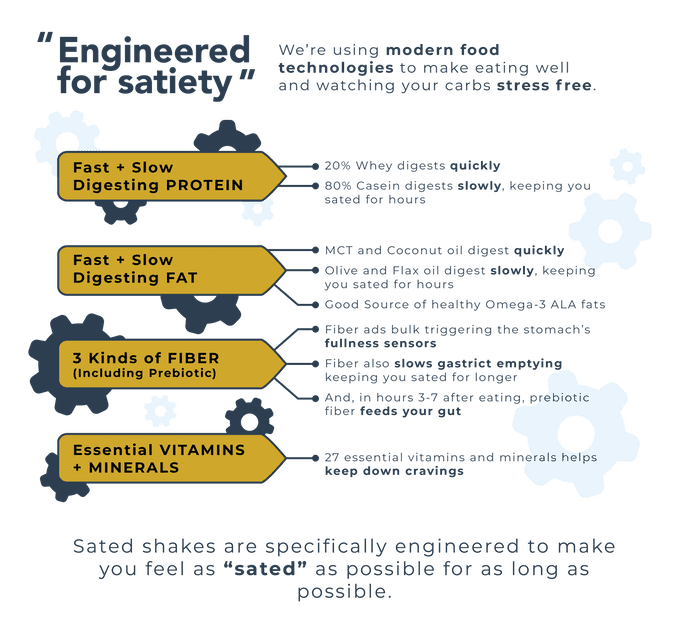 Allergens
Unfortunately for dairy intolerant people, Sated uses a whey protein(20%)/casein (80%) blend from milk as their main protein source. Thus, if you are a vegan practitioner or lactose intolerant, you will have to wait for them to release a new variant.
Kickstarter/Indiegogo Madness
Certainly, one of the biggest stories about this product is the kickstarter campaign and its success. The $10,800 initial funding objective was reached under 2h and in the first 24h they achieved over $80,000. An incredible feat by all means, which shows how eager the Sated community was for an easier Keto alternative.
Now the product is in Indiegogo for another round of funding. This meant that there was a delay for the initial Kickstarter funders; but it has allowed new backers to get hold of the early bird deals.
Nevertheless, after many updates, unexpected setbacks and unfortunate events; Sated RTD is being manufactured as I write this. Therefore, shipping of the product will start on the 18th of November and soon will be available on the main Sated site.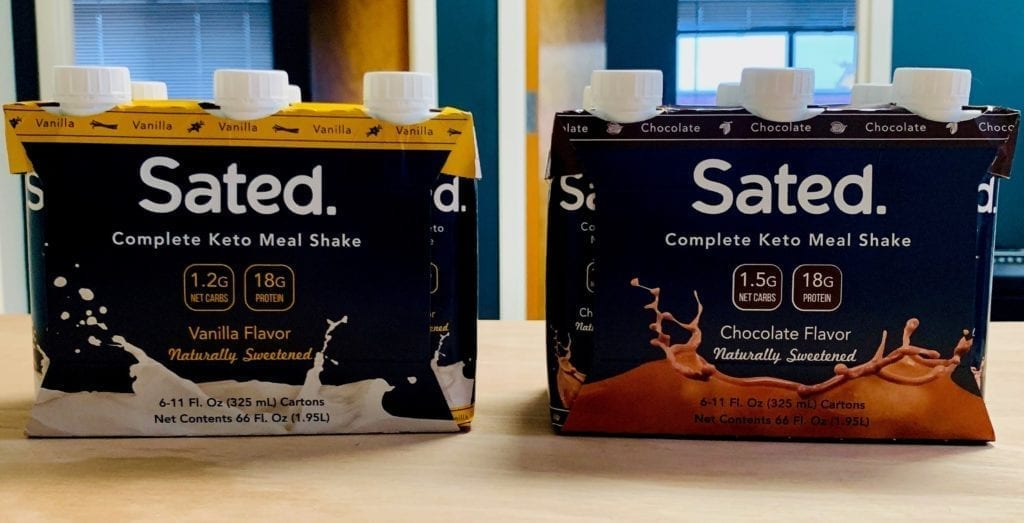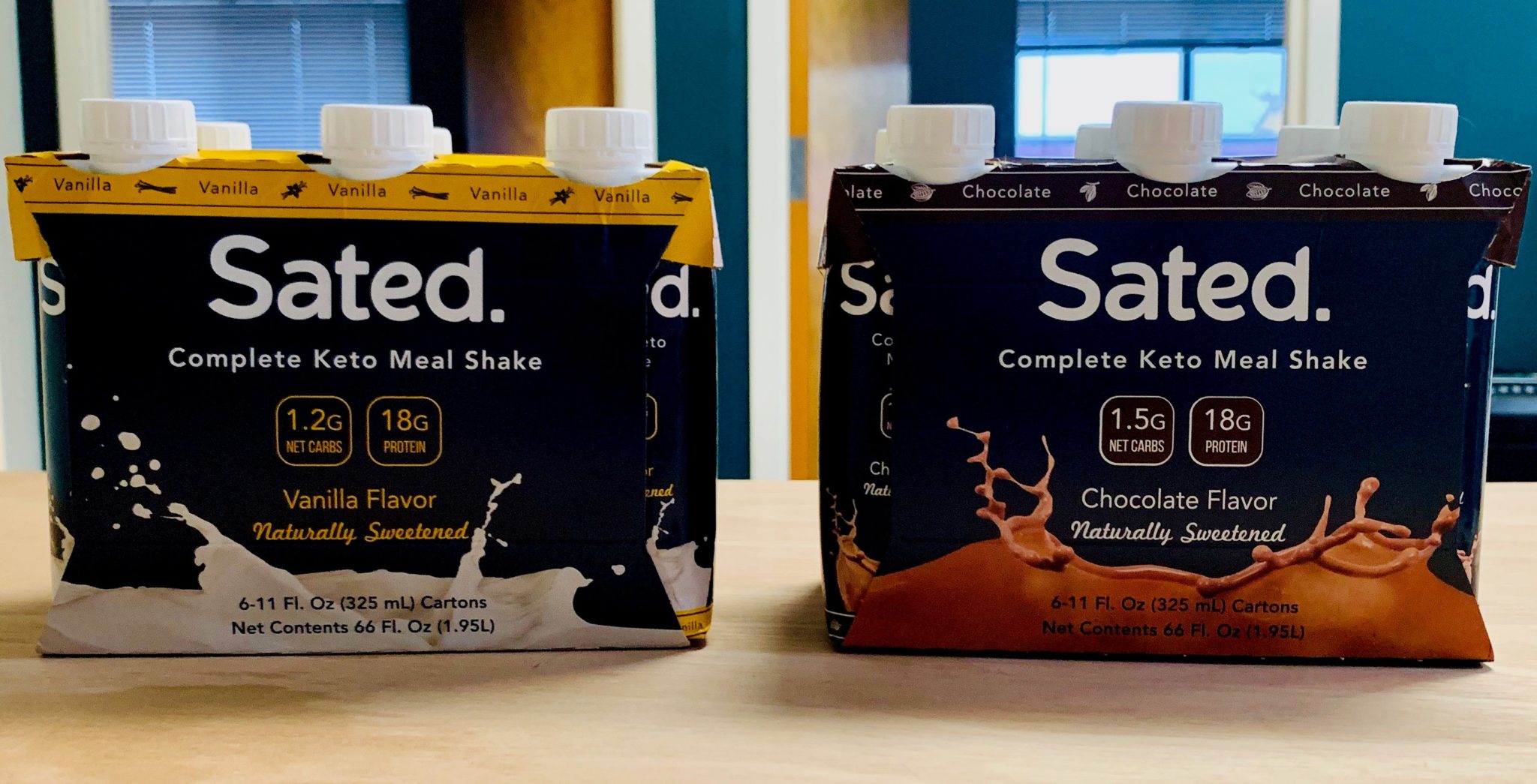 How to Get Your Sated Ready-to-Drink?
The product is only available for pre-order at Indiegogo. This is a crowdfunding website where they look to fund projects with the help of the community. According to the latest update (30/09/19), "the manufacturing date is still reserved for week of 10/22 which means the expected ship date is still 11/11".
The smallest option is $78 for a 18 pack, which is going to be 20% off the future retail price. If you are looking for the best bang for the buck, the Party Parrot (50×18) and Motherlode (225×18) gives you 50%+ discount ($540!).
Definitely a strong commitment.
Other Alternatives NOW
Damn! Are you excited about the product but unsure if you will like it? Or are you taken aback by the pledge price tags? I understand. Most of them are big commitments. Then, I would recommend looking at the other Sated products, perhaps not as convenient, but nutritionally almost identical.
FAQ
When will Sated Ready to Drink be available?
Sated RTD will start shipping on the 18th of November. You can order now at Indiegogo.


What is the final retail price going to be?
$5 per 400kcal bottle.


Can I order/back Sated Drink outside the US?
Yes, according to the founder Ted Tieken once the product in the main website; they will offer international shipping with DHL. He also hinted at the possibility of opening a EU manufacturing plant.


Will Sated Drink be vegan?
No. Sated Ready to Drink contains protein from milk derivatives.