Sated, formerly Ketolent, is a keto-oriented meal replacement company that aims to break with the high sugar high calorie tendency of the food industry by offering high-fat, high-protein low carb meals.
Sated is produced by KetoandCo, a small company based in Boston, MA, USA. Their main focus is to offer affordable, convenient, nutritious and tasty meals. A bunch of buzzwords? Not really. In fact, Sated was our top pick in the best keto meal replacement list. The average Sated. meal cost is $3, or $2.7 if you are subscribed, and offers 400 calories with only 2.3g of carbs (or less). Certainly, cheaper than your average McDonald's deal or supermarket sandwich. And regarding to the taste…most customers praise the taste in all flavour variants, and we do not disagree
. Let's hope they keep the high standards in the upcoming
sated ready-to-drink
and new flavours.
---
LatestFuels Recommended brand.
---
The Good, The Bad and the Future
What I like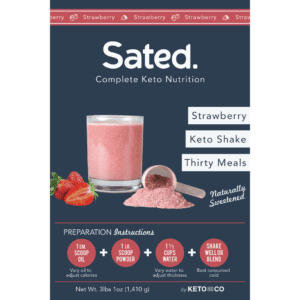 Awesome Keto products with an affordable price tag.

Easy way to get into keto diet.

Innovations and future promises.

Active in Social Media.

100% satisfaction Guarantee.

Multiple payment methods accepted.
What Sated brings to the table is an easy way to get started with a keto diet, without having to scratch your head around what meals you will need to cook, or how will you find variety. All this, in a very affordable price tag, specially with the subscription. I like to see that they are bringing continuous improvements to the brand, products and offer variety. Plus, if you are not satisfied they do give your money back. Pretty unlikely it will happen though, with all the praises about taste and nutrition.
As if this were not enough, they offer multiple payment methods. It cannot be easier. So, what are you waiting for?
What I dislike
Ridiculous shipping costs to anywhere but the US. Plus you will only find about them when you go to the cart.

$105 for the starter kit is a bit excessive, when you only get the shaker and plastic scoops as bonus.

No real taster or starter kit, a smaller option for those who do not want to buy 30 meals.
Perhaps, the problem will be that you live outside the US. Bummer. They truly need to improve their international shipping fees, often more costly than the products themselves. We live in an interconnected world. While, I did say it made planning the diet for beginners easy, it has a huge barrier of entry: the starter kit and the option to buy the product are over $80. With that price range for a single order, people need to be very sure about their purchase. It is a lot of comitment.
What I would like to see
A vegan option.

A cheaper starter kit and a taster option.

A smaller meal pack option.

Improved shipping rates.

Perhaps a variant with higher protein values.
So, what does the future hold for Sated? Well, hopefully their ready-to-drink version is as good as their powder version. Then, they can make it more accessible for beginners by offering a smaller meal pack option or a true starter pack with less meals.
Once all this is completed, Sated will be able to start their world domination in the keto meal replacement industry. Well, not quite. They will seriously have to improve their shipping offers to anywhere outside the US. I see a bright future for sated, but certainly they have some legwork to do. Do you not agree?(let me know if so in the comment section below).
Products
Sated currently offers two products, Sated with Sucralose and Sated with Natural Sweeteners -a blend of erythritol, monk fruit and Stevia, that the makers are particularly proud of. These products come in powder form and provide you with everything you need fo 30 meals, including the mixing oil. This are priced at $90 for one off purchases and $72 if you opt for the subscription method. If you go for the starter kit ($105), you will also get a shaker and a scoop set. A rather expensive shaker and scoops. We would recommend getting the standard product.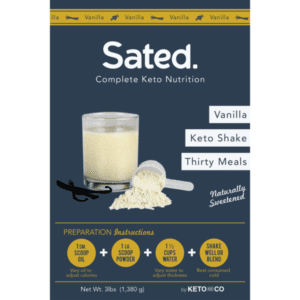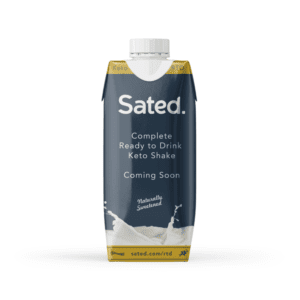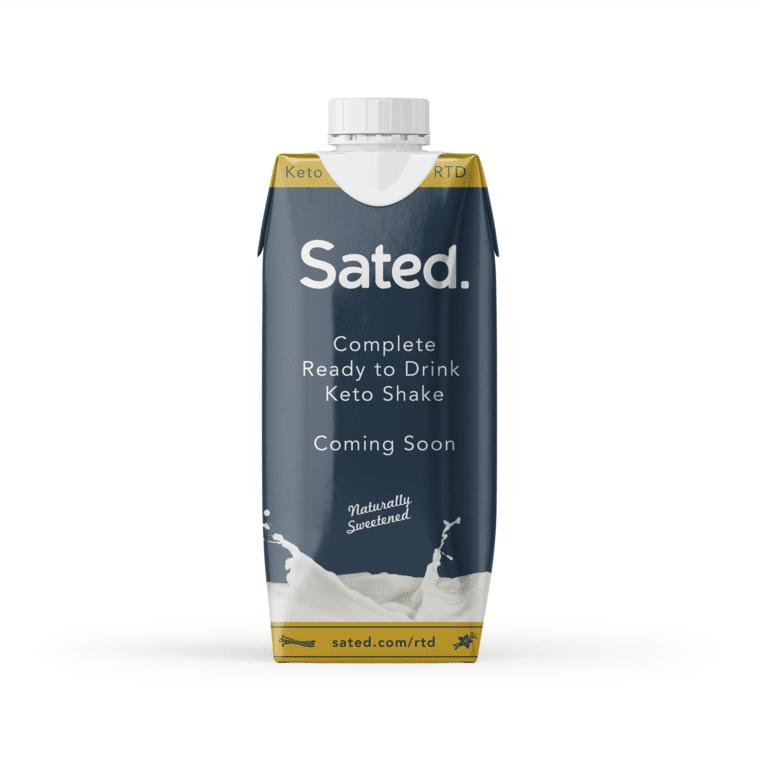 As far as flavours it is concerned, the Sucralose version comes in two flavours, the customer's favorite chocolate and vanilla. The Natural Sweeteners option also includes a strawberry flavour variant. While I understand that achieving high quality flavours can be hard, I am looking forward to see a wider offering, which they have promised to deliver.
Another beam of hope for those who find the powder version too troublesome to carry around or consume, Sated has launced a ready-to-drink option in Kickstarter (start of August). I am definitely looking forward to try that.
More info about the Company
The company has recently rebranded from Ketolent to Sated to match with their aspirations. This rebranding has come with innovations in products (more flavours), new releases (upcoming ready-to-drink version) and improvements in their old recipes (darker chocolate, less carbs). A truly impressive feat.
And while innovations are the headlines, we are happy to see that much of the basis has not changed, such as:
Their excellent US subscription program with 20% off, automatic renewal and easy to cancel.
Their strong believe in keto-based products and high quality primary ingredients.
Consumer-first focus and community interactions.
100% satisfaction guarantee and free return (including postage) if not satisfied.
However, they still have plenty to work on. Despite the fact that shipping is free to the US, their Canadian neighbours need to pay the ridiculous fee of $46; and if you are buying from the other side of the Atlantic be ready to pay over $60 (if you are lucky enough to live in a place where they deliver). Similarly, our Australian friends will also have to pay over $60.
Sated Review Veredict
Sated offers high quality keto meal replacements, which are ideal for any keto-diet practitioner, especially taking into consideration that each meal will only cost you $2.7 if you join their subscription program. That is a superb deal, considering the taste, nutritional balance and quality of ingredients. However, if you are thinking about starting a keto diet or are unsure if you want to commit into meal replacement, I find the price point is a high barrier of entry and you will find better deals with other brands -better starter packs or opportunity to buy less meals.
I recommend Sated for long time keto diet followers.