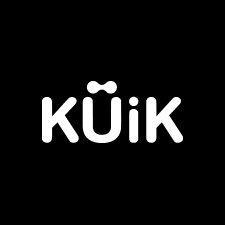 Küik is a Spanish (with a French side) brand offering high fat low carb shakes that are very rich in omega-3 and micronutrients. They sell a single unflavoured product and flavour boosts to add to it. Flavours both sweet and savoury, including interesting things like Chicken or Coco-Pineapple. A brand with certain limitations due to its size, but that is quick to learn and evolve. Let's learn more about Küik in this in-depth review.
---
---
[better-reviews]
Küik is a brand on its infancy. However, they still manage to deliver a very good product in up to 8 different flavours, which include both savoury (more common in French shakes) and sweet. I think that their product is particularly good as a diet balancer, aka, boosting the micronutrient and omega-3 intake that is often low in Western diets.
What We like
8 different flavours, with unique options not seen elsewhere.
Choice of protein.
Rich in micronutrients and omega-3s.
Unflavoured gives option to customize.
User friendly website.
Free shipping to Spain.

I will start with the flavours. While I am not a big advocate for the flavouring system, for reasons discussed below, I do need to agree that the range of sweet and savoury includes very interesting options. Flavour, such as, Chicken, which I have not seen in any other brands.
Furthermore, the fact that the base powder is unflavoured, means that the consumer can customize it really easily to their preferences, without having to worry about another flavour interfering.
Regarding nutrition, there are two things that stand out to me. The choice of whey protein (from locally sourced milk), over a plant based alternative, is more nutritious and more sustainable (due to proximity to sources).
Western diets, including the mediterranean diet, are generally low in omega-3s. Thus, it is great that each serving provides you with 2.1g. On top of that, each Küik shake also gives at least 45% of each micronutrient, more often than not even more. This makes Küik a great way to catch up with your calories, as well as, vitamins and minerals.
Lastly, I want to remark how easy and intuitive the website is. Even though, not all the information is displayed as I would prefer, the overall experience is really smooth.
What We dislike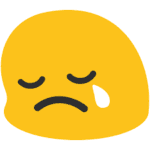 Flavourings add complexity, cost and waste.
Sample pack is expensive.
Lack of subscription.
Nutrition page should have more information.
My main issue with Küik is the flavouring system. For two reasons: one, because it adds extra waste and complexity to the whole thing; and two, because it acts as a hidden cost and each sachet increases the price by almost 33%! This makes Kuik to go from a cheap option to an above average one. NOTE: They have currently developed a premixed vanilla one.
Another thing I find expensive and not very useful is the starter pack. The starter pack is supposed to include a taster for all the flavours and/or products (see Queal's try-out deal). Shakers and t-shirts are often freebies included in the first shop as a thank you to the customer, not something you make them pay for in the starter pack. This makes the starter pack €15 more expensive than buying a powder bag and the multiflavour boost, which will allow you to try all Küik offers.
As seen in other smaller brands, like Satislent, Küik does not offer a subscription method. This is a mistake, since the subscription model benefits the consumer and the brand. The user does not need to worry about reordering, can enjoy better rewards and discounts and feels more attached to the brand. The brand gets a follower base, a steady predictable income and a pool to test their products on.
Finally, and now being a little picky I would like to see a different nutrition page. What Küik now offers it is more closely related to what the blog should offer. The nutrition page should contain in-depth info about the products and the ingredients, explanations of the labels and such.
Improvements
Offer already flavoured pouches.
Add subscription program.
Improve nutrition page and show shipping costs.
Firstly, I strongly belief that they need to move on from the flavouring sachets (at least partially) and offer already flavoured products for the sake of the customer and the environment. I know that this creates a logistical and manufacturing challenge, but I think it is necessary.
A subscription program, as stated above, will also help Küik to get the follower base they require to succeed and will allow the user to get more rewards of buying Küik.
Finally, I would like to see a nutrition page, where there are explanations about ingredients and choices made, as well as, nutrition labels. Having a shipping page would also help user navigation.
I realize that Küik is not even one year old, thus a lot of the improvements and development requires time that they have not had. Doing things well is more important than doing them quick.
Kuik shakes use a neutral base that on its own is very milk-like (both taste and texture), but salty. To the point where is a little uncomfortable. I would be perfectly fine drinking it without any flavourings if it were not for that saltiness touch.
Overall: 7.4 (26/35)
Taste: 3/5.
It would be higher if it were not for that saltiness. The first time I drank Kuik I could not get over it. It might have been because I was not used to it or did not put enough water, but I struggled to drink my Legumes flavoured Kuik. In my next few shakes, it was not as big of a problem, and I enjoyed the milky background with the flavourings.
Flavour Fidelity: 4/5.
The Vanilla flavouring was a smooth vanilla; while the Legumes was like one of those powdered soups from Kraft. Neither of them was bad, in fact they improved the shake quite a bit. I cannot speak of the other flavours though.
Aftertaste: 4/5.
Similar to what milk leaves you.
Texture: 4/5.
Kuik shakes are silk smooth. Really thin and without any clumps. Probably one of the smoothest shakes I have tried. They get a bit foamy on the top when you shake them, so you need to let it rest.

Consistency: 4/5.
The shakes were thin, a consistency between milk and water.
Easiness to drink: 3/5.
The saltiness can make it hard to drink. Once you are used to it, it will be fairly easy.
Hunger Quenching: 4/5.
For how thin the shakes were, I was satisfied for at least 3h after I drank them without any issue and sometimes even 4.
What PRODUCTS does Küik offer?
Küik is a recently formed Spanish meal replacement brand, similarly to Satislent. This small brand currently offers one product, a powder meal replacement that comes in an unflavoured version. To this unflavoured version you can then add 8 different flavourings that they produce: Chocolate, Vanilla, Cookies, Strawberry, Legumes, Coffee, Chicken and Coco-pineapple.
The flavourings come in 15 pouch boxes, so you can use one box per quick bag (15 meals per bag).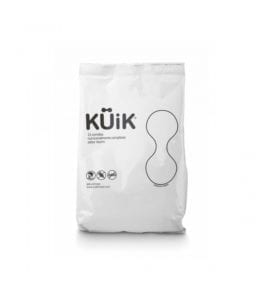 Küik Powder
Meal Replacement
Powder
469kcal/meal
20P/37C/43F % of Energy from
2.5g of sugars/2.6g of Saturated Fats per serving
Price no subscription: €1.42/400kcal
Lowest: €1.28/400kcal
Allergen: Dairy, Soy
---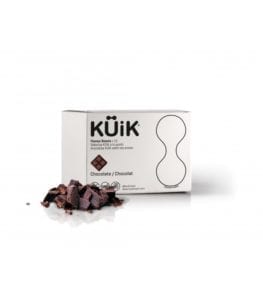 Küik Flavourings
Flavouring
Powder
25-40kcal/meal
Price: €0.53/meal
Flavours: 8
Servings per box: 15
Price per box: €8.00
---
Brief Küik Review
Küik's powder meal replacement is based on a 2,000kcal diet and provides one fourth of the daily requirements per serving. Each serving provides with 469kcal (unflavoured powder). However, when we add the boost the caloric content of the shake is closer to 500kcal.
With Vanilla boost 487kcal.
With Legumes boost 505kcal.
With Chocolate boost 501kcal.
With Pineapple-Coco boost 487kcal.
With Cookies boost 487kcal.
With Strawberry boost 486kcal.
With Chicken boost 483kcal.
With Coffee boost 481kcal.
Even if Küik recommends 5 servings, I would say 4 are enough for most sedentary adults. Plus, there is no worrying about having enough micronutrients, since each serving offers at least 45% of every vitamin and mineral (in most cases more than that).
Regarding the macronutrients, Küik offers a high fat low carbohydrate (HFLC) profile. Up to 43% of the energy comes from fats and only 37% from carbohydrates. There are 22g of protein in each serving that account for 20% of the energy.
The Küik shakes have no gluten, no added sugar, no-GMO ingredients nor nuts. However, they contain protein from milk origin; thus, they are not vegan shakes. Interestingly, they do have carnitine and taurine, two ingredients often seen in energy drinks and boost products; as well as, an antioxidant blend.

Küik is fairly cheap, especially when you buy 2 pouches that come with a 10% discount. That puts the price at €1.28/400kcal, which is among the cheapest in the market right behind Plenny Shake and Satislent Economy Pack. However, when you add the cost of the flavouring it goes up to €1.85/400kcal.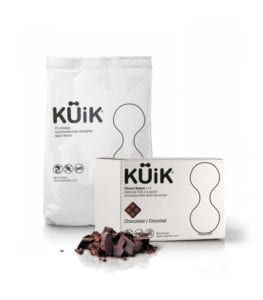 Brief Küik Flavourings Review
The other brand that uses flavouring pouches is Huel. Except
these two, common practice is usually to add the flavouring directly to the powder to ease the steps the users need to take; plus ensuring a good mix of the flavour with the powder.
Each flavouring costs €8, apart from the multiflavour box, which is €9. The multiflavour box offers 2xchocolate, 2xcoffee, 2xstrawberry, 2xcookies, 2xlegumes, 2xpineapple-coco, 2xchicken and 1x vanilla. Out of these flavours, Coffee, Pineapple–coco and Chicken are not available otherwise; which I find strange. I hope they make them available for individual purchase.
---
Ingredients:
Coffee: finely powdered decaf coffee, maltodextrin, flavouring, E-960.
Chocolate: no fat cacao powder, maltodextrin, E-960.
Vanilla: maltodextrin, flavouring, E-960, colouring (carotene) E-160a(i).
Strawberry: maltodextrin, flavouring, beetroon juice, E-960.
Cookies: maltodextrin, flavouring, E-960.
Legumes: maltodextrin, powdered tomato, powdered onion, red pepper bits, powdered leek, sodium cholride, parsley, colouring (carotene) E-160a(i).
Chicken: maltodextrin, flavouring (salt, lactose, hydrolised plant protein, maltodextrin, magnesium carbonate, monosodium glutamate (E-621)), powdered onions, sodium chloride, parsley colouring (carotene) E-160a(i).
Coco-Pineapple: maltodextrin, flavouring, citric acid (E-330), E-960.
---
The box contains 15 mini bags with 15 servings. Each serving offers a small nutritional addition (about 20-36kcal) and costs €0.53. While I like the idea of having the unflavoured version to be able to customize and play around; I dislike the idea to charging extra to the consumers for the flavours.
Despite the fact that Huel does offer extra flavourings at extra cost there are two core differences: firstly, they offer 5 flavours without extra charge; and secondly, each flavouring serving costs about €0.12. I hope that as they grow, they reduce the prices and offer non-unflavoured pouches.
Brief Starter Pack Review
Küik's starter pack includes one bag with 15 meals, one flavour boost of your choice (I would recommend going for the multiflavour to try them all), a shaker, a t-shirt and some stickers for €49. This is not a good taster deal in my opinion. I say this, because included in the price are non-food stuff that most brands give it for free. I do not feel that the consumer wants to pay extra for the t-shirt and the shaker, when most likely he expects them for free. However, it can be very helpful for those who are starting and need all the gear.
For the advance meal replacement user, I would recommend buying a multiflavour boost and a normal 15 serving pouch for €34 instead and use a shaker that you have at home.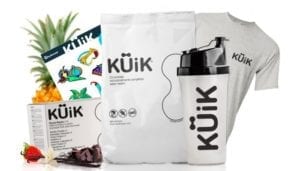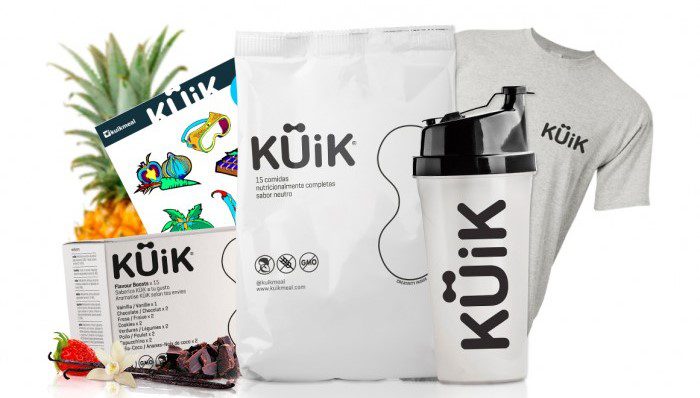 Küik offers a very nutrient rich product, which is heavy on fats (but low on saturates) and fairly low in carbohydrates. Similar profile to what Soylent Powder or Saturo offer. However, these two are vegan products, whereas Küik is vegetarian. They use co-operative milk from the farmers of the North of Spain to support local production and reduce carbon footprint.

The Küik powder is non-GMO, gluten-free, nut free and without any added sugars.
Energy
Küik's shakes offer 469kcal per serving which is a bit odd. Most companies offer a 500kcal serving (Pulve, YFood) or a 400kcal serving (Jimmyjoy, Soylent, Vitaline) or even a 700kcal serving (Next Level Meal, Queal Standard). This is because when you add the flavouring, it nears 500kcal (as explained in the section above). Thus, each shake will provide you with 25% of your daily energy needs.
43% of the energy comes from fat sources. This is 8% higher than the maximum recommended by the EFSA, WHO and US health departments; which recommends 20-35% of the energy to be from fats. Nevertheless, this are guidelines that are for the general population and do not mean that HFLC diets are bad. In fact, other meal replacement brands like Soylent or Saturo use similar HFLC shakes to much success.
On the opposite side, only 37% comes from carbohydrate sources. The acceptable macronutrient distribution range (AMDR) for carbohydrates is 45-65% of the daily energy. While during this should not be a problem with your daily activities, you might have to supplement your diet with carbohydrates if you are a higher level athlete or perform sports 5-6 days a week.
Fats
Per 469kcal serving:
Total Fats: 22g. 31.4% of the DRI.
Saturated Fats: 2.6g. 13% of DRI.
Monosaturated (MUFA): 13g. This is 24.9% of the calories per serving.
Polyunsaturated (PUFA): 6.6g. This is 12.7% of the calories per serving.
Omega-3(ALA): 2.1g.
The main fat source is canola oil, which is often paired with other oils high in omega-6 (like sunflower oil) to decrease the omega-3 to 6 ratio; since canola oil is high in omega-3 fatty acids. Reportedly, the omega-3/6 ratio is around 1/2.2 for canola oil. I would expect similar levels for Küik, but this has not been specified by the brand. If indeed that is the case, Kuik would be within the best possible omega-3/6 ratio (1/1 to 1/4).
In fact, each serving contains 2.1g of alpha-linoleic acid (ALA). This is broken down into eicosapentaenoic acid (EPA) and docosahexaenoic acid (DHA), which are primordial in proper body functioning and decrease risk of cardiovascular diseases. Although the combined recommended intake for both is between 0.25-0.5g, the conversion rate of ALA to EPA is 1-9% efficient and ALA to DHA 8-20% efficient. Thus the high quantities for ALA in Küik.
The MUFA and PUFA higher than the recommended (15-20% of the total energy from MUFAs and 6-11% of total energy from PUFAs). Nevertheless, this is to be expected, since it is a product high in fats and low in saturated fats. Another positive aspect of Küik is that the shakes MUFA>PUFA>SFA, which is correlated with positive effects in metabolism.
Carbs
Per 469kcal serving:
Total Carbs: 41g. 15.76% of the DRI.
Sugars: 2.5g. 2.78% of DRI.
Fiber: 6.2g. 31% of DRI.
The main carbohydrate source in Küik is maltodextrin. This complex carbohydrate is usually less than ideal, due to its high glycemic index (GI 85). This is, even if it is a complex carb, it breaks down rapidly in the digestive system into glucose, causing a rapid increased in blood glucose and bigger insulin response increasing risk for diabetes.
Nevertheless, Küik claims that the Gi of its shakes is under 55 (without specifying a number). The reason for this is that there is relatively low carbohydrates in relation to fats and proteins; and these slow down the break down process.
Each serving also provides with 6.2g of fiber, mostly from fructooligosaccharides. Soluble fiber helps slowing down digestion, lowering cholesterol levels and facilitate healthy bowel movements.
Protein
Each serving provides you with 22g of protein which equals to 44% of the daily recommended intake. 4 shakes will give you 88g of protein (176%) and 5 shakes up to 110g of protein (220%). While this numbers might seem really high at first, it must be said that the recommended intakes are the minimum for the majority of population to avoid atrophy (loss of muscle).
In fact, higher protein diets have been found benefitial for weight loss (or weight management), increased lean mass, or help athletic performance, among other things. In case of Küik, the protein comes from whey from Spanish cows. As I always mention, whey protein is an absolute superfood. Whey is rich in leucine, lysine and methionie; which have a key role in muscle growth and synthesis. Whey protein is not only benefitial for sportive acitivities, but has also been shown to help fatigue and health improvements in the elderly.
Nonetheless, it would be interesting to see the actual amino acid profile of Küik. Furthermore, 22g might be a little bit short for highly active individuals who are undergoing strength training or intese exercise. These might want to supplement their intake further.
Micronutrients
Perhaps one of the most astonishing facts about Küik is how nutrient rich it is. Each serving provides you with at least 45% of every micronutrient, while often is higher than that. In fact, a single serving will provide you with enough copper, molybdene, vitamin D and vitamin E. You should not worry about overdosing on any of these, since the toxic levels are a lot higher than the Daily Recommended Values.
Antioxidants and Active Ingredients
Küik meals also include an antioxidant blend rich in tocopherols (vit E family) and ascorbyl palmitate (related to vit C). However, they do not provide an ORAC value to judge the antioxidative power of Küik.
Something that is fairly interesting is the inclusion of taurine (0.055g) and carnitine (0.046g). While these ingredients are common in energy drinks, they appear at much lower levels in Küik (a can of 250ml of Redbull contains 1g of taurine, for instance). The levels at which this components appear is almost insignificant.
Allergens
The only allergen in Küik shakes are lactose, from the dairy used as protein source, and soy, used as emulsifier. However, Küik lactose levels are minimun, about 0.2g per 100g. Thus, most lactose intolerant people should be able to consume it.
More about nutrition
Even though, Küik does have a Nutrition page, it is mostly used as a blog explaining certain aspects of their shakes and giving tips; rather than providing a more detailed breakdown. However, they do offer a meal plan, even if it is in Spanish.
For more information in nutritional guidelines check the Resources page.
Nutrition Summary
Küik powder meals offer 469kcal per serving (4 or 5 servings a day) with a energy split of 20P/37C/43F.
While this high fat low carb profile resembles many vegan shakes, quick is actually vegetarian since it contains milk protein.
The main carbohydrate source is maltodextrin, a high GI carb. However, the overall GI of Küik is below 55.
The main fat source is canola oil. Küik is high in omega-3 and likely has a omega-3/6 ratio of 1/2. It is also rich in MUFA and PUFA (higher than recommended) while low in saturated fats.
With 22g of protein per serving, it should be enough for most sedentary adults.
Each serving provides you with at least 45% of each micronutrient.
Küik meals are non-GMO, gluten-free, nut free and without added sugars.
Küik is good for daily use.
The three founded Küik in December 2017, not that long ago, after they were introduced to meal replacements by Enric's brother. After trying some of the brands available in the market without much success, they decided to create their own brand in collaboration with Grand Fontine Labs. They developed a product of pharmaceutical quality, without sacrificing the taste. Sweet? Savoury? Why not both?
The founders set 3 main values for Küik: eco-friendliness, power to creativity and don not stop. They will need all of them in order to succeed in the market. To expand from Spain to the rest of Europe, since many bigger brands have had a head start.#nopares
More about the founders
Enric Miquel graduated at the University of Barcelona in MSc in Pharmacy. Afterwards he joined a research lab in Dublin and worked as an Intern in a hospital later on. Wanting to learn more about business he joined IESE Business School to learn management and finance of companies. Since, he has work in product management for Grand Fontaine Labs.
Roxane Bert studied law in Paris, before doing the Masters in Barcelona. While studying she created her own brand "Ro", which is still active. She worked in modelling before starting in Küik and she is currently trying to compaginate her role as Project Marketing manager with an MBA in Marketing.
Albert Losada is the last co-founder of Küik. He studied pharmacy at the University of Barcelona, where he met Enric. He is the nutrition expert in the team and a crossfit lover.
Küik packaging
One of the Küik values is zero-waste and being as environmentally friendly as possible. The 1.5kg pouches certainly create minimal waste as Huel was able to show, with 60 years of waste being able to be packed in a single pallet.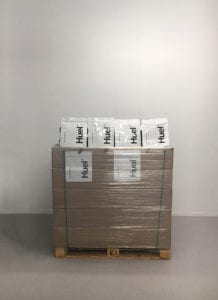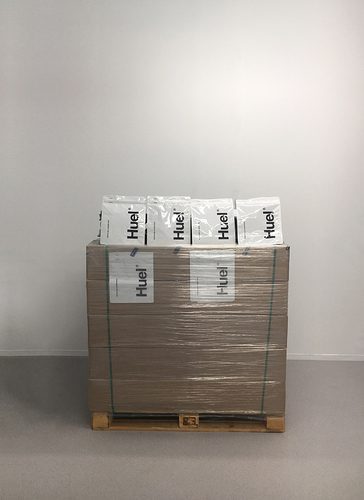 In fact, Küik bags are sturdy and are made of recyclable plastic, thus the environmental impact is much much lower than the treding RTDs (as seen in Feed., YFood, Vitaline, Saturo, Soylent Drink, Soylent Cafe, Mana…). They also require less storage space.
However, the flavourings do not go well with this zero waste mentality. As they come in individual packages, they create more waste than necessary. Even more, there would be no need for them if it were already mixed. I understand individual sachets are a lot handier and require no measurement from the user, but this should not go well with the their mottos.
The shelf life for Küik is 12 months according to the brand. I would expect that this is the point were some nutrients will start deteriorating and it should be safe to consume up to 18 months.
Shipping and Return Policy
This is one of the areas where the company size is limiting Küik. They currently only offer shipping to Spain and France. Nevertheless, the shipping is FREE to both countries. I applaude this, since it will ease the barrier of entry and it is just good customer service.
On the negative side, Küik does not offer any refunds. While it is true that opened food products are not allowed to be returned, usually companies offer 14-30day return policies in unopened products. I hope that as they get bigger, this policy changes.
Subscription
Küik is another brand, together with Satislent and Feed., that currently does not offer any subscription discounts. I generally think that subscription programs are a must in the industry, since they benefit both the customer and the brand.
The brand adquires a loyal fanbase that will be source of feedback and support; whereas the consumer gets the benefit of better rewards, discounts and not having to worry about re-ordering.
In fact, the companies aforementioned offer big bulk discounts (up to 20%), while Küik "only" offers a 10% discount when buying two bags (no discounts for flavour boosts). Plus, the current 20% off deal with the code AKTIVAKUIK.
How do I get started with Küik?
Küik has a low barrier of entry, since you can get started with only €25. However, I recommend you to read the how to start with meal replacements guide, if you are new to meal replacements.
Other steps to take when starting to Küik include:
Get to know yourself. Estimate how many calories you need a day using an app like MyFitnessPal.
Go to Küik's website and buy a single bag and the multiflavour box (€34). Use the code AKTIVAKUIK for 20% discount.
Think about the meal you struggle the most with or you think it is the unhealthiest and replace it with a Küik shake. Usually people prefer breakfast and lunch.

In order to ensure you are staying within your daily needs track the food you eat during the day.
Mix 4 scoops (100g) with 400ml of water (add the water first) and the flavouring of your choice. Shake it for 20s and let it pause for a minute before drinking it.
Que aprofiti!
Further things to take into consideration:
Do not buy the Starter Pack unless you are interested in the T-shirt and the shaker.
Start with one Küik a day and see how your body reacts. Monitor your weight to see any changes that might happen.
The website is currently only in Spanish. You will have to use Google translate to help you.
Do not drink Küik if it has any negative secondary effects on you.
How to buy Küik
Visit the Küik website using the Buy now buttons provided. You will notice the website is in Spanish. Allow Google Translate to translate into English. The Shop is the first item in the navigation menu.
I would recommend buying one Küik bag (€25) plus the multiflavour boost (€9). Currently, there is not any subscription to worry about or any bulk discounts to benefit from.

You can choose the flavouring on the bottom but it will add €8-9 to the total.

Using Google translate in the Chrome toolbar.

Use the cart on the top right to proceed to chekcout. There you will have the chance to enter any promotional discount that you might have.
You will have to create an account in order to purchase. After entering the shipping details and the billing address you will have to pay.
Küik only accepts debit or credit cards, MasterCard and Visa.

Time to wait for your Küik to arrive.
1- Can I lose weight with Küik?
Yes, you can. In fact, Küik is a great meal replacement to take as part of a weight loss program, since 3 servings will offer you around 1,400kcal and all the macronutrient and micronutrients you need. I would recommend you having a look to how to lose weight with meal replacements, before starting any weight loss using meal replacements.
2- Where can you buy Küik from?
Küik is available through their website and currenly delivers to ESP and FRA. Hopefully, they will expand into Europe soon.
3- Is it suitable for diabetics?
I would consult with your dietician before using Küik .
4- Is it safe to live only from Küik shakes?
In theory, Kuik provides all the necessary macros and micros established by the international health authorities (EFSA, WHO, USDA); however, I would recommend starting with one shake and progressing from there.
5- What does Küik taste like?
The unflavoured version is a very neutral flavour that tastes like nothing. It is ideated to be mixed with sweet or savoury flavourings and to be personalized by the user.
6- When is the best time to have a Küik shake?
You can consume Kuik shakes whenever you need a quick or a balanced meal. If taken as part of a balanced diet they can replace one or more meals of your choice.
7- Is Küik organic?
Kuik is not an organic brand. It contains ingredients of synthetic origin. This is in order to lower the final cost and provide with a quality product while keeping the price low. If you are looking for an organic product you should check Nutberg, Ample or Ambronite.
8- Is Küik vegan?
Currently, Kuik offers vegetarian products, because they use milk as protein source. However, there is a vegan option in the making, which should be out soon.
9- Why Küik and not Kuik?
Perhaps, I should have addressed this earlier. The diaeresis or the double dot above the "u" is an important part of the brand image. They are tied together to represent the infinite symbol, representing the continuous drive for improvement (semper ad meliora) and left empty inside so you can fill them with your creativity.
Kuik vs other meal replacements
Küik battles with the brands that offer cheaper meals like Jimmyjoy, Satislent (also Spanish) or Queal; even though, in terms of size is closer to Satislent or Vitaline.
Küik vs Soylent– Soylent is just bigger, similar product
Kuik and Soylent do not compete for the same markets or offer a similar product, but I always tend to compare all brands with the "father" of complete foods.
| | | |
| --- | --- | --- |
| | Soylent | Küik |
| From | USA | ESP |
| Ships to | USA&UK | ESP&FRA |
| $/400kcal | $$ | $ |
| C/P/F | 38/19/43 | 37/20/43 |
| Allergen | Soy | Dairy* |
| kCal/meal | 400 | 467 |
| Serv/day | 5 | 4-5 |
| Suitable | Vegan | Vegetarian |
| Flavours | 2* | 8* |
| Products | 3 | 2 |
Label:
Price per 400kcal without subscription:
$– Below $1.5 $1.5 = €1.3 = £1.15
$$- $1.5 to $3 $3 = €2.6 = £2.3
$$$– $3 to $5 $5 = €4.3 = £3.85
$$$$– over $5
Price, product range and flavours: Winner Soylent
Soylent is the clear winner of this section. They have been around for a while and they have had time to develop a powder version, and two ready-to-drink variations (Soylent Drink and Soylent Cafe) in multiple flavours. While the powder version only comes in 2 flavours, the RTDs offer up to 8 different variations. Soylent Powder is also very similar price wise to Küik, when taking into account subscription (even though it is only available in the US).
Technically, Küik has more flavour variations, but the whole range is much shorter than Soylent's.
Nutrition: Draw
Both brands offer a high fat low carb profile in all the products. Nevertheless, Soylent is a vegan shake that contains GMO ingredients, whereas Kuik is a non-GMO shake but vegetarian.
Soylent's main source of protein is soy protein isolate, arguably worse than whey protein (Küik), particularly for muscle synthesis and athletic performance. Soylent's main fat source is sunflower oil, as opposed to Küik's canola oil, which makes the latter richer in omega-3 fatty acids. Soylent's GI is lower than Kuik's (thanks to isomaltulose), which gives the edge to Soylent.
Overall, both shakes are fairly similar, with Kuik having the better fat and protein profile and Soylent the better carbohydrate sources.
Brand image, Customer Service, Availability, Shipping: Soylent
None of the brands has invaded each others' territory, yet. While Soylent has come to the UK, it is not available in the rest of Europe. Nevertheless, Soylent is readily available in the US and counts with a much wider network, team and community.
Kuik's treatment might be very personal and up-close; and they are doing things well in marketing. This, however, is not enough to compete with Soylent.
I will compare Küik to the king of budget meal replacement shakes, Plenny Shake by Jimmyjoy.
| | | |
| --- | --- | --- |
| | PS | Küik |
| From | NED | ESP |
| Ships to | World | ESP&FRA |
| $/400kcal | $ | $ |
| C/P/F | 55/15/30 | 37/20/43 |
| Allergen | Soy, Gluten | Dairy* |
| kCal/meal | 400 | 469 |
| Serv/day | 5 | 4-5 |
| Suitable | Vegan | Vegetarian |
| Flavours | 5 | 8* |
| Products | 4 | 2 |
Label:
Price per 400kcal without subscription:
$– Below $1.5 $1.5 = €1.3 = £1.15
$$- $1.5 to $3 $3 = €2.6 = £2.3
$$$– $3 to $5 $5 = €4.3 = £3.85
$$$$– over $5
Price, product range and flavours: Plenny Shake
Plenny Shake has been the reference for cheap complete foods since its creation. With the cost of €1/400kcal it is about 30cents cheaper than Küik. Plenny Shakes also offers 5 flavours plus a caffeinated (Plenny Shake WakeUp) option and a Sport option (Plenny Shake Active).
In Küik's favour, the flavouring boosts offer a wider and more different flavours than what PS offers, but they also increase the price significantly (another €0.53/meal).
Nutrition: Küik has more protein, PS if you want less fats
Jimmyjoy recently changed the formula of Plenny Shake to make it a vegan shake, with less protein than before and different fatty acid profile. Now, it is heavier on carbs and lower on fats and protein than Küik. In fact, each serving offers about 7g less protein. Not only less protein, but a blend with less leucine and lysine comparatively to whey protein. Thus, I think Küik's protein profile is better.
Jimmyjoy uses a both maltodextrin and oats as source of carbs and a blend of sunflower oil and flaxseed oil for their fats. The ALA (omega-3) content is lower in PS but it should be enough for an average adult.
Technically I favour carbohydrates to high fat diets, but in this case I prefer the extra protein provided by Küik.
Brand image, Customer Service, Availability, Shipping: Huel
Jimmyjoy with its ace Plenny Shake is a giant of the industry. They ship worldwide*, with free shipping within the EU and the US. Their customer service is excellent and really funny, and their brand image is very strong and distinctive.
Jimmyjoy should be a brand Küik should look up to. To learn how they have used their identity to create a space for them in the market.
Küik vs Satislent – Satislent offers more and in all Europe
Finally, "El Clasico". Both brands just started recently and they are trying to make a space for them in the ultraconservative gastronomical culture of Spain.
| | | |
| --- | --- | --- |
| | Satislent | Küik |
| From | ESP | ESP |
| Ships to | EU | ESP&FRA |
| $/400kcal | $ | $ |
| C/P/F | 56/16/28 | 37/20/43 |
| Allergen | Soy, Gluten | Dairy |
| kCal/meal | 670 | 469 |
| Serv/day | 3 | 4-5 |
| Suitable | Vegan | Vegetarian |
| Flavours | 5 | 8* |
| Products | 3 | 2 |
Label:
Price per 400kcal without subscription:
$– Below $1.5 $1.5 = €1.3 = £1.15
$$- $1.5 to $3 $3 = €2.6 = £2.3
$$$– $3 to $5 $5 = €4.3 = £3.85
$$$$– over $5
Price, product range and flavours: Satislent
Satislent has 3 different powder meal replacements: a caffeinated version (SatisUp), a standard version and a sport version. The Standard version comes in 5 flavours, whereas SatisUp and Sport come in one more each. The price for the Standard Satislent is as low as €1.1 per meal.
Thus, Küik is more expensive. While Küik does offer more flavour options, it does not have the different variation Satislent offers. First goal goes to Satislent.
Nutrition: Küik
Satislent offers vegan products with about 670kcal per serving, fairly high in carbohydrates. Küik is heavier in in fats, but also has more protein. Satilent uses pea protein instead of whey protein. Once again, I would favour whey over pea, because the latter is short in methionine.
Satislent uses olive oil as a fat source, has a omega-3/6 ratio of 1/4 (heavier in omega-6 than Küik), but has adequate amounts of MUFA and PUFA. Both brands are really low in saturated fats. Regarding to carbs, Satislent uses oats as opposed to maltodextrin as main source, I find this better as it has a lower GI.
Overall, I would go for the higher protein, but if I did not care, I would strongly consider Satislent due to using oats. Küik scores the second goal, even if the keeper almost saved it.
Brand image, Customer Service, Availability, Shipping: Satislent
Both are small companies with much work to do ahead. I will give this to Satislent, mainly because they are available all through Europe, which Küik is not. However, Küik does have a very polished brand image and stronger social media presence.
Who is Küik for?
Küik is ideal for anybody. While it is a little high in fats and this might put off some people, it has plenty of nutrients and good proteins that can help improving anyone's diets.
Does it taste good?
They have both savoury and sweet options, 8 flavours in total. There is likely going to be something you like. I would not recommend having the unflavoured option on its own, though.
Will I get all the nutrients I need?
Küik is actually a really nutrient rich product, containing at least 45% of the daily requirements for micronutrients in each 469kcal serving. That is impressive. This paired with a balanced shake, slightly high on fats (but good fats) and high omega-3 levels per serving makes Küik an ideal shake to balance out the western diet that tends to be carbohydrate heavy and short in omega-3s.
Furthermore, it should be fine to fully support all your nutritional needs, in the case that you decided to go all in on Küik.
I want to buy it. How much will it cost me?
It should be rather simple, but it kind of is not. If you want the powder by itself, that will cost you €25 for 15 meals (€1.66/meal) or €45 for 30 meals (€1.5). However, more likely you will have want to add a flavouring which will add an extra €0.53 on top. So in reality a 469kcal meal will cost your around €2.19.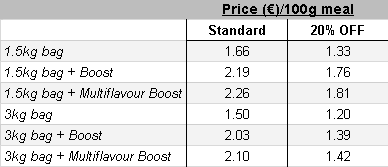 Wait a moment, is it perfect?
Küik is not perfect and it has a long way to go. However, it is up to OK start. Nutritionally is competent, good nutrient boost to any diet due to the high micronutrient content and also a good boost to the omega-3 intake. It provides with good quality protein, too. The flavour options are really interesting, but overpriced (more when you take into account Huel's pricing. Good product, good options but with room for improvement in the delivery.
Verdict
Küik is a very interesting brand, with a solid nutrition particularly regarding micronutrients and omega-3s. While the flavouring concept is interesting, I feel that contradicts the zero-waste policy and adds unecessary steps for the user. It also is like a hidden cost that adds up fairly quick. However, I like that they opt for local products and if you like smooth sweet shakes, I think you should also go local and try Küik.
Kuik deals and discount codes
Check out Deals section for more discount codes.
Use the discount code AKTIVAKUIK for 20% discount in ALL purchases. This reduces the price significantly, and makes it a really competitive product, definitely worth the price.
Pros
Incredibly thin shake, with no lumps
Multiple flavour combinations, including savoury ones
Big bags and individual pouches
Cons
Taste is too sweet for premix
The base powder is salty and can be noticed in all shakes
Best flavours are not available premixed