In this Premier Protein review, we'll take a look at the most reviewed protein drink on Amazon.
As discussed on another popular Amazon shake, Ensure, popularity does not always equate to a good product. So, I'm curious to see if Premier Protein shakes are a healthy snack or meal alternatives I can recommend, or just another glorified milk shake.
Premier Protein shakes are multi-flavored RTD with 30g of protein, only 1g of sugar, and come with 24 vitamins and minerals. At only 160 calories, it's one of the lower-caloric meal replacement drinks we've looked at.
On paper, a good recipe for success, and a tempting offer as a weight loss shake.
Something about this product must be drawing customers in to be so widely popular, and we're here to find out what that is. Is Premier Protein for weight loss? Is Premier Protein healthy?
The answers to these questions and more in this Premier Protein shakes review.
Key takeaways
Premier Protein is the most successful RTD and protein powder
There's no plant-based RTD, but there's a plant-based powder
Premier protein offers 30g of protein from whey concentrate and milk
Despite all the flavors, the taste of Premier Protein shakes is not the best
It has many processed ingredients, and lacks omega-3:
Not great to replace meals with

---
Premier Protein Review at a Glance
Flavors: Vanilla, Chocolate, Chocolate, Peanut Butter Strawberry & Cream, Caramel, Cake Batter Delight, Banana & Cream, Cafe Latte, Cinnamon Roll, Root Beer Float, Pumpkin Spice, Peaches & Cream, Cookies & Cream.
---
Opinion
When I said the highest-reviewed protein drink on Amazon, we're talking over 195,000 Premier Protein Amazon reviews! That's easily 4-5x the next most reviewed. That's impressive, so whether people love it, hate it, or are somewhere in between, they bought it and had something to say about it.
Premier League
1. Literally everywhere. Grocery, drugstore, big box, outlet store. You're never too far from the product.
2. Affordable. Always a good thing.
3. High protein. At 30g per serving, it's higher than many others
4. A decent variety pack. Gives you the most flavors. Some companies still screw this up.
5. Powder Mix was very smooth. You could shake this up in any container.
Bush League
1. Sweeter than I'd like. Not too sweet, but close.
2. Somewhat watery. Not ideal if you want a thick shake
3. Lots of artificial ingredients. Artificial sweeteners and flavors can cause issues for some people.
4. Not very filling. Definitely a between meals or late craving drink.
Nutritional Breakdown
The highlight is the protein amount and the low calories.
As seen below, each Premier protein shake provides you with 160kcal, 30g of protein, 1g of sugar, and 24 vitamins and minerals.
As a protein shake, this is remarkable but not exceptional. Most protein powders will give you a similar % of protein per calories. However, very few will come with vitamins and minerals, too.
The exception perhaps is Huel's Complete Protein, a plant-based alternative to Premier Protein shakes.
That said, as I will discuss below, this does not make Premier Protein good to replace meals with, as it still lacks essential nutrients like omega-3.

Premier Protein Overview
| | |
| --- | --- |
| Kcal/meal | 160 |
| Macros (C/P/F) | 16/72/12 |
| Vegan | No |
| Keto | No |
| Features | Gluten Free, Low Fat |
| Non-GMO | No |
| Organic | No |
| Includes Probiotics | No |
| Artificial Sweeteners | Yes |
| Synthetic Additives | Yes |
| Contains All Micronutrients | No |
| Controversial Ingredients | Milk, Soy, Sucralose, Acesulfame |
Carbohydrates
Based on 160kcal serving:
Total Carbs: 4g, 1% of DV.
Net Carbs: 3g, (Total Carbs – Dietary Fiber – Non-digestible Carbs)
Sugar: 1g.
Fiber: 1g, 4% of DV.
Low across the board on all fronts. While this can be good if you are closely watching your carb and sugar intake, Premier Protein uses artificial sweeteners in place of sugar.
Specifically, their shakes contain sucralose and acesulfame potassium or "ace-k".
That said, if you are looking to use Premier Protein to replace meals with, I would recommend having some extra carbs on the side.
Protein
Per 160kcal serving:
Total Protein: 30g, 60% of DV.
Source: Milk protein concentrate + whey protein concentrate
The protein comes from milk & whey concentrate. While this makes for an impressive protein count, being animal-based is a nonstarter for some.
On that note, Premier Protein does offer some plant-based protein powders, but the offering is much more limited.
However, there's nothing wrong with whey concentrate and milk. These are two complete protein sources, rich in BCAAs and essential amino acids that are easily absorbed by our bodies. Multiple studies have shown whey to enhance recovery, increase protein synthesis, and help you keep lean body mass.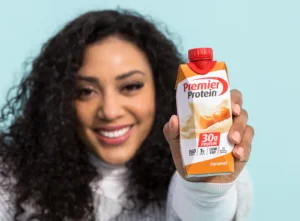 Fats
Per 160kcal serving:
Total Fats: 3g, 4% of DV.
Saturated Fats: 1g, 5% of DV.
Omega-3s, ?g.
Omega-6s: ?g.
The label states that Premier Protein contains either soybean oil, or sunflower oil. There are also the fat substitutes of cellulose gum and cellulose gel.
These keep the overall fat low, while acting as a binder for the shakes.
For anyone looking for a balanced meal, there are many essential fats missing in this shake. Most importantly omega-3 fatty acids that have essential roles in brain function, eye health, and hair health.
Micronutrients
Premier Protein contains 24 micronutrients, most of which are 20% or better or your daily needs.
Allergens
They contain. milk, soy, and artificial sweeteners, so be careful if allergic or you have sensitivities to any of this. On a side note, I've begun to notice more people citing issues with artificial sweeteners.
Taste Test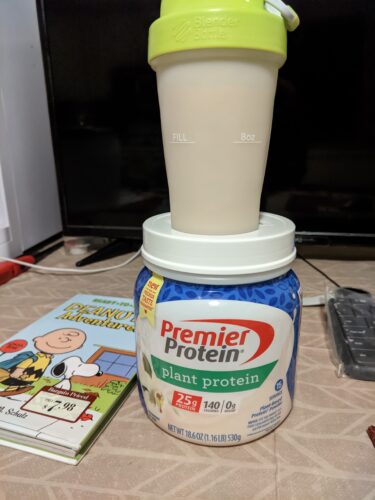 | | |
| --- | --- |
| Best flavour | Vanilla (plant mix) |
| Taste | Some are ok. |
| Texture | Thin, but drinkable |
| Satiety | A good 45 to 60 minutes. |
| Easy to Clean | N/A |
| Afterthoughts | Wouldn't want to have them again. |
Got a tub of the newer plant protein mix, as well as the variety pack of eight flavors.
Premier Plant Protein Taste Review
The tub of vanilla is decent deal at 15 servings for 20 bucks. The powder was very fluffy, the kind that you can easily make a mess with. It mixed well, and was pleasant tasting and smooth. I like that they have a small graphic on the tub that shows you how much you can reasonably expect inside after settling. A smart way to get in front of those "they only gave me half" complaints.
Easily the best of all of these products.
Premier Protein Flavors Ranked
Caramel – Drinkable, somewhat taste accurate.
Cookies & Cream – Not great, but I finished it. Remember Yoo-hoo?
Peaches & Cream – Bad. The artificial fruit flavors just dont do it for me
Bananas & Cream – Very sweet, but the best of the "and cream" line.
Cafe Latte – Not bad. Actually contains some coffee, not just fake flavor.
Summary
Its not a ton I can write about these. They all had a basically similar flavor, with very minor differences. The fruit flavored ones were actually pretty bad. Fruit flavors for this kind of product never ends well in my opinion. I got them all down…but only for sake of this review.
The powder was solid, not too bad. That I could keep using, the shakes…not so much.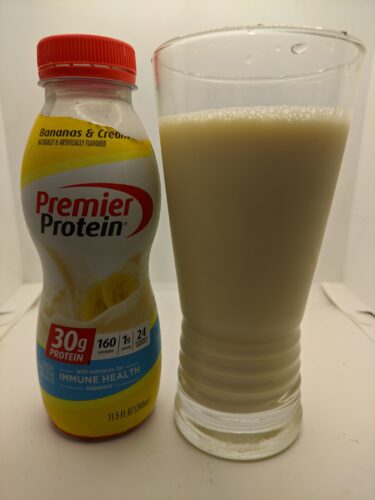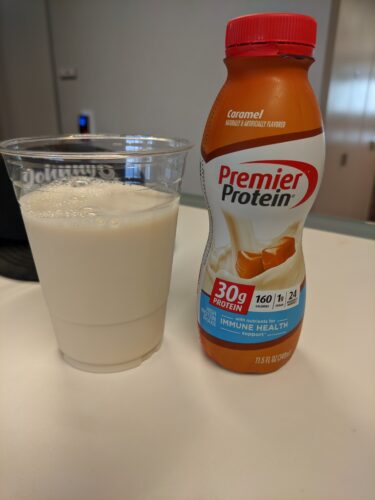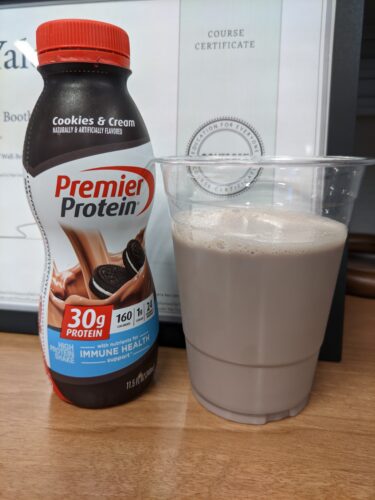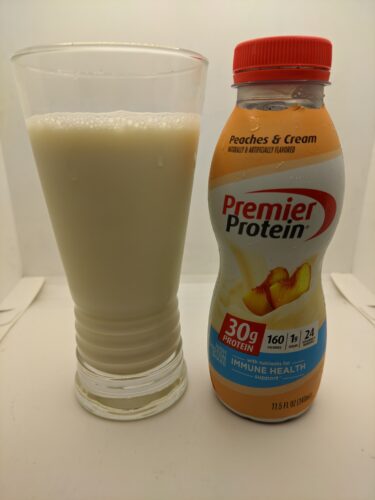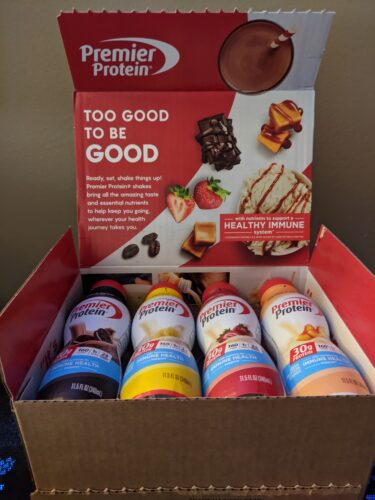 More about Premier Protein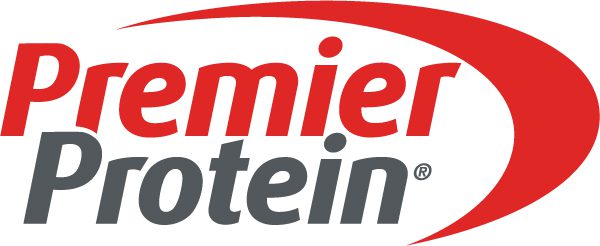 Premier Nutrition is the provider and distributor of premium protein beverages and foods. Founded in 1997, the company offers the Premier Protein shake, Premier Protein bar, Premier Protein 100% whey isolate powder, TITAN high protein bar, TITAN high protein cookie and Premier Nutrition shot.
Premier Nutrition Corporation was acquired by Post Holdings, Inc. in 2013.
Pricing & Shipping
Premier Protein Shakes are offered as 12 pack boxes that you can purchase from many online retailers. Avoid the official website, as those prices are often much higher than those of other retailers.
One of the most common places to buy Premier Protein is Amazon.
Premier Protein is also attainable locally from most grocers, drugstores, department stores, and even dollar/discount stores.
Other Premier Protein Products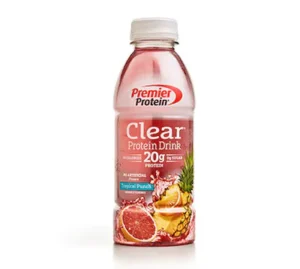 90Calories
20g of Protein
No artificial flavors, no soy ingredients, gluten free, sugar Free, fat free
2 Flavors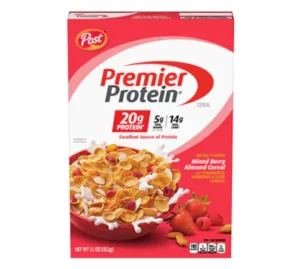 180 Calories
20g of Protein
Protein-rich breakfast cereal or snack made with real almonds.
2 Flavors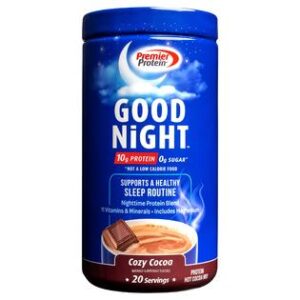 50 Calories
10g of Protein
Contains magnesium and zinc to aid sleep
1 Flavor
Is Premier Protein Healthy?
Premier Protein contains a lot of processed ingredients which means that it's not rich in antioxidants, anti-inflammatory agents, and nutrients besides protein.
Consequently, Premier Protein can be a "healthy" protein shake for those looking to increase their daily protein intake.
It is NOT, however, a healthy way to substitute meals. It's lacking many key ingredients our body needs, like healthy fats (omega-3/6/9), fiber, complex carbs, etc.
Thus, I would limit the intake of Premier Protein, and look to consume them within a balanced diet full of greens, whole-foods, and healthy fat sources (avocado, fish oil, olive oil…).
Real Customer Premier Protein Reviews
Like discussed in the introduction of this Premier Protein review, these are some of the most rated products on Amazon.
They also have hundreds of customer reviews on their site, most ranging from 4-5 stars. The worst rated Premier Protein flavor is Cake Butter Delight, followed by Vanilla.
Premier Protein Amazon Reviews
But what do Premier Protein Amazon reviews say?
As seen in the image above, the Premier Protein powder has 4.4 stars in 44k reviews, whereas the plant based Premier protein, scores lower with only 4 stars out of 5.
This matches our experience, as the plant-based shake wasn't as good as the whey-based one.
So what about the Premier protein RTD reviews? These are the most popular option with over 195k Amazon reviews!
It has 4.5/5 reviews, which is outstanding. Even though, Amazon reviews are often faked, when analysed Premier Protein shakes still had 4.5 stars. Therefore, it's clear that most customers really like them.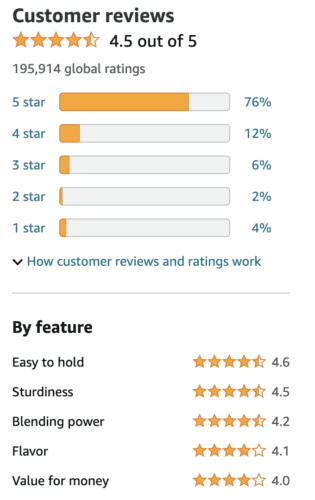 I've been using the Premier Protein Whey powder for years and I figured I'd try this pre-mixed version for a quick pick-up-and-go if I didn't want to spend the time mixing the power. Plus, the powder only comes in vanilla, chocolate, and latte. Got this at the grocery store first to try this flavor, caramel (and the latte and peanut butter chocolate). Wow! It's delicious, as was the peanut butter chocolate; latte was good but not something I'd be able to drink routinely. I also really like that this is a bit thicker than mixing the powder with white milk. If you're looking for a quick on-the-go protein boost or simply a treat at whatever time of day, this is an excellent way to help ensure you get your 60+ grams of protein each day. I've actually stopped eating a typical breakfast each day and am now using this and I stay full until lunch. Definitely would buy.

Kmat, 5-star review
Others comparing Premier Protein to Ka'chava, although the latter is a much healthier meal replacement.
Good n healthy, look at the list of vitamins & minerals. I mean, it when has Phosphorus! I haven't seen that listed on Anything else! Make sure to shake, then drink a sip or two, then shake even more, or there'll be little lumpy things. It's bound to happen in shipping and storage. I wish they'd store and ship them in insulated boxes, though, even though they're sealed, maybe that would help. The lumps are rather unappetizing. Luckily, when you shake well, they're pretty rare, and the health is SOO good, for only a little over Half the price of Ka'chava! Granted, Ka'chava still has three times the number of micronutrients. Can't wait to be able to afford that again.

Derek, 4-star review
Premier Protein Reviews Reddit
Looking at Reddit Premier Protein reviews most people agreed that while they are highly processed and there are more natural ways to get your protein, it's hard to beat the convenience, price and the 30g per serving.
Premier Protein vs. OWYN vs. Soylent
Compared to other easily accessible, grab and go shakes, lets see how Premier Protein measures up.
Soylent, the American giant can be found many stores across the US. The pro-GMO company has been going strong since 2014 with their well reviewed line of RTDs. Soylent, unlike Premier Protein, specialises in complete meals, which include all essential fats and carbs.
OWYN (pronounced oh-win) is a manufacturer of all-natural protein shakes with the goal of providing easy-to-digest plant protein in the form of tasty shakes. They also have a line of meal replacements without artificial sweeteners that offer protein and add many micronutrients while remaining all-natural and allergen-free.
Head to Head
Category
Premier Protein
OWYN
Soylent
serving price
$2.50 (USD)
$3.08 (USD)
$4 (USD)
serving size
340ml
330ml
414ml
servings per
12
12
12
kcal/serving
160
250
400
Packaging
Bottles/Cartons
Cartons
Bottles
Flavors
12
3
10
Protein (g)
30
20
20
Sugar (g)
1
4
1
Fiber (g)
1
3
3
Fats (g)
3
10
24
Carbs (g)
3
30
37
Vegan
N
Y
Y
Organic
N
N
N
Micronutrients
24
23
28
Artificial Sweeteners
Y
N
Y
Synthetic Additives
Y
N
Y
GMO
N
N
N
Protein Source
Milk/Soy
Pea/Pumpkin
Soy
Availability
US
US
US
Other Products
Cereal, Powder, Bars
Protein Drinks &
Powder
Other RTDs, Bar
Premier Protein handily wins if protein amount is your #1 priority. Also it has the lowest calories, carbs and fat. Having lots of flavors and being cheap certainly helps it's cause too. No doubt some will be turned off by some of its additives.
OWYN is the antithesis of Premier Protein shakes. While having less protein and costing more, its big win is with it's omission of additives, allergens and artificial sweeteners. Also being vegan, everyone can enjoy it, while only being slightly more expensive. I wish they had more flavors of their meal replacement specifically, but they have several flavors of their protein shake.
Soylent is the one that will curb your hunger better than any of the others, so its worth the extra costs.
Premier Protein FAQ
Is Premier Protein designed for weight loss?
No. It states on the bottle to use this product as a food supplement, not for weight reduction.


Are Premier Protein Shakes lactose free?
Premier Protein Shakes are not lactose free. They contain milk protein, which contains lactose. We would recommend that consumers who are lactose-intolerant or lactose-sensitive avoid Premier Protein Shakes.


How often should I drink Premier Protein Shakes?
The frequency with which you drink Premier Protein Shakes depends on your individual protein needs and goals. It's important to remember that protein shakes should not be used as a replacement for whole foods and should be consumed as part of a balanced diet.


How many meals can I replace with Premier Protein?
Ideally, none. Premier Protein shakes are not designed to replace meals with, but rather help you incresing your protein intake. Meal replacement shakes are a much better option as convenient ready-to-drink shakes that can fully replace meals.

That said, I would not replace more than one meal ocassionaly, and I would try to supplement with omega-3s, as well as drink them within a balanced diet.
Are Premier Protein Shakes safe during pregnancy?
Premier Protein shakes are safe to consume early during pregnancy, but you should limit your consumption. Excessive consumption can lead to inflammatory issues, particularly in the gut.


---
Verdict – Premier Protein Review
Honestly, despite the overwhelming positive Premier protein reviews, this has not been my favorite product to test.
In spite of the positive remarks, there are multiple issues with Premier Protein.
Firstly, all the Premier Protein flavors were all blah, they all smelled like a chemical plant, and the watery texture is the literal opposite of what I would want from a protein drink. I much prefer the thick, dense protein shakes.
Furthermore, Premier Protein shakes fail to keep you full, and I was looking to grab something else to eat (and wash the aftertaste with) stratight after.
Lastly, I tend to prefer high protein meal replacement shakes that have more whole food ingredients, more nutrients, are healthier, and actually keep me full for hours. They are simply a better bang for the buck.
As for the powder, it was decent. I had no real issue with taste or texture, and while not a meal replacement, it comes with alot less junk than the RTDs. Probably not the best protein powder you can choose, but for the price, smoothness and taste…I get it.
Its not all doom and gloom. Despite the clearly stating this is a supplement, not a weight loss product, its been shown that high protein alongside low carbs/calories is what you want for weight loss. Plus nearly 200,000 people have something say about this 26 year old product, so that has to mean something.
Bottom line – If you are looking for a healthy meal opt for a meal replacement shake. If you are looking for a protein shake, it's convenient and not the worst.
Premier Protein
From $2.5/serving
Pros
30g of protein per 160kcal
Good protein source
Tons of flavors to choose from
Powder mixes well
Contains 24 vitamins and minerals
Cons
Extremely sweet
Contains Ace-K and sucralose
Many flavors are to similar to each other
Not filling at all