9 of the Best Soylent Alternatives in the US+CAN+UK (2021)
Soylent was the first and it is perhaps the most well known meal replacement. However, just like one shoe does not fit all; Soylent might not be the ideal meal for you. Here, I have compiled a list with the best Soylent alternatives in the US, CAN, EU and the rest of the world.
Therefore, if you are disappointed that Soylent is expensive in Canada; or you are looking for a Soylent alternative in Europe; or have simply grown tired of Soylent in the US; I have the answer that you were looking for.
Thus, without further ado, let's dive into the best Soylent alternatives list.
---
Top Soylent Alternatives at a Glance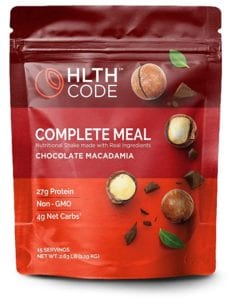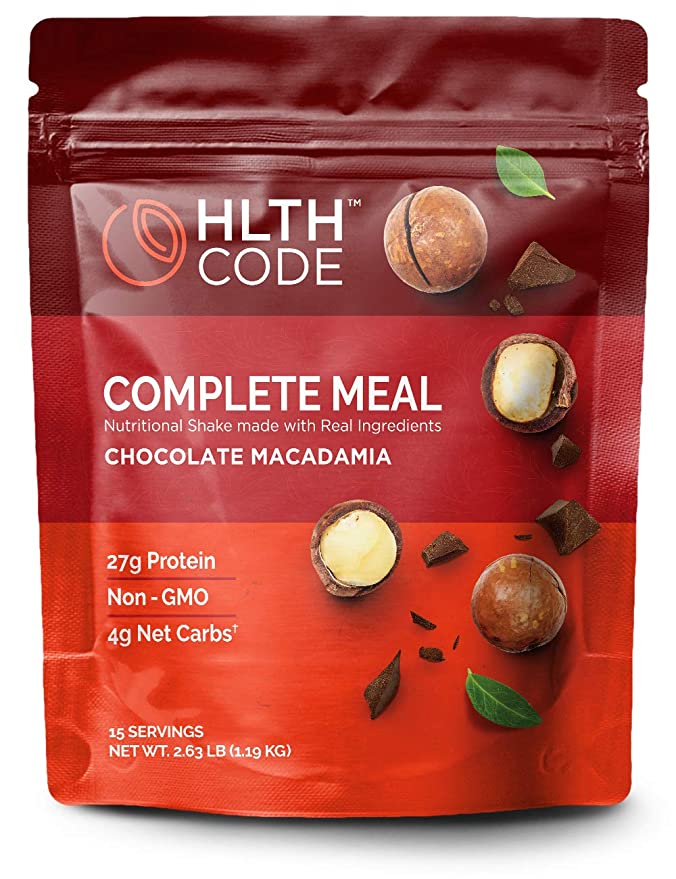 HLTH Complete Meal – Best Low Carb Alternative to Soylent
Only 4g of net carbs, high in fiber, high in protein and healthy fats
Keto-friendly
Includes probiotics, digestive enzymes and 50% of all vitamins and minerals – great to boost your nutrition
Lovely tasting shakes and silky smooth
Diet Extreme – Editor's Choice
Also available in Vegan
207kcal, 24g of protein, 1g of sugar
Up to 14 flavours to choose from; including one of my favourites: Chocolate Digestive
Easy to drink and very filling
Affordable
Soylent Alternatives by Region
If you are browsing from the United Kingdom I would strongly recommend checking the best meal replacements in the UK article, since it contains more detailed information about the different options in the Islands.
After I discuss the best Soylent alternatives per region, I dive a little deeper on the US meal replacement market and on why there is not more US based Soylent alternatives. Therefore, the second section is more focused on North America.
---
Advertisement
---
Best Soylent Alternatives in the US
1. Diet Meal Replacement Extreme
Best Weight Loss
Pros
Incredible taste with improved texture
13 superb flavors to choose from
Low in fat, high in protein and fibre
Only 207kcal per serving
Over 350 ratings with 5 stars
Cons
Best prices with discounts
Not vegan friendly
Are you looking for a Soylent alternative for weight loss? Then look no further. Without a doubt Diet Meal Replacement Extreme is the best diet shake you can buy.
On one side, these shakes simply taste amazing. They are one of my favourite shakes that I've ever tried. Plus, you can choose from 13 flavours; from which I love Chocolate Peanut, Cheeky Choc Coconut and Caramel Latte.
However, Diet Extreme also shines in the nutritional aspect. It has a low fat high fibre, high protein formula that helps you stay full for longer. Plus, they add CLA, MCTs, konjac glucomannan, green tea extract and to help you with the process. All of these are commonly used for weight loss.
Since the initial price can be a little high, make sure to use one of their discounts to get the best prices.
Now, also available as vegan diet meal replacement!
Ingredients
Ingredients (Banana Sundae): Protein blend (soy protein, whey protein isolate, micellar casein), oats, maltodextrin, dietary fibre (inulin), flavouring, vitamin & mineral blend, medium chain triglycerides, glucose syrup solids, microencapsulated conjugated linoleic acid, konjac glucomannan, thickener (xanthan gum), green tea extract, salt, acetyl-L-carnitine, sweetener (sucralose), colouring (curcumin).
Allergens
Diet Extreme contains soy, milk and oats.
Nutrition
| | | |
| --- | --- | --- |
| per serving | Diet Extreme | RI (%) |
| Energy (C/P/F) | 39/46/15 | – |
| Energy (kCal) | 207 | 10 |
| Fats (g) | 3.4 | 5 |
| Saturated (g) | 0.8 | 4 |
| Carbs (g) | 17.0 | 7 |
| Sugars (g) | 1.0 | 1 |
| Fibre (g) | 5.4 | 27 |
| Protein (g) | 24.0 | 48 |
| Salt (g) | 0.8 | 14 |
Good For: those looking to lose weight in a healthy and sustainable manner.
---
2. HLTH Code Complete Meal
Best Low Carb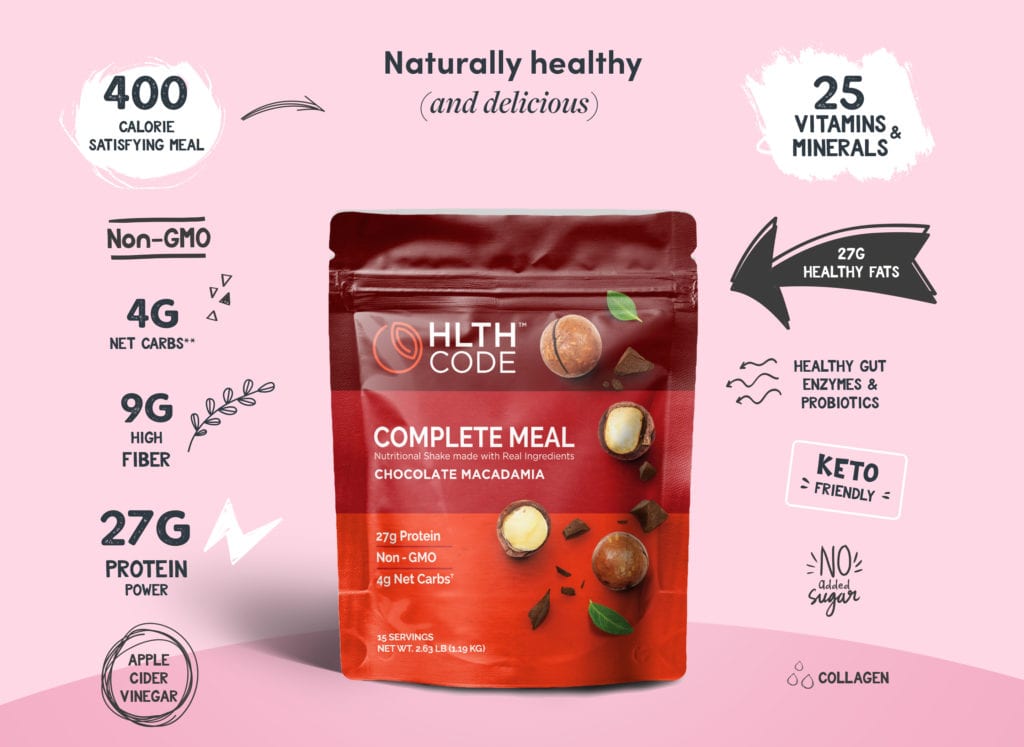 HLTH Code Complete Meal is the perfect low carb Soylent alternative. Not only contains just 4g of net carbs, but it's also packed with protein and does not sacrifice taste for nutrition.
In fact, HLTH Code shakes offer a perfect blend of awesome, delicious drinks and high quality nutrition.
Behind the shakes, Dr. Bikman – nutrition head- has implemented a 1:1 protein to fat ratio together with healthy, clean ingredients. On top of that, the drinks also contain probiotics, digestive enzymes and apple cider vinegar to help you with digestion.
However, anyone who's tried Soylent knows that taste is one of their strengths. In this department, HLTH Code shakes also shine, with smooth, sweet and flavourful meals.
Start now with the code LATESTFUELS for 15% off.
Ingredients
Ingredients (Vanilla): Protein Blend (whey protein isolate, grass fed collagen, egg whites), Healthy Fats Blend (coconut oil powder, olive oil powder, medium chain triglycerides powder, flaxseed powder, cocoa butter fat, grass fed ghee), cocoa powder, digestion resistant maltodextrin, digestion resistant dextrin, sodium caseinate, natural flavours, apple cider vinegar powder, sunflower lecithin, inulin, Redmond real salt, xanthan gum, Digestive Enzyme Blend (alpha and beta amylase, protease I, protease II, lipase, lactase hemicellulase, cellulase, invertase, diastase), monk fruit extract, stevia leaf extract, Lactobacillus acidophilus.
Allergens
HLTH Code shakes contain milk.
Nutrition
| | | |
| --- | --- | --- |
| per serving | HLTH | DV (%) |
| Energy (C/P/F) | 12/18/70 | – |
| Energy (kCal) | 400 | 20 |
| Fats (g) | 27.0 | 35 |
| Saturated (g) | 17.0 | 87 |
| Cholesterol (mg) | 43.0 | 14 |
| Carbs (g) | 13.0 | 5 |
| Sugars (g) | 2.0 | |
| Fiber (g) | 9.0 | 31 |
| Protein (g) | 27.0 | 55 |
| Potassium (mg) | 400 | 9 |
| Sodium (mg) | 203 | 9 |
Good For: People looking for healthy low-carb meal.
---
Only What You Need is a very unique company that aims to provide you with all the essential nutrients and nothing else. As such, their shakes are vegan, gluten-free, dairy-free, soy-free and contain no artificial sweeteners.
They are also slightly smaller servings than Soylent's with 300kcal per serving. Still, it will provide you with 20g of protein from pea and pumpking seeds; and a good balanced of fats can carbs.
Regarding the flavours, they currently only offer Chai and Chocolate unfortunately. The latter is lovely, but Chai is great for breakfast, just like Soylent Cafe.
Good For: People looking for an RTD without protein or a smaller shake.
---
Ample is a US based meal replacement brand focused on real food, less processed and more natural shakes. Similarly to Soylent they offer a low carb vegan (and non-vegan) shake, but using higher quality ingredients.
As opposed to Soylent, Ample offers organic shakes with a focus on offering extra ingredients like probiotics to improve your gut health. Most of the time you need to take green supplements to get them.
The reality is that I do feel better when using Ample, as compared to Soylent, particularly on the regularity and general mood. However, it must be taken into account that the premium ingredients do raise the price of the shakes.
Ample powders can be purchased on handy bottles filled with powder, ideal to get on the go; or the big pouches, which are a little cheaper (my personal recommendation). The latter is the best option if you tend to consume your shakes at home and also more environmentally friendly.
Good For: Those who are looking for less processed, more natural shake.
---
Not only they offer high quality nutritious meals; but they are also one of the few vegan soy free alternatives to Soylent. Instead, they use a mixture of organic pea protein, and organic chia seeds to provide you with a balanced amino acid profile.
Personally, I would've liked to see some rice protein to boost certain amino acids; and thus, I tend to like the milk-based RTD better (more complete amino profile).
Besides, I also think that the texture and the taste in the milk-based shakes has a small advantage. However, I found both very easy to drink and certainly enjoyable.
Good For: Those who are looking for a convenient and healthy Soylent alternative.
---
Lean Body is the ideal shake for weight loss. It has a great combination of high quality protein and plenty of fiber that increases satiety. In fact, the 290kcal serving will do well keeping you full for a few hours.
So besides being a low-calorie Soylent alternative, it is also one of the best tasting Soylent substitutes. Arguably, the Lean Body shakes can be a little too sweet. However, I love their flavour selection, which includes shakes like Chocolate Peanut Butter or Cinnamon Bun.
Nutritionally, it is worth mentioning that it's not a vegan shake. The 35g of protein come from a blend of whey and milk protein isolate that will provide you with all essential amino acids.
Good For: Those who are looking at a low calorie Soylent alternative.
---
Sated is the best ketogenic shake you can have. It offers simplicity, well rounded nutrition (for a keto shake), multiple flavours and great tasting shakes. Simply, it's the easiest keto meal you can have.
That's why, if you are looking for Soylent keto alternatives, I will always recommend Sated.
They have two powder options Naturally Sweetened (stevia, monk fruit) and Sucralose. Soon, they will offer an RTD option in both vanilla and chocolate flavours. As for the powder; you can choose between vanilla, chocolate, strawberry or peach & cream. In my opinion, vanilla and chocolate are the best flavours.
Each shake will cost you $3 without subscription and $2.4 with the 20% discount. Despite being a little bit more expensive than Soylent Powder, this is a very affordable price for a keto shake.
---
If you need something more convenient, the Sated RTDs will be it then. The chocolate flavour is one of the most delicious shakes I have had, much better and richer than Soylent Cacao.
---
Good For: Those who are looking at ketogenic shakes to replace Soylent with.
---
Huel is one of the largest companies in the market and has taken the US by a storm; even taking some customers away from Soylent. The British brand is a very professional company with very high quality dairy free meal replacements.
Huel is also the best soy free Soylent alternative, since it has none. It is also great for athletes and sporty people; taking into account that provides 30g of protein per 400kcal (as opposed to Soylent's 20g).
Not only that, but Huel has answers to both Soylent Powder and Soylent Drink. If you are a fan of the ready-to-drink version, Huel has their own RTD in three flavours: Chocolate, Vanilla and Berry. When it comes to Huel vs Soylent, I think Huel has the edge on nutrition, while Soylent might be the better tasting shake.
---
You can also opt for Huel Black, which has even more protein and less carbs (ergo more fats). This one is ideal for weight loss and also to fuel your workouts with the extra protein. It comes in Vanilla and Chocolate, from which I think Vanilla is best. Taste wise, it is more oaty than Soylent, and also you might be able to notice the pea protein.
---
Good For: People looking for an affordable, healthier shake or want more protein.
---
Other Soylent Alternatives in the US
The above mentioned are my top picks as an alternative to Soylent; each for a different reason. However, there are other very good options that you might find interesting:
a) Superbodyfuel – Milk Fuel and Super Fuel
Cheapest Soylent Alternative
This is an American brand that offers extremely affordable powders, for as little as $0.8/400kcal. There are 4 versions: Milk Fuel (cheapest), Athlete Fuel, Super Fuel (most similar) and Keto Fuel. From those, Milk Fuel might be what you are looking for if you want a budget meal replacement.
You can see all the brands that deliver to the US on the list below.
---
Best Soylent Alternatives in Europe
When it comes to Soylent in Europe, it is only available in the UK. However, there are many European brands that you can choose from, including some Soylent copycats (no offence to the brands).
In fact, the most similar brands to Soylent in Europe are Mana and Saturo, so you could argue these are the best Soylent alternatives in Europe.
Nevertheless, I have included other brands in this shortlist, that have some similarities with Soylent, but offer some advantages over it.
1. Mana Drink
Mana is very similar in many aspects to Soylent. They both take a science first approach, use soy protein isolate as the main protein source and share many ingredients.
Despite that, I think that Mana's meal replacements are better than Soylent's. For once, they have a nutritionally more complete product. Besides, I love the taste of both Origin and Choco; simply delicious.
On top of that, they have a much better customer service and buying experience. Plus, they have unique 140meal bags that can lower the cost of buying Mana meals significantly.
Sadly, they have a limited assortment of flavours, and in the Ready to Drink department Soylent simply offers more.
Even then, I would rather keep buying Mana, as it makes me feel better and I have a much better experience overall.
Good For: For those that are looking for quality meal shakes.
---
Saturo is the European copy of Soylent. So in that regard, it is the best and the worst Soylent alternative. However, because in mainland Europe Soylent is not available yet, Saturo could be your go to option.
The Austrian brand offers 6 different flavours in a 330ml (330kcal) bottle: Chocolate, Original, Vanilla, Strawberry, Coconut and Banana. On top of that, they have a 500ml bottle (500kcal) in Chocolate, Original and Coffee variations.
Convenient, tasty and well priced are the three words I would use to describe Saturo.
Good For: People that want the closes alternative to Soylent in Europe.
---
3. Feed.
Feed. is an excellent French brand that is known for their wide range of products, flavours and excellent taste.
You will be able to find sweet and savoury alternatives among the Feed. powders; sport versions (extra protein); light versions (designed with less calories in mind); and even organic products.
With all this variety it might be hard to choose, thus I will give you two recommendations: the chocolate RTD (for when time is limited) and the Chocolate and Hazelnut Sport powder. Plus, because I am feeling generous, a savoury pick: Carrot and Pumpkin Powder.
Many of these will nutritionally vary from what Soylent offers (more carbohydrate heavy), so if you were looking for something with lower carbs I would recommend you check the low carb best of.
Another positive from Feed. is that most their powders are available in a bottle with powder and big pouch options. Feed. Light even comes in single servings now; meaning that you will find the right size for you everytime.
Good For: people who get bored fast and want to try multiple products.
---
4. YFood
I was going to include another powder-based product, but I thought that it would be better to include another RTD. In this case, YFood is the only non-vegan RTD in the market, as well as, the one with most protein per calorie.
The German brands produces milkshake-like meal replacements that in my humble opinion, best Soylent's when it comes to texture and taste. My favourite is the Alpine Chocolate one, but YFood also has Banana, Strawberry and Coffee available.
Another point in favour of YFood is that you can buy in 500ml (500kcal) and 330ml (330kcal) bottles for as low as €2.14/400kcal. Start with a starter pack and get hooked to YFood.
Good For: people looking for high protein RTDs.
---
Best Soylent Alternatives in Canada
Canada deserves its own space due to the issues they have had with Soylent and their government's stance in meal replacement.
I have made a more comprehensive article about the whole issue, but in this list I want to remark the options that I believe are the best. While nothing may never replace the commodity of being able to buy Soylent in Canada; the following brands are as good as the US giant.
1. Superbodyfuel Super Fuel
Superbodyfuel is a US based brand well known in the community due to its very affordable and customizable shakes. Not only the price is good in the products, but are one of the most easily accessible due to the $30 flat worldwide shipping fee. In the case of Canada is only $20 in orders above $100 (USD).
In this case, Super Fuel might be the closest Soylent alternative from a macronutrient standpoint. It is a low carb high fat mix without being a ketogenic meal replacement shake.
Super Fuel does require the user to add their own oil, which might be a troublesome extra step. However, this also means that you can customize the shake easily to your nutritional needs and to your taste preferences.
Despite this, Superbodyfuel does give you some recommended portions that you can easily follow.
Shakes are available in Cinnamon, Chocolate, Vanilla and Unsweetened flavours.
Good For: people experienced meal replacement users.
---
2. Ambronite Complete Meal Shake
This is a more premium option, but it ensures that it will be shipped to your door without any issues. On top of that, they offer one of the highest quality meal replacement shakes which is based in real food ingredients.
Thus, Complete Meal Shake will be a great option for those looking for a less processed Soylent. Still vegan, fairly high in fats and with plenty of quality nutritents from plant-based foods. In fact, you will be able to recognize most of the ingredients in the nutritional label.
Available in single serving pouches (Berry flavour) or bigger bags of 1,600kcal (Berry, Apple & Ginger, Banana), both are equally priced. Talking about price, I often say that Ambronite is better when bought in bulk, because you can enjoy up to a 33% discount.
---
Now you can also buy a plant based ketogenic mix, which is ideal to lose weight or keep up with your diet on the go.
---
Good For: people looking for more natural Soylent alternatives.
---
3. Hol Food
This is the Canadian meal replacement that might replace Soylent for you. It is not the only one, but Hol Food is often praised by the flavour profile and many Soylent users have found home here.
You will find Hol Food available in big tubs of 29 meals (400kcal). They have two premix flavours: Vanilla and Chocolate; but they also offer flavour boosts to give an extra touch to your shakes.
Unlike Soylent, Hol Food is not vegan, thus this might be an issue. If this is the case and you are looking to support Canadian manufacturers, have a look to Biolent.
The best case for the Canadian brands is that they will not be stopped in the borders, as other brands' product might do. With Hol Food, you are secure to have your complete food shipment fast and on time.
Good For: those who want to support local brands and want a speedy delivery.
---
Best Soylent Alternatives Rest of the World
So, the "rest of the world" might be a bit of a broad term; but in terms of offering there is a huge gap between Europe, North America and everywhere else.

Some brands like Jimmyjoy, Huel, Powdermatter and Jake provide with worldwide delivery, but it will come with big extra costs. Thus, I would recommend to go local if you can.
Unsure of which brands are local? Check the Ultimate MR list to easily find them.
Taking all this into account, I must admit that is hard to pin-point which brands might be the best Soylent alternatives for you; since it depends on the location. However, these are my top 3 picks to replace Soylent, no matter where you are.
1. Queal
Not much to add besides the points made earlier.
The reason why Queal makes the list is due to the very reasonable shipping costs. For instance, sending 20 bags (60 meals of 700kcal) to Japan will only cost you €25.25 extra (shipping fees). This is much better than, 99% of the companies.
For a relatively small fee, you will be able to enjoy all the Queal products, their awesome flavour range, and all the loyalty rewards. You could even subscribe for 15% off, and almost remove the shipping costs.
The only issue will be the delivery times, which will be much longer than if you were ordering locally.
Good For: People that want the most affordable RTD.
---
2. Superbodyfuel
I mentioned it above that Superbodyfuel has a flat shipping fee of $30 in orders above $100. Therefore, ordering from every part of the world is doable.
Superbodyfuel has other 3 products, besides Super Fuel: Milk Fuel, Athlete Fuel and Keto Fuel. All of them require you to add either milk or oil; but provide different macronutrient profiles. If you are looking to the closer thing to Soylent from a macronutrient standpoint, Super Fuel will be the one for you.
Most of the products are very similar. They are based on a gluten free oats (less or none in the keto mix), protein source (organic brown rice) and a custom micronutrient blend.
Good For: Those who are looking for affordable meal replacements and they have no local option.
---
A Deeper Look to the Meal Replacement Market in the US: Where are the Soylent Alternatives?
There is an issue in the US and that is the lack of US based meal replacement companies, when we compare it to Europe. Soylent has dominated the American market easily, up until European giant Huel and others came to dispute it.
Thus, I have been trying to come up with reasons why the market is so poor in the US.
An Opinion from Other Experts
I asked around, to other knowledgeable people on the topic what their opinion was.
Actually I don't think the meal replacement market in the USA is bad. In a year we will have three or four viable RTD products selling on Amazon and their own sites: Soylent, Saturo, Plenny Drink and possibly Huel. I think Soylent will continue to be the only one with serious retail presence, just because it is so hard to break in. If Soylent does a wonderful job of advertising themselves, so as to create the concept of a healthy casual liquid meal in the public's mind, then buyers might be willing to entertain one other from the category just for variety. But Soylent so far hasn't shown any ability to market well, or willingness to spend money on national marketing.

Fernly from Futurefood
This statement while it is true, I partially disagree with. While the competition will certainly increase in the future, this raise is not driven by homemade products, but by European companies importing their product. Yes, Huel makes his powder in Canada for the North American market, but the company is still based in the UK.
Furthermore, it still does not answer why there are not more US based meal replacement companies. While in the EU are more than 33 companies (including very important ones like Huel, Jimmyjoy, Queal, Ambronite, Jake); in the US there is about 20 (with many of them being keto-only). This disparity might not seem that big, but I wonder if you can name any other brand besides Soylent?
The US Market Has Small Businesses But Not Many "Giants"
When you have a look to the companies in the meal replacement market in the US, you realize a trend. A lot of them are small businesses with 5 people or less doing the work. As a result their website looks fairly rustic, their packaging is often "unbranded" and their production and scalability capabilities are limited.
A Case Study: Superbodyfuel
Let's take as an example Superbodyfuel. It was first started by Alex Cho Snyder in 2014 and that is fairly popular (particularly in forums) due to its crazy low price and subsidized worldwide shipping (which makes it actually a viable product for "remote" places like AUS).
Their website does not look like a corporate company (not a bad thing). For instance, they do not seem to have a logo, their products come in brown bags with nutritional labels, and their social media presence is limited (or none existent).
By no means I see this as bad, but as limitations to grow and become "brands". When you compare this to newer brands in Europe, like Kuik, Satislent, Shake2day or Runtime (even Saturo!) you can see a big difference between them.
Soylent: The Only Big US Brand
This is only partially true, since you have Ample (with more than 10 employees). However, it is THE brand. The father of all, the most widely recognized and the one with the most retail presence.
While not all has been a fairy tale for Soylent (Soylent bar issues, problems with the RTD, the Canadian issue…), they have adquired a huge retail presence (Target, Costco, Wallmart and 7-Eleven, among others) and a big follower base.
Slow Expansion
Up until last year, Soylent only had 3 products out: Soylent Powder, Soylent Drink and Soylent Cafe (which basically is the caffeinated version of Soylent Drink). Plus, it was only available in the US.
On the contrary, Huel, which was born 2 years after Huel, was sold worldwide (with very strong presence in EU and US) and was selling 4 very different products.
In the final year, they have launched Soylent Bridge (small RTD) and Soylent Squared (bars), plus expanded to the UK. Therefore, while they have finally started being more aggressive in terms of expansion, it seems that this is coming late.
I am sure Soylent has been busy, it just does not seem they have advanced enough.
RTDs, What Are The Soylent Drink Alternatives?
Talking about Soylent, part of its success was the bet in ready-to-drink products. A strategy that was copied in Europe by Saturo and YFood, among others, creating brands solely focus in RTDs. On top of that, Mana, Huel, Jimmyjoy and Feed. have their own RTDs, making the offering in Europe quite varied.
What about the US? Well, no US based brands offer any RTDs, besides Soylent. Sated is trying to launch a ketogenic RTD, but it has been delayed to October 2019. As summarized on my best RTDs list, all the other ready-to-drink meal replacements in the US are from European brands: Mana, Saturo, Huel and Jimmyjoy.
One of the reasons for this, in my opinion, is the huge initial cost that developing an RTD requires (together with other manufacturing and logistic issues when compared to powder). As stated before, most of the US brands are small time companies that do not have the budget, the manpower or the will to develop these.
Reasons Why US Based Soylent Alternatives Are Limited
Is the Market Too Small?
This was one of my original questions. Dave (Fernly) does not think so: "It is large enough to allow quite a few small businesses to thrive"; furthermore, he thinks there is markets that have yet not been exploited, such as the medical market. I feel this is particularly valid in the US, and that would take a lot more effort in EU due to how health and healthcare system work.
A large potential market that I think is being overlooked is the medical market. Companies like JJ, Soylent, and Huel should be actively funding research in the use of meal replacements to feed patients with IBS and similar gut problems. They should be marketing directly to oral surgeons as the ideal food for patients following jaw surgery. They should be funding actual research into studies comparing Ensure to genuine nutrition for health in the elderly. All of these could generate new enthusiastic online buyers.
Besides this, it must be said, that the market currently is in early adopters phase; which means that the gross of the consumers have not yet discovered meal replacements.
Businesses Failing
It is true that there have been other businesses in the US, such as, 100% Food, Macrofuel, Feasy, Minute Macros… that have failed to succeed and have had to close down. However, this is true in Europe, too (Nutrilent, Cocolaid, FoodShakes…). Birth and death of start-ups is to be expected.
While some may take this as a hint to not being enough demand, I suspect is more about failing to market and failing to adquire customers.
Invasion From European Brands
It is true that Queal had to withdraw from the US warehouse, and they attributed this to not having enough sales. However, with Saturo just recently jumping to the US market, and Jimmyjoy and Huel having established there successfully; I think it shows that there are people interested on Soylent alternatives.
Just now, Mana has jumped to the US (fall 2019) and the French giant Feed. seems also interested on doing so. This would mean that up to 5 EU brands would have a base in the US.
Online Business: Easy to Start Hard to Grow
So if there is space in the market, why are there not more brands out there? One of the issues he points out is that is hard to get your brand out there (this is true in both sides of the Atlantic).
The meal replacement business is mainly an online business. Many of the brands that are currently successful (Superbodyfuel, Ketochow or Jimmyjoy) started as Soylent DIYs. The fact is that making your own powder based meal replacements is not very hard. You need to have some willingness to fail and improve your recipe via trial and error; but the ingredients are fairly easy to buy and mix.
The thing about selling only online is, it is hard to grow. To grow means finding a continual flow of new customers to try your stuff. But the nature of online sales is, the buyer has to go and find the product. Buying online requires a level of customer commitment and planning that retail does not. You have to make up your mind you want at least the minimum order size, and you have to enter your info and then wait days for the product, and face the risk that if you don't like it you will have a tedious return process, or maybe just have to write off your money. So online buyers are people who really believe in, or at least are really intrigued by an idea.
Thus, while there are some US based meal replacement companies, they do not seem to grow beyond a certain point (Superbodyfuel) or expand their repertoire to more products. This includes US (Grubsub, Joulefuel) and CAN meal replacements (Hol Food). Similar companies in Europe (Satislent, Vitaline, Runtime) offer more than 3 products on average (and multiple flavours).
Why are this companies not growing? Is it lack of ambition? Lack of funding? Is it hard to scale up? Is it the fear to Soylent?
Fear to Soylent: Is This Even a Thing?
Honestly, when trying to find out why there are not more brands, this is one of the arguments that pops up. I would expect that in the land of dreams, competition would pop up and fearless entrepeneurs would challenge Soylent. However, it does not seem the case.
The shadow of Soylent seems to put people in a conformist attitude, even when Soylent users ask for alternatives.
The Lack of Borders: a Double Edged Sword
Among other reasons why the US market is not wilder and more diverse; I think being a single nation pays a factor. In the EU, national boundaries create invisible barriers that protect certain brands and allow new ones to pop where others cannot reach. For instance, French people will have a bigger tendency to buy French products over foreign goods, thus there was a gap to fill when the initial companies started.
However, because in the US there is no boundaries, there is no local affiliation to any product and therefore, you do not really have a initial market you can "easily" sell your product, too. This might make marketing and acquiring customers harder.
List of Meal Replacements Available in US
*Canadian Brands.
**European brands
***Superbodyfuel products require adding milk (Milk Fuel and Athlete Fuel) or oil (Super Fuel and Keto Fuel) to be complete and the price for those is not included.
V= Vegan K= Keto NG= Non-GMO GF= Gluten Free S=Sport
A strong part of the competition, Plenny Shake and Queal shakes, are from the Europe, too. Surprisingly, they are the brands offering the cheapest alternatives. This is partially due to the fact that many US brands (except Soylent) are smaller companies with small manufacturing power (e.g. Superbodyfuel).
Keto Alternatives
Besides the keto shakes mentioned there, there are other specialized brands that only offer ketogenic meals: Sated, Ketochow, Ketologic, Keto One and Actualize.
The US does, in all honesty, have some of the best keto meal replacement shakes in the whole world.
Organic and Natural Alternatives
One of the main US based non-GMO, artificial additive free brands is Ample. Ample offers Ample Original ($5.53/400kcal); Ample Keto ($6.8/400kcal); and Ample Vegan ($5.95/400kcal). All products come on pre-bottled powder product (just need to add water) and you can purchase them in 400kcal or 600kcal. In fact, Ample products are some of the best natural shakes.
Another great alternative is the above mentioned, Ambronite Complete Shake. Good balance of fruits, nuts and vegetables to provide all your body needs from real food.
---
How to Find the Right Product
No matter the reason that made you look for a Soylent alternative; there are few key factors that you should consider before buying:
What is my region? I have divided this best of by region so you can easily identify your best Soylent alternatives.
Vegan or not vegan? Chances are that if you are loooking for a Soylent alternative, you will want a vegan shake, but there are non-vegan options, too.
Decide on a budget. Shakes can range from $5/meal to $1/meal. Price is often synonym of quality of ingredients; but this is not always the case.
Check the allergens and macronutrient profile. Because each brand has a different nutritional philosophy, the ingredients and macronutrient distribution will vary. Some might have more protein, or more carbs, or contain gluten etc.
FAQ
---
Final Thoughts
Soylent might be one of the most popular brands out there, but that does not mean is the only one or the best one. I hope that I have been able to show that with these Soylent alternatives.
If you still have any doubts, please leave a comment or email us, so we can provide you with the best alternative for you.
---
Sources
1.2015-2020 Dietary Guidelines for Americans.
2. WHO Nutritional Guidelines.
3. EFSA Nutritional Guidelines.
4. More in: latestfuels.com/resources. A compilation with different governmental guidelines and references.
5. Ultimate Meal Replacement List. List with all the brands that deliver to the US.