Meal replacement market in the US, where are the Soylent alternatives?
Why is the US market weaker than the European market?
I recently asked Fernly, owner of the very interesting forum Futurefood and very knowledgeable guy on the meal replacement topic, what he thought about the meal replacement market in the US. Not only he responded but he also took the time to answer the question in detail. His views on the US market are very interesting and I stronly recommend reading the full article.
Actually, just this year, Soylent is being challenged in the powder arena by Huel, and in the RTD market by Saturo, and very shortly by JimmyJoy. Huel intends to do an RTD in their home market and if it succeeds, they will no doubt try for U.S. via Amazon sales as well.

These companies are all competing in the online-sales market. This is distinct from the retail market, which needs to be treated separately.
The original question:
I have been trying to come up with reasons why the RTD market is so poor in the US (I guess you could really say the whole meal replacement market), and could not come up with any solid reasons why nobody has challenged Soylent.
Is the market too small?
Are there any problems with the supply chain or manufacturing process that make creating RTDs more troublesome and expensive?
The answer
Bottom Line

Actually I don't think the meal replacement market in the USA is bad. In a year we will have three or four viable RTD products selling on Amazon and their own sites: Soylent, Saturo, Plenny Drink and possibly Huel. I think Soylent will continue to be the only one with serious retail presence, just because it is so hard to break in. If Soylent does a wonderful job of advertising themselves, so as to create the concept of a healthy casual liquid meal in the public's mind, then buyers might be willing to entertain one other from the category just for variety. But Soylent so far hasn't shown any ability to market well, or willingness to spend money on national marketing.
That is Fernly's closing statement. A statement while it is true, I partially disagree with. While the competition will certainly increase in the future, this raise is not driven by homemade products, but by European companies importing their product. Yes, Huel makes his powder in Canada for the North American market, but the company is still based in the UK.
Furthermore, it still does not answer why there are not more US based meal replacement companies. While in the EU are more than 33 companies (including very important ones like Huel, Jimmyjoy, Queal, Ambronite, Jake); in the US there is about 20 (with many of them being keto-only). This disparity might not seem that big, but I wonder if you can name any other brand besides Soylent?
Anyhow, I am moving ahead of myself. So let's analyse the reasons why.
An overview on the meal replacement market in the US
The US market has small businesses but not many "giants"
When you have a look to the companies in the meal replacement market in the US, you realize a trend. A lot of them are small businesses with 5 people or less doing the work. As a result their website looks fairly rustic, their packaging is often "unbranded" and their production and scalability capabilities are limited.
It is easy to enter the online market. Back in the day, Super Body Fuel, Keto Chow, and Jimmy Joy all did this starting just from DIY recipes that people asked to be made up for them.
A case study: Superbodyfuel
Let's take as an example Superbodyfuel. It was first started by Alex Cho Snyder in 2014 and that is fairly popular (particularly in forums) due to its crazy low price and subsidized worldwide shipping (which makes it actually a viable product for "remote" places like AUS). Their website does not look like a company (not a bad thing), they do not seem to have a logo, their products come in brown bags with nutritional labels, and their social media presence is limited (or none existent).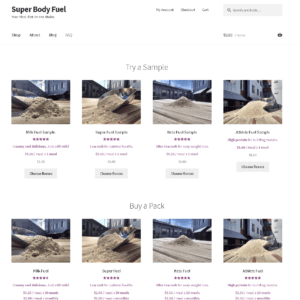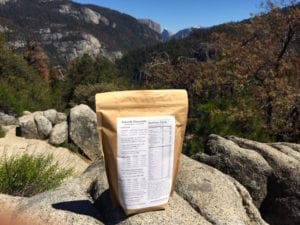 By no means I see this as bad, but as limitations to grow and become "brands". When you compare this to newer brands in Europe, like Kuik, Satislent, Shake2day or Runtime (even Saturo!) you can see a big difference between them.
Soylent: the only big US brand.
This is only partialy true, since you have Orgain (which is not solely dedicated to meal replacements) or even Ample (with more than 10 employees). However, it is THE brand. The father of all, the most widely recognised and the one with the most retail presence.
While not all has been a fairy tale for Soylent (Soylent bar issues, problems with the RTD, the Canadian issue…), they have adquired a huge retail presence (Target, Costco, Wallmart and 7-Eleven, among others) and a big follower base.
Soylent does offer 3 different products, Soylent Powder, Soylent Drink and Soylent Cafe (caffeinated version). All three, however, are very similar nutritionally speaking. High fat, low carb and not so many protein. There is not any "sport" version or light version, there has not been another release of Soylent bars nor there has been any significant chages.
In the meantime, Jimmyjoy has had 3 different powder products and a bar, and they just released their RTD. They have also been in the US for a while now. Huel has 3 different powders, a bar and a granola. Queal offers 4 different powders, a bar and a nootropic. All three brands have been available in the US and Europe for a while (even if Queal had to move out from the US warehouse back to Europe).
I am sure Soylent has been busy, it just does not seem they have advanced enough.
RTDs, another example of lack of diversity
Talking about Soylent, part of its success was the bet in ready-to-drink products. A strategy that was copied in Europe by Saturo and YFood, among others, creating brands solely focus in RTDs (only recently has Saturo launch their powder). Mana has also had their RTD for a while. Other European brands have also quickly followed the example, like Feed., Jimmyjoy, Trinkkost. Few, such as, Runtime and Huel are working on developing theirs.
Meanwhile in the US, there is… Soylent… and that is about it. Why is this? Why are the other brands not developing theirs? Only Sated has made a step forward and set a successful kickstarter campain to develop their ketogenic RTD.
One of the reasons for this, in my opinion, is the huge initial cost that developing an RTD requires (together with other manufacturing and logistic issues when compared to powder). As stated before, most of the US brands are small time companies that do not have the budget, the manpower or the will to develop these.
So yes, making an RTD product means you have to work with a bigger, more sophisticated co-packing company, have more stringent handling of raw materials, and it costs more per unit in packaging materials and for shipping. So your margins have to be less even though you still have to charge more per 100kcal than for powder.
The US meal replacement offer.
$/400kcal

$/Day
Profile
Milk Fuel***
1.00
5.00
V*
Plenny Shake**

1.43
7.15
V
PS Active**

1.44
7.20
V
Athlete Fuel***

1.59
7.95
V*,S
Soylent Powder (Pouch)

1.82
9.14
V
Huel (powder)
1.89
9.45
V
Pulve**
1.96
9.81
V
Super Fuel***

2.00
10.00
V
Queal Standard**

2.02
10.10
Queal Vegan**

2.09
10.45
V
Huel (GF)
2.14
10.70
V,GF
Queal Athletic**

2.17
10.85
S
Keto Fuel***

2.22
11.10
K
Biolent Original*
2.36
11.80
V
Grubsub
2.40
12.00
V
Biolent Keto*

2.50
12.50
K,NG, V
Queal Agile**

2.57
12.85
Biolent Flex*

2.64
13.20
V,NG
Soylent Powder (tub)
2.83
14.15
V
Joulefuel
2.91
14.55
S
Nutberg

2.92
14.60
V,GF,NG
Holfood*

2.96
14.8
Tudo*

3.19
15.95
V,GF
Parachute Shakes

3.23
16.15
V,GF
Shake2day Reg**

3.53
17.65
V
Athlete Shake*

4.00
20.00
V,S
Ambronite**
5.78
28.88
V,NG,GF
RTD
Plenny Drink**

3.00
15.00
V
Soylent Drink

3.25
16.26
V
Soylent Cafe
3.25
16.26
V
Saturo (330)**

3.85
19.25
V
Sated Drink

5.00
25.00
V,K
BAR
Break**

2.59
12.80
V
Twennybar**

2.86
14.29
V
GO Bar**

3.60
18.00
Huel Bar

–
–
V
*Canadian Brands.
**European brands
***Superbodyfuel products require adding milk (Milk Fuel and Athlete Fuel) or oil (Super Fuel and Keto Fuel) to be complete and the price for those is not included.
V= Vegan     K= Keto     NG= Non-GMO     GF= Gluten Free     S=Sport
A strong part of the competition, Plenny Shake and Queal shakes, are from the Europe, too. Surprislingly, they are the brands offering the cheapest alternatives. This is partially due to the fact that many US brands (except Soylent) are smaller companies with small manufacturing power (e.g. Grubsub, JouleFuel, Superbodyfuel).
Keto Alternatives
Besides the keto shakes mentioned there, there are other specialised brands that only offer ketogenic meals: Sated, Ketochow, Ketologic, Keto One and Actualize (You can find them in the Ultimate Meal Replacement List).
Organic Alternatives
One of the main US based non-GMO, organic brands is Ample. Ample offers Ample Original ($5.53/400kcal); Ample Keto ($6.8/400kcal); and Ample Vegan ($5.95/400kcal). All products come on pre-bottled powder product (just need to add water) and you can purchase them in 400kcal or 600kcal. They are quite expensive when compared to Huel, but similar to Ambronite, which also offers a "premium" shake.
So why do I think this is the case?
Is the market too small?
This was one of my original questions. Dave (Fernly) does not think so: "It is large enough to allow quite a few small businesses to thrive"; furthermore, he thinks there is markets that have yet not been exploited, such as the medical market. I feel this is particularly valid in the US, and that would take a lot more effort in EU due to how health and healthcare system work.
A large potential market that I think is being overlooked is the medical market. Companies like JJ, Soylent, and Huel should be actively funding research in the use of meal replacements to feed patients with IBS and similar gut problems. They should be marketing directly to oral surgeons as the ideal food for patients following jaw surgery. They should be funding actual research into studies comparing Ensure to genuine nutrition for health in the elderly. All of these could generate new enthusiastic online buyers.
Besides this, it must be said, that the market currently is in early adopters phase; which means that the gross of the consumers have not yet discovered meal replacements.
There have been businesses failing but that is the same in Europe
It is true that there have been other businesses in the US, such as, 100% Food, Macrofuel, Feasy, Minute Macros… that have failed to succeed and have had to close down. However, this is true in Europe, too (Nutrilent, Cocolaid, FoodShakes…). Birth and death of start-up is to be expected.
While some may take this as a hint to not being enough demand, I suspect is more about failing to market and failing to adquire customers.
European brands keep coming, so there is interest for Soylent Alternatives
It is true that Queal had to withdraw from the US warehouse, and they attributed this to not having enough sales. However, with Saturo just recently jumping to the US market, and Jimmyjoy and Huel having established there successfully; I think it shows that there are people interested on Soylent Alternatives.
Online business: easy to start hard to grow.
So if there is space in the market, why are there not more brands out there? One of the issues he points out is that is hard to get your brand out there (this is true in both sides of the Atlantic).
The meal replacement business is mainly an online business. Many of the brands that are currently successful (Superbodyfuel, Ketochow or Jimmyjoy) started as Soylent DIYs. The fact is that making your own powder based meal replacements is not very hard. You need to have some willingness to fail and improve your recipe via trial and error; but the ingredients are fairly easy to buy and mix.
The thing about selling only online is, it is hard to grow. To grow means finding a continual flow of new customers to try your stuff. But the nature of online sales is, the buyer has to go and find the product. Buying online requires a level of customer commitment and planning that retail does not. You have to make up your mind you want at least the minimum order size, and you have to enter your info and then wait days for the product, and face the risk that if you don't like it you will have a tedious return process, or maybe just have to write off your money. So online buyers are people who really believe in, or at least are really intrigued by an idea.
Thus, while there are some US based meal replacement companies, they do not seem to grow beyond a certain point (Superbodyfuel) or expand their repertoire to more products. This includes US (Grubsub, Joulefuel) and CAN meal replacements (Hol Food, Tudo). Similar companies in Europe (Satislent, Vitaline, Runtime) offer more than 3 products on average (and multiple flavours).
Why are this companies not growing? Is it lack of ambition? Lack of funding? Is it hard to scale up? Is it the fear to Soylent?
Fear to Soylent: is this even a thing?
Honestly, when trying to find out why there are not more brands, this is one of the arguments that pops up. I would expect that in the land of dreams, competition would pop up and fearless entrepeneurs would challenge Soylent.  However, it does not seem the case.
The shadow of Soylent seems to put people in a comformist attitude, even when Soylent users ask for alternatives.
Other ideas
The lack of borders might be a double edged sword
Among other reasons why the US market is not wilder and more diverse; I think being a single nation pays a factor. In the EU, national boundaries create invisible barriers that protect certain brands and allow new ones to pop where others cannot reach. For instance, French people will have a bigger tendency to buy French products over foreign goods, thus there was a gap to fill when the initial companies started.
However, because in the US there is no boundaries, there is no local affiliation to any product and therefore, you do not really have a initial market you can "easily" sell your product, too. This might make marketing and adquiring customers harder.
The cost of manufacturing or sourcing ingredients is higher
Honestly, this is blindly firing ideas. I doubt this is the case, but it is clear that Netherlands is a hub for European meal replacements because logistical and manufacturing benefits that make the cost higher. It is not possible if not that most of the brands are located in such a small country. Mayhaps the oppossite is true in the US.
Conclusion
Honestly, I really appreciate Fernly's answer to my original question. However, the WHYs to the issue are still an enigma for me:
Why are there so many more brands in Europe?
Why is there no real alternative to Soylent besides the European brands?
Why are the US based brands not scaling and trying to compete with Soylent?
What are the limiting factors to produce and market meal replacements in the US?
So maybe, he is right that the meal replacement market in the US is not bad, but I still think this is mainly because EU brands have come over and "invaded" the US. Thus, I would like to know where the local brands are. Please share your ideas in the comment section, because I have none.