There is a new boy in town. He is not from around. He is from Austria. Australia? No, Austria, where Arnold Schwarzenegger is from. But is Arnie not from California? No, he is from Austria, the small European country in the middle of the Alps neighbouring Germany, Switzerland, Italy, Hungary, Czech Republic and Slovakia. Either way, Saturo has crossed the Atlantic and it is ready to start its American dream. However, we all know that the American dream is not as sweet or as easy to achieve as they show in the movies. Let's see if Saturo US can make it.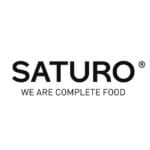 3 sites you need to visit to learn about Saturo:
8 Things you should know about Saturo US
1. Who is Saturo?
Saturo is an Austrian brand focused on ready-to-drink (RTD) meal replacements. They offer soy based, high fat low carb vegan shakes.
2. What is Saturo US?
Saturo is expanding their operations to the US and they will start selling their RTD products in Amazon and the US Saturo website.
3. Why is this happening?
The European RTD market is really competitive at the moment with many brands releasing their RTD versions. However, in the US Soylent dominates the market almost on its own. Saturo believes they can take a piece of the apple pie.
4. When is Saturo available in the US?
Saturo will be available in Amazon as for the 5th of October of 2018.
5. Where can I buy Saturo?
In Amazon as for tomorrow and in the Saturo US website in the near future.
6. What products does Saturo offer?
In Europe Saturo offers, 2 sizes of RTD products (330ml and 500ml) available in 8 flavours and a caffeinated version; as well as a cocoa meal replacement bar.
In the US they will start by offering limited edition Vanilla and limited edition Chocolate flavours of 330ml RTD version.
7. Why should I buy Saturo?
Saturo is praised by its flavours and is the it offers a sixth of your daily nutritional needs (2,000kcal diet) per 330ml. You will be able to get a balanced meal with the very best taste a shake can offer.
8. Is Saturo better than Soylent?
Saturo is practically similar to Soylent. While, currently Soylent offers more flavours and it is likely to be cheaper, soon Saturo will offer a wider array of flavours and a meal replacement bar (which currently Soylent does not offer).
I feel that before that, Saturo will be a mild (aka not very different) alternative to Soylent and it will be worth considering only if you are looking for something different, or believe Saturo's taste is better. In the future, Saturo is likely to offer more flavours and more interesting combinations than Soylent.
What is Saturo US?
Saturo will start offering their RTDs in the US, starting on Thursday 05/10/18. The move was announced after a 6 digit figure funding round with Square One Foods on the 18th of September.
They have a website (us.Saturo.com) in which they list some of the features of their drink and offer a raffle to win a Saturo package at launch. I would love if it were a lifetime Saturo subscription. That would have been a great prize to win.
However, it seems that the initial launch platform will be Amazon.
When will Saturo be available in the US and how?
Initial reports seem to suggest that Saturo will be first available through Amazon and that will only sell the 330ml (330kcal) version of their RTD in Chocolate and Vanilla version.
The price in the Amazon Store is $25.45 for a 8pack (330ml). This works out about $0.28/Fl Oz, which is more expensive than Soylent Drink ($0.22/Fl Oz). I was expecting the price to be higher than Soylent, but I was hoping it would remain under $3, since in Europe the same Saturo shake costs $2.60; thus, with a little extra cost for the shipping and other logistic costs $3 would be a reasonable price.
I expect they will use Amazon at the start to take advantage Amazon's warehouse and logistic apparatus. With that, they will be able to spread the word and increase awareness, for when the full launch of the website happens later on the line (26th of October?).
What does Saturo offer?
In Europe, Saturo offers 2 different sized RTDs: 330ml and 500ml (which come in different flavours); a coffee version of their 330ml and 500ml bottles; and a cocoa bar. They also have a large Taster Pack with 8xOriginal, 8xVanilla, 8xChocolate, 8xStrawberry (all in 330ml) or a small Taster Pack which includes all Saturo's products including the cocoa bars.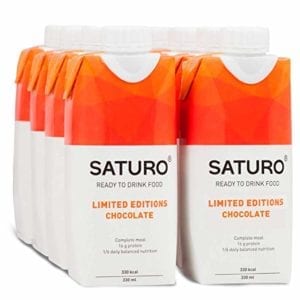 Check the full lineout of Saturo products in the full Saturo review.
What will Saturo offer in the US?
What Saturo is going to initally launch in the US is the 330ml version of their product:
Saturo RTD 330ml
Meal Replacement
Ready-to-drink
330kcal/meal
20P/35C/44F % of Energy from
8g of added sugars/1.4g of Saturated Fats per serving
Price is unknown.
Soy and Gluten
The flavours listed in Amazon currently are Limited Edition Chocolate and Limited Edition Vanilla. These two are some of the most popular flavours in the European line-up. The 330ml RTD comes with 330kcal, mainly from fat. While 44% of the total calories is more than what is recommended in the US guidelines, Soylent follows a similar patter to much success. High fat low carb profiles are quite popular among meal replacement brands. It might take a little to get used to it, but it should not cause you any health issues.
Each shake also comes with 16g of protein (32% of RI) and 29g of carbs (11% of RI). The protein comes from soy protein isolate mainly. While, I would not consider this ideal, soy protein does have a high digestibility score and a total of 96g protein per day should be sufficient for most people.
As for the carbs, the main sources are maltodextrin and isomaltulose. Ironically, isomaltulose is a sugar with a low glycemic index (GI) while maltodextrin is a complex carb with high GI (meaning that has more impact in blood glucose levels). However, the overall GI of Saturo is really low and should be suitable, even for diabetics.
Saturo Vs Soylent Drink; which one is better?
Flavour variety and taste

Two sizes (EU)

Cocoa bar
Small Taster pack
Very similar nutritionally to Soylent

Price in the US
Price
Brand name and set customer base

Have been releasing more flavours

Availability
Products have not changed much

Still limited flavour range

People are looking for alternatives
General Information
Saturo is the European Soylent. They produce high fat low carb ready-to-drink shakes. They offer vegan shakes that have high oleic sunflower oil, isomaltulose, maltodextrin and soy protein isolate as main ingredients. Saturo's main strength is the wide array of flavours that offers in Europe.
Soylent Drink is the mother of all RTDs. A high fat low carb drink available in 4 flavours; Vanilla, Cacao, Strawberry and Original. 20g of soy protein isolate, 26 micronutrient, a low GI profile and 500mg of omega-3 per 400kcal serving
Soylent Drink's caffeinated brother available in 3 flavours: Cafe Chai, Cafe Vanilla and Cafe Mocha. Nutritionally identical to Soylent Drink.
| | | |
| --- | --- | --- |
| | Soylent | Saturo |
| From | USA | AUT |
| Ships to | USA & UK | EU & US* |
| $/400kcal | $$$ | $$$ |
| C/P/F | 38/19/43 | 36/20/44 |
| Allergen | Soy | Soy |
| kCal/meal | 400 | 330 |
| Serv/day | 5 | 6 |
| Suitable | Vegan | Vegan |
| Flavours | 5 | 2 |
| Products | 2 | 1 |
| Subscription | 10% | 10% |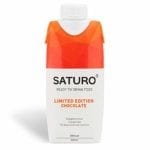 Go to Amazon.com (US)
Nutritional breakdown
Note: The serving sizes are different, thus having more fats or more carbs per serving does not mean one is richer than the other per se. DV stands for Daily Value and showcases the percentage of the daily requirement for an specific nutrient.
| | | | | |
| --- | --- | --- | --- | --- |
| per serving | Soylent Drink | DV (%) | Saturo | DV (%) |
| Energy (C/P/F) | 38/19/43 | – | 35/20/44 | – |
| Energy (kCal) | 400 | 20 | 330 | 16.6 |
| Fats (g) | 21 | 32 | 16.0 | 21 |
| Saturated (g) | 2.0 | 10 | 2.0 | 10 |
| Monounsaturated (g) | 15 | – | 12.0 | – |
| Polyunsaturated (g) | 3.5 | – | 2.5 | – |
| Trans fat (g) | 0.0 | – | 0.0 | – |
| Cholesterol (mg) | 0.0 | 0 | 0.0 | 0 |
| Carbs (g) | 37 | 13 | 27.0 | 10 |
| Sugars (g) | 9.0 | – | 8.0 | – |
| Added Sugars (g) | 9.0 | 18 | 8.0 | 16 |
| Fiber (g) | 3.0 | 12 | 4.0 | 16 |
| Soluble fiber (g) | – | – | 1.0 | – |
| Protein (g) | 20 | 40 | 16 | 33 |
| Salt (g) | 0.3 | 13 | 0.25 | 11 |
One thing worth mentioning from this table is that Saturo seems to be richer in saturated fats than Soylent, since both have 2g per serving, but Saturo's serving is smaller. However, they are both within the Daily Values.
Main Ingredients:
| | | |
| --- | --- | --- |
| | Soylent Drink | Saturo |
| Fats | Sunflower oil, canola oil | Sunflower oil, canola oil |
| Protein | Soy protein isolate | Soy protein isolate |
| Carbs | Maltodextrin, Isomaltulose | Maltodextrin, Isomaltulose |
This is just to showcase that both drinks are increadibly similar ingredient and nutrition-wise.
Shipping, Subscription and Availability.
Currently, Soylent has a big advantage at this department, even more when we consider Saturo has only launched via Amazon.
Soylent offers a 10% subscription based discount, while Saturo does not offer any (not even in Europe). There is hints that this will change soon.
On top of that, Soylent offers free shipping in orders above $20 in the US (basically every order), while Saturo is using the Amazon apparatus. It does seem to be free shipping, at least to certain parts in the country. In the future, when Saturo launches its website, I would expect a similar deal to Soylent's free after $20.
In terms of availability, Saturo has only launched a few 8 packs in Amazon, since it says there are only 17 in stock (10 a.m CET). In the future, you will be able to buy from the website and Amazon; however, I would not be surprised if Saturo is able to arrange a deal with an US retailer to sell it in shops. At the moment, Soylent has the upperhand, since it is widely available in 7-Eleven stores, Wallmart, Target and Kruger among others. They also sell through Amazon and their own website.
So which one is better?
I would say currently Soylent has the upperhand because it offers more (flavours+products), it is more widely available and it is cheaper. However, once the full launch happens, I expect to see more flavours coming out from Saturo, flavours such as Hazelnut or Coconut that Soylent does not offer. Then, it will be interesting which one tastes better in the opinion of US customers.
Nutritionally they are both almost identical, so I would see no reason to choose one over the other in that regard.
---
Other RTDs Available