What to Expect From Soylent in the UK
When Soylent announced its launch back on September 2018, I made a fairly harsh article on why I thought they were destined to fail. Now almost a year later, after including Soylent on my best meal replacements in the UK list, I see myself in needs to reconsider. So here it is, Soylent UK, what is available and what to expect from the American brand.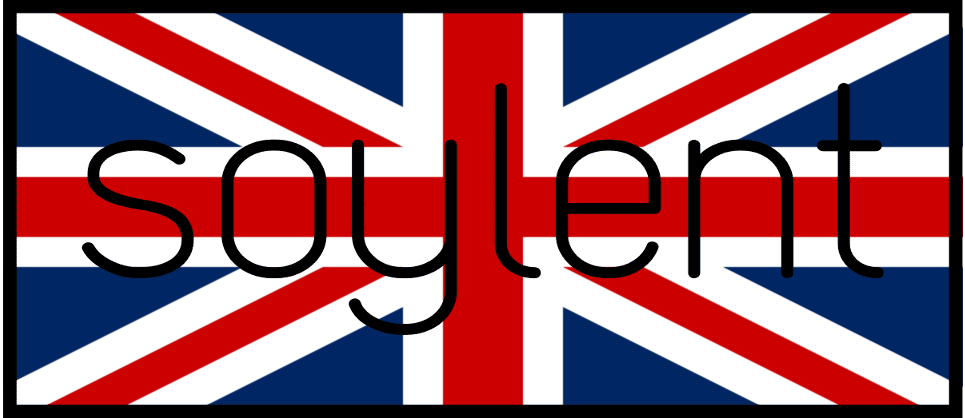 The Original Premise: An Enterprise with Tons of Hype, but Much Adversity
My initial assessment of Soylent's success in the UK was a negative one, particularly based on the following points:
Really strong competition, that did not really have in the US.
Not offering a product that was much different to what was currently available.
Failing to commit fully to the UK by only launching 3 RTDs out of their wider product offer and only selling via Amazon.
I think the points are quite clear but let's dive a little further and analyse why I might have been wrong.
Competition
In the UK, Soylent would have to compete vs multiple powder brands and many RTD products, including Saturo (Soylent clone), Mana (very similar to Soylent), Huel (the home King), Plenny Shake and YFood.
While in the US, Soylent can sell due to its brand recognition, this should be harder in the UK; since it is no longer the home product and Europeans should favour other factors, such as, price or flavour offering.
However, by using smart marketing and aggressive targeting of specific social groups (such as gamers, or London office workers), Soylent has brute forced their way in. Social media and in situ (London rail stations etc) giveaways have been used to spread the word.
Soylent Products are Similar to Existing Shakes
Another issue I had with Soylent was the lack of a different product or unique product. I, personally, did not see the appeal in Soylent's "overpriced" RTD when I could buy Saturo or Plenny Shake for almost £1 cheaper.
Initially, Soylent only launched Soylent Drink Original, Cacao and Soylent Cafe Mocha. Only the latter is somehow a unique flavour, and still YFood and Saturo do have coffee flavoured drinks. At a price of £3.33 per 400kcal bottle, this was just another drink.
Nevertheless, I underestimated the power of marketing. YFood is primarily focused in Germany, Saturo has been fairly quiet and Mana is fairly inactive in the UK (focusing on Central Europe, instead). With an UK based marketing agency, Soylent was the only brand (before Feed. opened the UK team) with the sole focus of selling their product to the UK customers.
Many of which were probably unaware of the meal replacement market or the different options besides Huel, hence allowing Soylent to get a share. On top of that I must admit that it is one of the best tasting RTDs.
Half-Assed Commitment, Perhaps Not so Half-Assed
On another note, I was also disappointed by the apparent lack of commitment Soylent had shown. Not only they had released a small portion of their range; but they did not develop a UK team or set up a UK warehouse or a functional website from which you could buy Soylent.
Instead, they took what in hindsight may have been the smarter approach. They used the budget on a PR agency, used the Amazon warehouses and site to diminish the logistics and the costs; and ship the product from the US.
Consequently, the kept the operation relatively low in cost, easily customisable (on size of team, budget, product etc); and with an easy way out if it failed.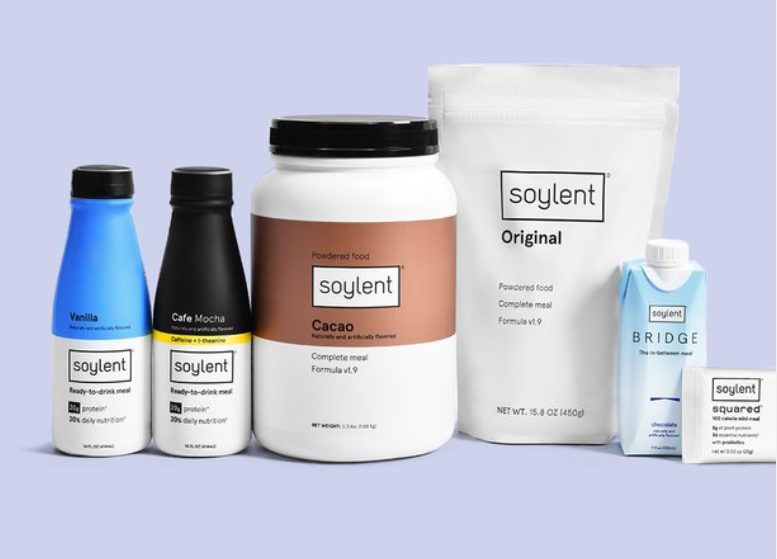 What Does Soylent Offer in the UK?
After all this talk about Soylent, you might wonder what they actually offer.
Initially, as mentioned, they launched only their ready-to-drink products in 3 flavours: Soylent Cacao, Soylent Original and Soylent Cafe Mocha. A strong enough repertoire.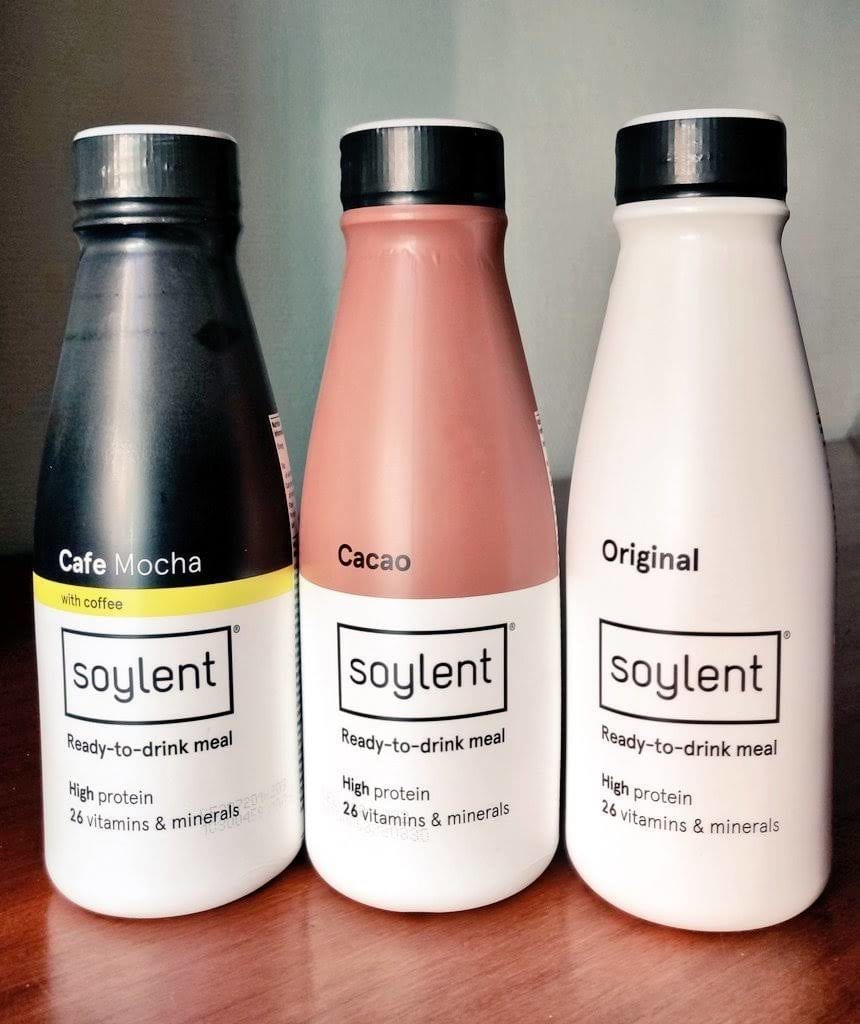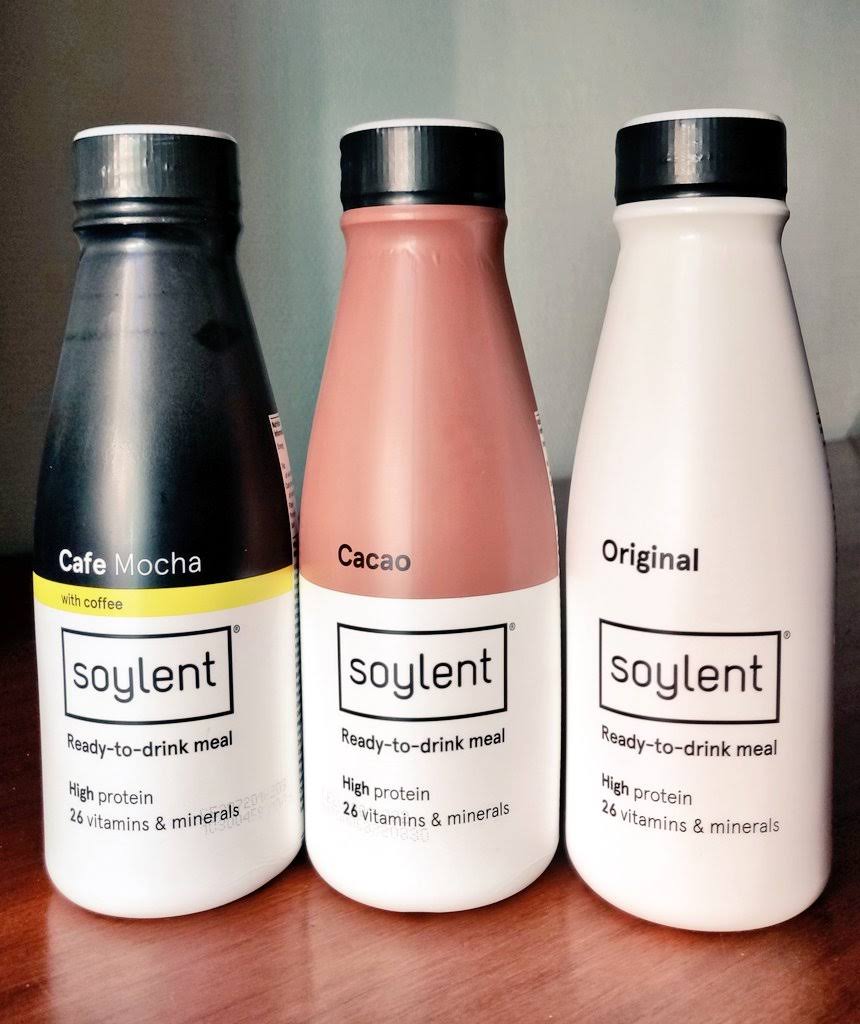 However, they did not bring their powder meal replacement, which generated some doubts for me. In Q1 of 2019, they brought Soylent Powder for the UK customers. Only in pouches of 10 meals (400kcal) in Original and Cacao flavours.
I have extensive reviews covering Soylent Drink, Soylent Cafe and Soylent Powder elsewhere on the site; as well as comparisons with Huel. Neverthertheless, here is an overview of the price and nutrition of the different Soylent products currently available in the UK.
| | |
| --- | --- |
| | Soylent |
| From | USA |
| Ships to | USA & UK |
| £/400kcal | 3.33 |
| C/P/F | 38/19/43 |
| Allergen | Soy |
| kCal/meal | 400 |
| Serv/day | 5 |
| Suitable | Vegan |
Soylent Original
Soylent Original is the base of all, silky, smooth and with taste that reminds ultra sweet soy milk. In my opinion, this is the most forgettable of all 3 options and I would not buy it unless you are thinking on adding flavour otherwise. For instance, Vanilla MyProtein FlavDrops could do it.
There are other similar products to Soylent Original, perhaps Mana and Saturo original being the closest. In my opinion, there is not much difference between Saturo and Soylent's Original flavours.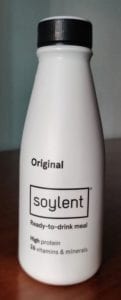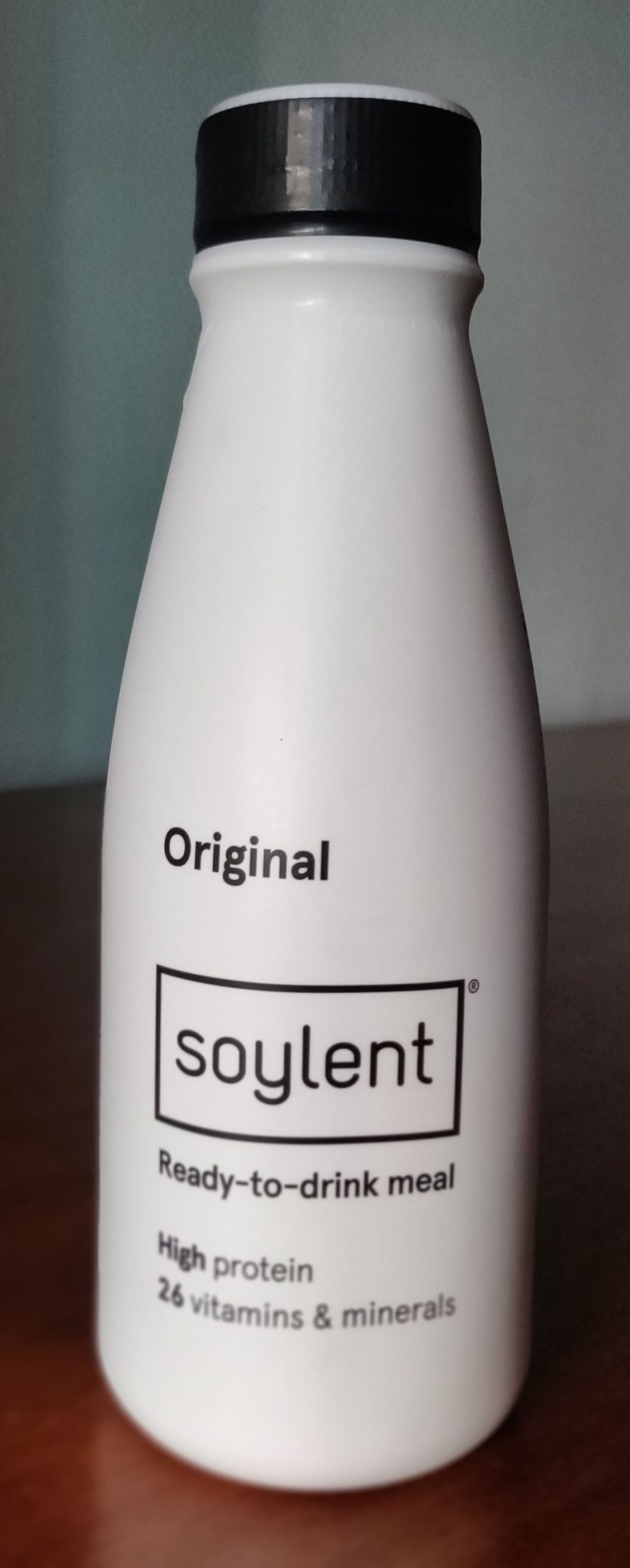 Soylent Cacao
Soylent Cacao is perhaps my favourite of all three. Besides being as smooth as Original, it has a nice chocolate touch. It is not very watery and has a nice thickness that makes it easy to drink. Although, it does have a soy milk taste in the background. If you are to try one, try this.
When comparing to other competitors, like Saturo Chocolate, Soylent Cacao is slightly more watery and has a milder chocolate flavour.
Soylent Cafe Mocha
Cafe Mocha is slightly different to the last two, since it contains caffeine. Thus, it is the ideal breakfast option for all caffeine lovers. Taste wise, it is quite sweet with a vanilla mocha touch. Reminds me of Starbucks drinks.
In terms of competition, most are much more expresso like; more bitter and stronger than Soylent's RTD. YFood coffee is a little milkier, latte like, while Saturo's is closer to a sweet americano.
Soylent Vanilla
The Vanilla flavour is one of the newest additions (now you have Mint Chocolate in the US); and it is a pretty good one.
Perhaps it is a little bit too sweet, but the faint vanilla goes very well with Soylent. It makes for a creamy, thick vanilla shake.
Nutrition
| | | |
| --- | --- | --- |
| per serving | Soylent Drink | RI (%) |
| Energy (C/P/F) | 35/19/46 | – |
| Energy (kCal) | 400 | 20 |
| Fats (g) | 21 | 30 |
| Saturated (g) | 2.1 | 11 |
| Carbs (g) | 32 | 12 |
| Sugars (g) | 9.3 | 10 |
| Fiber (g) | 2.9 | 15 |
| Protein (g) | 20.0 | 40 |
| Salt (g) | 0.8 | 13 |
Soylent Powder in the UK
Mayhaps, you are wondering why you should care about Soylent Powder, which did not even make my top UK meal replacement list.
In spite of that, Soylent does offer something interesting. Soylent Powder is smoother than Huel; has a sweeter taste; comes in smaller, more sleek bags, which are easier to store at the office; and might be easier to consume for many. It is likely a more beginner friendly option, at least.
One of the main complaints in Amazon is the price, currently costing £2.4 per 400kcal meal. When compared to other powders, this is indeed expensive, up to twice the price of a Huel shake. This is partially due to the fact that the powder is shipped from the US, before storing in the Amazon UK warehouses.
Cacao or Original?
For me the answer is quite simple: Cacao, every day. In fact, I think that Original is a little lackluster in flavour and rather plain for my liking. It is still sweet and has the peculiar soy taste, but I tend to end up flavouring mine, either with Flav drops, cacao powder or cinnamon.
On the other hand, I like the taste cacao brings. While not as smooth and silky as the RTD, it is remarkably so for a powder. Even more, when you compare it to the grittier Huel shakes. A nice change in pace. As a matter of fact, I believe that Soylent Cacao is easier to start with as a beginner than Huel Vanilla (or Chocolate).
Nutrition
| | | |
| --- | --- | --- |
| per serving | Soylent Powder | RI (%) |
| Energy (C/P/F) | 35/19/46 | – |
| Energy (kCal) | 400 | 20 |
| Fats (g) | 19 | 27 |
| Saturated (g) | 1.5 | 7.5 |
| Carbs (g) | 34 | 13 |
| Sugars (g) | 15 | 17 |
| Fiber (g) | 5 | 25 |
| Protein (g) | 20.0 | 40 |
| Salt (g) | 0.8 | 13 |
Where to Buy Soylent in the UK?
Online, Soylent is available in Amazon.co.uk. If you type Soylent you will get both the powder and the RTD versions. However, be aware that there will be also other brands (Mana, Saturo) which will come up. These are similar, but not the original Soylent.
There is a Soylent-UK website, but this one only contains information about the product and when you try to shop, it redirects you to Amazon.co.uk.
In retail, you will be able to purchase Soylent in WHSmith travel stores. Thus, if you are on an airport or commuting in the train, have a look for the healthier option. I definitely plan on using one on my next trip.
Pricing
In Amazon, both Soylent Drink and Soylent Powder are eligible for up to 15% discount as well as next day delivery (Prime).
Soylent Drink (Cacao, Original and Cafe Mocha) cost £39 per 12 bottle pack. This equals to £3.25/400kcal bottle.
Soylent Powder on the other hand, costs £24 per 10 meals of 400kcal. This is, £2.4 per meal before any discount.
Student Discount alert! Make sure to visit soylent-uk.com to get 15% OFF with Student Beans.
Soylent UK Future; What is Next?
I am no oracle, therefore this is a bunch of guesses. From a product offering standpoint, I think this will be all Soylent might offer for a while. Their focus is likely to be on market consolidation, so they can move a dedicated team (part of the Soylent company and not a PR agency) and perhaps start manufacturing in the UK.
For that, it might make little sense to introduce new products, since it might spread the focus and make the task of settling down more difficult. Thus, I would not expect to see Soylent Bridge or Soylent Squared (bars) before the end of the year at least (wild speculation).
While their PR agency (Taste) is doing a great job spreading the word, I still think Soylent will find it hard to establish themselves properly; as price and availability will always be an issue as long as they keep shipping from the US (as Queal, Saturo and Jimmyjoy know well from the reverse adventures).
Conclusion: Soylent UK Is Worth a Try…
… but it is not the ideal daily driver (for most). Only, those who love the RTDs will make the most out of Soylent's offer in the UK.
That is because when push comes to shove the reality is that Soylent Powder is a little too expensive for my liking. I think that there are plenty of EU manufacturers that produce a better product. It is worth trying since it only costs £24 in Amazon for 10 meals, thus it is not a big commitment at all (plus it comes with Prime delivery).
Check my top picks for meal replacement shakes in the UK in 2019.
However, Soylent Drink might be a more interesting product. Particularly if you find yourself on the go and unsure of what to eat (airports, train stations, …). If you work in London, pick one up next time you see it and give it a go.
FAQ
Where can I buy Soylent in the UK?
You can buy Soylent online in Amazon.co.uk or in WHSmith travel stores (often found in rail stations, airports and similar). Best to buy online, though.


What products does Soylent sell in the UK?
Soylent Drink Cacao and Original; Soylent Cafe Mocha; and Soylent Powder Original and Cacao are available in the UK. The first two are ready to drink products.


Is Soylent healthy?
Soylent is safe to drink and follows all the regulations in the UK. It is best used when replacing one or two meals a day.


What is best Soylent or Huel?
That will depend on the person and preferences on the types of shakes. Both have many of differences in nutrition, ingredients used, flavours and shake texture.

You can find out which one we prefer on the top UK shakes article.


Soylent Original or Cacao is unavailable?
The products are shipped from the US, before storing on the UK Amazon warehouse. Thus, it is possible that at times they will be out of stock.

You can always email soylent to ask about it or leave a comment and we will find it for you.