PowderMatter Review | The Cheapest Shake in Europe
Powdermatter is a small Czech company focused on delivering high quality products at the lowest price possible. A company full of passion for complete foods and the drive to make affordable nutrition a reality. This is a story of a personal project made a reality. A throwback to the roots of meal replacements.
Let's discover all about it, in this Powdermatter review.
This review is a little outdated (06/04/21), and some of the products mentioned here are no longer available (Nut Mania, for instance). Apologies for the inconveniences.
Overall Feeling: A Diamond in the Rough
Powdermatter is a true darkhorse, an underdog, an outlier in the meal replacement industry that captures the essence of the visioners of complete foods. A brand that has no right to compete with the giants (Huel, Soylent, Ambronite, Jimmyjoy), but yet delivers a product of exceptional quality at a price below the others.
Undoubtedly, this is high praise for any company, but the truth is I believe Powdermatter Original to be the best price/quality product in the market.
Nevertheless, there are flaws. The flavours are subtle, not as exciting as others (Complete 360 meal); the website is truly rough, although filled with information; not all products are available at all times; and it requires a leap of faith.
I strongly recommend you to take that leap of faith. Powdermatter is worth the try.
What I like
1. High quality products. Powdermatter products have organic local ingredients where possible. Even the Original shakes (cheapest) have most of the ingredients from organic origin. Besides, they are nutritionally complete, very balanced and contain no ultra-processed ingredients, like maltodextrin or isomaltulose.
2. Some of the lowest prices in EU, €1.1/400kcal. While this can be only achieved by bulk buys, the prices are low from the start and are some of the most competitive in the market.
3. Nutritionally different powders. For a company as small as Powdermatter, having 3 different powders is a feat. Particularly if 2 of those are fairly different from a ingredient and macronutrient distribution standpoint. You can get your high protein shake (Original) or opt for something heavier in fats (Nuts mania).
4. Worldwide shipping. Even if it is at a cost, Powdermatter offers worldwide shipping. Due to the low base cost of the powder, it might be worth paying the shipping fees for certain countries (CAN, US).
What I dislike
1. The website design. I do not hate the website, in fact I like how much information it offers (shipping costs, nutritional info, blog); however, it does give you an amateurish feeling. It does not inspire the confidence that other bigger brands do, with a more professional look.
2. It requires a leap of faith. This is closely related to the point above. The website does not inspire confidence in the customer and makes buying from Powdermatter harder.
3. No shaker available. Many (if not all) brands offer a free shaker with the first orders, as well as, the opportunity to get one. Powdermatter does neither. Not a big issue, but another extra step in the buying process.
Improvements
1. Having all the advertised products available. Currently there are a few products displayed on the website that are not available. I am hoping that they will be ready to be purchased soon; for instance, the meal replacement bar.
2. Improved website design. It will probably be a step that will come further down the line, but if Powdermatter wants to compete, it will have to undergo a facelift. Great user experience on your website is a must.
3. Nuts mania becoming a true real food based complete food. I mention that Nuts Mania aims to be an organic, additive free, whole food ingredient based shake; however, it is not there yet. I look forward to see the next iteration.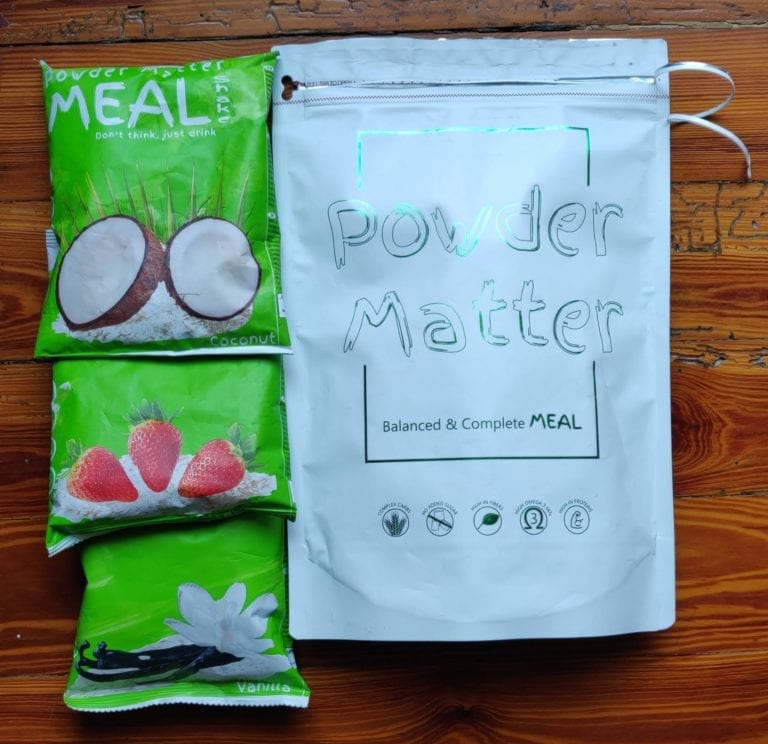 What PRODUCTS does Powdermatter offer?
Powdermatter, as the name suggests, focuses on powder based meal replacements. They currently offer 3 different products: Neutral, Original Vegan and Nuts Mania. Powdematter has also recently launched 3 different meal replacement bars.
Original Vegan v2.5 are part of the standard line-up . They both share the same formula, with the exception of the protein source; whey for Original and soy protein isolate for Vegan. These two are the cheapest shakes; you can get one for as cheap as €1.1/400kcal.
Nuts Mania is part of the premium line; which intends to be fully organic (not yet) and manufactured with locally sourced ingredients. This adds a little extra on the price, but might still be the cheapest amongst the competitors: €1.55/400kcal.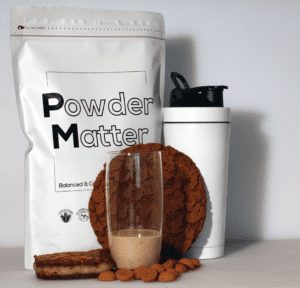 Powdermatter Neutral
Meal Replacement
Powder
419kcal/meal
20P/42C/35F % of Energy from
1.3g of sugars/2.9g of Saturated Fats per serving
Starting at: €1.6/400kcal
Cheapest: €1.10/400kcal
Allergen: Soy
---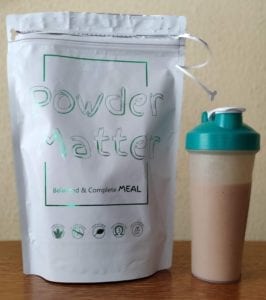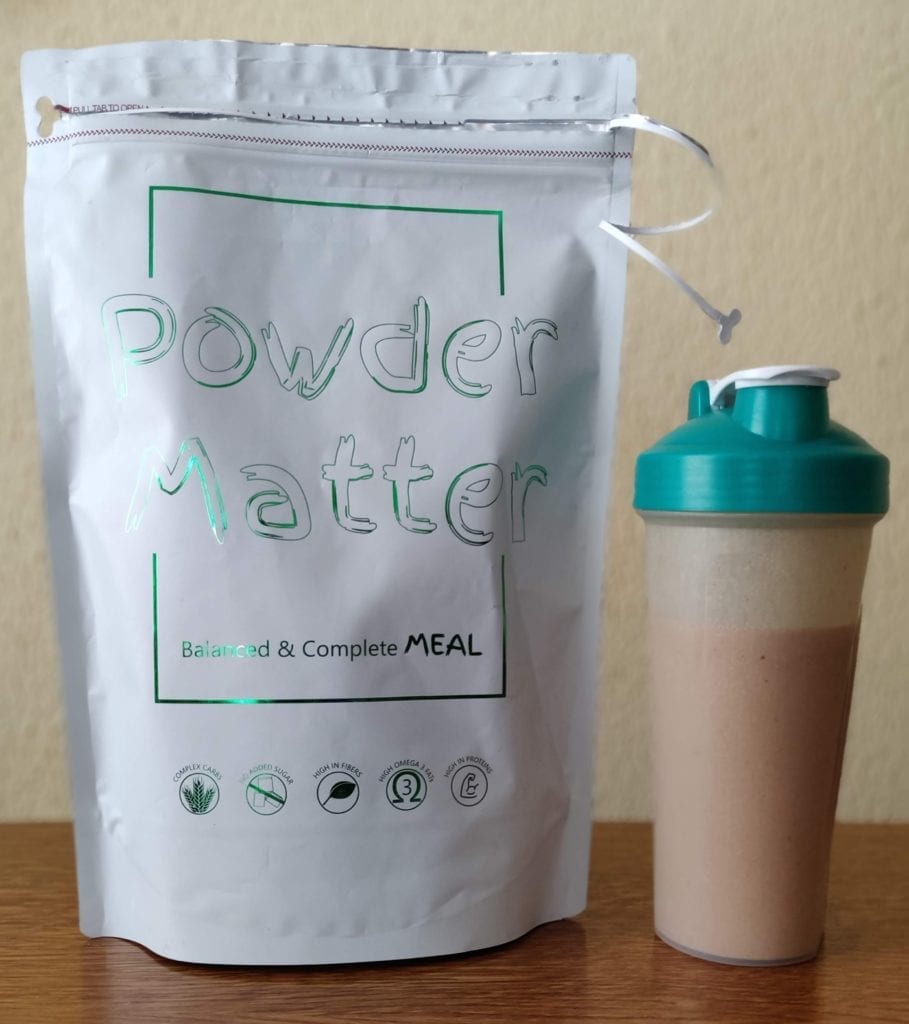 Powdermatter Vegan
Meal Replacement
Powder
400kcal/meal
30P/40C/30F % of Energy from
0.8g of sugars/2.3g of Saturated Fats per serving
Starting at: €2.13/400kcal
Cheapest: €1.10/400kcal
Allergen: Soy
---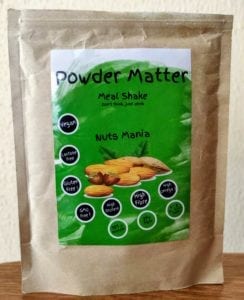 Nuts Mania
Meal Replacement
Powder
400kcal/meal
20P/45C/35F % of Energy from
1.6g of sugars/1.7g of Saturated Fats per serving
Starting at: €2.5/400kcal
Cheapest: €1.55/400kcal
Allergen: Almonds, Soy
---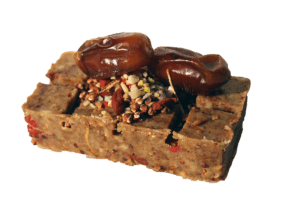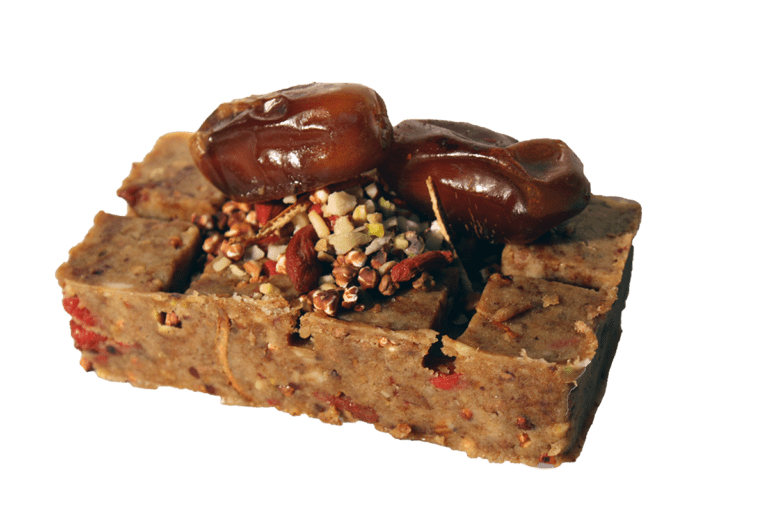 Powdermatter bars
Meal Replacement
Bar
400kcal/meal
25P/39C/36F % of Energy from
23g of sugars/2.6g of Saturated Fats per serving
Starting at: €3.5/400kcal
Cheapest: €3.0/400kcal
Allergen: Nuts, Soy*, Milk*
Brief Powdermatter Original – Vegan Reviews
I will have a brief look at them together, since both shakes are almost the same product; just with a different protein source.
Nevertheless, it is worth noting that because of this there are small differences in macronutrients and the texture of the shake. The texture is going to be thicker in the vegan based, due to soy protein acting as a thickener. The nutritional variations shown below.
| | | |
| --- | --- | --- |
| v2.0 | Protein content (per 100 gr) | Sugar content (per 100 gr) |
| Vegan | 30 | 0.8 |
| Whey | 29 | 1.8 |
Besides the minor differences; Powdermatter Original and Vegan will have identical macro distribution; ingredients; price points and flavours available.

Currently, there are 4 flavours: Vanilla, Chocolate, Coconut Chocolate and Unflavoured & Unsweetened.
Brief Nuts Mania Review

Nuts Mania is a different beast from the Original line-up. Starting from the ingredients, which is reflected on the taste; to the macronutrient distribution and target audience.
Nuts Mania has been created to develop a "premium" shake, based on organic ingredients and no additives. While is yet to reach that stage; it is most of the ingredients (with exception of soy and micronutrient mix) have organic/bio certificates.
Current ingredients: Superseed complex carbohydrate mix (Buckwheat*, Quinoa*, Golden Linseed*), Nuts mix (Almond*, Walnut*, Hazelnut), Soy Protein Isolate, Vitamin & Mineral mix, Natural aromas, Guar Gum, Xanthan Gum, Silicium Dioxide, Thaumatin. *Organic.
Nuts Mania is currently available in a single flavour. The shake is thick and has a strong nutty taste dominated by almonds with a hint of hazelnut.

Powdermatter is a different company, not only because of their aggressive pricing, but also because they use alternative ingredients in the shakes.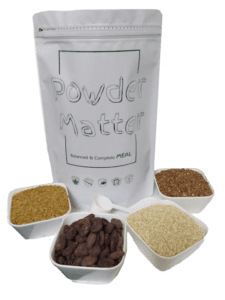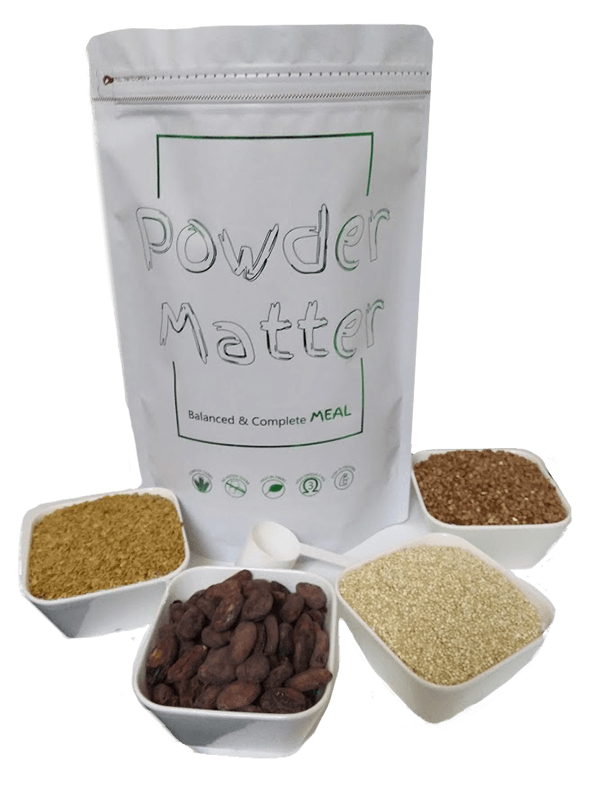 Energy
Powdermatter's recommended servings are around 400kcal for every shake. Thus, they are designed to be had in 5 servings.
Regarding the macronutrient distribution, the Original (Whey and Soy) shakes follow a low carb high protein approach, similar of Huel's. Nuts Mania has less protein in favour of more fats and carbs.
Powdermatter Original (Whey and Soy): 40C/30P/30F.
Nuts Mania: 45C/20P/35F.
Fats
Per serving (DRI based on EU recommendation for 2,000kcal):
Powdermatter Original (Vanilla)
Total Fats: 13.3g. 19.0% of the DRI.
Saturated Fats: 2.3g. 11.5% of DRI.
Monosaturated (MUFA): 7.4g. This is 17.1% of the calories per serving.
Polyunsaturated (PUFA): 3.3g. This is 7.4% of the calories per serving.
Omega-3: 1.2g.
Omega-6: 1.4.
Nuts Mania
Total Fats: 16.2g. 7.3% of the DRI.
Saturated Fats: 1.6g. 8.0% of DRI.
Monosaturated (MUFA): 7.2g. This is 15.7% of the calories per serving.
Polyunsaturated (PUFA): 7.2g. This is 15.7% of the calories per serving.
Omega-3 (ALA): 2.0g.
Omega-6: 4.0g.
Original Shakes Have Great Fatty Acid Balance
All original shakes have very similar fatty acid composition to that shown above (except coconut, see label). It is particularly interesting to see that MUFA and PUFA levels fall under the recommendations of WHO:
Energy from MUFAs between 15-20% of total calorie intake.
Energy from PUFAs between 6-11% of the total calorie intake.
All this while keeping the saturated fat content low; a formula thought to be metabolically benefitial.
Furthermore, omega-3 content is high and the omega-3/6 ratio is within the "ideal" range.
Nuts Mania is Not Bad Either
In fact, the fatty acid composition is great too. Even if the polyunsaturated fatty acid content is slightly higher than the WHO recommendations; there is research pointing out benefits of PUFA rich diets in fat oxidation processes.
Most importantly, both PUFA and MUFA levels are higher than saturated fatty acid levels.
Nuts Mania is richer than Powdermatter Original shakes in omega-3, but both have plenty.
Sunflower for Original, Nuts for Nut Mania
The differences on the fatty acid compositions come from the ingredients.
The main contributor to the original shakes is sunflower oil, a very common vegetable oil in the industry. On the other hand, Nut Mania uses the oil present on the different nuts (almonds, walnuts, hazelnut). These oils are very rich in nutrients, such as vitamin E or riboflavin.
However, both sources lack the essential omega-3 fatty acids. This is where golden linseed comes into play.
Carbs
Per serving:
Powdermatter Original
Total carbs: 35.8g, 13.8% of RI.
Sugars: 0.8g, 1.6% of RI.
Fibers: 8.0g, 40.0% of DV.
Nuts Mania
Total carbs: 43g, 16.5% of RI.
Sugars: 1.6g, 3.2% of RI.
Fibers: 8.2g, 41.0% of RI.
Powdermatter, unlike many other competitors, has a no maltodextrin policy. Instead, the company opts for less common complex carbohydrates, such as buckwheat and amaranth in their shakes.
Why Does Powdermatter Have Alternative Carbohydrate Sources?
What is the big deal with maltodextrin? Maltodextrin is a highly processed carbohydrate, cheap to manufactured and easy to use to make smooth shakes. However, there are some concerns about its nutritional value besides giving calories. It also has high GI value, which might have a negative effect on the long run.
The main alternative to maltodextrin are oats, a good complex carbohydrate. Although, oats might contain gluten and give a peculiar taste to the shakes.
While researching for top quality alternatives we stumbled upon buckwheat, and made us realise that using some other uncommon super-grains was also a possibility. To this end we decided to use buckwheat, amaranth and quinoa. We would also include the oats. These grains considered by some as superfoods, are called pseudo-grains because they are used as grains but actually are seeds. 


This would remove the oaty background taste.

Dirk, CEO of Powdermatter.
Amaranth, Buckwheat and Quinoa; What Are They?
Amaranth is a carbohydrate source that used to be one of the main energy sources for the Aztecs. It is mainly complex carbohydrates (65%), together with some protein (14%), some fat (7%) and water. Powdermatter uses uncooked grain which is rich in manganese, phosphorus and iron (USDA database).
Buckwheat is often found in gluten-free products. It is another excellent source of complex carbohydrates (72%), but includes some fat (3%), protein (13%), and plenty of minerals.
Last but not least, we have quinoa which has a similar composition to amaranth. It is highly regarded in the scientific community; being considered "outstanding grain" by FAO and by NASA for long space flights.
Protein
Per serving (400kcal):
Original (based on Vegan) – 30g (60.0% of RI).
Nuts Mania – 21g (42.0% of RI)
If you have ever read my reviews, you might know that I am a protein lover. Big advocate on high protein diets. Powdermatter products deliver in that regard.
Original Whey uses, obviously, whey protein concentrate (80%) as primary protein source; whereas the vegan version uses soy protein isolate (90%).
Both of these are great sources, with great Protein Digestibility Corrected Amino Acid Scores (PDCAAS) and multiple research backing their efficiency in muscle growth, healthy diets, and reducing muscular atrophy (among other things).
Protein
Protein
Efficiency Ratio
Biological
Value
Net Protein
Utilization
PDCAAS
Whey

3.2
104
92
1.00
Soy
2.2
74
61
1.00
This are different ways to measure the quality of a protein source. None of them is a perfect indicator, and all have flaws. Based on Hoffman and Falvo, 2004.
Pseudo-grains; a Source of Protein too
Perhaps the most interesting fact, however, is the quantity of protein coming from the pseudo-grains (quinoa, amaranth and buckwheat) plus oats.
Vegan: Soy Protein Isolate, 20g + 10g from grains.
Whey: Whey Concentrate, 19g + 10g from grains.
The grains contribution to protein content is: 2.5g from buckwheat, 2.5g from oats, 1.5g from amaranth and 1.5g from quinoa (1.5g come from linseed).
What about Nuts Mania?
Nuts Mania gets most of the protein from the ingredients (buckwheat, quinoa, almond, walnut, hazelnut and flaxseed), but has some soy protein (about 5g) added as well.
The lower quantity of protein is also hindered by the fact that some of the sources are low in essential amino acids (nuts). However, buckwheat (main source), quinoa, amaranth and soy are complete protein sources; which means that you should get all you require.
Micronutrients
Currently, Powdermatter products use a synthetic vitamin and mineral mix to provide you at least with 20% of your daily needs per serving. For some of them, 5 servings (daily dose) you will get above 100%, but this is nothing to be concerned about.
In the future, it is highly likely that Nuts Mania will provide the necessary micronutrients via real food ingredients (no vit-min mix), even though it is not the case yet.
Allergens
Original Vegan contains Soy and Gluten.
Powdermatter Whey contains Milk and Gluten.
Nuts Mania contains Soy, Almonds, Walnuts and Hazelnut.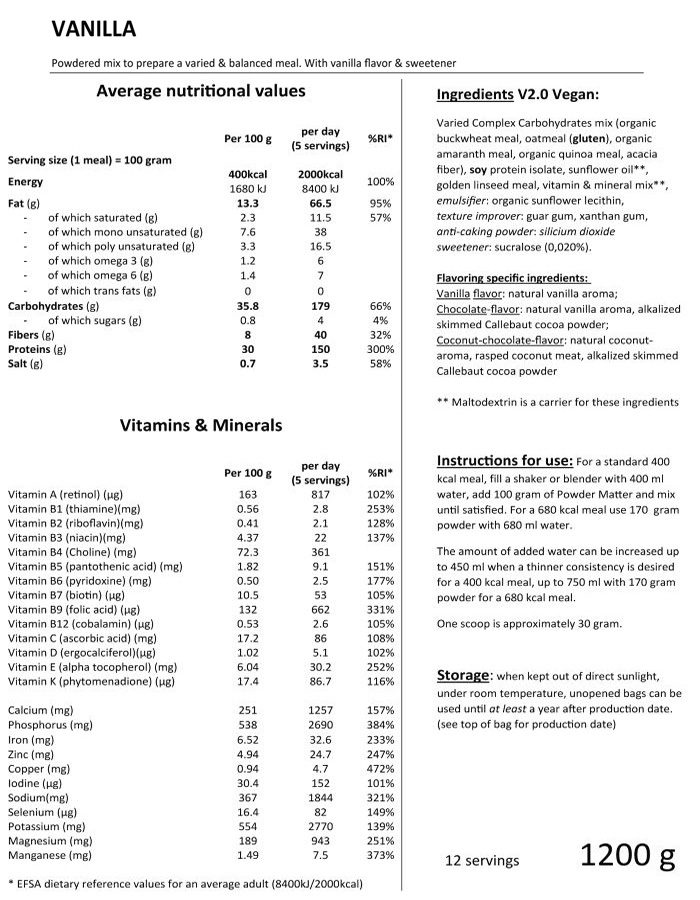 How does Powdermatter taste?
Powdematter shakes are fairly thick and have very subtle flavour, in general. Because of the partial removal of oats, they do not have the oaty background flavour.
The vegan shakes are a little thicker than the whey based ones (particularly if left overnight), due to soy acting as a thickener.
Overall: 7.8 (23.5/30)
Taste: 4/5
Flavour fidelity: 4.5/5
Texture: 4/5
Consistency: 4/5
Easiness to drink: 3/5
Hunger quenching:4/5
Vanilla
The Vanilla flavour is the mildest of them all. It is very similar to the Unflavoured & Unsweetened, but more palatable. I found this sake to be best used as a base to add other ingredients (such as banana or other fruits).
This is also probably the best flavour to have in a daily basis without getting tired of it.
TIP: Add cinnamon. Gives the shake a great twist.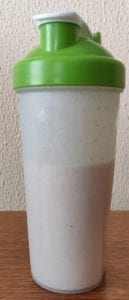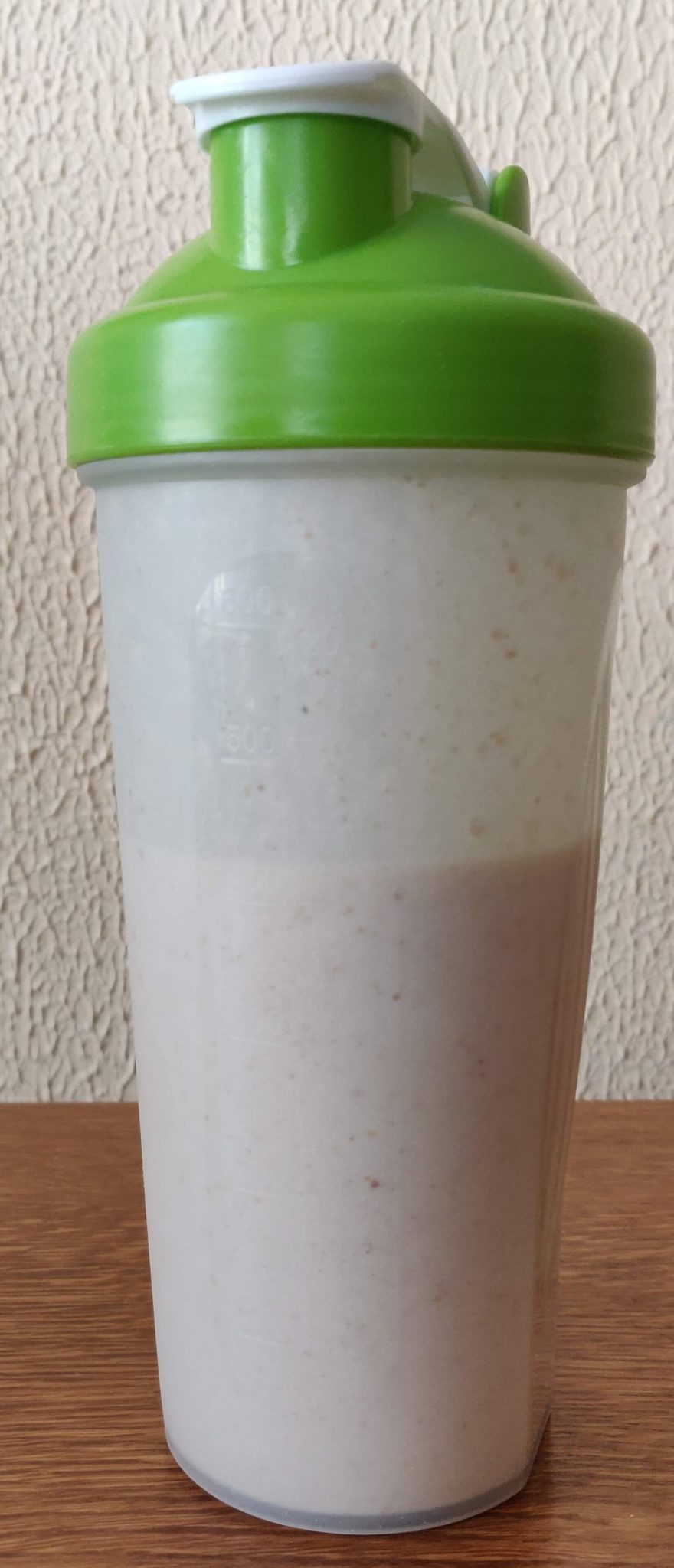 Chocolate
The chocolate flavour is perhaps my favourite, closely followed by Coconut Chocolate. Once again, the flavour is a little flat ( I would have liked it a little stronger).
Particularly for the vegan version, which needs a little more water (400-450ml).
TIP: Looking for a stronger flavour, add a tablespoon of raw cacao.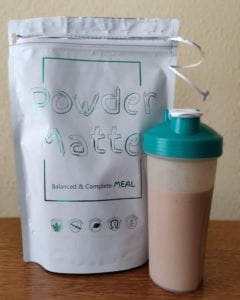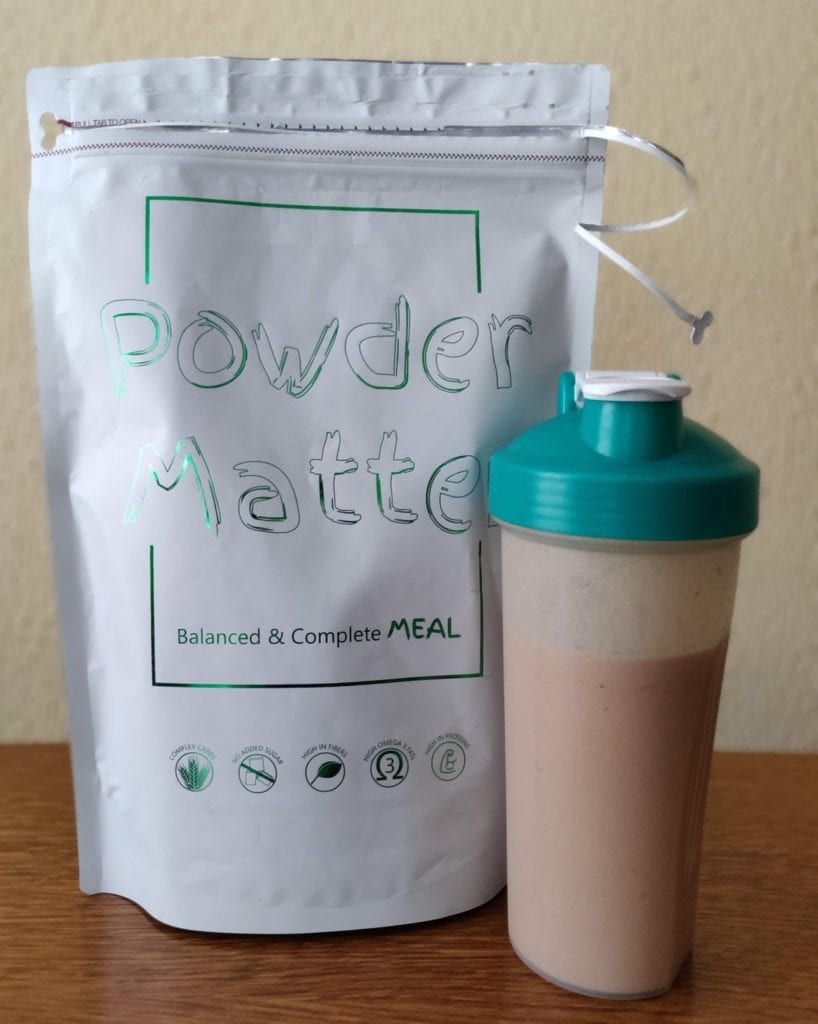 Coconut Chocolate
The grittiest of all flavours due to the coconut flakes in the mix. You will be able to see the flakes when you shake and chew them while you are drinking. I found this therapeutic, but it will be a no-no if you are into smooth shakes.
As far as the flavour goes, it is similar to bounty sweets, nice hints of coconut with chocolate background. Not overly sweet, and I chocolate it is better tasting.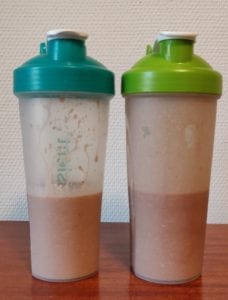 Unflavoured & Unsweetened
In my opinion (or my buds opinion, to be precise), the Vanilla version is pretty unflavoured already. However, Powdermatter U&U is the ultimate bland thick shake.
I would only recommend this flavour if you are planning to do your own flavours or really dread artificial sweeteners.
TIP: This is the best flavour to make fruit smoothies with. Add fresh berries or a banana. Supersmoothie time.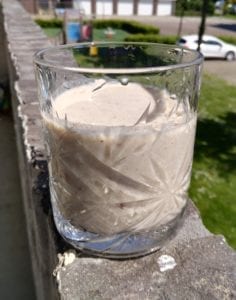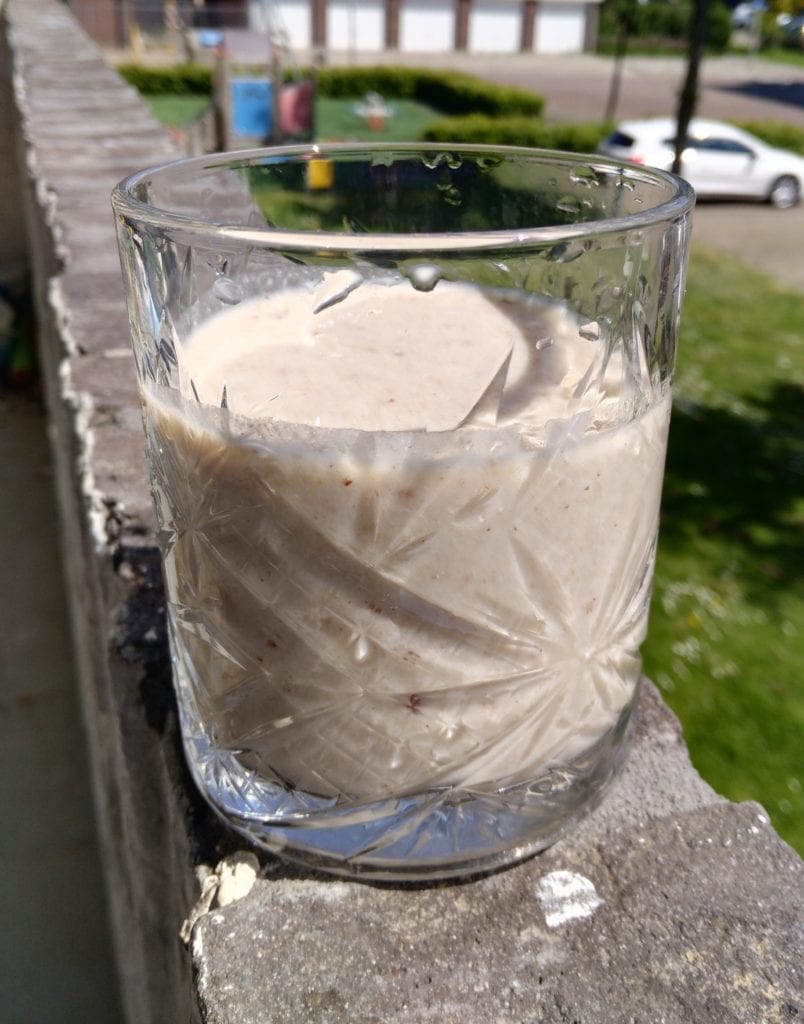 Nuts Mania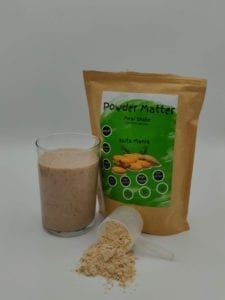 The name says it all. Nuts mania is dominated by walnut and almond flavour, with a hazelnut hint towards the end. Texture-wise you can notice the nut bits while drinking (as a result of home-milling of the nuts).
The shake is extra thick and the flavour dilates fairly fast with water. Getting the right water/powder ratio is key.
TIP: Add a little bit of grounded coffee (not brewed) for a extreme kick.
Powdermatter is here to compete with all the major European brands, offering a healthy and cheap alternative. Brands such as the reference for budget shakes, Jimmyjoy; the excellent tasting shakes of TheProteinWorks; or even the mighty Huel. On top of that, they have a premium line-up trying to offer the cheapest organic shake (not fully organic yet). They are here to make many enemies.
So let's compare Powdermatter to:
Plenny Shake from Jimmyjoy. The Dutch company, king of budget shakes.
Huel Powder. The most successful European shake.
Plenny Shake has long been the favourite of those looking for a cheap meal. Jimmyjoy's flagship product has been going many changes over the last year, but the following both in the EU and the US is still strong.
| | | |
| --- | --- | --- |
|   | PowderMatter | Jimmyjoy |
| From | CZE | NED |
| Ships to | World | World |
| $/400kcal | $ | $ |
| C/P/F | 40/30/30 | 55/15/30 |
| Allergen | Soy*, Milk*, Gluten* | Soy, Gluten |
| kCal/meal | 400 | 400 |
| Serv/day | 5 | 5 |
| Suitable | Vegan* | Vegan |
| Flavours | 4 | 7 |
| Products | 4 | 4 |
| Subscription | | 15% |
Flavours Available:
PowderMatter: Vanilla, Chocolate, Coconut Chocolate, and Unflavoured&Unsweetened. Nuts Mania (Nut flavour also available).
Plenny Shake: Vanilla, Chocolate, Strawberry, Mango, Coffee, Banana and Neutral.
Products Available:
PowderMatter: Original Vegan, Original Whey and Nuts Mania (premium powder).
Jimmyjoy: Plenny Shake, Plenny Active (Sports), PlennyBar (bar), and Plenny Drink (RTD)
Price:
Plenny Shake has had a recent increase in price. In order to get the best deal, you need to subscribe and get the 15% discount. Powdermatter, on the other hand, has bulk discounts set in place. Prices shown below are from Powdermatter Vegan.

| | | |
| --- | --- | --- |
| Price (€) | Plenny Shake | PowderMatter V |
| per meal (+ expensive) | 1.40 | 1.60 |
| per 400kcal (+ expensive) | 1.40 | 1.60 |
| per meal (cheapest) | 1.19 | 1.00 |
| per 400 (cheapest) | 1.19 | 1.00 |
| per kcal | 0.0030 | 0.0025 |
The breaking points for Powdermatter Vegan is cheaper than Plenny shake are:
5 bags or 60 meals (€1.35/400kcal).
11 bags or 132 meals (€1.1/400kcal).
Nutrition
| | | | | |
| --- | --- | --- | --- | --- |
| per serving | Powdermatter V | RI (%) | Plenny Shake | RI (%) |
| Energy (C/P/F) | 40/30/30 | – | 55/15/30 | – |
| Energy (kCal) | 400 | 20 | 400 | 20 |
| Fats (g) | 13.3 | 19 | 13.0 | 19 |
| Saturated (g) | 2.3 | 11.5 | 2.1 | 10 |
| Trans fat (g) | 0.0 | – | 0.0 | – |
| MUFA (g) | 7.6 | | | |
| PUFA (g) | 3.3 | | | |
| O3 (g) | 1.2 | 0 | 1.1 | 0 |
| O6 (g) | 1.4 | | 3.7 | |
| Carbs (g) | 35.8 | 13.8 | 52.0 | 20.0 |
| Sugars (g) | 0.8 | 1.6 | 5.6 | 6.0 |
| Fiber (g) | 8.0 | 40.0 | 7.2 | 36.0 |
| Protein (g) | 30.0 | 60 | 15.0 | 30 |
| Salt (g) | 0.7 | 11.7 | 0.4 | 8.0 |
Take into account that the nutritional values might vary with each flavour.
The first major difference between both shakes is the protein content. Plenny Shake has half the amount, 15g per serving for a total of 75g a day. Furthermore, it does not have any specific source and the protein comes from other ingredients (oatmeal, soy flour…). For any active person Powdermatter will be the better alternative (unless you want to buy Plenny Active – 27g/400kcal), since it will offer a more complete amino acid profile and more of it.
Looking at the carbohydrates, Plenny Shake uses oats as main source; whereas Powdermatter opts for quinoa, amaranth, buckwheat and gluten free oats. The second will be able to offer you a bigger variety on nutrient sources. Plenny Shake also has 15g more of carbohydrates per shake.
Funnily enough, both use sunflower oil and flaxseed to balance out their fats. Both shakes offer plenty of omega-3 and good quantities of each fatty acid.
Taste Trial
Having tasted both, Plenny Shake and Powdermatter Vegan; I must admit I enjoy Powdermatter's shake better.
Plenny Shake is a thinner shake, with a strong oat flavour in the background. The shakes are sweeter and have stronger flavour than Powdermatter's, but a few flavours (mango, strawberry) feel overly artificial.
Powdermatter's shakes are gritty and thick. You can notice the amaranth grains and/or the coconut flakes (in the coconut variation). The flavours are more subtle and less sweet than many other brands. Almost bland.
Which one should I buy?
Powdermatter V
Nutritionally the strongest product.
The cheapest option if you are going to buy big.
You like thicker shakes.
You are looking for a high protein shake.
Plenny Shake
Looking for a small buy.
You are a fan of swaping flavours often.
You enjoy thinner shakes (easier to drink).
---
Huel is the biggest brand in Europe, and perhaps in the world. The key to that success is Huel Powder, a shake loved by many people.
 
PowderMatter
Huel
From
CZE
UK
Ships to
World
World
$/400kcal
$
$$
C/P/F
40/30/30
40/30/30
Allergen
Soy*, Milk*,
Gluten*
Gluten*
kCal/meal
400
400
Serv/day
5
5
Suitable
Vegan*
Vegan
Flavours
4
7
Products
4
4*
Subscription
10%
Flavours Available:
PowderMatter: Vanilla, Chocolate, Coconut Chocolate, and Unflavoured&Unsweetened. Nuts Mania (Nut flavour also available).
Huel Powder: Vanilla, Original, Coffee, Chocolate Mint, Chocolate, Berry, and Unflavoured & Unsweetened.
Products Available:
Powdermatter: Original Whey, Original Vegan, and Nuts Mania.
Huel: Huel Powder, Huel Black, Huel Powder Professional, Huel Bar, Huel Hot & Savoury, and Huel Ready to Drink.
Price:
Huel is at is cheapest when buying from the UK. This might be even more pronounced when Brexit happens. Either way, Powdermatter is cheaper than Huel both in EU and the UK.
Only in the US might be cheaper to buy Huel because you will not have to pay for shipping fees (weight based).
Price

Huel

PowderMatter V

UK (£)
per 400 (expensive)
1.28
1.37
per 400 (cheapest)
1.16
0.86
EU (€)
per 400 (expensive)
1.72
1.60
per 400 (cheapest)
1.54
1.00
US ($)
per 400 (expensive)
2.14
1.94
per 400 (cheapest)
1.67
1.75
Calculations to the US for Powdermatter include shipping costs. The most expensive is calculated using 3 bags (36 meals); whereas the cheapest using 17 bags (204 meals).
Nutrition
| | | | | |
| --- | --- | --- | --- | --- |
| per serving | Powdermatter V | RI (%) | Huel Powder | RI (%) |
| Energy (C/P/F) | 40/30/30 | – | 40/30/30 | – |
| Energy (kCal) | 400 | 20 | 400 | 20 |
| Fats (g) | 13.3 | 19 | 13.1 | 19 |
| Saturated (g) | 2.3 | 11.5 | 2.3 | 11.5 |
| Trans fat (g) | 0.0 | – | 0.0 | – |
| MUFA (g) | 7.6 | | 2.7 | |
| PUFA (g) | 3.3 | | 7.4 | |
| O3 (g) | 1.2 | 0 | 3.2 | 0 |
| O6 (g) | 1.4 | | 3.1 | |
| Carbs (g) | 35.8 | 13.8 | 37.1 | 14.2 |
| Sugars (g) | 0.8 | 1.6 | 1.2 | 2.0 |
| Fiber (g) | 8.0 | 40.0 | 7.7 | 38.5 |
| Protein (g) | 30.0 | 60 | 29.5.0 | 60 |
| Salt (g) | 0.7 | 11.7 | 0.7 | 11.7 |
Looking at the nutritional data is astonishing how similar both products are.
However there are some key differences; particularly when looking at the ingredients:
1.MUFA and PUFA content. Powdermatter opts for a mononunsaturated rich fatty acid profile; whereas Huel has more polyunsaturated fatty acids, which is reflected in the omega-3 content.
2. Carbohydrate source. Huel, like many other brands, uses oatmeal as main source; while Powdermatter has chosen the super seed mix.
3. Plenty of protein, but different origin. Huel uses a mix of pea protein and rice protein to offer a complete amino acid profile. Powdermatter relies on soy protein isolate together with the protein from the grains, which provides a good amino acid profile, too.
4. MCTs. Huel adds some medium-chain triglycerides for some extra fast energy source.
Overall, both products are really solid and it will come down to how your body digests oats vs the superseed complex or the different protein.
Taste trial
Both companies offer fairly thick and gritty shakes, particularly Powdermatter. The flavours are fairly subtle in both brands, but the Czech company has a slightly less sweet profile.
From my experience, the chocolate flavours are better in Powdermatter. Huel does better on the Vanilla flavour and has more options available. Huel clearly has a stronger oat taste, too.
I would give a tiny edge to Powdermatter (I like the whey version over vegan); but it will ultimately depend on your preferences.
Which one should I buy?
Powdermatter
Cheaper option.
You have issues digesting pea protein.
Looking for less sweet alternatives to Huel.
Huel
More established company, better image and more products.
You are trying to avoid soy.
You live in the UK.
If you live in the EU Powdermatter is worth a try, but Huel will give you the better shopping experience and better deals in the UK.
---
There are other brands that offer similar products, such as, Satislent that I have not mentioned here, but are direct rivals.
Regarding Nuts Mania, I will do a follow up review comparing it to other products that are more similar to it. If it truly becomes fully organic and from real food it would be competing against powerhouses like Ambronite.
More info about Powdermatter

Powdermatter is a very small Czech enterprise founded in 2018. In 2019, after internal changes, Powdermatter became the a one man company; operated by Dr. Dirk Tiren.
Since, Powdermatter has been continuously working on the launch of Original v2.0 and has hinted many interesting future products, like a meal bar or a 4th powder option.
About the founder
Dirk Tiren is the man behind the company. An ex-surgeon with many years in the field of medicine, decided to quit everything to focus on his passion; nutrition. That passion drove Dirk to spend countless hours revisiting his knowledge about nutrition, in order to offer the best product possible to his customers
Understanding Powdermatter
Powdermatter is a reflection of the founder, a company full of passion and raw values. The main features of Powdermatter are cheap and quality. Two words that do not go together very often; but mix in perfection in this case.
Furthermore, Powdermatter's goal is to bring locally produced ingredients; with organic certificates where possible.
How is this feasible? Because the company is not driven by profit; but by passion. Perhaps, not a sustainable business model, but the reality currently. Better enjoy it now.
Packaging
Powdermatter offers the Original line in bags containing 12 meals of 400kcal. They weigh 1.2kg per bag and have a good size to store both vertically and horizontally.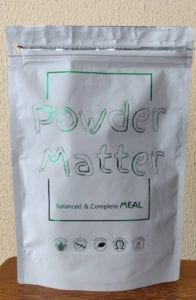 It is true that for daily users that the sizing might be a little small, preferring bags similar to Huel's with 36 meals per bag. However, this does make the option of having multiple flavours easier.
The Premium range comes in smaller bags, which contain 5 meals of 400kcal (1 days worth).
Pricing
Powdermatter does currently not offer any subscription discount, but it has extremely good bulk discounts (see table).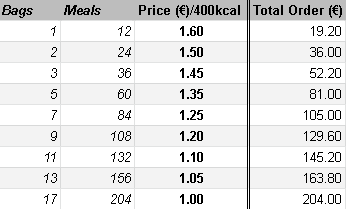 Nuts Mania (Premium Line) follows a similar pattern of price reduction, but the meals are going to be more expensive.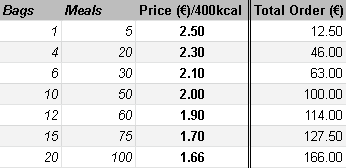 At the cheapest buying point, Powdermatter Original is the cheapest meal replacement shake you can buy.

Shipping and Return Policy
This is where things get a little complicated. In Europe you can get free shipping in most countries in orders above €80. However, for certain lucky countries, such as Netherlands and Germany, the threshold is as low as €25!

When looking at international shipping, Powdermatter does deliver worldwide, but at a cost. Depending the order size (weight of the order) the shipping fees will vary from €25 up to +€130.

You can find the exact details in the shipping cost page at Powdermatter.
Buying from the US or Canada
There are some shipping fees (as shown above) when shipping outside Europe. However, due to the low cost of the powder it might be worth buying from abroad.
Unfortunately, Powdermatter loses a big advantage when ordering from the US. Other brands like Huel and Superbodyfuel are able to deliver more affordable products. It is still a valid alternative, but not as good of an option as in Europe.
Are Powdermatter products Gluten-Free?
Powdermatter Nut Mania is gluten-free.
Powdermatter Original and Neutral are gluten free, too. There is no oats in these mixes.


Is Powdermatter suitable to diabetics?
In theory, Powdermatter products are OK for diabetics. They have low glycemic index and fairly low carbohydrate content. However, I strongly advise to check with your doctor before ordering.


Will Powdermatter cause me flatulence?
Powdermatter products are quite rich in fiber, so if you are not used to fiber-rich food you might experience some; as well as, more frequent bowel movement.


Could I use Powdermatter as my only nutrition source?
Theoretically, Powdermatter provides you with all the nutrients you need, following European standards. However, the company does not advise to do so.


What is the difference between Original and Premium range?
The Original range has both vegan and non-vegan variations and is the cheapest Powdermatter product. Perfect for daily use.

The Premium range aims to deliver a more refined product, fully organic and additive free (not the current state, though).


How long does Powdermatter last?
Powdermatter powders last up to 12 months when closed and stored in a dry, cool place.


Where is Powdermatter manufactured?
Powdermatter is manufactured in the Netherlands.


Does Powdermatter deliver to Canada?
Yes, it does. However, there will be a shipping fee that will vary with the weight of the product. Each 400kcal will cost you around CAD2.4. See the pricing table for the US above to get an idea.
Who is Powdermatter for?
Honestly, for almost anybody. Powdermatter offers very solid meal replacement shakes; at an incredible price, making them the best price-quality meals.
High protein lovers will particularly enjoy the Original range with 30g protein per 400kcal.
For those looking for less, Nuts Mania might be your choice.
Does It Taste Good?
They are not shakes with mind-blowing taste, strong and ultra-sweet. On the contrary they are very subtle, perhaps underwhelming at first. However, upon daily use, you end up enjoying the milder profile. The chocolate flavour was my favourite.
Will I Get All the Nutrients I Need?
Yes, Powdermatter provides you with all the nutrients you need in a daily basis in 5 servings (based on a 2,000kcal diet).
Wait a Moment, Is It Perfect?
As tempted as I might be to say yes, there are some flaws in Powdermatter products:
The buying experience might be off-putting due to the design of the website.
The flavours will be a little mild for those used to stronger meal replacement shakes (Queal, Jake, Soylent).
The shakes are really think and contain bits. Not ideal for those who like small thin shakes.
Otherwise, Powdermatter is an excellent company.
Powdermatter Review: Verdict
The theme of the the review is good quality at an incredible price. Powdermatter offers nutritionally very solid products at the cheapest rates in the market.
Powdermatter Original is one of the, if not the best meal replacement you can buy; particularly when you consider the price. The nutritional side is very solid and the taste is pretty good too, while not very strong.
On top of that, you have Nuts Mania and Neutral options, that offer different macronutrient profiles.
If you can bypass the looks of the site and you do not mind a thick shake; you might have found the ideal shake for you. I strongly recommend trying Powdermatter products, at least once.
Pros
Great nutrition at an incredible price
Good bulk discounts
30g of protein per 400kcal
2 nutritionally different powders, both very good
Price/quality is unbeatable
Cons
Website is not pretty
Vanilla is not very strong
No free shaker on the first buy
Amaranth background flavour might surprise you